After a year of outrage over Paramount Pictures' Ghost in the Shell, the Scarlett Johansson–led project crashed and burned at the box office this March, pulling in only $41 million in the United States. A studio spokesperson later said that the controversy around Johansson's role hurt the film's box office reception. But according to those who attended Anime Expo this year, its fate had already been determined by the anime adaptations that came before it; in 2008, the Wachowskis' Speed Racer bombed at the box office, and James Wong's 2009 film Dragonball Evolution was so "globally reviled" that the screenwriter behind the movie apologized for it last year.

Yet despite a track record of anime adaptations backfiring at the box office, Hollywood seems intent on giving animated Japanese properties the live-action treatment. Fox's Alita: Battle Angel, set to open in theaters next summer, and Netflix's upcoming Death Note film, which has already drawn ire for its cast, are among a handful of upcoming anime adaptations at various studios. Then there's a Naruto film in preproduction at Lionsgate, and just last month, a Cowboy Bebop television series was reported to be in development at Tomorrow Studios. A live-action remake of the 1988 cult film Akira, which has been in development at Warner Bros. for over a decade, is also reportedly close to finding a director.

But Hollywood has to ensure its planned projects connect with fans, if anime enthusiasts in the United States are anything like the ones BuzzFeed News spoke to at Anime Expo in early July. Several convention-goers said they weren't sure any of the upcoming films from the industry were "worth seeing." Reactions ranged from indifference to indignation. Asked if she'd seen the latest Death Note trailer, 16-year-old J'aira Brown said, "I think [I saw it] on Tumblr. They showed a thing of the [Shinigami] or something. I thought that looked pretty cool … But even then, I prefer anime characters."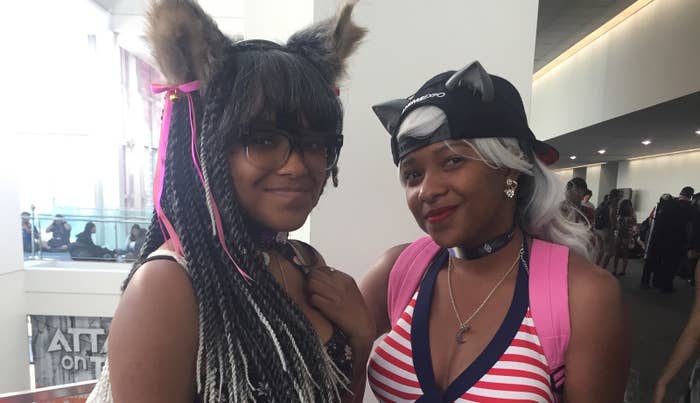 Her 27-year-old sister agreed. "I just think our hearts have been broken enough with all the live-actions they've done," Ahja Brown explained. "Someone would have to recommend it for me to go see it, and unfortunately, I have yet to be recommended a live-action … Fans have been burned so much, where they're like, 'I'd rather wait for Redbox 'cause it costs money to go to the theaters now.'" She and her sibling cited 2009's Dragonball Evolution as an example of the way American studios have "messed up" their vision of beloved characters and stories.

Dragonball Evolution, which featured Justin Chatwin and Emmy Rossum as Goku and Bulma (and a green-faced James Marsters as villain Piccolo), is a sore spot for 27-year-old attendee Terrence Tao as well.
"A lot of our generation actually grew up reading that manga from Akira Toriyama; [it was] really hard for us to accept what they were showing onscreen," Tao said. "That is why I didn't go to see the movie … I think if Hollywood producers want to make quick cash and they want to keep fans in mind, they need to balance out how much they're going to change the storyline and the localization of the story."
But Joi A., a 22-year-old who has attended the annual convention for the past two years, doesn't think film producers take into account what fans want to see onscreen.
"You can tell that [they're] made to simply make cash, to make a financial gain off of a fandom," said Joi. She has no interest in seeing Adam Wingard's version of Death Note when it drops on Netflix next month — and not because of the whitewashing allegations against it. "I don't care so much about the casting than the fact that they changed a lot of stuff that made Death Note what it is," she said. "The casting [of white actors] as characters who are supposed to be Japanese is not as bad to me as when they completely change parts of the series to give it a broader audience. It's not really meant for a broader audience."
The upcoming supernatural thriller is set in Seattle, not Tokyo, and it stars Nat Wolff as Light Turner, the murderous antihero at the center of the story. Many fans argue that changing the cultural context of Death Note modifies the entire story.
But Death Note producer Roy Lee has acknowledged that the team behind it took creative liberties when adapting the original story for audiences in the US. "This movie isn't necessarily a direct adaptation of the Japanese manga; it is an interpretation of that story in a different culture, so there are going to be some obvious changes," he told BuzzFeed News in April. "Some people will like them; some people may not … Fans who want the story to adhere [to the source material in] exactly the same way — these people will not be happy."
"People can criticize it, but I'd say that they should see the movie first," he continued. "But it's not true that we [don't have] a diverse cast in our movie." In addition to Wolff, the cast also includes Margaret Qualley, Lakeith Stanfield, Paul Nakauchi, Shea Whigham, Willem Dafoe, and Masi Oka.

For Asian-Americans, however, the controversy over Death Note's cast hit especially close to home. It reminded some of The Last Airbender, the live-action adaptation of Nickelodeon's Avatar: The Last Airbender which ignited a similar debate in 2010. Back then, critics slammed M. Night Shyamalan for casting Noah Ringer, Nicola Peltz, and Jackson Rathbone as characters who are of East Asian and Inuit ancestry in the original series.
"These characters are predominantly Asian, so it's kind of insulting to see them cast white actors as Asian-American characters," said Josdon Thong, a 21-year-old attendee. "There's hardly any representation in media for Asian-Americans, so how are we supposed to feel empowered? How are we supposed to feel like we can be a hero or someone who's important enough to change the world if we're always just viewed as secondary characters?"

Michelle Cheng, 24, called Death Note's casting and the film's dearth of Asian visibility a "slap in the face." "I'm just generally exasperated that you have to work really hard to find any sort of representation of Asian-Americans in media. There are so many talented Asian actors who [fit the] role, but they still get cast away in favor of white actors," she said, rolling her eyes. "I think most of the people who are making these decisions are sort of older white men who have very little understanding of what the fanbase wants."
Cheng isn't the only one tired of Hollywood's general approach toward these films.
"I want [anime] to be taken seriously," said 22-year-old Ashley C. She referenced Voltron, originally a Japanese series from the 1980s, as an example of a Hollywood endeavor done well. "When [American studios] redid Voltron, they put care and heart into it," she explained. In 1984, World Events Productions licensed the Japanese show (originally called Beast King GoLion) and revamped the animated series to suit American viewers. While it attained only average ratings in Japan, Voltron was a hit in the US. Netflix even partnered with DreamWorks Animation to create a reboot of the '80s show, Voltron: Legendary Defender, which debuted on the streaming site in 2016.
"But with Death Note, it feels different. Like, 'We're going to [remake] a popular show not because we like it but because we know it was popular, and it has a built-in audience,'" Ashley continued. "It feels like a cash grab, y'know?"
It remains unclear whether film studios are aware of fans' reservations toward Hollywood's anime adaptations, and whether they've made efforts to address the issue. But for many of the fans who made their way to Anime Expo this year, Hollywood remakes are not making the cut.
Fox, Lionsgate, and Warner Bros. declined to comment for this story; Tomorrow Studios did not immediately respond to BuzzFeed News' request for comment.