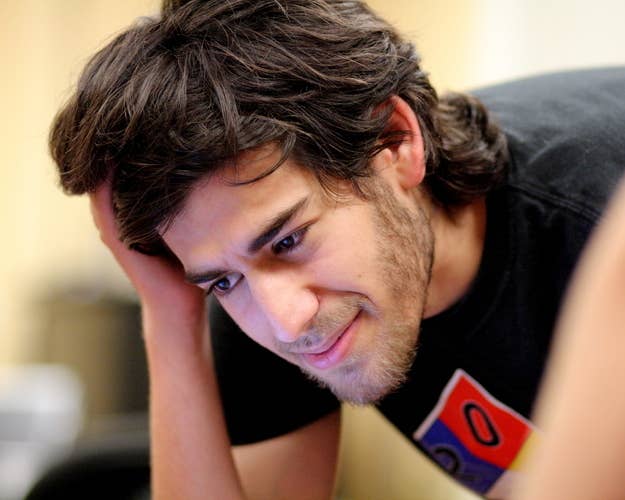 Aaron Swartz was 13 the first time he was recognized for his achievements with technology. He was the winner of the ArsDigita Prize, a competition for young people who created "useful, educational, and collaborative" web sites. By the age of 14, he was collaborating with experts, including Cory Doctorow of BoingBoing. He co-authored the first specification of RSS when he was still a teen.
More recently, he became widely known after he was caught illegally downloading roughly 4 million academic journal articles from the digital library JSTOR, in an attempt to distribute them for free. In 2011, the Department of Justice charged him with "wire fraud, computer fraud, unlawfully obtaining information from a protected computer, and recklessly damaging a protected computer," and refused to drop the case. He was facing the possibility of a prison term of 35 years and a fine of up to $1 million.
On Friday, Swartz committed suicide at his apartment in New York City.
"The tragic and heartbreaking information you received is, regrettably, true," Swartz's attorney wrote to MIT's newspaper confirming the news.
Swartz attended Stanford University for one year before leaving to found the software company Infogami and work on a new website, Reddit.com. Reddit was eventually bought by CondéNet (a division of Condé Nast), and Swartz left the company a few months later, becoming, in Doctorow's words, a "full-time, uncompromising, reckless and delightful shit-disturber."
Swartz went on to co-found Demand Progress, an advocacy group that used the web to organize people towards political victories. The group was an instrumental factor in 2012's fight against the SOPA/PIPA "internet censorship" bills.
Although JSTOR declined to file a civil lawsuit against Swartz, the federal government pursued the case. (This week, JSTOR announced that it was introducing free limited access accounts.)
Swartz struggled with depression and had written about the subject on his blog.
You feel as if streaks of pain are running through your head, you thrash your body, you search for some escape but find none. And this is one of the more moderate forms. As George Scialabba put it, "acute depression does not feel like falling ill, it feels like being tortured … the pain is not localized; it runs along every nerve, an unconsuming fire. … Even though one knows better, one cannot believe that it will ever end, or that anyone else has ever felt anything like it."
Doctorow also wrote today that "Aaron had an unbeatable combination of political insight, technical skill, and intelligence about people and issues. I think he could have revolutionized American (and worldwide) politics."
"His legacy may still yet do so."
Update, 6:12 PM:
Aaron Swartz's family and partner have published an official statement.
"Our beloved brother, son, friend, and partner Aaron Swartz hanged himself on Friday in his Brooklyn apartment. We are in shock, and have not yet come to terms with his passing.
Aaron's insatiable curiosity, creativity, and brilliance; his reflexive empathy and capacity for selfless, boundless love; his refusal to accept injustice as inevitable—these gifts made the world, and our lives, far brighter. We're grateful for our time with him, to those who loved him and stood with him, and to all of those who continue his work for a better world.
Aaron's commitment to social justice was profound, and defined his life. He was instrumental to the defeat of an Internet censorship bill; he fought for a more democratic, open, and accountable political system; and he helped to create, build, and preserve a dizzying range of scholarly projects that extended the scope and accessibility of human knowledge. He used his prodigious skills as a programmer and technologist not to enrich himself but to make the Internet and the world a fairer, better place. His deeply humane writing touched minds and hearts across generations and continents. He earned the friendship of thousands and the respect and support of millions more.
Aaron's death is not simply a personal tragedy. It is the product of a criminal justice system rife with intimidation and prosecutorial overreach. Decisions made by officials in the Massachusetts U.S. Attorney's office and at MIT contributed to his death. The US Attorney's office pursued an exceptionally harsh array of charges, carrying potentially over 30 years in prison, to punish an alleged crime that had no victims. Meanwhile, unlike JSTOR, MIT refused to stand up for Aaron and its own community's most cherished principles.
Today, we grieve for the extraordinary and irreplaceable man that we have lost."
Remembrances from some who knew Aaron Swartz:
lessig.tumblr.com
"He was brilliant, and funny. A kid genius. A soul, a conscience, the source of a question I have asked myself a million times: What would Aaron think?"
crookedtimber.org
"He was one of the kindest, sweetest, and most generous people I ever knew. He made a lot of money at a very young age, which would have ruined most people (including me). It didn't ruin Aaron."
metafilter.com
"I always loved his writing and even arguing with him because he loved to argue in that way young people do, to challenge conventions and ask you to prove why you thought what you did. It wasn't the standard exhausting college student contrarian thing, it was deeper and much more interesting to be around."
blog.archive.org
"Aaron was steadfast in his dedication to building a better and open world."
boingboing.net
"To the world: we have all lost someone today who had more work to do, and who made the world a better place when he did it."
quinnnorton.com
"He read to me and Ada compulsively; he read me a whole David Foster Wallace book. He read Robert Caro to me, countless articles, blog posts, snippets of books. Sometimes, he would call, just read, and hang up. He loved the Very Persistent Gappers of Frip, and the three of us read it together many times. We loved George Saunders. We loved so many things together."