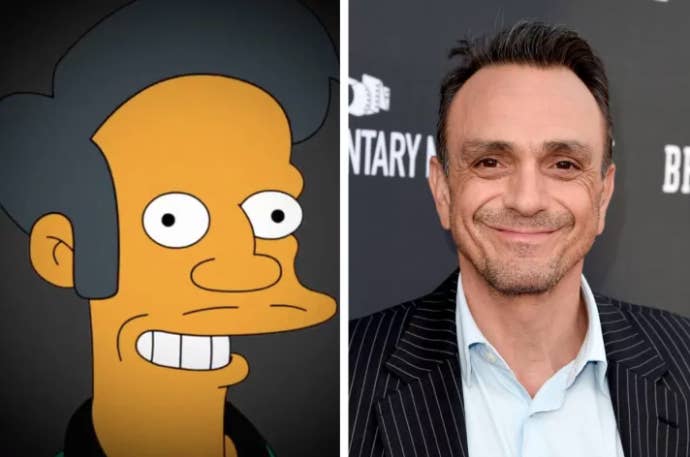 Seventeen years ago, I asked Apu if he thought he was a racist joke.
I was speaking with Hank Azaria, the actor who voices the cartoon character. I was a young reporter at a New York weekly serving the Indian diaspora, and Azaria was promoting the rom-com America's Sweethearts. I took the opportunity instead to ask how he felt about a common criticism of The Simpsons among South Asian Americans at the time: that Apu Nahasapeemapetilon, Springfield's Kwik-E-Mart owner, perpetuated bad stereotypes.
There was a long pause. "What do you think?" he eventually asked back.
Contra to what the Simpsons creators seem to think, questions about Apu aren't a recently manufactured drama, or an outrage of the week adopted by the ever-upset Twitterati. By the time I was interviewing Azaria in 2001, I'd already spent years listening to arguments for and against his character, in homes, at college, and even at conferences for South Asian professionals. Yes, some said, Apu reinforced stereotypes — but at least he showed we existed. No, replied others: For too many Americans, Apu was their single lens to view all brown people, with ugly results.
That conversation may have been overlooked outside of our community back then — as the many concerns of minority communities tended to be — but it's getting a wider hearing today, thanks in large part to The Problem With Apu, Hari Kondabolu's 2017 documentary.
Last week, no doubt prodded along by that documentary, The Simpsons tried and failed to address these decades-old concerns: that Apu is brownface minstrelsy, and that the experience of being a South Asian American includes hearing racist insults learned from the Apu caricature — thank you, please come again. The show bungled it, offering a lame whaddya do? — delivered through the fourth wall by Lisa Simpson, no less.
The problem with The Simpsons' latest take — aww, Apu was funny once, now he's politically incorrect — is that it misses the point behind the criticism entirely. It was never okay for most South Asians, but we had no voice when he first came to the screen, because 17 years ago, Apu was one of the only brown people on American TV. That has changed dramatically, and South Asians now see themselves in portrayals beyond convenience store clerks or cabbies. But Apu has never evolved, and neither, it seems, has The Simpsons.
The show's weak response came as no surprise to me — it reflected the same lack of curiosity, verging on disinterest, that Azaria had when I spoke to him in 2001. Back then, I asked if he even knew that the South Asian community had mixed feelings about his character.
"No, I didn't," Azaria said in response, followed by another very long, awkward silence.
Did he ever hear complaints about the character from Indian Americans?
"No."
To Azaria's credit, he gave me 10 more minutes than I thought I would get. He was doing a round of promotional interviews and wasn't expecting awkward exchanges on Apu, but instead of hanging up in outrage at an ambush, he decided to hear out my questions. In the few minutes I had, I asked how he had learned his Indian accent. "Just from listening," he said, "in Los Angeles, going to 7-Elevens, hearing Indian and Pakistani clerks." One, in particular, stuck out, he later explained: a grumpy clerk who would yell at him for opening his Gatorade before he paid for it.
Azaria told me his other big influence was the bumbling Hrundi V. Bakshi, a character in The Party, played by English actor Peter Sellers in brownface. "Certainly, [Apu's] cheery sensibility and good nature come from Peter Sellers," he said.
Apu actually started out as a joke in the cartoon, Azaria added, but his popularity led to the growth of the character. "Often, he delivers the emotional punch of the show," he said.
Did he think Apu's accent was exaggerated?
Azaria again paused. "I suppose so," he said. "What do you think?"
He acknowledged my questions about the controversy surrounding Apu were fair but ones he hadn't been asked before. He said he'd need time to think about it before he made any statements. The call was over.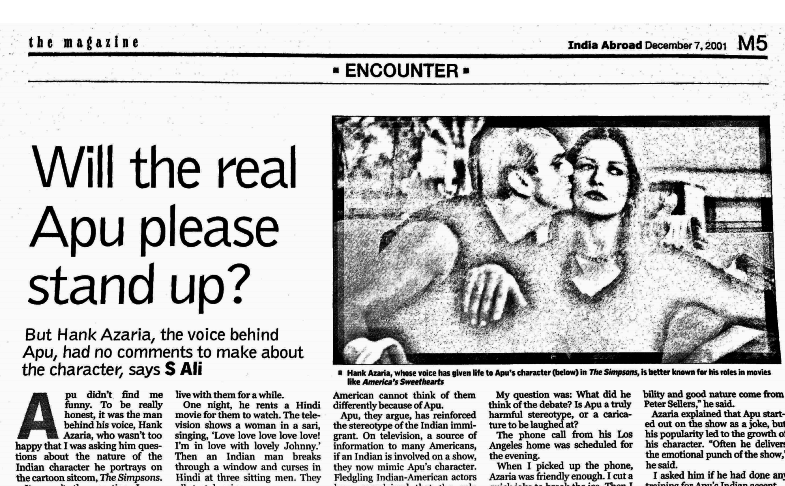 In the years since, Azaria has occasionally reflected on Apu, apologizing if any Indian Americans suffered racial taunts because of his portrayal. But he and the show have missed big opportunities to engage directly with South Asians and address the community's long-standing complaints — Azaria declined to be interviewed for Kondabolu's film — and that's a disappointing turn for a show that played such a big role in American life. With so much South Asian talent just in the comedy field alone now, it's inexcusable.
Luckily, Apu's relevance has diminished alongside the show's, and a better generation of comedians have taken over. Mindy Kaling introduced South Asians to mainstream audiences that sounded, worked, and lived the same lives as them. Kondabolu and Daily Show alums Hasan Minhaj and Aasif Mandvi tease South Asian culture with a second-generation immigrant voice. HBO's The Night Of served a slice of South Asian life that was thoughtful and authentic. At this point, Apu serves mainly as a nagging reminder that for more than a few Americans, it's still totally okay to mock any type of Asian or South Asian accent because, well, it just sounds so darn funny.
Instead of blithely telling their audience "Don't have a cow" (way to reach out to the Indian community there, geniuses), the people behind The Simpsons could consider letting Apu's character grow, rather than just retiring him. They could even take inspiration from the lives of real Indians, like Amar Shah and his parents.
"Everybody has an opinion about Apu," Shah wrote, "but did they ever talk to someone who owned a convenience store or gas station or work in one or grow up in one? You know, like my dad and I?"
Shah's mom and dad toiled to give their children a better life — his father arrived from Gujarat, India, as a teenager and worked up from gas attendant to successful convenience store developer. Harish bore insults and racism, but also made lasting friendships with his customers and imbued in his son an indelible love for America: that quick-pour, artificially flavored, brain-freeze Big Gulp America.
"This is much more than some stereotype," Shah wrote in his tribute to his parents. "For some of us, we lived this life. It was our story. It's my story."
Suleman Din is the technology editor at the magazines American Banker and Financial Planning.