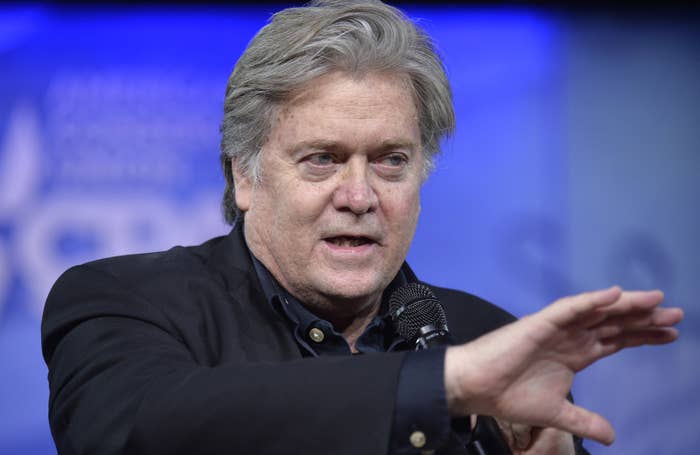 Steve Bannon is out of the White House, back at Breitbart, and out to assert his political authority once and for all. But his first target — this month's Republican runoff in the Alabama special Senate election — is a weird fit.
First, Bannon and Breitbart, long used to pumping up underdogs, are going with the frontrunner: former state Supreme Court Chief Justice Roy Moore, the top vote-getter in the August primary and the leader in recent polls.
Second, Bannon and his news site — which has a slightly less heated, more complicated view of LGBT issues than some conservative outlets, and is infamous for stunts like attacking House Speaker Paul Ryan for sending his children to a religious school — have forged an odd-couple alliance with the religious right.
And then there's the fact that the move seems grounded in trying to reestablish Breitbart and Bannon as a viable threat to the Republican establishment. Backing Moore bucks President Donald Trump, who has endorsed Sen. Luther Strange, the GOP establishment favorite who was appointed to the seat earlier this year.

A low-stakes Senate primary isn't a place where Breitbart can expect to reap millions of readers, but it does offer something else: The former White House strategist has set the groundwork to claim credit for a victory.
"The audience doesn't give two shits about Roy Moore versus Luther Strange," said a former Breitbart employee who worked with Bannon. "There's a very serious gap between what Bannon's interests are and what Breitbart's interests are as a business and a site."
While the contest is clearly a priority for Bannon, the former Breitbart employee said most regular national readers tend to care little about his pet races — preferring to click on tried-and-true conservative web content about issues like illegal immigration — and that if the site becomes too critical of Trump it risks alienating the audience. Despite Trump's endorsement for Strange, Breitbart's stories have painted Moore as the true champion of the president's agenda.
"The audience likes Trump more than it likes Breitbart," said the former employee.
Breitbart's traffic in July dropped 32% from the year prior, according to comScore (an understandable dip after an election year, to be sure).
Still, the past few weeks have been reminiscent of Bannon's Breitbart of yore — a crusading, unyielding site taking on the Republican establishment and championing candidates seeking to topple GOP incumbents. In classic Breitbart form, Bannon has dispatched bomb-throwing political writer Matt Boyle to Alabama to file a series of pieces in support of Moore.
Whether Breitbart — or really, any one site — can be a difference maker in the race is more a source of skepticism. "This town has created a monster," one Washington-based GOP operative told BuzzFeed News. "The way they write about him, it's like he's the second coming. But pick any random state, they don't know who Steve Bannon is."
But this is where Bannon wants to be.
"If he's seen as the power outside manipulating events, then he's a happy camper," said the former Breitbart employee.
In an interview with CBS set to air in full on Sunday's 60 Minutes, Bannon told Charlie Rose that his media image is "pretty accurate," adding that he's a "street fighter." When Rose countered that Bannon is "more than that," Bannon demurred. He said that his "purpose is to support Donald Trump" and "to make sure his enemies know that there's no free shot on goal."

This is not the first time Breitbart and the religious right have found common cause or a common candidate, though they typically speak for different constituencies within the conservative movement. Breitbart's no-holds-barred approach is more provocative, racially charged, and far less wholesome than the messaging strategies employed by evangelical groups. And the site's piece last year shaming Ryan for sending his children to a Catholic school isn't the kind of journalism that Christian conservatives generally endorse.
Indeed, Bannon told Rose that he disagreed with the Catholic Church's position on DACA — attributing the church's more liberal immigration position to the "economic" interests of the church. "They have an economic interest in unlimited immigration, unlimited illegal immigration. And as much as — as much as I respect Cardinal Dolan and the bishops on doctrine, this is not doctrine," he said. "This is not doctrine at all."
But occasionally, there has been overlap in the objectives of Breitbart and the religious right.

"I remember the last time it happened: the Missouri Senate race in 2012," said one Republican strategist watching the Alabama contest closely.
Todd Akin emerged from a competitive GOP primary with help from evangelicals and from Democratic incumbent Claire McCaskill, who highlighted his ultra-conservative views in an ad because she suspected he would be her weakest general election opponent. Sure enough, Akin's campaign later imploded after he asserted in an interview that "legitimate rape" rarely causes pregnancy.
The Republican establishment soon was walking sideways from Akin — but not Breitbart. "Mainstream Media Cover Akin's Gaffe Non-Stop But Ignore Biden's 'Chains' Blunder," read one headline on the website. "It's also worth noting that Akin likely meant 'forcible rape' when he said 'legitimate rape,'" Breitbart's John Nolte wrote in another piece. "He claims he misspoke, and it makes sense that what he meant was to exclude consensual sex that the law later qualifies as rape, such as statutory rape."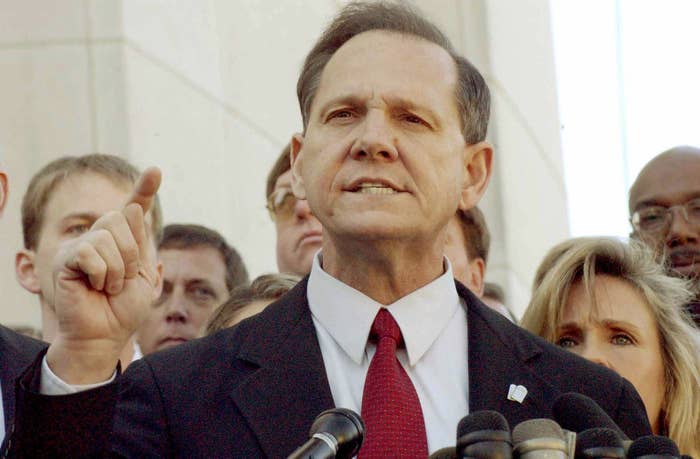 Akin is not a perfect comparison, though. Moore has a profile with national activists, thanks to his highly publicized court battles (over a statue of the Ten Commandments and federal court rulings on same-sex marriage). Despite Strange's head start as the appointed incumbent, Moore didn't start the primary season as a heavy underdog, and this is an intraparty primary, not a general election. And Akin was notably exposed as being not ready for prime time, whereas Moore has yet to inflict any real damage on his campaign.

The mutual allegiances in those previous races also were not part of any noticeably concerted effort.
Over the past several months, Breitbart has hardly said a critical word about the president. But the Alabama race might offer Bannon a case study in how far he can push Trump from outside the White House. Trump tweeted in support of Strange during the primary, but congratulated both Moore and Strange for heading into the runoff, calling it an "exciting race."
For some conservatives who soured on the site as it became the mouthpiece of the Trump movement, the fact that Breitbart has veered from the president in the Alabama race offers renewed hope that it may in the future become more critical.
"I hope they will go back to where they were prior to becoming intimately associated with Trump," said conservative talk show host Steve Deace, who called Moore a personal friend. "What's pleasing about it is not so much that they weighed in for Judge Roy Moore, but that they did it at the expense of the candidate that was backed by Donald Trump."
Conservative media members say they expect Bannon to use Breitbart's platform pretty much as he already has — to attack his enemies in the White House, Mitch McConnell, and Ryan.
"If Moore wins, Steve can say that he was a difference maker, that this is a loss for the establishment, and reset his relationship with the president," said Kurt Bardella, who until last year worked as a spokesperson for Breitbart News.
A spokesperson for Moore declined to comment. A spokesperson for Breitbart declined to comment.
The second Bannon era also may mark a shift for Breitbart. A few months ago, the site was seeking to more or less enter the mainstream media by way of securing permanent press credentials through the US Senate Daily Press Gallery, a board of correspondents that controls media access to Capitol Hill. After a months-long battle, Breitbart was ultimately denied press passes.
At the time, a person familiar with the matter told BuzzFeed News that winning congressional press passes was the first step to Breitbart's ultimate goal of joining the White House Correspondents Association.
That's a goal Bannon is unlikely to care about.