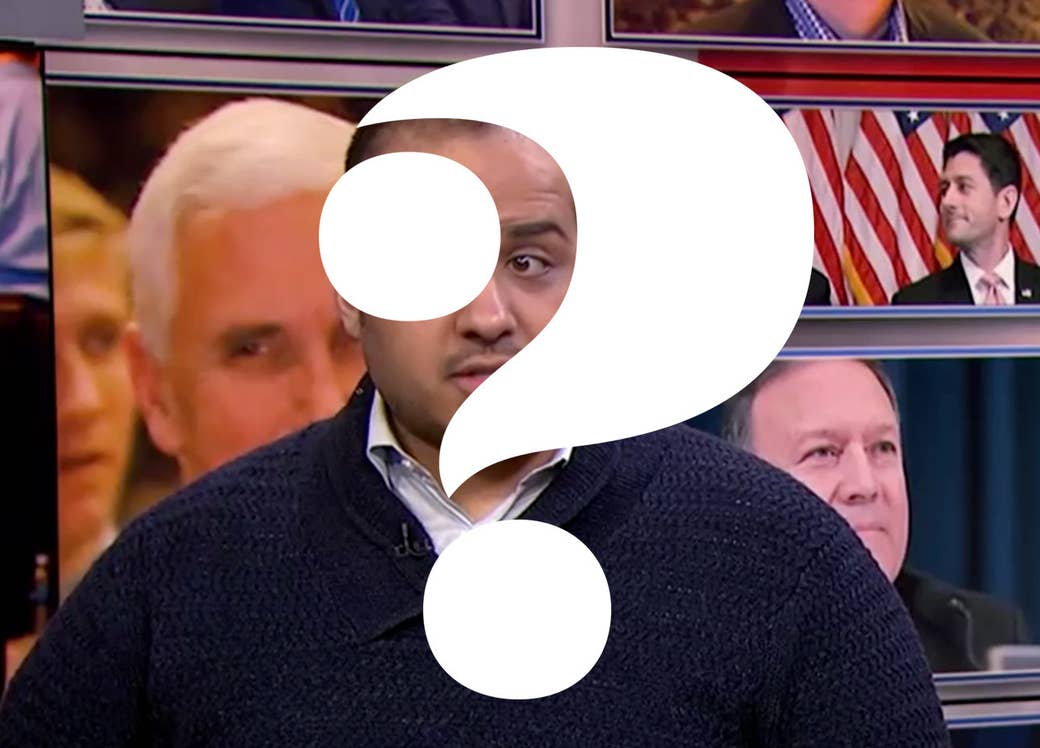 His reporting has touched on major news story after major news story, from the Russia investigation to the Fox News sexual harassment scandal to the Harvey Weinstein saga. For Twitter junkies, he's a constant presence blasting out the latest news story, cable news video, or elephant conservation effort to his 180,000 followers. And in media circles, he's gone from a nonentity to a well-sourced journalist recognized by just a first name: Yashar.

In an industry fascinated by unexpected newcomers, reporters and editors have been left wondering just who Yashar Ali — his middle, not last name — really is.
Yashar says the pen name is meant to protect his family, but in practice, it also obscures his previous career: a major fundraiser for Hillary Clinton's 2008 campaign and an aide to former San Francisco mayor and current California lieutenant governor Gavin Newsom. Now, he says, he is focusing on reporting — and says he didn't vote in the 2016 election. Yashar is far from the first person to ditch politics for a media career, but the transition can be a fraught endeavor.
Since the election, Yashar has broken all kinds of stories at the intersection of politics, media, and entertainment. For New York magazine, he reported per three sources present that George W. Bush remarked that Trump's inaugural address was "some weird shit." For HuffPost, he reported that Eric Bolling allegedly sent graphic pictures to female colleagues at Fox News. (Bolling has denied the claims and is suing Yashar.) In a detailed report earlier this month, Yashar and HuffPost editor-in-chief Lydia Polgreen dove into how NBC executives spiked Ronan Farrow's Harvey Weinstein story, and he was the one who first interviewed Lauren Sivan, who alleged that Weinstein trapped her in the hallway of a restaurant, masturbated in front of her, and ejaculated into a potted plant. Yashar landed an interview with Kathy Griffin months after a photograph of her holding a faux Donald Trump head covered in fake blood ignited controversy.
And he's broken news on his Twitter feed, too, like when he tweeted, per a source in the Los Angeles FBI field office, that James Comey learned of his firing by seeing it on TV. (A New York Times reporter tweeted the same tidbit 14 minutes later.)

"Yashar gets a lot of benefit of the doubt from people who wouldn't give reporters the benefit of the doubt, and I think he still handles the information like a journalist," said one political reporter who knows him. "Normally I object to people playing journalist, but I think he's taken the time. He gets it."
People close to the 37-year-old describe him as a driven, wealthy Renaissance man who gets obsessed with various topics and finds a way to succeed at them — and they aren't surprised that his new interest happens to be journalism. Other Democratic officials are dumbfounded by Yashar's career change, and they wonder how someone could develop sources in the entertainment, media, and intelligence communities seemingly overnight (though Yashar's reporting largely hasn't been disputed). His background also hasn't gone unnoticed by some conservative critics on Twitter, particularly given his reporting on Fox News.
"You have to hand it to him. It's one thing to decide in your thirties or forties that you always wanted to be a doctor," said one Democratic official. "It's another thing to go from being a somewhat successful political aide to an extremely prominent Twitter persona with no public acknowledgment of the shift."
Yashar was happy to talk about his life and career in an interview with BuzzFeed News. He grew up in Oak Park, a Chicago suburb, where he said he was the target of bullying from a young age because of his Iranian heritage — particularly when stories like the Iran Contra scandal and the Salman Rushdie controversy dominated news coverage.
Yashar, who comes from a wealthy and politically connected family who has faced persecution in Iran, attended private high school and traveled internationally often with his parents, but skipped college for the entertainment business. He is credited as a production assistant on Never Been Kissed, the 1999 comedy in which a Chicago newspaper reporter played by Drew Barrymore goes undercover at a high school. After his high school graduation, armed with some entertainment contacts, Yashar moved to Los Angeles and began working in TV development.
Friends got him into California politics — and he quickly became obsessed while working with Steve Westly, a California businessman running for state controller. "Politics had taken over my life. My head was not at work, it was in the political stuff," Yashar told BuzzFeed News.
In his own telling, Yashar's career track often oscillates nebulously between informal advising, friendship, and formal employment. It's in part a function of the fact that he is in a financial position, he says, where he doesn't have to worry about paying rent. Yashar has a way of making this sound not too snobby, but a luxury that has afforded him the ability to take professional risks throughout his twenties and thirties.
By 2003 to 2004, Yashar was working full-time in politics. After winning the controller's race, Westly's focus soon shifted to the 2006 gubernatorial campaign, where Yashar served as a finance chair. But Westly lost the primary. "It was fucking devastating for me, because I had never been part of a professional failure," Yashar said.
Sources close to Yashar describe a rare ability to make fast friends. "He was the first person I ever DM'd," Kathy Griffin told BuzzFeed News. (Unbeknownst to Griffin, but perhaps predictably for the well-connected Yashar, the two had previously met at a party about a decade before. They exchanged numbers after the Twitter DM and became close, with Yashar helping guide her through the Trump head crisis — and then writing about it.) This trait extended to politics: He says he considered Terry McAuliffe, the former chair of the Democratic National Committee and current governor of Virginia, a mentor. By 2007, Yashar operated his own political consulting side business and was a registered lobbyist, on behalf of a government debt collector, according to public records. (Yashar said this was a precaution for conducting consulting work for them.) When in Washington, Yashar said, he would work out of McAuliffe's office. At the time, McAuliffe was about to become the chairman of Hillary Clinton's 2008 campaign.
Yashar said that McAuliffe offered him professional advice — "You should learn and soak in what a presidential race is like" — and introduced him to Clinton. He served as a national co-chair for Clinton's first ill-fated presidential campaign and became a "Hillraiser," or prominent bundler. He said he would often talk to members of the press on background regarding campaign finance topics, and Yashar and Clinton developed a friendship.
"Happy Birthday to you! You are a blessing and an inspiration. With Love, Yashar," he emailed Clinton in 2012, according to documents later released by the State Department. In 2011, after Yashar shared a viral essay he had written, Clinton responded: "I love your blogging and am thrilled at your success both because it is YOU and because of the subject. Women all around the world need male champions and translators of their/our experiences. And I'm impressed and gratified that you have found your voice and an audience."
Those who have worked in politics with Yashar describe him as a hardworking operator with a good news sense, though something of an oddball. "He understands human relations and that translates to many different things," said Buffy Wicks, a friend and Democratic political strategist. "Like when you're trying to fundraise or put together a political strategy or deal with a press story."
Susie Tompkins Buell, a major California political donor and Yashar's friend, said that "he's very psychological." He had enough political savvy, Buell says, to warn his peer group to take Donald Trump seriously as a candidate. "He would say, 'Susie, look out, look out.' I thought, he's just being overly cautious," Buell said. "I joked with him like, 'How do you know these things?' and he says, 'Because I'm Iranian.' He's so smart and takes nothing for granted."
After Clinton's loss to Barack Obama, through the connections he made on her campaign, Yashar went to work for Gavin Newsom, then the well-known mayor of San Francisco. (Yashar says the two first met years before in a meeting at Amblin Partners, Steven Spielberg's entertainment company, but that Newsom enjoys teasing him that they did not.) Newsom had gubernatorial aspirations at the time, but pulled out of the race in 2009; Yashar went to work in his office at City Hall instead. A representative for Newsom did not return requests for comment.
The move raised eyebrows in the local press, since Yashar was viewed as a young aide who "handled the logistics of Newsom's travel schedule and town hall events and was often seen encouraging the perennially late mayor to get to the airport to catch his flights," according to SFGate. He also had donated thousands of dollars to Democratic candidates. "My parents have worked very hard. They've been very nice to their son," Yashar told the news outlet. Newsom would go on to run, successfully, for lieutenant governor, and Yashar said he was expected to continue on in his statewide office. Instead, he was ready for a career change.
"I was burned out because I worked really hard, probably too hard," Yashar said. "I decided I wanted to write, and I didn't know what I was going to write about."
After two or three months in Los Angeles, Yashar decided to move to New York, where he began crafting essays about politics and social issues. Yashar, who is gay, said he was in a dysfunctional relationship, and after a like-minded conversation with a female friend, decided to write an article about the "fucked-up way that men can treat women," he said. The essay — the one Hillary Clinton would later compliment — went viral, first on Yashar's own website as well as when he licensed it out to other publications.
"Gaslighting is a term often used by mental health professionals (I am not one) to describe manipulative behavior used to confuse people into thinking their reactions are so far off base that they're crazy," Yashar wrote. "While dealing with gaslighting isn't a universal truth for women, we all certainly know plenty of women who encounter it at work, home, or in personal relationships."
Yashar, who didn't yet have a significant social media presence, said the reaction to the essay provided a lesson in the power of the internet.
He moved back to California and spent a year working on various fundraising and advocacy projects, like a favorite cause he now tweets about frequently, elephants. But eventually he would end up back with Newsom. "Gavin and I were in touch this whole time," Yashar said. "He was asking me about some policy, and all of a sudden I was working for him again, and I don't know how it happened."
By then, Newsom was preparing to run for governor, and Yashar says he spent 2015 as a "Swiss Army knife" for his effort. But the media world still excited him, and he moved back to New York in the early summer of 2016 and began writing for New York magazine and the Daily Beast, where Yashar said he maintained social connections with editors. It was at that time, he says, that he began to focus on Twitter.
Twitter also served as a reporting resource. After he tweeted about Megyn Kelly's sit down for NBC News with Russian President Vladimir Putin, a Russian email account sent Yashar unedited footage from the interview, he said. The clip "shows a nervous Kelly who asked the authoritarian leader softball questions and failed to hold him accountable on key topics," he wrote in the HuffPost story that published the clip.

Yashar didn't have any formal role on Clinton's 2016 campaign, but sources say that he was still plugged in and offered advice. He says he helped with two California rallies, and he was among the many operators who congregated at the bar of the Ritz-Carlton in Philadelphia during the Democratic National Convention. When Clinton in March of 2016 remarked that Ronald and Nancy Reagan had started a "national conversation" about HIV and AIDS, Yashar was early in communicating to campaign staff that the gaffe would become a major problem they needed to clean up, according to a person familiar with the matter, which Yashar confirmed. In general, friends in politics say that, if reporters are bearing down on a story about them, they will call Yashar for advice. One such friend, who faced a professional crisis that spilled into public view, described Yashar as a "rapid-response Svengali."
Occupying this fluid space between friend, rapid-response adviser, and reporter has served him well this year.
Take the example of Kathy Griffin: She found herself in a media minefield after photos were posted online of her holding the fake severed head of Donald Trump. A day later, with the photo becoming a political flashpoint, CNN dumped her from its New Year's Eve program. TMZ reported that Barron Trump was upset by the photo. The Secret Service began investigating Griffin, an inquiry that she later announced is closed.
Griffin said Yashar walked her through the logistics of what an investigation might look like, and he consoled her during a dark time. "He's maybe talked me off the ledge a few times with my own mother, that I'm not in ISIS," she said. Indeed, Griffin said Yashar had met, and successfully charmed, her Fox News-loving mom, which is why she felt comfortable speaking with him for a profile in New York magazine about the Trump head saga.
By that point, the lines between friend and subject were sufficiently blurred.
In the story, Yashar reports how no entertainers were willing to speak on the record about Griffin. Weeks before, Griffin said Yashar helped her link up with actor Elizabeth Banks, whom Yashar suspected would be sympathetic to Griffin's position. The two actors texted, Griffin said, and she felt better. "He's a person who I would call a connector." (Representatives for Banks did not return a request for comment.)
"Of course I was afraid he was going to fuck me," Griffin said. "I thought it was a fair piece and I was very grateful." Their friendship continues, and Griffin in September sent Yashar a recording of her neighbor, the CEO of homebuilder KB Home, calling her a "bald dyke" and a "cunt." The story, which ran in HuffPost, led to the executive's bonus getting cut. Griffin said Yashar was the natural recipient for the scoop — he had once stayed at her house "for a week" and knew about the neighbor's nasty behavior already.
There are ethical questions about whether a reporter can — or should — write about someone he is connecting socially with Elizabeth Banks, or write stories like this one, published days after the election for New York magazine's The Cut: "Get a Rare Look at Hillary Clinton as a Grandmother in Action."
(The piece about Griffin does note that they "began discussing politics regularly" after the first Twitter DM.)
"We were aware of the friendship, and we took care to build multiple perspectives on her contretemps with Trump into the piece. There are a number of quotes from political observers that are critical of her actions, and the analysis is measured. The piece is also transparent about their relationship," a New York magazine spokesperson said. "In terms of the Hillary piece, we viewed this as a brief news item that brought a video posted on Instagram to readers' attention. Since it didn't contain original reporting or commentary, we didn't feel a disclosure was necessary."
In recent months, Yashar's time in media has caught the eye of editors who have tried to court the reporter for a full-time job. He is in early talks with one major network, according to a person familiar with the matter. He has also been approached by BuzzFeed News. "We're going to have to decline comment on any private conversations that may or may not have occurred," said BuzzFeed News spokesperson Matt Mittenthal.
Yashar says he's preferred the freedom of freelancing. An investigative series about Scientology, which he has been reporting for a year, will roll out soon, he says. For the past few months, most of his stories have appeared in HuffPost, like the Weinstein and Eric Bolling stories. Bolling, who has denied the allegations, is suing Yashar personally for $50 million. HuffPost has said it will stand by him in the case financially, but Yashar has hired his own lawyer.
"Yashar is a stellar reporter. He's relentless, inexhaustible and obsessive, but he's also humane and fair," HuffPost editor-in-chief Lydia Polgreen said in a statement to BuzzFeed News. "[His] work is really emblematic of what HuffPost is always striving to do: hold powerful people and institutions to account, call out hypocrisy and reveal how networks of power actually work."
Yashar has something of a knack for unusual personal connections; his high-profile attorney for the Bolling matter, Patty Glaser, is also representing Harvey Weinstein in the mogul's fight over the his ouster from his production company.
He has also earned respect from some conservatives.
"I think he's fair, and I think he strives for objectivity in his reportage," said conservative writer Ben Shapiro. "That's something I deeply respect, especially from someone with whom I often disagree on political matters."
Still, his presence on Twitter has been, at times, a little surreal, and the subject of discussion among other reporters. In May, for instance, the Washington Post reported that a White House official had become a "significant person of interest" in the Russia investigation. Yashar remarked on Twitter that only two people fit the description: Jared Kushner and Stephen Miller. Then, in a reply to two other people, Yashar tweeted what would account to a major national security scoop: "It's jared [sic] Kushner have confirmed this with four people. I'm not speculating."

The tweet was retweeted more than 3,000 times. Later, the White House acknowledged the person in question was indeed Kushner. It appeared as though Yashar's scoop had been confirmed.
Yashar now says the tweet was a learning experience for him — though he defends the reporting. He said that a Justice Department source had told him a week before about the Kushner news, but he couldn't stand it up. After the Washington Post's original story, he says he was able to quickly confirm it through Trump campaign sources. He acknowledges now that he shouldn't have put something explosive in a Twitter reply.
Griffin said Yashar's odd Twitter presence is part of his charm.
"He's got me signing up for that stupid elephant charity, which is not something I thought I'd be doing at this stage," she said. "The next minute he'll break a scoop. The next second he'll retweet Bark Box or Cute Emergency." ●
UPDATE
This article has been updated to remove a line that included discussion of Yashar's sourcing.