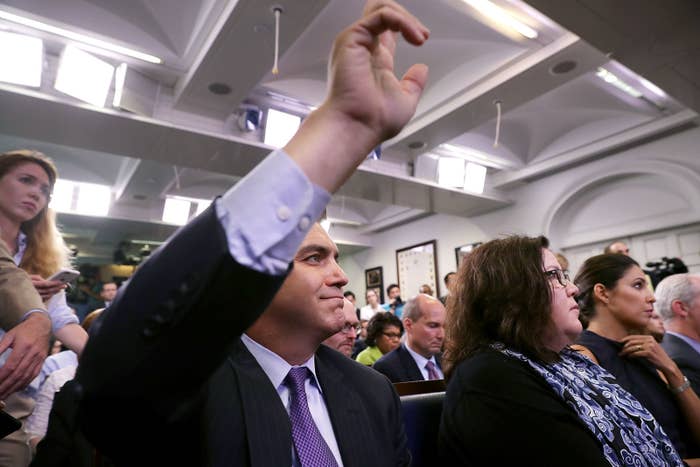 When it comes to CNN's position on invoking the Statue of Liberty, two years makes a big difference.
In 2015, after House lawmakers voted to limit Syrian refugees' entry to the United States, CNN correspondent Elise Labott tweeted that the iconic symbol of American immigration was "[bowing its] head in anguish."
The tweet clashed with CNN's stated dedication to evenhandedness, which, as the Washington Post's Erik Wemple wrote, was both a matter of "journalistic principle" and a "business imperative." In the end, Labott apologized for editorializing and was suspended for two weeks by the network, a decision viewed as particularly harsh even at the time.
But if Labott's behavior was considered inappropriate by CNN executives in 2015, times have changed. At the White House briefing on Wednesday, CNN correspondent Jim Acosta — who has clashed often with the administration — got into a heated exchange with White House senior adviser Stephen Miller over immigration. Acosta read the famous poem inscribed on the statue, which welcomes the "tired…poor…huddled masses yearning to breathe free."
The two men argued about English-speaking immigrants, and Miller said that Acosta's position revealed his "cosmopolitan bias to a shocking degree," a blow that marked the latest dustup between the network and an administration, which has repeatedly criticized CNN's coverage as "fake news."
Conservative sites declared Miller the winner, and CNN has spent considerable TV time picking over the moment, from primetime shows with Anderson Cooper and Chris Cuomo (filling in for Don Lemon) to Thursday's morning programming.
For some staffers at CNN, there's the question as to why the Acosta incident is appropriate, given the suspension in 2015 for essentially the same behavior. The answer among CNN sources is that the network has a very different kind of relationship with the administration: President Trump was recently said to have reveled in the ouster of three CNN employees over a retracted Russia story, and he tweeted a GIF of him "wrestling" the network.
"This stuff never happens in a vacuum," said one CNN source.
"Times are very different" from 2015, said a CNN TV executive. "Acosta posed a question (albeit a loaded one) rather than making an affirmative statement."
Acosta's star has risen in recent months at CNN, where the White House correspondent position is seen as a launching pad. Senior executives have discussed giving Acosta an anchor position or his own show, according to a person familiar with the matter.
The talks, which are serious but far from final, come as CNN eyes shifts in its broader lineup and format. Sources say that network executives have discussed whether the panel format still makes sense, and they've also discussed moving Jake Tapper from the afternoon to primetime (in April, the network gave him a weeklong evening run).
Acosta and Tapper did not return requests for comment. A CNN spokesperson declined to comment.
Meanwhile, the CNN newsroom has been fixated on Acosta's squabble with Miller, network sources say. Some staffers think their White House correspondent was fighting the good fight, while others have rolled their eyes and grumbled that he is coming off as too sanctimonious. In the hours since the briefing, Acosta has tweetstormed the Statue of Liberty poem and posted about prior presidents visiting Lady Liberty. Some staffers have raised their eyebrows, but executives have embraced the moment, giving the Acosta-Miller exchange plenty of airtime.
Acosta — whose battles with the White House were documented in a July Washington Post profile while his his social life has been a subject on Page Six — has become somewhat of a polarizing figure within the network. He has become the face of CNN's very public conflict with the administration, and the executive said that Acosta has been reminded in the past that the press is not the story.