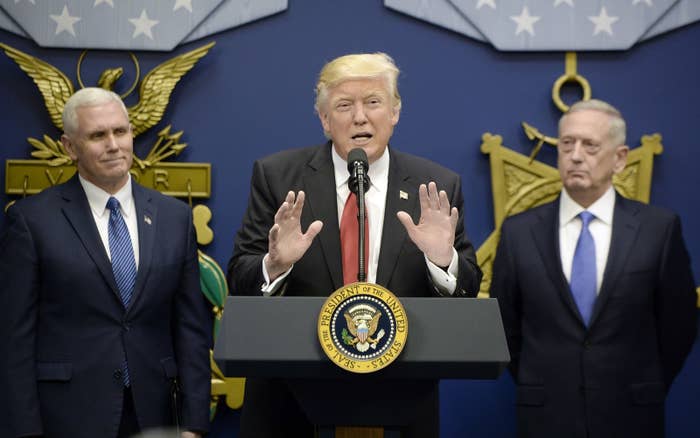 Wall Street Journal editor-in-chief Gerry Baker has instructed editors to stop referring to the countries targeted in President Trump's travel and refugee executive order as "seven majority Muslim countries" in news coverage, a move that has irked some reporters in the paper's Washington bureau.
"It's very loaded. The reason they've been chosen is not because they're majority Muslim but because they're on the list of countries Obama identified as countries of concern," Baker wrote to top editors in an email obtained by BuzzFeed News.
The seven countries are Iraq, Iran, Somalia, Sudan, Syria, Libya, and Yemen.
During his campaign, Trump called for a "total and complete shutdown of Muslims" until US officials could "figure out what is going on." The administration has maintained that the executive order is "not a Muslim ban," but rather an effort to prevent the entry of "radical Islamic terrorists."
"Would be less loaded to say 'seven countries the US has designated as being states that pose significant or elevated risks of terrorism,'" Baker wrote in the email.
"We shouldn't be swallowing the administration's talking points uncritically. I get the point he was making but that's not the way to do it," a Journal reporter said.
Following the publication of this story, a Dow Jones spokesperson emailed the following statement:
This email was part of a larger conversation discussing late breaking developments as a story was being edited on deadline. In this same email chain, Gerard Baker also pushed to include, and prominently feature, quotes from more critics of Trump's policy. Since the news broke on Friday, the Journal has accurately and thoroughly reported on the policy and will continue to do so.

Revising language and updating stories is part of breaking news. In keeping with its long tradition of fair reporting, the Journal will continue to prominently note that the suspension applies to Muslim majority nations as well as presenting the Trump administration's rationale for the action.
Baker also sent the following memo to news staff:
Given some media reports concerning some editing-related emails I sent last night, let me make a few points about our continuing coverage of President Trump's executive order on travel to the U.S.

There is no ban on the phrase "Muslim-majority country. " But we should always be careful that this term is not offered as the only description of the countries covered under the ban.

What we should do, in keeping with our long history of fair and thorough reporting, is prominently present the fact the immigration suspension applies to seven Muslim-majority countries along with the administration's rationale: an effort to prevent terrorists from entering the U.S.

We have examined and will continue to examine robustly the provenance, implications and wisdom of this executive order. We have covered and will cover the Trump administration aggressively. In addition to making some changes in last night's story, I also asked, as I often do, for the same article to include more voices of the critics of this policy.

Our published examples of our robust reporting on Trump are too numerous to detail. There is no conflict between that aggressiveness and reporting in the fair and complete manner that has been our hallmark.

Baker's note was in response to a WSJ story posted late Monday about the White House's firing of acting Attorney General Sally Yates after she ordered Justice Department lawyers to not defend the executive order in court.
An updated version of the story includes the following paragraph: "The administration has said the travel ban doesn't represent a religious test, noting there are dozens of Muslim countries that aren't affected. Critics have denounced it as targeting Islam because the seven countries — Iraq, Iran, Somalia, Sudan, Syria, Libya and Yemen — have majority populations of Muslims. The administration notes that the seven countries were initially identified by the Obama administration as posing significant security risks."
Note: This reporter, Steven Perlberg, most recently worked for the Wall Street Journal before joining BuzzFeed News.