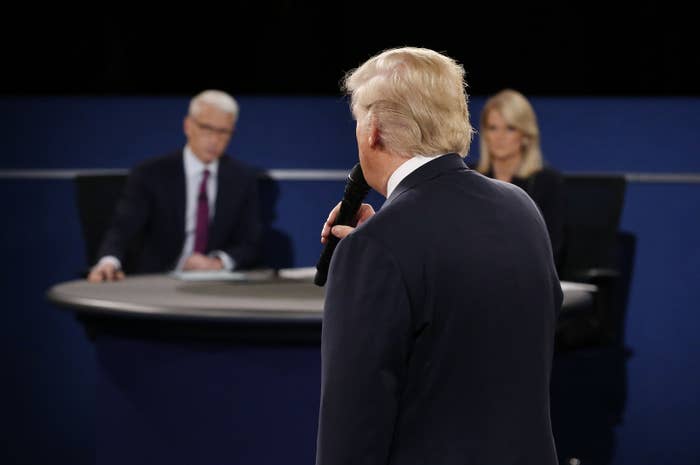 In tweets and tirades, President Donald Trump has made clear his opinion of CNN: "fake news." But privately — to surrogates that boost his message across television networks — the president has an additional position: Get yourself some CNN airtime.
The dueling messages reflect Trump's complex relationship with the network, which was both an early and important source of free media for his campaign and a pesky adversary with aggressive reporting that he has deemed unfair. Despite Trump's barbs, people close to the president say that he ultimately recognizes the importance of CNN's platform, especially as he eyes the future midterm elections and beyond.
During a March meeting, for instance, an administration surrogate regaled Trump with stories of how sad some CNN employees were the day after the election. "There was crying and anguish. You would have thought 9/11 happened," the surrogate told Trump, as the president lapped it up. (A CNN source called that characterization "absurd.")
Trump had advice for the surrogate, who now works at a rival network. "Looking to 2018 it would be better for us if you dive back into that fire at CNN," the source recalled the president saying. Trump offered to help get the surrogate on CNN.
It's not the first time Trump has demonstrated a more nuanced position on CNN behind closed doors. After an aggressive meeting at Trump Tower following Election Day — where Trump berated news executives and anchors — CNN chief Jeff Zucker stopped by a photo shoot with Trump shortly thereafter. As BuzzFeed News reported, Trump dropped the combative tone from prior meeting and became more schmoozy. (Zucker and Trump — who have a complicated personal history — have not spoken in months, according to a CNN source.)
The episodes highlight that while Trump may trash CNN and lump it in with his broader accusations of "fake news," he also views the network as something important to swing voters, particularly in juxtaposition to its cable competitors of Fox News on the right and MSNBC on the left.
"I think that the president treats it like a negotiating position," said longtime Trump friend Christopher Ruddy, CEO of Newsmax Media. "He personally despises CNN, and he has used that word to me to describe his feelings toward it."
Ruddy said that a few days after an appearance on CNN's Reliable Sources, Trump called him to say job well done. "I can't go on CNN all the time to defend myself," Trump said, according to Ruddy.
Some people close to the president told BuzzFeed News that they have not heard him advocate for pushing for more friendly faces on CNN. But Ruddy said that he counseled Trump that CNN treats pro-Trump guests fairly. "With CNN viewers, my experience is that they are somewhat open," he said.
Jeffrey Lord, a CNN contributor who noted that he has never been an official Trump surrogate, said, "It wouldn't surprise me that he would say to surrogates to get on CNN."
What is too often overlooked, Lord said, is the president's media savvy. "This is somebody who in his entire life came up in the media capital of the world of New York City. He's been doing this for decades," he said.
"If you read between the lines, you see the strategy," said a CNN executive. "Strategically, it makes sense if he's pushing contributors get on CNN. He knows that we are a critical lifeline."
"Everything you are trying to push is completely false," White House deputy press secretary Lindsay Walters said in an email to BuzzFeed News.
Though Trump understands CNN's importance in the media ecosystem, he hasn't sat down for an interview with the network since August. Since taking office, Trump has given a series of prominent sit-down TV interview to the friendlier territory of Fox News with hosts like Sean Hannity, Bill O'Reilly, Jesse Watters, and Tucker Carlson.
Trump's cable news obsession has been well-documented, and staffers and executives at CNN, Fox News, and MSNBC know the president is watching. Not like he tries to hide it. Earlier this month, half an hour after CNN referred to a new Gallup survey about Trump's sinking approval numbers, the president tweeted: "Just heard Fake News CNN is doing polls again despite the fact that their election polls were a WAY OFF disaster. Much higher ratings at Fox."

About 10 minutes after CNN's Reliable Sources aired a segment about a New York Times TV ad, Trump took the bait again: "For first time the failing @nytimes will take an ad (a bad one) to help save its failing reputation. Try reporting accurately & fairly!"
"When there's something that we report that he doesn't like, it's 'fake news.' He may not like it, but he's watching it," the CNN executive said.