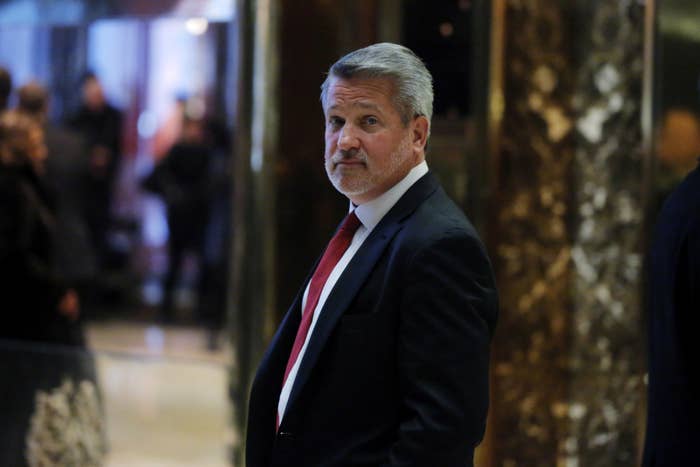 Former Fox News copresident Bill Shine, who was ousted over the network's mishandling of sexual harassment, just took over the seemingly impossible job of serving as President Donald Trump's top communications aide, receiving the official title of assistant to the president and deputy chief of staff for communications.
But the loudest voices opposing Shine's appointment are not coming from progressive activists and women's groups. They're coming from within the conservative media world.
Those forces mobilized to try and block Shine's ascent, warning the White House that it may have a staffing scandal of Rob Porter proportions on its hands once Roger Ailes' former right-hand man joins the administration.
"It's extraordinary that the president of the United States could hire someone like this," said one senior Fox News executive. "This is someone who is highly knowledgeable of women being cycled through for horrible and degrading behavior by someone who was an absolute monster."
Conservatives are warning that Shine's entrance to the White House could reignite scrutiny into the Ailes scandal, with a new emphasis on what he specifically knew about the former Fox News chief's behavior with women. Ailes denied the sexual harassment claims up until his death last year. Shine, who was accused in several lawsuits of helping to cover up the complaints, has denied those claims but was ultimately forced out of the company last May amid the swirling scandal.
"I think it could be one of the worst mistakes that the president has made" said a Republican source close to the White House. "It's just not a smart idea."
Others in conservative media have also fought against Shine, like Judicial Watch founder Larry Klayman, who told the Daily Beast, "I don't want [to] see the ghost of Roger Ailes running the White House communications operation."
In a statement announcing his appointment Thursday afternoon, the White House said Shine "brings over two decades of television programming, communications, and management experience" to his new role. The White House did not respond to a request for comment for this story.

The official announcement was something of a formality. Shine was already in the White House this week meeting with reporters.

Since the departure of former communications director Hope Hicks, the communications department has been especially chaotic, even for the Trump White House. Staff members were divided over Hicks's replacement and leaked stories that would give their preferred candidate an advantage. Then came the leak that a communications staffer, Kelly Sadler, had mocked Sen. John McCain's cancer diagnosis in a closed-door meeting. In the aftermath of the damaging Sadler news cycle that dragged on for days and other leaks, senior White House officials made the decision to significantly reduce the size of the communications office.
Many staffers have left the administration altogether or been moved to another agency in recent weeks. Sadler left the White House earlier this month. Those left behind are also reportedly eyeing the exits, including press secretary Sarah Sanders and Principal Deputy Press Secretary Raj Shah.
People close to the administration say that Shine will be tasked with bringing more discipline to the communications shop. One source close to the administration expressed some relief, as there will finally be someone in that role four months after Hicks's exit. But those who knew Shine from his time at Fox wonder whether he will also act as something of an enforcer against Trump's media enemies.
Shine's role could bring the White House's messaging even more in line with the president's favorite cable news network and increase Trump's desire to generate the kind of buzzworthy theater — from rallies to the North Korea summit — that can appeal to his Fox News–loving base.
One clear victor from the hire is Sean Hannity, who has advocated to the president on Shine's behalf for months. Shine and Hannity were close allies at Fox News and they remain friends. In the wake of Ailes' ouster at Fox, Hannity became Shine's biggest public defender as he faced pressure to resign.
Still, Shine's appointment is likely to stoke serious controversy.
"The optics of hiring someone with a real problem of dealing with workplace harassment ... are very problematic," a former White House official said of the move.
The former official also said that since most Republican operatives who do communications work would view "working for this White House akin to career suicide," administration officials might be forced to look past any problems they might have with Shine's handling of sexual harassment at Fox News.
Shine, who has no prior political experience, had been considered for a White House role before. Last August, the New York Times reported that he had spoken about joining the communications staff. He has stayed connected to the White House, and as Politico reported he has spent time at Mar-a-Lago with Trump and Hannity.
The person to hold the job before Hicks was also cable-news savvy with little political background: Anthony Scaramucci, who only lasted 10 days.
Still, some at Fox News believe Shine may be well-suited to handle what is perhaps the country's most challenging and frustrating job — managing the communications of a president who frequently undermines his own White House's press strategy through his Twitter feed and off-the-cuff remarks.
"It's good news for the White House," said one Fox News host. "He's tough as hell, for real, and highly organized."