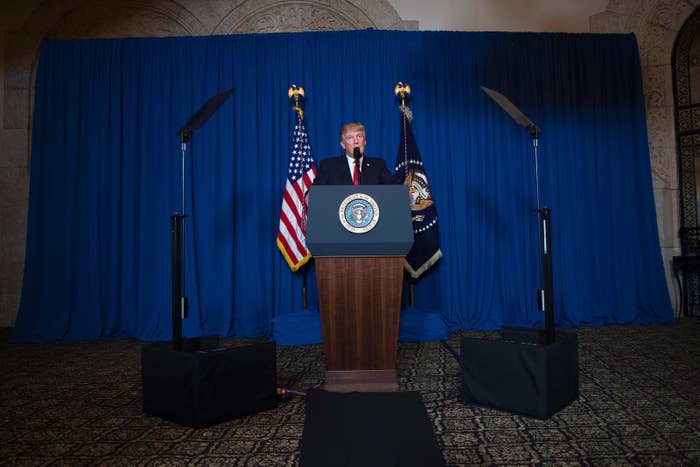 For the second time in his young presidency, Donald Trump has won the praise of the mainstream media. All it took was a comfortable speech to Congress and bombing Syria.

Trump ran on a promise not to intervene against the Syrian regime, and to instead bomb their ISIS enemies. But the warm reviews for his military strike raise the question: What lesson will a president who is hungry for praise take from this?
On CNN, Fareed Zakaria said that "Donald Trump became president of the United States" last night, when the US military launched strikes against a Syrian air base in retaliation for a chemical weapons attack against that killed civilians in the country. US radar had captured planes from the base, and in an address Thursday evening, Trump said the strikes were "in this vital national security interest of the United States to prevent and deter the spread and use of deadly chemical weapons."
The move, from someone who had campaigned against intervention in Syria and the Middle East and warned that Hillary Clinton would entangle the country in foreign conflicts, stunned the political world. Though some members of Congress offered critiques about an unclear endgame and lack of congressional approval, many Democrats and Republicans commended Trump's response after years of criticism of the Obama administration's Syria policy. In the hours since the raid, mainstream media figures that have been critical of Trump have likewise emerged across television and Twitter to heap on their plaudits.
Bret Stephens — a Pulitzer Prize-winning Wall Street Journal columnist and a frequent Trump critic who lambasted the president's attacks on the media in a viral speech — tweeted that "Trump has done the right thing and I salute him for it. Now destroy the Assad regime for good."
MSNBC's Joe Scarborough, who was criticized for his close relationship with Trump during the campaign but clashed with the president in recent months, also praised the move, tweeting that the White House's comments following the attack suggested it was to send a message of "strength" and "moral leadership."
Scarborough, whose show is closely watched by Trump, had earlier this week criticized the Trump administration for blaming the chemical attack on his predecessor. "He can't criticize Barack Obama on one hand for turning a blind eye to Assad's chemical weapons in 2012 and then allow it to happen in 2017, and do absolutely nothing while this holocaust unfurls before our eyes," Scarborough said on Wednesday's Morning Joe.
Brian Williams described the Pentagon-released footage of the airstrike as "beautiful pictures of fearsome armaments," and quoted Leonard Cohen.

The admiration extended to the New York Times, which has been a frequent target of Trump's anti-media tweets and whose opinion pages have critiqued the president. Times columnist Nicholas Kristof tweeted, "Trump is right to make Syria pay a price for war crimes, and taking out airfields is the best approach. I do worry about his execution."
In a news analysis piece in the Times, White House correspondent Mark Landler reflected on how Trump's heart had moved him to take action after images of the atrocities emerged. "What is clear, however, is that Mr. Trump reacted viscerally to the images of the death of innocent children in Syria. And that reaction propelled him into a sequence of actions that will change the course of his presidency," Landler writes. "Mr. Trump's improvisational style has sometimes seemed ill suited to the gravity of his office. In this case, it helped lead him to make the gravest decision a commander-in-chief can make." (The headline on the piece was later changed from referencing Trump's "heart" to his "instinct.")
The general positive reaction from a pundit class obsessed with "optics" is perhaps somewhat predictable. Trump's presidency thus far has been defined by chaos, infighting, and unforced errors, but mainstream media talking heads tend to latch on to moves that appear decisive and "presidential."
Meanwhile, some of Trump's most ardent right-wing media supporters expressed feelings of betrayal. Infowars' Paul Joseph Watson, for instance, announced that he is abandoning the Trump train, calling the president "another deep state/Neo-Con puppet." Breitbart News's London editor tweeted that he was "apoplectic" over Trump's attack.