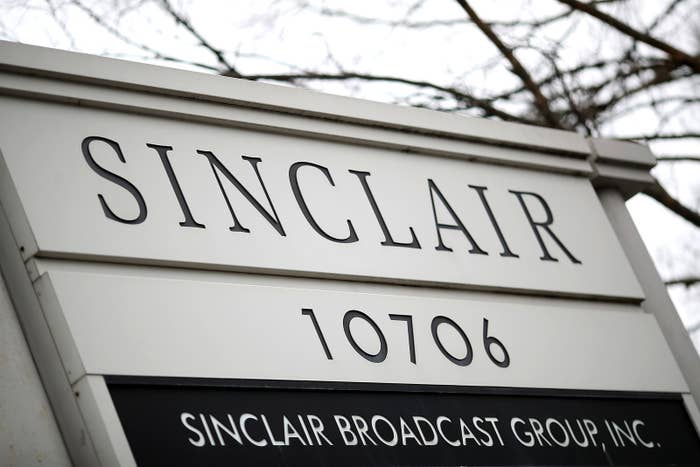 Sinclair Broadcast Group is planning to launch a streaming TV service this year that could create a new competitor for Fox News.
The free streaming app, called STIRR, would house a 24/7 TV channel featuring local news and national programming, according to sources familiar with the project and a trademark application. It would also offer a variety of other live and on-demand programming, from TV shows to movies to sports.
A spokesperson for Sinclair declined to comment.
Sinclair, the largest owner of local TV stations in the nation, has long had its sights on creating a national television news platform, but the company has for years denied ambitions to launch a typical cable network rivaling Fox News.

Still, the company has in recent months explored the creation of a new block of conservative programming. Politico reported that Sinclair has spoken with former Fox News staffers, including Greta Van Susteren, though it's unclear if those discussions are for STIRR specifically.
Fox News, for its part, has been working on its own offering. As BuzzFeed News reported last year, the network will release a paid streaming service that will feature exclusive content from Fox personalities like Tomi Lahren. The forthcoming product is called Fox Nation and expected to launch in the fourth quarter.
Fox and Sinclair are among the many media companies, big and small, that have been pushing into the streaming space in recent years.
Sinclair's play, which could change in the future, comes as the company awaits the approval of its proposed $3.9 billion takeover of Tribune Media, which would give the company 215 TV stations in 102 local markets and expand Sinclair's enormous local news reach. The merger process has dragged on amid pressure from regulators for Sinclair to divest stations to comply with media ownership laws.
For years, Sinclair reigned as the largest media company nobody had ever heard of. But recently, the broadcaster has come under sharp scrutiny, particularly for its conservative leanings. (The company has defended its content, and increasingly taken aim at its media rivals.)
Sinclair has mandated its local stations to air "must-run" segments promoting pro-Trump talking points. In March, a viral video showed local TV anchors reading in unison a script bashing media bias, which critics said made the hosts look like hostages. Former Sinclair employees have also described how Sinclair's ideology has trickled down into local news reporting.