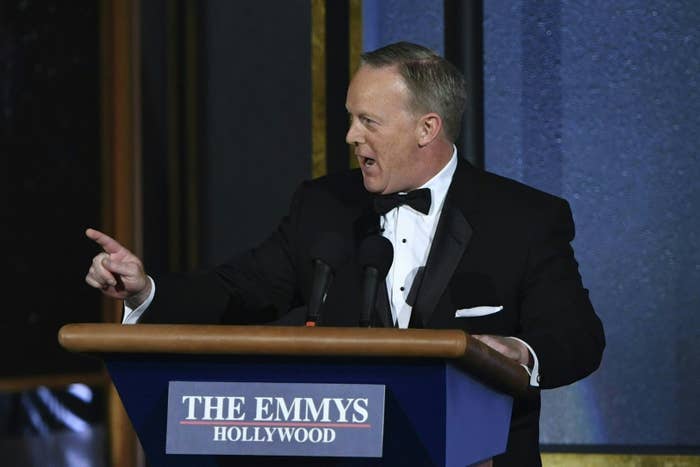 At first, Sean Spicer's exit from the White House followed the blueprint for famous administration officials.
Step one: Hire mega lawyer/agent Bob Barnett, who has represented presidents and their operatives in lucrative deals, from Barack Obama and David Axelrod to George W. Bush and Karl Rove. Step two: Make the rounds at various TV networks, where a contributor job can yield reliable, high-profile income.
But step three — landing the plush TV deal — never happened.
Now Spicer and Barnett, who seeks to uphold a reputation as the preeminent talent broker in Washington, are both distancing themselves from one another, according to sources familiar with the matter. Around Washington, Barnett has downplayed his relationship with Spicer, sources said. Spicer, for his part, is leaning on another agent who has represented Trump world talent like Ivanka Trump, Corey Lewandowski, and David Bossie — Mel Berger from agency giant WME.
The fissure between Barnett and Spicer offers another example of how Donald Trump's ascent to the White House has rattled the longstanding Washington media infrastructure, where Barnett holds the role of sherpa to the political elite entering into private sector TV and publishing opportunities.
Some in DC media circles believe Barnett over-promised Spicer about what he could deliver, and that the duo underestimated the larger media industry's contempt from the former press secretary. TV network sources say that Spicer and Barnett weren't particularly strategic about rolling out a fresh image. The two clashed stylistically — Spicer needed a hands-on agent as opposed to a seasoned dealmaker. The former press secretary was also at times concerned Barnett was spending too much time involved with Hillary Clinton's book project than working on his own future, according to one source familiar with the matter. (Another source disputed this, saying that Barnett is responsive to his clients.)
BuzzFeed News reached Spicer on Friday night as he was returning from California, where he said he had several paid events and met with entertainment executives. "I continue to look into a variety of possibilities," he said.
Barnett — who charges a pricey hourly lawyer rate as opposed to the typical 10% agent commission — referred BuzzFeed News to Spicer.
When it comes to departing White House press secretaries, the natural home for some has been the cable news airwaves. But when Spicer's departure was first announced, CNN told BuzzFeed News that it would not seek to hire him as a contributor, unlike previous Trump campaign officials. That CNN would instantly go on the record was an unconventional move seen in the TV world as CNN's parting shot to a press secretary who had frequently derided the network.
Spicer had high hopes, bolstered by Barnett, that he would have no problem finding another home. He met with CBS News, ABC News, and NBC News. Some network sources said the sitdowns were for a lark — to test the extent to which Spicer was willing to dish on Trump. But the meetings, these sources said, confirmed that Spicer wasn't going to offer a new, ratings-boosting take on the Trump administration. In other words, he wasn't going to be the next Scott McClellan, George W. Bush's former press secretary who later criticized that administration.
Entertainment sources say that part of the problem was that Spicer effectively preempted his chances at remaining mysterious by sitting down for an interview with Fox News's Sean Hannity the night his departure was announced in July. And right as he was about to head into market in search of a media job, Spicer railed against his potential future employers to Hannity. "I do think that the majority of folks now in the briefing room, that are going into journalism — they're not there for the facts and the pursuit of the truth," he told the Fox News host.
"There was an outside chance, if he came in ready to spill the beans and say, 'Here's what I was really thinking when I was sent out there to lie,'" said one network source. "Everyone was fairly convinced, after his appearance on Hannity, that wasn't going to be his approach." (ABC's entertainment division had a different idea for Spicer altogether, but he turned down an offer to appear on Dancing with the Stars.)
The talks, covered by the tabloid press, sparked some initial interest from some of the news networks, but the opportunities fizzled.
Still, Spicer appeared to have one clear fallback option all along: the friendly terrain of Fox News. On the day of his exit, after CNN's jab, a Fox News spokesperson told BuzzFeed News that the network talks to "all major players." When it came time to make a decision after the meeting with Spicer, Fox News programming executives didn't think he would add much to its current deep bench of former Republican officials, like Dana Perino and Rove, sources said. There were also whispers that Spicer's enemies might have disparaged him to Fox News CEO Rupert Murdoch.
Ultimately, Dianne Brandi, Fox's executive vice president of business and legal affairs (who recently announced she would step aside), told Barnett that Spicer was not going to get the job, a Fox News source confirmed. Spicer reached out to Fox talent that he knew, but the decision from management was made.
The reaction to Spicer's appearance at the Emmys, which prompted celebrities to apologize for laughing, further spooked media executives. In the end, the fast rollout of a similar Spicer convinced his would-be employers that offering a job would bring unnecessary controversy from the rest of the industry.
"There was a lot of resistance, that's a fact," said one person familiar with Spicer's talks for a TV deal.
Indeed, controversy has followed Spicer after leaving the White House. His off-the-record sessions at Harvard's Kennedy School of Government, where he received a fellowship, generated blistering criticism in both the Harvard Crimson and from students speaking anonymously to the national media.
For now, Spicer is making paid speeches and conducting corporate consulting work, but he has expansive entertainment ambitions, which became a tension point with Barnett. Spicer had reportedly made clear that he wanted to appear on Saturday Night Live — whose depiction of him he criticized as "over the line" in the Hannity interview — but that never panned out, either.
Spicer's relationship with Barnett hasn't been completely severed, and he did help Spicer land his speaking gig. The two still talk, and as an hourly lawyer Barnett doesn't sign a typical agent deal, so splitting up is more informal. Still, WME's Berger — a competitor — is starting to pick up more work, according to a person familiar with the matter. Berger did not immediately return a request for comment.
Now one open question is whether Spicer will focus on pitching a book proposal with Berger. Selling a political book is also Barnett's sweet spot, and while the project had been teased after Spicer left the White House, the two didn't begin to pitch publishers in earnest, publishing sources say.
Some in the book world are wondering how well a Spicer project would sell. A juicy insider account would nab liberal readers, but Spicer has made clear in various meetings that he isn't planning to do a vicious tell-all. ("The only time most publishers had interest in Sean Spicer was when his views on the administration were a mystery," said one publishing industry source.) And the former press secretary isn't as popular as others with Trump's base, raising the question of whether a largely pro-Trump book would find success in conservative circles.
Still, he remains a big name who could own a media cycle with a news-breaking account — as Donna Brazile proved with her recent book — and the overall market for 2016 election accounts has been strong.
Daily punditry didn't work out — though perhaps in some ways to Spicer's benefit, since his TV persona would likely be called upon to defend every new mishap in the White House. But he's not ready to leave the limelight just yet.
"Beyond speaking opportunities and corporate consulting," Spicer told BuzzFeed News on Friday, "I've been listening to several ideas on a variety of fronts."