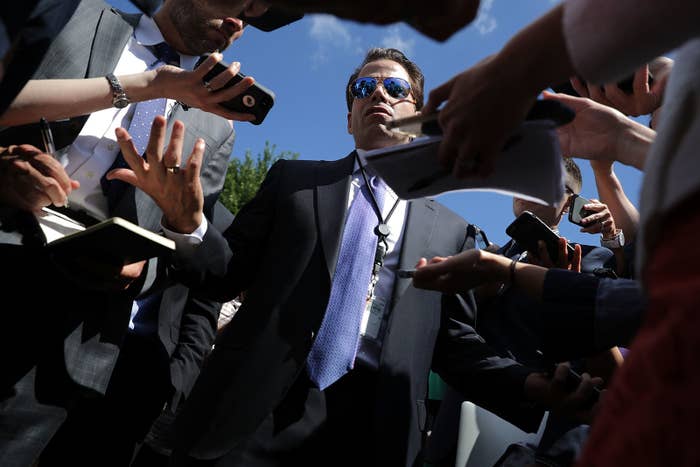 Anthony Scaramucci told a friend, in writing, that he wants to run to be the governor of New York or president of the United States.

The correspondence, obtained by BuzzFeed News, contradicts Scaramucci's tweet on Friday calling a BuzzFeed News report on his political ambition "fake news." The story detailed how the bold former White House communications director, who lasted only 10 days in the Trump administration, had recently told friends he wants to run for office — as mayor of New York City, governor of New York, or US president.
A Mooch campaign would be contingent on the current officeholders, according to the correspondence. Scaramucci would not run for governor of New York if Andrew Cuomo goes through with seeking a third term in 2018. If Donald Trump does not run for reelection in 2020, Scaramucci said he would.
"Have a few friends asked me to entertain the idea of running? The answer is yes," Scaramucci said in a text message to BuzzFeed News on Sunday night. "Have I ever seriously contemplated running and really analyzed it? And [then] said hey I would like to run? The answer is absolutely no. This is why I tweeted out fake news."
Scaramucci's correspondence and recent conversations with friends paint a very different picture: "the Mooch" actively seeking advice on a run and plainly stating his intentions. One source familiar with the matter said that Scaramucci was "100% serious" when he recently asked friends if they thought he would make a good commander in chief.
BuzzFeed News is not printing the correspondence to protect the identity of the source, who sent BuzzFeed News the correspondence because Scaramucci's response to the original story was untrue.
When reached for comment on Friday, Scaramucci had told BuzzFeed News that he is "not running for anything. I am back at work." He added: "I am genuinely enjoying post-swamp life and working on several new business projects."
On Sunday, Scaramucci reaffirmed that he was "back in business."
In the correspondence, however, Scaramucci says he is working to expand his media profile to lay the groundwork for a future run for office. For now, Scaramucci has generated some attention on Twitter with "The Scaramucci Post," which appears to be some sort of forthcoming new media project.
Scaramucci would be a long shot as a political candidate, to be sure, especially if he were up against an incumbent. Some in New York political circles have wondered whether Cuomo, a Democrat believed to be looking at running for president, might be better off leaving the governor's office to focus on 2020. But he has stated his intentions to seek another term, and Trump has also signaled he will run for reelection.