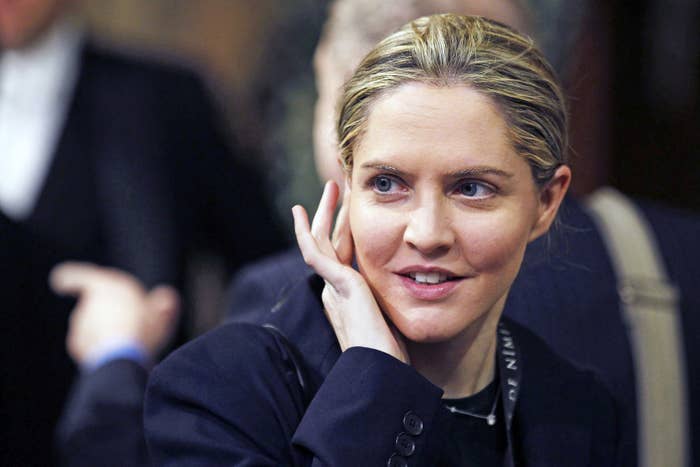 A civil war between news and opinion has broken out at the New York Times.
In a Times op-ed posted online Friday, Louise Mensch, a writer and former member of the UK Parliament, gives her suggestion for what questions the House Intelligence Committee should ask as it holds hearings on Russia's influence in the US election. Mensch offers Times readers reason to trust her expertise: "In November, I broke the story that a Foreign Intelligence Surveillance Act court had issued a warrant that enabled the F.B.I. to examine communications between 'U.S. persons' in the Trump campaign relating to Russia-linked banks," she writes.
On Twitter, Times reporters lashed out.
"Please note that the NYT newsroom disagrees," national security reporter Charlie Savage tweeted. Savage highlighted from his report this month knocking down the FISA claim: "To date, reporters for The New York Times with demonstrated sources in that world have been unable to corroborate that the court issued any such order."
The core of the dispute is whether the FISA court granted a warrant, which the Times and Washington Post have not reported, though the BBC and McClatchy have. The Guardian reported about a June FISA request but stopped short at confirming the supposed October one was granted.
The story from Mensch — who gained international attention as a member of Parliament for tough questioning of the Murdochs during the News of the World phone-hacking scandal — has brought her legitimacy in certain circles. A Guardian profile, for instance, described how she "landed an extraordinary scoop that had eluded the best investigative journalists in the US." Landing aTimes op-ed will likely bring Mensch even more mainstream attention.
A ferocious Twitter user and a loud voice on the Russia story, Mensch is also known for spinning conspiracy theories: that the Russians "murdered" the late Breitbart News founder Andrew Breitbart and that Anthony Weiner was sexting not with a 15-year-old girl but with a hacker working for the Russians. That claim is false: A BuzzFeed News reporter, David Mack, interviewed the teenager in person.
Eric Lichtblau, another Times reporter, had strong words for Mensch on Twitter. After leaders of the Senate Intelligence Committee released a joint statement saying there is no evidence that Trump was wiretapped, Lichtblau tweeted, "Wonder if @louisemensch will now retract her reckless reporting on nonexistent FISA at trump tower, a bogus report that helped create the current fact-free mess in Trumpland over 'wire taps' (air quotes!) and spurred baseless attacks from her followers." Lichtblau added: "You've conned your followers @LouiseMensch in believing you have any clue what you're talking about and created a shitstorm of ignorance."
"I would just point you to what Charlie Savage tweeted last night when he said that 'the NYT newsroom disagrees' with her baseless claims," Lichtblau told BuzzFeed News.
"He's entitled to [his] opinion, but anybody can actually read my story," Mensch said.
"Whether or not there was surveillance under that warrant I do not know. It is outside the scope of my reporting," Mensch said, adding that she understood that permission was granted to "EXAMINE (not surveil or tap) **existing** communications that do involve members of team trump and relate to the target of the warrant." She said: "I have tweeted this part underlined in red to Mr. Lichtblau several times but he still wants to push the Trump White House bs rather than read my report."
Mensch's Heat Street report about the FISA warrant makes no mention of "wiretapping." While the story received little attention when first published, it has more recently formed the foundation for President Donald Trump's evidence-free claim that the Obama administration wiretapped Trump Tower.

Mensch, a digital media executive at News Corp, pointed BuzzFeed News to a January piece by New York Times public editor Liz Spayd that was critical of the paper's coverage of potential ties between Trump's camp and Russian officials. "The Times knew several critical facts: the F.B.I. had a sophisticated investigation underway on Trump's organization, possibly including FISA warrants. (Some news outlets now report that the F.B.I. did indeed have such warrants, an indication of probable cause.)," Spayd wrote, citing the McClatchy story from January. As the Washington Post pointed out, that McClatchy story echoes the reporting of the BBC more so than it does Heat Street's.

Both a spokesperson for the Times and editorial page editor James Bennet did not return requests for comment .