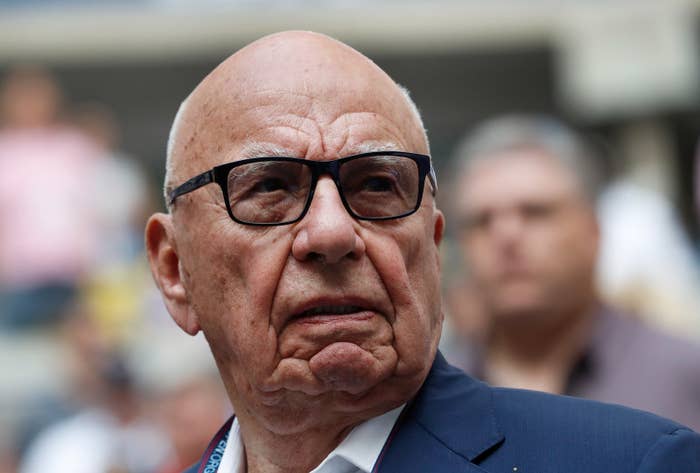 Rupert Murdoch's enemies have called the sale of key parts in his media kingdom a "retreat," but now the brash octogenarian mogul has set the stage for another fight — against Sinclair Broadcasting.
Last week, Murdoch — long known as an aggressive buyer obsessed with empire building — announced the sale of his entertainment holdings to Disney. The Fox broadcast network and Fox News will become part of a new company, Murdoch said, with additional plans to add to its stable of 28 local TV stations. "We will be in the mood to expand and do new things," Murdoch said during a conference call following the deal's announcement. "And we'll have the ability."
Close readers of the comments saw Murdoch taking aim at Sinclair. Inside 21st Century Fox, the conservative broadcasting powerhouse has become the subject of much discussion, particularly as it awaits approval on a $3.9 billion takeover of Tribune (a deal 21st Century Fox had hoped to scuttle). Murdoch's message was clear: When it comes to the TV business, Fox intends to fight.
The Sinclair name was practically unknown outside the TV world before last year. Now the company has garnered a degree of mainstream infamy — fed by a 19-minute takedown by John Oliver — thanks to its political leanings and ties to the Trump administration. And while the local TV business might not seem like much of a battleground, it is still the most widely used method for news consumption in the country, according to Pew.
Speculation has swirled that Sinclair's ultimate goal is to launch a cable competitor to Fox News. Such an undertaking would be hugely expensive — it requires hundreds of millions of dollars to create a cable news outlet from scratch, as the defunct Al Jazeera America learned the hard way. Before Fox News became a financial juggernaut, Murdoch had to stomach years of losses. And cable would be a different business for Sinclair, which currently owns the largest number of local TV stations in the country.
Some have wondered whether Sinclair would take an easier route and make a deal with a cable partner, like conservative news channel Newsmax, which in November struck an agreement with Dish and extended its reach to 50 million homes. Whatever happens — whether the battle lies in local station ownership or cable — Fox is taking the Sinclair threat seriously.
"The sell that [Sinclair] would argue is that Fox has gotten too corporate, too soft, that they are are scared of their shadow," said one source close to Fox News. "They'd point to the Shepard Smith stuff, that they fired O'Reilly, that they fired Eric Bolling. The more corporate Fox becomes, the more vulnerable it becomes to a competitor."
In recent months, Sinclair has been slowly encroaching on Fox New's turf. The broadcasting giant, which has a long history of favoring conservative causes, has increasingly created its own programming. The company has become known for featuring "must run" segments that its affiliates are compelled to broadcast, promoting conservative talking points (and pundits like former Trump official Boris Epshteyn).
"To me, I think it's inevitable Sinclair is going to own a Fox competitor," said Chris Ruddy, the CEO of Newsmax. Ruddy said the Tribune deal would give Sinclair too much power in the media ecosystem, and that Sinclair would be able to muscle in distribution for its own cable property if it wanted to. "I don't think any cable operator can stop them — they would have so much leverage," he said.
Fox sources say that Murdoch refuses to be beaten from the right, and he has sought to shore up the conservative viewer base through a primetime lineup that elevated Sean Hannity and gave airtime to Laura Ingraham. Despite a year of bad press surrounding its harassment scandals, Fox ended 2017 in the lead against CNN and MSNBC in the ratings. Sources say that Murdoch, who took the helm of Fox News in the wake of the Roger Ailes scandal, loves leading the network and has no immediate plans to step aside.
And if the announcement of the Disney deal was an acknowledgement that 21st Century Fox wouldn't beat out its entertainment rivals taking on a new streaming future against Netflix and Amazon, it was also a return to core interests (news, sports) for Murdoch.
Fox is trying to keep up with digital competitors in that realm, too. According to a person familiar with the matter, Fox News is readying a new streaming service that will cost a monthly fee and feature exclusive content from personalities like conservative pundit Tomi Lahren. The service is being imagined for Fox's most passionate fans — and it will house content that is not available on broadcast. Fox News teased the over-the-top streaming service as a "digital product currently in development" when it announced Lahren's hire this summer.
Sinclair, for its part, has its own digital play: Circa, which began as a news aggregation startup, has been reshaped into something of a Breitbart competitor.

As it stands, Sinclair's ability to compete directly with Fox News, as a cable channel itself, is limited. Sinclair pumps its news content to its affiliates — but complicated arrangements govern how much time stations devote to Sinclair's programming. A cable outlet of its own, the thinking goes, would allow Sinclair to truly take on Fox News.
A Sinclair spokesperson pointed BuzzFeed News to comments CEO Chris Ripley gave to Variety this summer. "After we acquired Allbritton [Communications] in 2014, we looked hard at launching a national cable news channel, but we decided the world didn't need another cable news platform," Ripley said. "The market for national cable news is very well served."
For now, Fox and Sinclair's battle is taking shape in the archaic world of local TV.
For the uninitiated, the big broadcast networks — Fox, NBC, CBS, and ABC — show their programming to Americans through local TV stations. An "owned and operated" station is a station owned by one of those companies. But as it stands now, they aren't allowed to own more than 39% of American households, though some believe that the FCC might undo that restriction. Then there are other station owners, like Sinclair and Nexstar, that strike affiliate deals with a broadcaster to air programming and carry the network branding. Fox and Sinclair are, in this regard, partners, and many Sinclair stations are Fox affiliated.
Last week, the Justice Department signaled that it will approve Sinclair's proposed takeover of Tribune on the condition that Sinclair sell off roughly a dozen TV stations due to antitrust concerns, raising the possibility that Murdoch might see some stations on the market sooner rather than later. The merger will also need the approval of the FCC, whose new conservative makeup suggests it will okay the deal.
If completed, the deal would make Sinclair even more powerful.
Earlier this summer, as Sinclair's threat became more clear, Bloomberg reported that Fox was in talks to create a partnership with Ion, which holds more than 60 independent stations. According to the report, Fox was considering switching the affiliation of some its stations that are up for renewal from Sinclair to Ion. Ultimately, Fox renewed deals with Sinclair in five markets, thawing tensions.
Any real local TV expansion from Murdoch likely would not occur until after the Disney agreement closes, which could take around 18 months. There is talk that Murdoch might also seek to recombine "New Fox" with News Corp, the publishing company he controls that owns the Wall Street Journal. A 21st Century Fox spokesperson pointed BuzzFeed News to Murdoch's comments on the conference call, where he said that "ideally" this would happen years down the road.
Murdoch has long been defined by rivalries with politicians, governments, or news adversaries. And after decades of being viewed as a conservative scourge, the last battle of his career ironically might be with another growing force on the political right.
"You might look at the two at being increasingly a bit competitive," said BTIG media analyst Rich Greenfield, "and from that perspective it does make sense for Rupert to protect Fox News over time."
CORRECTION
Sinclair CEO Chris Ripley's name was misstated in a previous version of this post.