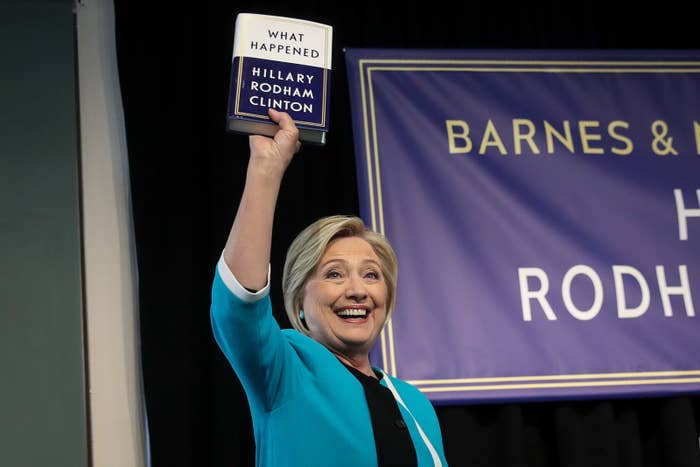 If you're trying to sell a book these days, breaking through the frenetic news environment has never been more difficult.
Unless you're writing about the 2016 election.
A series of recent campaign books have enjoyed monster debuts, demonstrating a voracious reader appetite for behind-the-scenes looks at one of the most surprising elections in history.
What Happened, Hillary Clinton's new book about her shocking loss, has brought in 168,000 hardcover sales, according to NPD BookScan — the biggest opening in five years for a nonfiction release. Combined with e-books and audio, publisher Simon & Schuster said the book had sold more than 300,000 copies, and Clinton has been a ubiquitous presence lately, during a full gamut of media appearances.
Her book will debut at No. 1 on the New York Times nonfiction best-seller list — and at No. 2 is another campaign account: NBC News correspondent Katy Tur's Unbelievable, which documents her time covering Donald Trump's run. Tur's book has sold more than 20,000 print hardcover copies, according to NPD BookScan.
Other campaign books have grabbed reader attention: There's Josh Green's New York Times best-seller Devil's Bargain, an inside look at Steve Bannon's rise and influence, which has sold about 43,000 hardcover copies; Shattered, Jonathan Allen and Amie Parnes' dive into Clinton's failed bid, which has sold 117,000; and Understanding Trump by Newt Gingrich, which has sold 124,000.
Some successful "2016" books don't directly concern the election but have lured readers by illuminating its underlying causes, like J.D. Vance's massively successful Hillbilly Elegy.
"People are fascinated because with 2016 because it was such a black swan event. Each of the books are pieces of a riddle: How did this possibly happen?" said Keith Urbahn, a book agent and a founder of literary agency Javelin.
"I wouldn't have guessed the 'never wants the 2016 election to end' market would be so sizable," said a former Clinton campaign official.
More 2016 books are on the way. Former interim DNC chair Donna Brazile, whom Urbahn represents, will release a book on the one-year anniversary of the election called Hacks: The Inside Story of the Break-ins and Breakdowns That Put Donald Trump in the White House. And campaign chroniclers Mark Halperin and John Heilemann will publish a third installment of their campaign series, with HBO acquiring the rights to turn it into a miniseries.
The success of campaign books come during a tough period for the publishing world, where industry sources have described the difficulty of getting authors on television or attracting media attention in a frenzied environment focused on Trump.
"Publishing into a news cycle that is constantly relitigating the outcome of the election, whether it's about Russia hacking or mistakes on the campaign trail, makes publicity for books on 2016 that much easier, while nonfiction authors who don't have anything to say about Trump or Clinton have a difficult time breaking through," Urbahn said. "It also doesn't hurt that Trump keeps 2016 front and center all the time, like a former football player reliving his high school glory days."