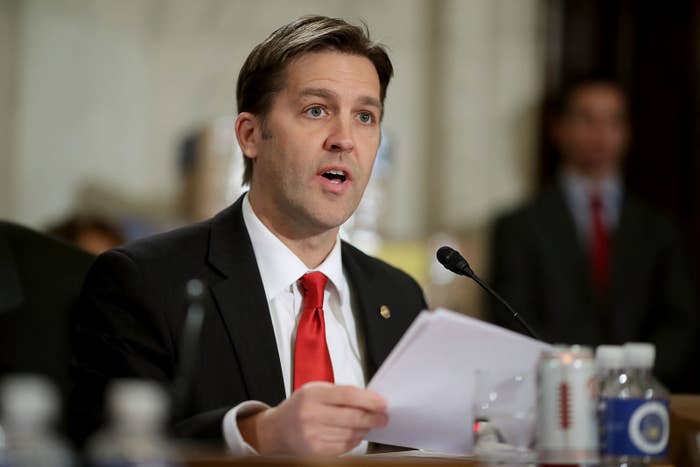 Ben Sasse's profile has risen steadily in recent months, as the junior senator from Nebraska emerged as a vocal Trump skeptic among Republicans and a funny man on Twitter.
Now Sasse is benefiting in the all-important bragging rights contest for ambitious politicians: book sales.
Sasse's new book, The Vanishing American Adult, sold about 14,000 copies in its first few days, according to Nielsen Bookscan data. The strong showing topped first week sales compared to a handful of published colleagues, like Ted Cruz, who sold 11,854 copies in his book's first week.
But Sasse has also already outsold some recent books from sitting senators over their entire book lifetimes — including those from Marco Rubio, Mitch McConnell, Cory Booker, Amy Klobuchar, Mike Lee, Claire McCaskill, and Sheldon Whitehouse, according to Nielsen Bookscan figures. Sasse is still a long way from other colleagues, like Bernie Sanders and Elizabeth Warren, who have sold about 200,000 and 57,000 copies of their recent books, respectively. Cruz has sold about 68,000.
Political books tend to follow a well-worn formula: cliche title, inspiring portrait on the cover, and a series of platitudes throughout the pages laying the foundation for an inevitable White House run. They are often tough to sell.
Sasse's book has won some plaudits — or at least notice — from critics, since it focuses on broader topics like parenting and the problems of modern culture. As the New York Times noted, despite Sasse's status as one of the first Never Trump Republicans, the book reflects little on the president and is instead "part how-to manual, part jeremiad, filled with rambling disquisitions on the likes of Augustine, Teddy Roosevelt, and the philosopher John Dewey."
"While so many of his colleagues have written personal memoirs and campaign policy books to lay the groundwork for a potential presidential run, Sasse has chosen a different path," Matt Lewis wrote in The Daily Beast. "It's more of a how-to guide for surviving and thriving in the 21st century—and it's also about raising kids to become adults with values and character."
But other critics say they see through Sasse's shtick about trying to write a different kind of political book. "Sasse protests that he is not writing a policy book, and he protests a lot, if vainly," the Washington Post's Alyssa Rosenberg wrote.