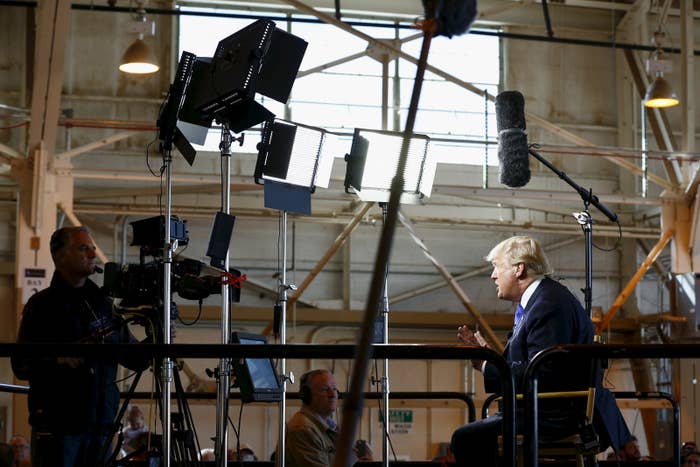 For two decades, Bill O'Reilly has been a towering figure in Republican politics, a crucial pit stop for GOP politicians attempting to reach his nearly 4 million strong, largely conservative audience.
But as he heads out on vacation amid an advertising boycott, Fox News staffers have been left wondering whether he will return at all from a two-week getaway that the network and anchor say was preplanned.
Despite the assurances that the trip was booked last fall and that O'Reilly is due to come back on April 24, the timing is raising doubts. One top Fox News source said that the 67-year-old host was pushed to go on a lengthy vacation, a move that buys Rupert Murdoch time to consider his future. The media mogul behind Fox News parent 21st Century Fox assumed control after former network chief Roger Ailes was ousted amid a sexual harassment saga this summer, and he has acted more or less unilaterally on Fox News decisions, the source said.
Murdoch's choice — arguably the most important programming decision in Fox New history — is a complicated one that weighs the preeminence of O'Reilly with the inherent power of the 8 p.m. hour on the most popular cable news network. O'Reilly has loomed large in the television industry, and the conventional wisdom in the media world as the allegations broke has been that he is far too valuable to be pushed aside. His ratings are coming off of their best quarter ever. He brings in an astonishing amount of advertising money: $178 million in 2015, according to Kantar Media. Indeed, The O'Reilly Factor's reign as the most-watched cable show has continued even in the weeks since the new allegations emerged.
That significance was on display last week when President Trump, an avowed Fox News fan, told the New York Times that O'Reilly shouldn't have settled cases with his accusers. "I don't think Bill did anything wrong," Trump said. "He is a good person."
But inside the White House, the uncertainty surrounding the Fox News anchor's future amid a sexual harassment scandal isn't being viewed as much of a problem.
A source close to the administration said that while O'Reilly treats the president fairly, he isn't as hardline as some other Fox News pundits, and the loss of his presence on the network wouldn't be too much of a loss for Trump. "Someone like Hannity would be a huge negative, or Lou Dobbs," the source said. (Dobbs is an adamant supporter of Trump's immigration agenda.)
The White House did not respond to requests for comment.
The controversy ignited earlier this month when the Times reported that five women received about $13 million to settle allegations against the anchor, who has denied the claims, which included sexual and verbal harassment accusations. Some 70 advertisers have pulled their commercials from his program, putting more public relations and financial pressure on the network to act.
Fox News sources say that while the decision will ultimately come down to Murdoch and his sons, the internal chatter is that O'Reilly might be gone for good.
That speculation, though, is perhaps influenced by his standing in Fox's Midtown headquarters.
"The only person you hear bad things about on a regular basis is Bill O'Reilly — he definitely has not made friends in the building, from the makeup people to senior producers," one Fox News source said. Another top Fox personality called O'Reilly a "dick."
New York magazine reported that the Murdoch family is divided over the issue, with 21st Century Fox CEO James Murdoch favoring O'Reilly's ouster and his older brother Lachlan and father Rupert leaning toward keeping him. The Times reported Wednesday that as O'Reilly goes on his Italian vacation — which a spokesman told the Times coincided with O'Reilly's kids' spring break — the Murdochs are awaiting the results of an investigation of his conduct by the law firm Paul, Weiss, Rifkind, Wharton & Garrison. As the AP noted, O'Reilly hasn't taken this long of a spring break consecutively for at least a decade. He took off a similar amount of time last August, though.
"The facts are as clear as can be: The vacation was planned last October and involves travel with a group of people. The vacation coincides with the Easter holiday and with the spring school break," Mark Fabiani, a spokesperson for O'Reilly, said in an email.
One of the Fox News sources said Murdoch's sons' view of the network is that they "respect it's a cash cow — if money keeps printing they're fine with it," but if that stops they would have no problem blowing things up.
In an emailed statement, a 21st Century Fox spokesperson said, "21st Century Fox investigates all complaints and we have asked the law firm Paul Weiss to continue assisting the company in these serious matters."
For now, O'Reilly's vacation relieves some of the PR pressure from the ad boycott. But ad executives, whose clients shy away from anything that could go over poorly with the press and consumers, say that advertisers are unlikely to return to the show unless Fox makes some sort of change that gives them political cover to do so. Though Fox can maneuver the ads to stem immediate financial losses, the boycott dragging on threatens to pose a tangible financial problem for the network, which hasn't responded to the boycott other than to say that the spots have been "re-expressed" in other programs.

Fox has faced advertiser pressure before. After an ad revolt, Glenn Beck's old Fox show was made up of low-end ads like "buy gold" commercials before the network eventually pulled the program, one ad buyer noted.
There's also the question of who could even replace O'Reilly — though Murdoch has proven to be a shrewder cable programmer than many expected. In an eyebrow-raising move, the billionaire mogul tapped Tucker Carlson for the 9 p.m. slot when Megyn Kelly decamped Fox for NBC News amid the Ailes scandal. With more Americans glued to political TV and good reviews of his performance, Carlson's ratings have soared, raising the question as to whether O'Reilly might not be so indispensable after all. A primetime slot on Fox News, one of the Fox sources said, has a certain guaranteed audience.
Still, if O'Reilly is forced out, there is no clear succession plan. Dana Perino filled in for O'Reilly Wednesday night, and a Fox News spokesperson said a rotating cast of host talent will fill in while he is away. There are also signs that Fox may endeavor to stick it out. Even after the network had knowledge of the Times' story, for instance, O'Reilly's contract was renewed through 2020, according to reports.