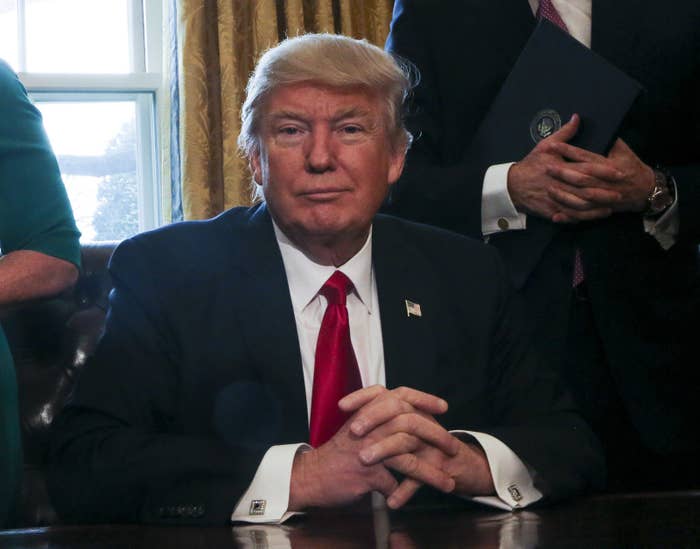 Veteran media critic Michael Wolff is shopping around a book about the Trump administration, two sources familiar with the pitch told BuzzFeed News.
Wolff, a source said, is attempting to convince the White House to grant him access for the book. A few weeks ago, he was seen having lunch at the fading Manhattan media power lunch joint Michael's with special counselor to the president Kellyanne Conway, which turned heads even at a restaurant known for star sightings.
Wolff recently published a piece in the Hollywood Reporter, which referenced the lunch and reflected on Conway's role as a media lightning rod. "If Donald Trump is going to war with the media — if he is to continue his war — Kellyanne Conway will be both his general and, likely, his cannon fodder," Wolff wrote.
Days after the election, Wolff also published a largely flattering profile of Steve Bannon, Trump's chief strategist who has taken center stage in the new administration.
Wolff did not return multiple requests for comment.
Wolff, a controversy-prone media chronicler, has a history of securing unprecedented access to his subjects — although they don't always like the result. Wolff was granted wide access to Rupert Murdoch for his 2008 biography The Man Who Owns the News. Before publication, the billionaire media mogul took issue with portions of Wolff's book, the New York Times reported at the time.
Wolff, who created web curation site Newser in 2007, has more recently become a frequent critic of digital media upstarts, including BuzzFeed. His 2015 book Television Is the New Television argued in favor of the enduring strength of traditional media companies in the face of newer digital competitors.
In recent years, Wolff's media writing has appeared in the Hollywood Reporter, Town & Country Magazine, USA Today, and British GQ. A few years ago, he had a short, contentious stint as the editorial director of Adweek, leaving after he tried to inject the ad trade publication with more consumer-facing media coverage.
While the New York Times once described Wolff as "genuinely detested," he has a knack for breaking stories about powerful figures. Now he has evidently turned his attention to politics — and Trump. In November, Wolff said in an interview that a large part of journalists' jobs is pure stenography, a remark that received considerable Twitter backlash.
On Sunday, Wolff appeared on CNN and criticized the media for "having a nervous breakdown" while covering Trump, though he acknowledged the Trump administration is a great story for journalists. "Which is why I am, like all of us, spending every day on it," he said.