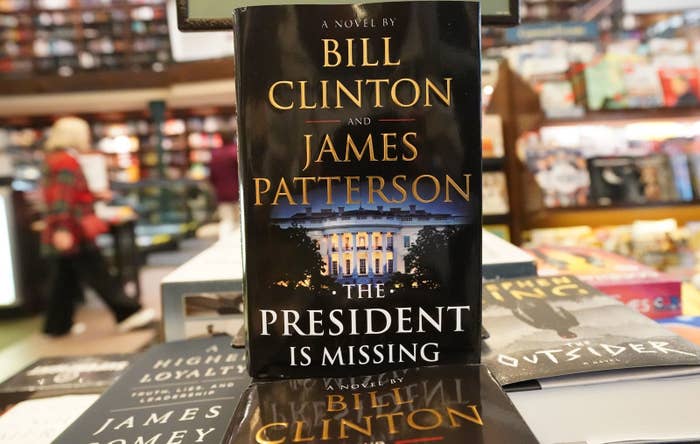 Book tours for former presidents are usually a combination of prominent book reviews, chummy late-night TV hits, and softball interviews on morning television.
Former president Bill Clinton's media tour for his new fiction thriller has offered something else: reckoning with his past behavior in the wake of the #MeToo movement.
On Sunday, CBS Sunday Morning asked Clinton about New York Sen. Kirsten Gillibrand's comment last year that he should have resigned over the Monica Lewinsky scandal. (Clinton told CBS that he disagreed and added that Gillibrand was "living in a different context" and made the comment for "different reasons.")
On Monday morning, NBC News' Craig Melvin questioned Clinton relentlessly over whether he owed Lewinsky a personal apology for his involvement with the then–White House intern.
In the NBC interview, Clinton appeared flustered, angry, and unprepared for the line of questioning — an uncommon occurrence in the highly scripted world of book promotions. Publicists for high-profile clients and networks typically negotiate about what will be discussed. Two people familiar with the matter said that Clinton wasn't unprepared for the topic but was angry with Melvin's "style" of driving at an issue that Clinton believes was sufficiently litigated two decades ago.
The book tour marks a reappearance of sorts for Clinton, who has not been as public a figure since the 2016 election. In the interim, the #MeToo movement — which brought forth allegations against powerful men in a wide swath of industries, including politics — has also provoked a reexamination of the sexual misconduct allegations against Clinton, particularly as it concerns Lewinsky and the changing perceptions of power dynamics in the workplace. Along with some liberal writers, Gillibrand argued last year that Clinton should've resigned.
On Monday, Clinton faced swift criticism for the interview — while Melvin received praise for the tough questioning. (Friends of Clinton griped privately that NBC and the Today show were trying to appear harder on the former president because they had their own #MeToo scandal to contend with in the form of Matt Lauer.)
Now Clinton's publisher is trying to refocus the publicity back on the book — written alongside author James Patterson — though it's unclear how much the topic may come to dominate the rest of the tour as Clinton crosses the country for various events.

"Our future plans are unchanged," said Paul Bogaards, a public relations executive for the book's publisher, Knopf Doubleday.
Bogaards said that the authors have forthcoming interviews with CBS late-night host Stephen Colbert, PBS NewsHour, Live With Kelly and Ryan, and The Daily Show With Trevor Noah, as well as with other major media outlets (some of which have been published, while others have yet to be released).
"The subjects covered in these interviews have been wide-ranging, because the book itself is wide-ranging in the ground it covers, and all of the interviews have commented on the unique collaboration at work here," he said.
But it's likely that more #MeToo questions may follow in future interviews. In response to Melvin, Clinton said he supported the movement but said that he had already "apologized to everyone in the world."
When asked whether he felt like he should take more personal responsibility for the scandal, in light of fresh scrutiny given to workplace sexual harassment issues, Clinton said he didn't: "I felt terrible then, and I came to grips with it."
Clinton publicly apologized to Lewinsky but said he had not done so privately. "That's very different. The apology was public," he said.