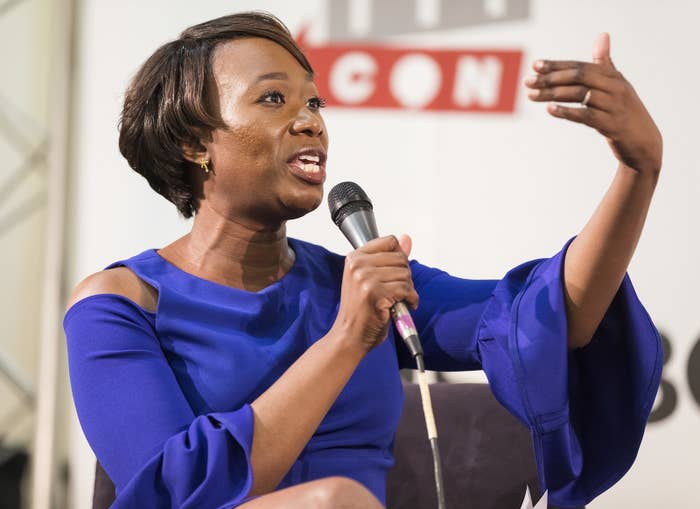 Joy Reid has backed out of a planned speaking event, according to people involved in the conference, as the MSNBC host claims that recently uncovered, anti-gay blog posts were fabricated.
Reid was set to participate Thursday in a "Change Summit" event in New York organized by former US attorney Preet Bharara and his media venture Cafe. Reid planned to moderate a panel with Washington Lt. Gov. Cyrus Habib; Pete Buttigieg, the openly gay mayor of South Bend, Indiana; and Ravi Bhalla, the mayor of Hoboken, New Jersey.
MSNBC and Reid did not immediately return requests for comment late Wednesday night.

Reid's cancelation comes as the MSNBC host, a star progressive voice who hosts a weekend show on the cable news network, scrambles to explain a series of decade-old blog entries that she claims she did not post.
On Monday, Reid told Mediaite that the comments were placed by an "external party" that "manipulated material from my now-defunct blog." The posts, from 2005–2007, included comments calling Anderson Cooper "the gayest thing on TV" and saying that "most straight people cringe at the sight of two men kissing." Cooper came out in 2012.
The author of the posts wrote that "most straight people had a hard time being convinced to watch 'Brokeback Mountain.' (I admit that I couldn't go see the movie either, despite my sister's ringing endorsement, because I didn't want to watch the two male characters having sex.)"
These posts follow a separate but similar incident in December, where Reid apologized for making a series of anti-gay remarks on the now-shuttered blog, The Reid Report, including a post that nicknamed Florida Rep. Charlie Crist "Miss Charlie" and claimed that he was a closeted gay man.
In the immediate fallout of the newly surfaced posts, Reid pointed to analysis conducted by a private cybersecurity professional to back up her claims. The Internet Archive, whose digital archive the Wayback Machine was used by a Twitter user who originally uncovered the old posts, said in a statement that it "found nothing to indicate tampering or hacking."
On Wednesday, Reid's lawyer John H. Reichman issued a statement saying, "We have received confirmation the FBI has opened an investigation into potential criminal activities surrounding several online accounts, including personal email and blog accounts, belonging to Joy-Ann Reid. Our own investigation and monitoring of the situation will continue in parallel, and we are cooperating with law enforcement as their investigation proceeds."