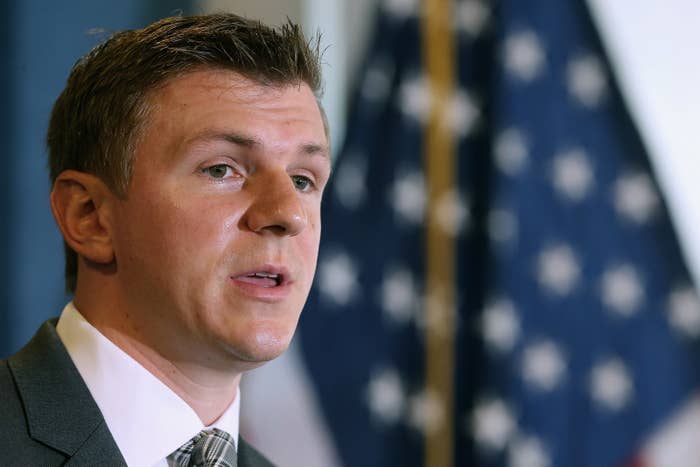 For months, lawsuits have piled up against James O'Keefe, the conservative filmmaker and provocateur, from various targets of his signature undercover videos.
But O'Keefe and his video site Project Veritas have taken some legal action of their own recently — against the insurance company that they claim violated a contractual obligation to pay for mushrooming legal bills.
Now Project Veritas is engaged in a battle with the company it hoped would protect it, a dispute that lays bare the stark challenges faced by O'Keefe for the kind of controversial, litigation-prone hidden camera stings that have made him both a scourge and a conservative media darling.
In September, O'Keefe and his associates at Project Veritas sued Gemini Insurance Company for "wrongful denial to defend and indemnify" Project Veritas over three lawsuits. The company alleged that Gemini was in breach of contract for not footing the bill for the lawsuits, which included a defamation allegation from the president of a Kansas teachers union.
Last month, O'Keefe and his fellow plaintiffs at Project Veritas dismissed the lawsuit, which executive director Russell Verney told BuzzFeed News was mistakenly filed. The insurance policy requires the dispute to be settled under arbitration, Verney said, and Project Veritas has entered into that process.
A spokesperson for W.R. Berkley Corporation, which owns Gemini, declined to comment, saying that the company had a policy to not comment on litigation or the status of its client relationships. Arbitration documents obtained by BuzzFeed News show that Gemini is fighting Project Veritas on its claims.
According to documents, the disagreement now hinges on coverage for four different lawsuits.
In February, Project Veritas said it reached out to Gemini over a lawsuit from a former employee of textbook company Pearson Education who was fired after being caught on camera in a Project Veritas video taking on the Common Core curriculum, a topic criticized frequently by conservative media. Project Veritas claims that Gemini initially provided a defense, but later denied it coverage.
This summer, Project Veritas unsuccessfully sought to enact its insurance policy when Steve Wentz, the Kansas teachers union president, alleged in a lawsuit that a video that appeared to show him suggesting he has threatened students with physical violence was "creatively edited… to make him appear violent and dangerous." An attorney for Wentz said that the recording was taken without Wentz's authorization. Florida, where the video was taken, has a two-party consent law that requires both parties involved in a conversation to agree to be recorded.
Project Veritas also said it was denied coverage from Gemini regarding a lawsuit over an undercover video sting against Democratic operatives that occurred in the run-up before the 2016 election. That suit alleged that an associate to O'Keefe won an internship at a firm called Democracy Partners under false pretenses and worked undercover.
Project Veritas notified its insurer in September about a fourth lawsuit, brought by a woman in North Carolina featured in O'Keefe's videos who is suing for defamation.
According to the arbitration complaint, Project Veritas and its operatives incurred more than $160,000 in legal fees without Gemini's assistance. The complaint said that Gemini's contract insured Project Veritas for $1,000,000 on each claim and in total, with a deductible of $25,000 for each claim.
The insurer had told Project Veritas that the claims did not fall within the policy, according to the complaint. Gemini countered that Project Veritas had misrepresented itself in its insurance application: specifically, Gemini said that Project Veritas reported that it had obtained consent from people appearing in its videos. In the complaint, Project Veritas denies misrepresenting itself, saying that the group "disclosed on the application that the nature of its investigations was 'undercover' video recordings, using 'mini-cams' and 'hidden cameras.'"
Gemini also claims that the policy covers work done for hire — and the lawsuits therefore are outside of the policy. Project Veritas disputes that characterization, adding that its work is for the public and that the policy should cover that.
Like most businesses, media companies rely on insurance to help protect from legal liability, but the degree to which that covers fallout over what media organizations publish has been tested in the past. The former Gawker Media, for instance, sparred in court with its insurer over the site's bills in its war with Hulk Hogan. The professional wrestler would end up, somewhat famously in media circles, dropping a claim of emotional stress that could have triggered the policy. That led to early rumors that a behind-the-scenes financier — later revealed to be Silicon Valley billionaire and Gawker enemy Peter Thiel — was funding the case in order to topple the gossip site.
Verney has similar suspicions that the lawsuits against Project Veritas, which he called frivolous, were linked together in "some effort to tie us up in litigation and legal expenses."
That argument is a familiar trope for students of Project Veritas, whose videos typically allege to unearth conspiracies about Democrats and the mainstream media. O'Keefe has cast himself as a First Amendment crusader, and his activist group, Project Veritas Action Fund, is suing over a Massachusetts eavesdropping law that prevents his style of undercover work.
But O'Keefe's career is also marked by instances of dubious editing and lawsuits. He first came to prominence in 2009 thanks to undercover videos that led to the downfall of liberal organizer ACORN; in 2013, O'Keefe settled a lawsuit brought by a former ACORN employee for $100,000. In 2010, he pleaded guilty to entering a federal building under false pretenses and was sentenced to three years of probation over his involvement in a botched incident at then-Senator Mary Landrieu's office.
In September, a circuit court judge in September restricted Project Veritas from publishing information obtained in an apparent undercover intern sting operation into the Michigan chapter of the American Federation of Teachers.