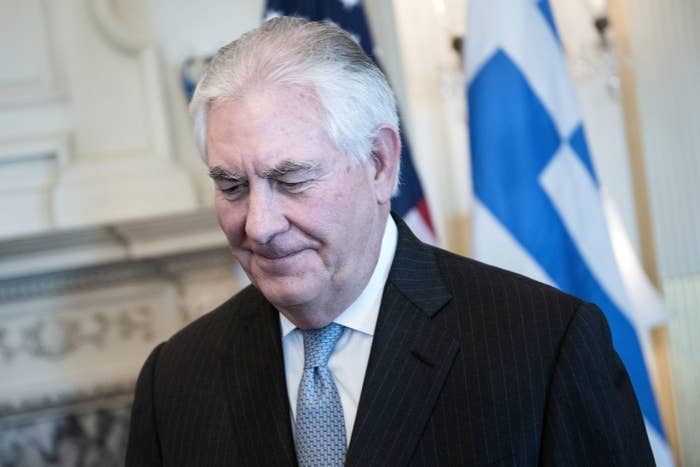 Secretary of State Rex Tillerson is making a major diplomatic trip to Asia without bringing along a traveling press corps, citing a smaller-than-usual aircraft and a desire to cut costs — except for one reporter: Erin McPike, the White House correspondent for the Independent Journal Review, who has a press spot on Tillerson's plane.
"We don't take this opportunity lightly and recognize the controversy surrounding press access for the trip," IJR founder Alex Skatell said in a statement to BuzzFeed News. "Last week, the State Department officially offered McPike an opportunity to cover the secretary's upcoming trip to Asia. An official explained that the delegation would be flying on a smaller plane than normal and that press access would be limited. After editorial consultation, McPike accepted the seat."
Grabbing the sole spot on Tillerson's trip to Japan, China, and South Korea is a major coup for IJR, which burst onto the scene a few years ago and has been described as a social media–geared outlet for young conservatives. The site had some viral hits throughout the campaign — like when it got Sen. Ted Cruz to fire a gun wrapped with bacon — but since then has added reporters as well. The site landed a huge scoop, for instance, when it first reported that President Trump would nominate Judge Neil Gorsuch for the Supreme Court.
The plane issue has been sticking point among the larger State Department press, who have been outwardly griping about the lack of access they have had to Tillerson in the early weeks of the new administration. On Friday, White House press secretary Sean Spicer said that the State Department was looking to save money by taking a smaller plane, though news outlets customarily compensate the government for reporters' travel expenses.
The topic came up again Tuesday at a State Department briefing when deputy spokesperson Mark Toner was asked by a reporter if Tillerson would in fact bring any journalists with him. "You're two hours and six minutes from takeoff. Is it really so hard to find out whether there's a reporter on the plane?" asked the reporter, Arshad Mohammed from Reuters, according to a transcript of the press briefing.
"I do know that they were considering a seat, having a — or if there was a possibility of having a seat available. All that said, it's a small airplane. There's limited seats available. We've been very clear in our discussions with the media about that," Toner said.
"You're aware that Secretary Powell took a small plane to Greenland in, I think, August of 2004. He found room for a reporter. Is the plane even smaller than that? I mean, if he was able to take one, why can't Secretary Tillerson?" Mohammed asked, adding that the media has historically paid for the cost of travel.
Competitors could be upset about IJR winning the only seat, but in his statement, Skatell said that "we take this responsibility seriously as a news organization."
Skatell said McPike, who joined the site after stints at CNN and Real Clear Politics, has a "tenacious, detailed brand of reporting," and highlighted her recent stories about Tillerson's style of diplomacy and a Pentagon background briefing on ISIS.