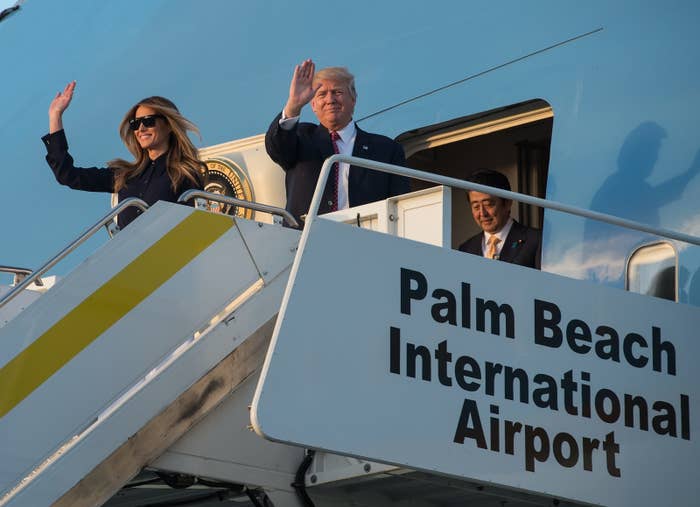 For five weekends this winter, South Florida has become the center of the universe.
As President Trump spends weekends in Palm Beach, turning Mar-a-Lago into a "Winter White House," he's dragged the club's membership into national politics — and elevated the local press into a source of national news about influence and access to the president of the United States.
Take, for instance, this Palm Beach Post scoop: two luxury yachts, one owned by a Russian oligarch and the other by Donald Trump's hedge-fund billionaire backer Robert Mercer, were spotted anchored side-by-side in a cove near the British Virgin Islands.
It's the kind of story (billionaires, yachts) that characterizes "the season" in Palm Beach, except it's also about people in the president's orbit. The story, posted Tuesday evening, found the national spotlight hours later, when MSNBC's Rachel Maddow cited the article in her lengthy build-up to revealing much-hyped information about Trump's tax returns. The Post had earlier reported that the oligarch, Dmitry Rybolovlev, had purchased a mansion from Trump in 2008 through a family trust for $95 million, the biggest price tag for a home on Palm Beach. That story also led Politico's widely-read morning email, Playbook.
It's not unusual for presidents to spend time away from Washington, and Trump — who routinely flew back to New York during the summer months of the campaign to sleep in his own bed — has for years spent winter weekends in Palm Beach. "Every weekend between [Thanksgiving], and then in April, he's in Mar-a-Lago," said Jose Lambiet, a veteran South Florida gossip columnist. "And he hasn't changed those habits."
"It's an interesting mix between being a local story, but it's also kind of: 'Area Man Is President,'" said George Bennett, a political reporter at the Palm Beach Post.
What is different with Trump is that unlike recent presidents' secluded weekend retreats or activities, Mar-a-Lago is a club with a hundred points of entry, from the kinds of people who talk to reporters to those that post photos on social media, and who've paid hundreds of thousands of dollars to be there.
"We've always covered events that happen at Mar-a-Lago. Then he's running for president, and that's interesting. Now he's president and that's even more interesting," said Elizabeth Clarke, the editor of the Palm Beach Daily News, which residents call "The Shiny Sheet." Both the Post and Daily News are owned by Cox Media Group.
One advantage for the Shiny Sheet is that it can get photographers into Mar-a-Lago, which has taken on greater diplomatic importance since Trump started inviting world leaders to the club, like Japan's Shinzo Abe. Trump is reportedly planning to host Chinese President Xi Jinping next month.
There are the standard society events where the Daily News also has an edge: A photographer snapped photos at the Mar-a-Lago New Year's Eve party, for instance, including a shot of the Trumps dancing to "Natural Woman" that was passed around by the national media across Twitter.
Some locals aren't pleased about the whole thing. Lambiet said many of his Palm Beach sources are upset that Trump stays holed up in Mar-a-Lago when he visits. "He goes to play golf in Trump clubs. Would it kill him to go and have dinner at Cafe L'Europe or Palm Beach Grill with Melania and the 500 people he drags along?" Lambiet said. At first, Lambiet said Mar-a-Lago members were ecstatic that their club would become the Winter White House, but now the traffic on Palm Beach's two-lane roads has become unbearable, and residents have to fly their gulfstreams into different airports when they come to town.
The White House did not return a request for comment for this story.
Even the local media is getting tired of the routine, despite the uptick in attention. "I wouldn't call it excitement. As every weekend comes around, it becomes sort of a drill to get ready for Trump coverage again," said Frank Cerabino, the metro columnist for the Palm Beach Post since 1991.
"We don't have a break anymore. There's always tips coming in Saturdays and Sundays," Lambiet said. He recently reported that members of Mar-a-Lago, where fees recently reportedly doubled to $200,000, were getting barred from nabbing reservations and told that they are no longer allowed to take photos when Trump's in the building. "Members are not necessarily happy, and unhappy members are calling the press," said Lambiet, who added that traffic to his site GossipExtra.com was doubling or tripling on weekends where Trump is in town.
Trump has provided fodder for local columnists too. "Trump has been a staple. He's so reliably newsworthy for a columnist. He's always doing something outrageous or funny or bizarre," Cerabino said.
For locals stuck in traffic and sleepless society reporters, the good news is that we're almost "out of season." The "snowbirds" who split their time between cold-weather locales and Florida will soon retreat to their summer homes in the Hamptons or thereabouts, and the Winter White House will go quiet for another year. For year-round residents, it'll be easier to get a table.