It started with Michael Sam.

On May 10, 2014, Sam became the first openly gay player to be selected in the National Football League Draft. After his college career as a defensive end at the University of Missouri, Sam came out publicly, quickly turning him into a household name, a national LGBT icon, and a magnet for media attention.
But Sam, once predicted to be a second or third-round pick, struggled during the NFL Combine, the scouting showcase for college football players. League executives, controversially granted anonymity by Sports Illustrated, told the magazine that Sam's decision to come out might hurt his draft prospects.
So emotions were running high when Sam was chosen in the draft's last round by the St. Louis Rams — the 249th of 256 players. ESPN, the sports cable behemoth, captured the historic moment on television: Sam gets the call that he has been drafted, breaks down crying, and kisses his boyfriend.
For ESPN, it was a barrier-breaking piece of TV: an interracial gay couple — one of whom is on his way to the most culturally significant, macho profession in America — embracing in a moment of triumph. One year later, the Supreme Court would rule in favor of national marriage equality.
But some conservatives also see the wall-to-wall coverage surrounding Michael Sam — who quickly flamed out from the league before stepping away from football in 2015 — as the beginning of ESPN as a liberal, agenda-driven TV network, which they argue is the source of the network's declining subscriber base and financial problems. "MSNBC with footballs." Sam was a middling player on the field, conservatives argue, so why did he receive outsize attention from the "worldwide leader in sports?"
Once a profit powerhouse, ESPN has become a business in crisis as it struggles to navigate the eroding pay-TV industry. Some conservative critics attribute this to a newly politicized network. Other conservatives say they recognize that ESPN's business problems are deeper — and that the political aspect to ESPN is merely an attempt to generate heat amid that decline. The gleeful reaction, some say, is mostly just schadenfreude. Either way, in the parlance of trolls abusing sportswriters' Twitter mentions, conservatives say ESPN should "stick to sports."
For media outlets on the right like like Breitbart, Heat Street, and National Review, ESPN's bottom line is suffering because it abandoned middle America and has no idea that its core, white base is really pissed off.
"I think ESPN is making the same mistake of the Hillary campaign," conservative writer Ben Shapiro told BuzzFeed News. "Every conservative I talk to is annoyed by ESPN. Every leftist I talk to says, 'I don't know anyone who is annoyed by ESPN.'"
Media industry analysts on Wall Street caution that the network's problems are about math, not politics. ESPN is spending billions of dollars a year on expensive sports rights deals to air NFL, NBA, MLB, and college football games, long-running programming costs that will continue to be a major drag for years to come. At the same time, ESPN's subscriber figures are falling as more Americans "cut the cord" and ditch their pricey cable packages for streaming options, "skinny bundles," or nothing at all. Young people that networks and advertisers desperately try to reach are watching dunk highlights on Instagram, not SportsCenter. Scores and stats are easily available on mobile devices and across social media, unlike the golden 1990s and early 2000s when ESPN flourished. And a newer crop of digital sports media properties and personalities — like Big Cat and PFT Commenter from the Pardon My Take podcast — have captured the attention of college-aged sports fans in place of the larger than life ESPN talking heads of yore. The network has lost more than 10 million cable subscribers since 2011, when it had more than 100 million.
Investors in Disney, the network's majority owner, have gotten increasingly jumpy over the past two years, and ESPN has become the focal point of every quarterly earnings. As a result, ESPN has embarked on various rounds of belt-tightening. Last week ESPN made the most high-profile one yet, laying off some 100 employees, mostly on-air talent and sportswriters. The list included well-known names like writer Jane McManus, NFL reporter Ed Werder, and MLB writer Jayson Stark.
"The challenge at ESPN is that subscribers are falling, eyeballs watching are falling, and they have way, way overspent on sports rights," Rich Greenfield, a media industry analyst at BTIG, told BuzzFeed News. "They are scrambling to reduce costs. There is no other way to read it."
But some conservatives are reading it another way.
"This is the evolution of how media has evolved, but [politics] certainly has played a role in how deep the cuts had to be," said conservative talk show host Steve Deace. "It has hastened their demise. When your business model is collapsing, the last thing you do is narrow your potential base."
Like with other stories about ESPN's business issues, conservative media quickly pounced on the recent round of layoffs.
"The more you import politics into the spaces people reserve to crack open a beer at the end of the day and enjoy a ballgame, the more apt they are to look for something else to watch that is not full of man's failures," Dan McLaughlin wrote in National Review.
Breitbart, which has written about ESPN extensively, did so again last Tuesday and Wednesday. "It turns out that insulting and demeaning half the population does not make for a winning business strategy," Breitbart wrote in March. "Growing evidence would suggest the subscriber slump is also driven, in part, by viewer disgust with ESPN's politics," according to conservative site Heat Street earlier this year.

Matt Mackowiak, a Republican communications strategist and longtime ESPN viewer, said that he takes no joy from seeing people laid off. But in his view, the cuts justify the argument that ESPN's wounds are self-inflicted.
"These kind of quote, end quote 'victories' are so rare that a lot of us feel that we kind of have to celebrate them," Mackowiak said. "A lot of people feel like this was a rejection of a hard-left political ideology being imbued into a sacred franchise of sports programming."
But how did ESPN become such a flashpoint conservative meme? Deace and Mackowiak say that they trace the beginning conservatives' criticism of ESPN to that Michael Sam story.
"When your business model is collapsing, the last thing you do is narrow your potential base."
"They drove this into the ground. Most of middle America was like, 'Dude, I don't know, could the guy get me 12 or 15 sacks?" Deace said. "You had to see Michael Sam as Rosa Parks."
Deace added that the right made its own mistake by placing too much hope and praise on Tim Tebow, a deeply religious Christian and Heisman Trophy–winner who ended up muddling through the NFL. "The extremes of both sides are looking for icons to justify their political agendas," he said.
ESPN received heaps of criticism for airing too much Tebow coverage, too. And while Sam's critics like to argue that he was never really that good, lost in the discussion is the degree to which the media hoopla and harsh words from anonymous league executives became a self-fulfilling prophecy that shrunk his draft stock and reduced any chance he had of making it.
Conservative outrage of ESPN's Sam coverage was reminiscent of the story of basketball player Jason Collins, who came out in 2013 and became the first publicly gay athlete in a major American sport. It was a huge moment. The network covered the event extensively, and ESPN reporter Chris Broussard came under fire after he made comments equating being gay to committing a sin. The network issued a statement seeking to distance itself from Broussard and show corporate support for Collins, and the incident is to this day cited in conservative blogs as an example of ESPN's leftist stance.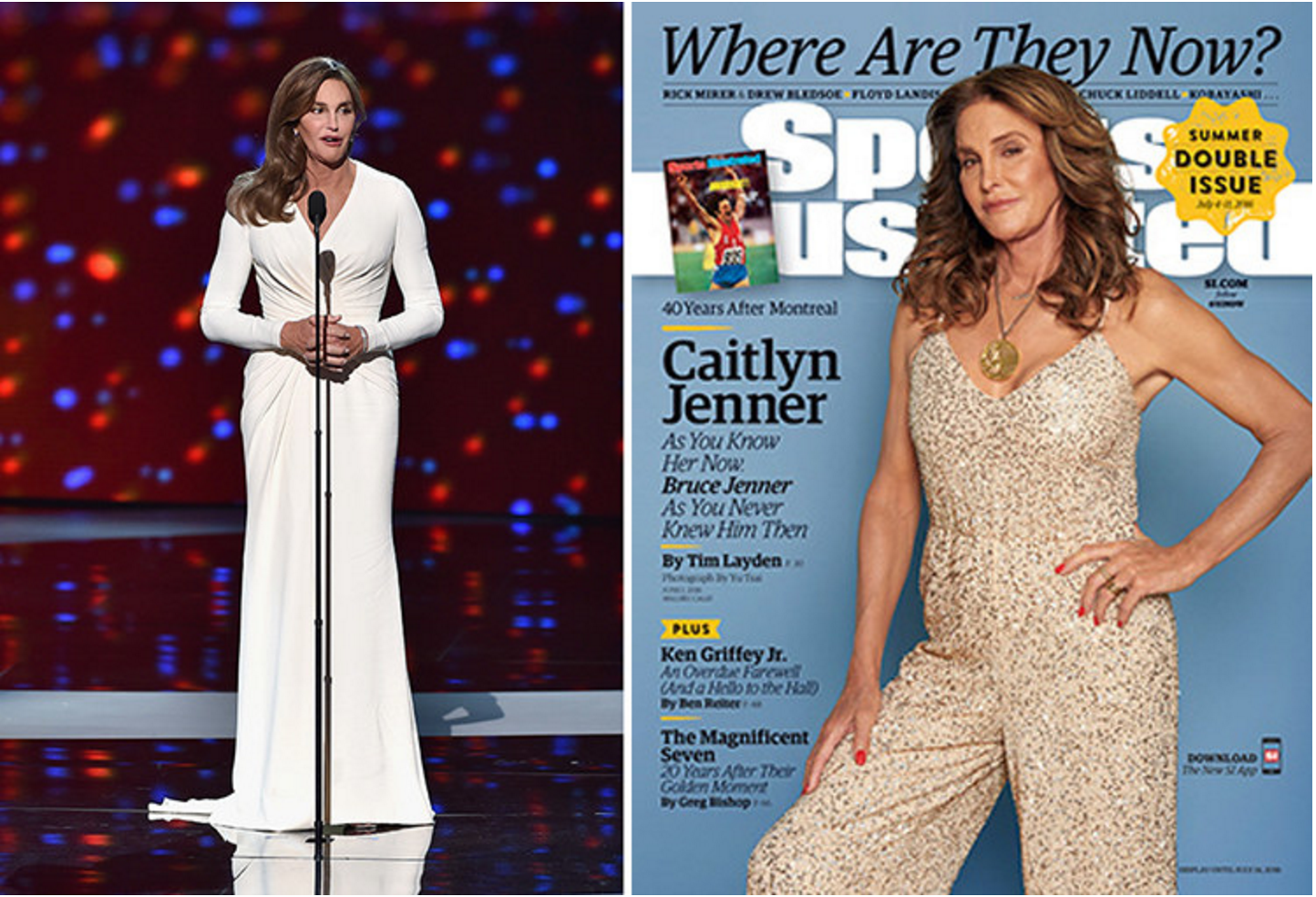 But conservatives' most-cited example is ESPN's 2015 awards show, the ESPYs. Caitlyn Jenner won one of the more prestigious awards in sports — the Arthur Ashe Award for Courage — after the former Olympian and reality TV star came out as transgender. "The Internet sears with outrage over ESPN's bestowal of the Arthur Ashe Courage Award on the Athlete Formerly Known as Bruce Jenner rather than giving it to Lauren Hill, the utterly courageous 19-year-old woman who battled inoperable brain cancer while playing basketball for Mount St. Joseph's," Breitbart wrote at the time.
ESPN wasn't the only one to make conservatives mad over Jenner. Shapiro said he canceled his Sports Illustrated subscription after the magazine put her on the cover.
Conservatives point to other instances at ESPN, too. In 2015, the network decided to yank a charity event from a Trump golf club weeks after then-candidate Donald Trump famously said some Mexican immigrants were "rapists." Last year, ESPN analyst and former Red Sox star Curt Schilling — a legendary promoter of right-wing memes — was fired after sharing a derogatory Facebook post about the North Carolina transgender bathroom law.
This football season, no ESPN story made conservative blood boil more than San Francisco 49ers quarterback Colin Kaepernick, who ignited a media firestorm when he decided to kneel during the national anthem in protest of the oppression of people of color in the US. Other athletes across various sports joined Kaepernick's demonstration. ESPN — along with the rest of the media landscape — devoted significant discussion time. Conservatives argued that ESPN's pundits painted Kaepernick as a hero, and that middle America disagreed.
Shapiro, for his part, ties ESPN's coverage to an attempt to keep up with changing viewership demographics. "This creates a self-fulfilling feedback loop that promotes leftist politics: get good ratings with heavier minority viewers, pander to them with leftist politics, drive away the other viewers, and then double down on what remains," Shapiro recently wrote for his site, the Daily Wire.
The layoffs tapped into some conservatives' paranoia about ESPN favoring minority audiences, too. Hockey coverage, mostly tracked by a white fanbase, was particularly hard hit by the cuts, a detail that rifled across conservative Twitter.

As for whether people on the right are voting with their feet, ESPN says that consumers are not ditching their cable subscriptions for political reasons. The cable bundle is just that — a bundle. "Anyone who has dropped ESPN has also dropped Fox News channel," said Mike Soltys, vice president of corporate communications at ESPN. Soltys said that the outrage over ESPN's perceived politics has become a fixture in the "Twitter echo chamber."
According to the company's internal research from October, 28% of ESPN's audience thinks the network has at least some political bias and 7% sees a lot of bias, according to Barry Blyn, ESPN's vice president of consumer insights. Of those viewers who saw bias, 56% saw a liberal bias while 37% saw a conservative bias, he said.
The company has also defended how it has branched out into other topics. ESPN owns properties like Nate Silver's data-driven "FiveThirtyEight," which covers politics heavily, and "The Undefeated," which focuses on race and culture as it relates to sports.
Plus, the collision of sports and politics is somewhat unavoidable in 2017. And at many moments in history — from Jackie Robinson to Muhammad Ali to the 1972 Olympics to George W. Bush's first pitch after 9/11 — sports and politics have melded into one. This year is a little more bizarre. We're now in an environment in which the New England Patriots and the president of the United States can be in a battle with the New York Times over a botched tweet.
But there's also an argument that the current moment calls for ESPN to devote time to how athletes think about political life off the field or court. Particularly when it comes to race. After the election, sports figures joined the rest of America in reacting to the shocking result, and pundits wondered openly whether black athletes would continue to attend championship celebrations at the White House. If you're ESPN, in the business of interviewing athletes, aren't you going to talk about what athletes have to say? But "if you're an athlete, aren't you going to talk about what ESPN is talking about?" Shapiro counters.
ESPN employees are not apolitical, to be sure. "Internally, there's a feeling among many staffers — both liberal and conservative — that the company's perceived move leftward has had a stifling effect on discourse inside the company and has affected its public-facing products," Jim Brady, ESPN's public editor, wrote in a column last year frequently cited by right-wing media. ESPN issued guidelines to staffers last month on how to mix sports and politics on the air.
Conservatives say that they would be more OK with political discussion on ESPN, but they feel employees at the network are not free to voice socially conservative opinions if they have them. (The Broussard incident is the frequent example given.)
Political discussion, for now, doesn't seem to be going anywhere.
"The challenge at ESPN is that subscribers are falling, eyeballs watching are falling, and they have way, way overspent on sports rights."
"The volume of non-sports content within ESPN's empire has increased significantly in recent years. Some of that has been driven by the athletes ESPN covers, who have, in recent years, begun to speak more forcefully about societal and political issues," Brady wrote in a column last month. "Some of it has resulted from the breakdown of the wall between on-field and off-field activities, thanks to the explosion of social media and proliferation of media sources that make any utterance by any sports figure potential news."
ESPN sees inclusion and diversity not "as a political stance but as a human stance," network president John Skipper told Brady. "We do not think tolerance is the domain of a particular political philosophy." Brady's headline makes it clear: "Like it or not, ESPN isn't sticking to sports."
Still, ESPN's PR apparatus is feeling some heat from the conservative backlash. On Thursday, a post on its women's site ESPNW featured a poem by a creative writing professor at the University of Kentucky. The poem was dedicated to Assata Shakur, a black activist who was convicted of murdering a state trooper in 1977 before fleeing to Cuba. Conservative sites like The Federalist picked up the story (and noted, of course, ESPN's layoffs).
"While the editors welcomed a contribution from a notable writer and chose it as a reflection of this one poet's experience, upon further review we have decided it is not an appropriate selection for our site and have removed the piece from the feature," ESPN said in a statement later that day.
It was another example of the conservative movement taking on ESPN, and it was a small victory.
The fact that ESPN has been caught in the political crosshairs — whether by choice or otherwise — is perhaps a symptom of the hypercharged political and media atmosphere, in which large brands in corporate America are being forced by their consumers to take a stand on various issues. That still doesn't necessarily mean that ESPN's business woes result from any consumer perception about the political leanings of its pundits and reporters.
As The Atlantic notes, ESPN is still profitable. The network's revenue and number of employees are still growing overall, even though the cuts and layoffs receive the lion's share of media attention. The simple, if less politically satisfying explanation is that ESPN is experiencing a hiccup as the TV industry bumbles into a future that, at the moment, is less certain and less lucrative than the cable business model.
"The underlying theme here is that the number of users keeps dropping," said Greenfield, the analyst. "I wouldn't try to overthink it."
"I don't think anyone on our side is pretending politics is entirely to blame," Mackowiak said. "We're just saying it's a factor." •
Outside Your Bubble is a BuzzFeed News effort to bring you a diversity of thought and opinion from around the internet. If you don't see your viewpoint represented, contact the curator at bubble@buzzfeed.com. Click here for more on Outside Your Bubble.