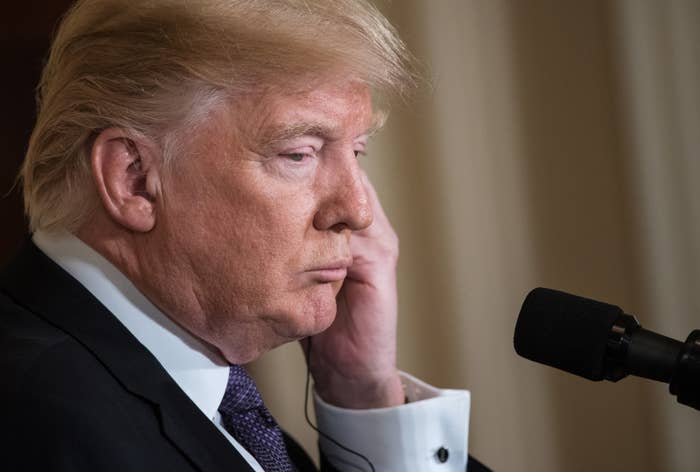 President Trump is likely the most media and television-obsessed president in history, constantly in a caustic, Twitter-driven back-and-forth battle with the press.
It's a dynamic that has created a special bond between Trump and CNN, Fox News, and MSNBC, the cable networks he watches throughout the day and night. Hosts and their producers on Trump-viewed programs like The O'Reilly Factor on Fox News and Morning Joe on MSNBC are driving the national agenda, even as the administration attempts to use the press as a punching bag. Ratings are strong. Cable news is relevant again at the highest levels of power — and the key players know it.
These are the new golden days for cable news.
"Trump is an avid television viewer. He's a product of television. He loves television. It's his first source of interest," former CNN host Larry King, who has been friends with Trump for 35 years, told BuzzFeed News.
For the cable news business, it couldn't have come at a better time. Media consumption habits have changed rapidly in the past few years. Consumers are cutting the cable cord, posing a stark threat to the future of the entire pay-TV industry. Younger viewers, a coveted demographic for advertisers, aren't watching traditional "linear" television anymore in favor of their smartphones.

Now, with a cable news president, the industry has been resuscitated from a stale, aging format into a crucial component in understanding the policy decisions being made in the White House.
The proof is in the tweeting. Last month, after a Bill O'Reilly segment on gun violence in Chicago, Trump posted the same statistics to highlight the "carnage." Minutes after a Fox News segment described Chelsea Manning — whose prison sentence was commuted by President Obama — as a "traitor," Trump tweeted the same descriptor. On Feb. 10, Trump tweeted a quote from Lawfare concerning the 9th Circuit opinion on the refugee and travel ban minutes after Morning Joe flashed it on the screen.

"He's watching. We know he's watching. We tell him what we think he needs to fix when he messes up," one MSNBC production source said.
Trump's Twitter posts have for some time been directly tied to what he is watching on cable (also, famously, other entertainment shows that mock him like NBC's Saturday Night Live). But in an administration where his advisers are scrambling every day to shape policy that squares with his late-night and early-morning tweets, as the New York Times reported, the president's cable news media diet has taken on grave significance.
Indeed, television is fast becoming a key way to bend the president's ear, and programs that Trump watches have even been able to hike their ad rates, Politico reported. Network sources say that they are programming with the idea in mind that Trump might be watching. Interviews with administration officials like Stephen Miller and Kellyanne Conway likewise increasingly feel as though the aides have an intended audience of one.

The influence of MSNBC's Scarborough — who was criticized throughout the campaign for his buddy-buddy relationship with Trump — has especially manifested itself in the early days of the administration.

A former Republican congressman from Florida, Scarborough has argued on air that, when it comes to Trump's top aides, Miller is on a "power trip" and Steve Bannon truly pulls the strings. That position, according to the MSNBC source, is meant to sent a message directly to Trump, who has evidently heard it loud and clear. "I call my own shots, largely based on an accumulation of data, and everyone knows it," Trump tweeted after one of Scarborough's remarks. "Some FAKE NEWS media, in order to marginalize, lies!"
"In the internet age of fragmented media and direct communications not going through the press as an intermediary, [Trump's] media behavior is like it's 1988. Apart from Twitter. Twitter is the exception," said Andrew Tyndall, publisher of the Tyndall Report, which monitors TV network news. "He's definitely a creature of the mainstream media."
Trump's love-hate relationship with the press was on display two weeks after Election Day, when Trump gathered top TV news executives and network anchors for an off-the-record meeting where he aggressively chided the room of stunned media members for the dishonesty he perceived in coverage throughout the campaign.
After the meeting, CNN photographers remained in Trump Tower to shoot the cover portrait for CNN's book about the election. There, Trump swiftly dropped the combative tone, according to three people familiar with the matter. When CNN chief Jeff Zucker stopped by, Trump told him that while the circumstances compelled him to be harsh in the earlier session, he hoped that Zucker understood, according to one of the people familiar with the meeting.
A White House spokesperson did not respond to requests for comment for this story. Two CNN sources said they were unaware of Trump's specific exchange with Zucker.
In the weeks since the post-election meeting with TV executives and hosts, the president's public battle with the media, and CNN in particular, has intensified. Last month, CNN's Zucker told New York magazine that he hadn't spoken with Trump in more than a month. CNN sources said that Zucker has not communicated directly with Trump in some time.
New York also reported that Trump feels personally betrayed because he believes he helped get Zucker the CNN job after the two were friendly during their days at NBC (a notion that CNN sources vehemently deny).
What seems true is that Trump believes the media owes him a debt of gratitude given his (frequently embellished) ability to generate strong ratings. Cable news networks scored huge figures last year, and other executives used the wild political cycle as a way to explain their own ratings shortfalls on things like the Olympics and NFL football.
Heated presidential campaigns are typically a boon for cable news networks, but Trump's wild transition and first days in office has continued to boost 2017 ratings compared to Obama's ascension to the White House eight years ago.
In January, Fox News averaged about 3 million viewers in its line-up of Trump-friendly primetime shows, compared to 2.2 million in 2009, when Barack Obama took office, according to Nielsen. MSNBC has averaged about 1.3 million, compared to 1 million in 2009, while CNN is down slightly: 1.26 million compared to 1.33 million in 2009 (CNN caveated that the 2009 inauguration was a particularly strong ratings day for the network). Even Press Secretary Sean Spicer's press briefings are pulling in large day-time ratings, beating out soaps like General Hospital and The Bold and the Beautiful, the New York Times reported.
Network executives don't expect 2017 ratings to be able to match 2016, which had a stacked calendar of debates, primaries, and conventions. But networks believe that Trump's frenetic administration will continue to help their figures this year, and unlike the campaign — where Trump could grab attention from the cameras with bombastic rallies — everything he does now will be covered by networks whether or not he grants them access or sends his surrogates on air.
Meanwhile, Trump's personal preoccupation with cable news doesn't show any sign of letting up, despite reports that aides have sought to limit his TV time. And Trump — a product of the New York city tabloid culture well versed in sparring with members of the press publicly while coaxing them behind the scenes — might just be unable to help himself.
"He's got a thin skin, but he loves his name in the paper," King said. "The Donald I know always wanted to be on Page 6 of the New York Post. It's the first thing he'd turn to every day to see if his name was there. Page 6 was one thing. Now he's on page one all over the world, but he might still have a Page 6 mentality."