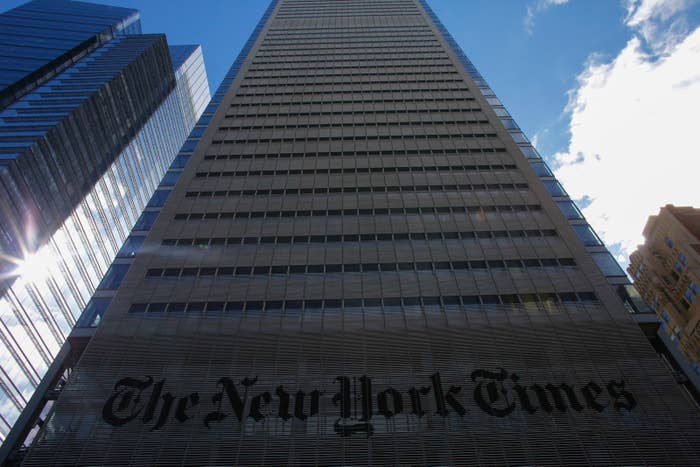 A Pulitzer Prize-winning New York Times story about how Russia recruits elite hackers relied heavily on the work of a Russian news outlet, which claims the Times snubbed its reporting.
The Times story, written by Andrew Kramer, centers on computer programmer Aleksandr Vyarya, who was approached by the Russian government to work on its cyberwarfare efforts.
The Times found Vyarya because he had been featured in two stories by Meduza, a Russian news site based in Riga, Latvia. In a September 2015 story, Meduza reporter Daniil Turovsky interviewed Vyarya about how he refused to take a Russian government hacking job, then fled the country out of fear of reprisal.
The Times story spells out the same narrative, including a quotation from Vyarya that is exceptionally similar to one in the Meduza article.
The Times piece, which delves into Russia's recruitment campaign, was published on the front page of the paper in December of last year. In April, Kramer was among a team of Times reporters who won a 2017 Pulitzer Prize — the highest honor in journalism — for a series of articles about Russia.
The Times story quickly sparked a controversy within the Russian media community, offering a case study in how traditional outlets rely heavily on regional press and often re-report articles originally written by local media. The dispute between Meduza and the Times reveals a dirty little secret of international reporting: Big news organizations can take the glory from small local publications that do much of the original, groundbreaking legwork.
"The only thing which really makes me angry is that he got this Pulitzer Prize," said Ivan Kolpakov, the editor-in-chief of Meduza. "It was our exclusive reporting on Aleksandr Vyarya."
The Times has stood by the story and said that two internal reviews conducted after Meduza raised issues maintained that Kramer reported or verified every fact in his story. Indeed, Kramer was put in touch with Vyarya through Meduza reporter Turovsky, and then confirmed with Vyarya a specific quotation from the Meduza story, among other details.
According to the Times, Vyarya says he told an executive at a Russian military contracting firm, "Sorry, I can't," adding, "This is against my principles — and illegal."
In an email, which Vyarya forwarded to BuzzFeed News, Kramer asks several questions including: "That, as described in the Meduza article, you declined, and told him — 'No, excuse me, I am not a hacker. This is against my principles, and illegal.'"
Vyarya responds: "Yes it is, I told him that 'Sorry, I can't. This is against my principles, and illegal.'"
After publication, journalists from Meduza complained that the Times story was based primarily on two Meduza articles by Turovsky — the one specifically about Vyarya containing the quotation, and another about Russia's broader efforts which also references Vyarya.
Lower down in the Times story, Kramer links to the broader Meduza investigation and credits the Russian outlet for "first [disclosing] the recruitment effort."
The Times' deputy international editor, Greg Winter, told BuzzFeed News that after Meduza reached out, the Times performed the two reviews — one by the paper's standards editor, and one by former public editor Liz Spayd. Both reviews satisfied Times brass about Kramer's reporting and the level of credit given to Meduza, Winter said.
"Andrew individually reported or confirmed every fact in the story, often by multiple sources, so we decided that the best approach was to give a blanket credit to Meduza in order to make it clear to readers that Meduza was the first organization to document the recruitment effort," Winter wrote in an email to BuzzFeed News.
Winter added that the Times shouldn't have been expected to credit Meduza for the Vyarya interview specifically, since Kramer received the quote from Vyarya via email, and it differed slightly from Meduza's version.
"There were quite a few places where the account given by Vyarya, his boss and others in the story differed, sometimes slightly and sometimes substantially, from the Meduza version," he said.
According to Winter, Kramer and Vyarya exchanged other emails on various topics, such as what Vyarya looks like and his security concerns. Vyarya did not return a request for comment on how many times he communicated with Kramer.
Kramer confirmed other elements of the Meduza account directly with Vyarya. In the email, Kramer asks if Vyarya witnessed a cyberattack test with the military contracting firm, as described in the Meduza story, which Vyarya confirms. Kramer also asks Vyarya if the executive was excited and impressed and wanted Vyarya to run the program. Vyarya responds that he is not sure the executive was "excited and impressed," but that he did want him to run the program. Vyarya also confirmed to Kramer that he had left Russia for Finland.
Kolpakov, the Meduza editor, said that Meduza should have specifically received credit for its interview with the programmer, which is the centerpiece of the Times story.
Edward Wasserman, dean of the Graduate School of Journalism at the University of California, Berkeley, agreed.
While the issue is "not plagiarism" — Times staff did "their job as reporters and confirmed that the information is accurate" — he said the paper failed to give Meduza proper credit. "I think there is an obligation to come clean," Wasserman said, "particularly when you have market dominant publications like the Times concealing the enterprising work done by lesser publications that none of us have heard of."
The Times declined to share the internal reviews with BuzzFeed News. Winter said that the Times would be willing to add in a link to the Vyarya interview, but that Kolpakov hadn't specifically asked for that in his complaints. Kolpakov said he did ask Spayd, who as public editor operated independently from the newsroom, for the link. Spayd did not return a request for comment.
While griping over journalistic credit is stock-in-trade in the media industry, the disagreement is an illuminating example of the ambiguous world of international reporting, where foreign correspondents often depend on local outlets to pave the way for their work.
"This is the story — about attitude," Kolpakov said. "This is a story about how the most important and most respectable media in the world thinks about regional, local press."
Michael Slackman, international editor at the Times, disputed that characterization. "That's not what happened here," he told BuzzFeed News. Slackman said that Meduza does "excellent work" and that the level of credit given was "totally appropriate."
Slackman and Winter both said that some details in the Times story were also first reported by outlets other than Meduza. Winter said that granting blanket credit to Meduza was generous.
Over the past few months, the disagreement has played out on Facebook and on Russia-focused blogs — and it was mentioned days ago in a New Yorker piece about what Russian journalists think about US outlets' coverage of Vladimir Putin. Turovsky posted the New York Times story on Facebook in December, and joked that he had made his Times debut.
Kramer, the Times reporter, commented on the post: "Daniil, I spoke with you while preparing this article and explained that I intended to follow in the footsteps of your fine work, that I would credit Meduza, as I did, and thanked you for your help. I disagree with your assessment that the article 'in whole' retold two Meduza articles. Our story included reporting not in the Meduza articles, in particular concerning prison recruitment. Specifically and importantly our article explicitly said that Meduza 'first disclosed the recruitment effort' and included a link."
Kolpakov then responded with the link to Meduza's Vyarya interview. "Could you please explain why you have decided not to refer to this investigation, although you had been clearly aware of it?" he wrote. (Kramer didn't respond in the post.)
The dispute festered for a few months, with Meduza again inflamed when the Times was awarded the Pulitzer Prize for international reporting "for agenda-setting reporting on Vladimir Putin's efforts to project Russia's power abroad, revealing techniques that included assassination, online harassment and the planting of incriminating evidence on opponents," according to the Pulitzer committee.
Mike Pride, the administrator of the Pulitzer Prizes, declined to comment for this story.
Kolpakov said that he felt the Times avoided giving proper credit in order to make the top of the story sound more original, a notion that Times editors dispute. Other news outlets, including BuzzFeed News, picked up Meduza's reporting on Russian cyberoperations.
Vyarya, for his part, said in an email to BuzzFeed News that he supports Meduza in the disagreement.