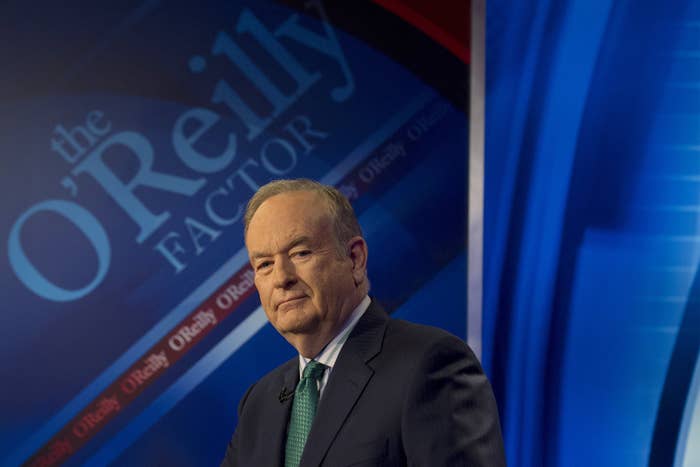 Fox News is digging in as more than 50 advertisers yank their commercials from The O'Reilly Factor, reducing the amount of ad time during the show and ratcheting up the public relations pressure.
Media executives and journalists have been playing a guessing game of whether Bill O'Reilly can survive the scandal, and the decision could hinge on just how much Fox News feels the economic reverberations from the ad boycott.
The company has remained relatively silent on the controversy, which ignited when the New York Times reported that five women received about $13 million to settle harassment allegations against O'Reilly, the most dominant cable news figure for years running. O'Reilly has denied the claims, and Fox hasn't addressed the ad boycott other than to say that clients' ad buys had been "re-expressed" into other programs, essentially downplaying the business impact. (A Fox News spokesperson referred BuzzFeed News to that statement).
But ad buyers note that shifting commercials into other shows could have some repercussions for Fox News.
It comes down to how the TV ad sales process works. Ad buyers purchase big packages across a channel or group of channels — usually months in advance in the "upfront" marketplace. Networks guarantee that they can provide a certain audience. If the network doesn't deliver that audience, advertisers receive "make goods" in the form of commercial time free of charge. While most of ad time is purchased well in advance, networks also sell ad time in a more constant year-round marketplace known as "scatter."
Since O'Reilly carries a larger audience than his colleagues, Fox would likely need to offer more commercial time when moving ads to other shows. That, in turn, reduces the amount of overall ad space that Fox can sell to advertisers in the scatter marketplace. In other words, a 30-second ad on O'Reilly doesn't equal a 30-second ad elsewhere on Fox News, in terms of advertising value.
"It takes inventory out of scatter from other shows. It will have an economic impact," one ad buyer said.
It's far from clear what that economic impact will be, and networks have gotten very creative over the past few years at figuring out how to jam more ads into programming to avoid this problem. One former TV ad sales chief said Fox will likely be able to deal with the issue by moving money around and cramming in more ads to other shows to make up for the shortfall.
But the ad boycott is evident to viewers, as O'Reilly's show airs fewer commercials. According to Media Matters, advertisers for Monday night's show included My Pillow, BuyWaxRX.com, Genucel, and Qunol — not exactly marquee name brands. A Saturday Night Live sketch this weekend teased that O'Reilly only had unsavory sponsors remaining, like "Dog Cocaine."
That was a joke, sure, but the O'Reilly episode has offered a glimpse into how mainstream brands are doing their best to avoid controversy in the Trump era, as consumers across a politically-charged social media environment bombard marketers' mentions. Corporate America is increasingly wary of pairing ads with controversial content these days, and many have pulled their ads from YouTube in recent weeks as the video giant seeks control a controversy stemming from ads appearing before hate speech on its platform. In the this case, once reporters start calling, chief marketing officers are forced to justify to all of Twitter why they are advertising on The O'Reilly Factor as a media maelstrom intensifies.
That's why advertising executives don't expect the brands that have pulled ads from O'Reilly — which include Mercedes-Benz, Hyundai, and Allstate — to return to the show anytime soon, which would only prompt more calls from reporters and consumer backlash.
"Nobody is walking away from it," the ad buyer said.
Still, O'Reilly's reach in cable news is unparalleled. Last week, as the scandal swirled, his show averaged about 3.7 million viewers, according to Nielsen. O'Reilly brought in more than $178 million in advertising revenue in 2015, according to ad tracker Kantar Media.
One ad executive noted that while he generates huge ratings, O'Reilly's viewers tend to be voracious cable news consumers that aren't particularly difficult to find on other programs. Advertisers tend to pay a premium to advertise in front of more hard-to-reach audiences, such as young or affluent viewers.
For now, O'Reilly's future remains unclear. TV networks have ditched hosts in the past amid PR and advertiser pressure before. MSNBC in 2007 dropped its broadcast of Don Imus's program after the host made racist comments about the Rutgers University women's' basketball team. NBC pulled Brian Williams from the its nightly news broadcast after the anchor was caught "misremembering" a personal story about the Iraq War. (Williams was suspended and now has found a home at sister-channel MSNBC).
"There is precedent to take a high profile anchor off the air and replace them because they did something dumb," said Jason Kanefsky, chief investment officer at ad buyer Havas Media Group.
But media executives say that O'Reilly is just too important to Fox News, and that the network will likely seek to ride out the PR nightmare. The Wall Street Journal reported that O'Reilly's contract, due to expire at the end of the year, was recently renewed, even after the network took into account the new allegations. The Washington Post went on to report that the contract now extends through 2020, which would make booting O'Reilly particularly expensive for the network.
As New York magazine reported, the decision ultimately hinges on Rupert Murdoch, who stepped in to oversee Fox News after Roger Ailes's departure amid his own spate of sexual harassment allegations, which he has likewise denied. While there isn't an obvious alternative waiting in the wings should Fox News remove or suspend O'Reilly, the network has also proven its ability to replace top talent against seemingly difficult odds. Murdoch tapped Tucker Carlson to assume Megyn Kelly's time slot after the star anchor decamped for NBC News amid the Ailes saga, and the show's ratings have only strengthened.