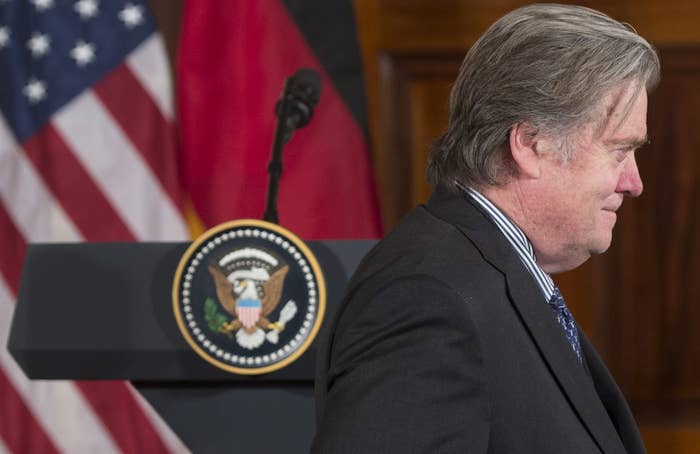 The media's fascination with Breitbart News is taking book form.
Rosie Gray, The Atlantic's White House correspondent and a former BuzzFeed News reporter, has inked a deal with publishing giant HarperCollins for a book about the far-right news outlet, which hit its stride during the campaign as a key hyper-conservative voice boosting Donald Trump, according to five people familiar with the matter.
Gray received an advance of about $350,000 for the book, according to three of the people.
Meanwhile, Bloomberg's Joshua Green has signed on with Penguin to write a book about the rise of conservative populism during the election, Politico reported. According to a person familiar with the matter, the book will prominently explore the influence of Steve Bannon, the senior White House strategist who headed up Breitbart before leaving to join Trump's campaign over the summer.

Donald Trump's surprise victory — buoyed by a cadre of fast-growing pro-Trump new media properties — has whetted publishers' appetite for books that dig into the changing political and media landscape. Gray's editor, Jonathan Jao, edited J.D. Vance's popular memoir Hillbilly Elegy, which critics praised for giving voice to the kind of poor, white Americans who would have supported Trump (though Trump's name isn't mentioned in the book).
Breitbart's profile in national media circles has grown as well. Editor-in-chief Alex Marlow was last month interviewed on NBC's Today, and the news outlet is petitioning for permanent press passes to more easily cover Congress, a process that has forced the secretive Breitbart to reveal details about its financial structure.
Green's October 2015 Bloomberg Businessweek profile of Bannon, who is now a senior White House adviser, is frequently cited as the first big story to shed light on his growing media clout. The article, which called Bannon "the most dangerous political operative in America," described Bannon's worldview while he was at the helm of the "crusading right-wing populist website" and traced his rise from Goldman Sachs to the entertainment business to Breitbart. Green has also profiled two other White House officials recently: Reince Priebus and Stephen Miller.
According to Politico, Green "plans to tell the story of the rise of the disparate forces and the political and media figures who made Trump's presidency happen."
Green did not return requests for comment.
Gray, who joined The Atlantic in January and was recently assigned the White House beat, has regularly covered Breitbart. During the campaign, while working for BuzzFeed News, Gray broke the story that Breitbart editor Joel Pollak ordered staffers in an internal chatroom to stop defending Michelle Fields, the reporter who was yanked by the arm by former Trump campaign manager Corey Lewandowski. At The Atlantic, Gray has continued to write about Breitbart — most recently its efforts to secure the Congressional press passes. (Breitbart, for its part, has fought back against Gray by writing about her).
A Breitbart spokesperson declined to comment.