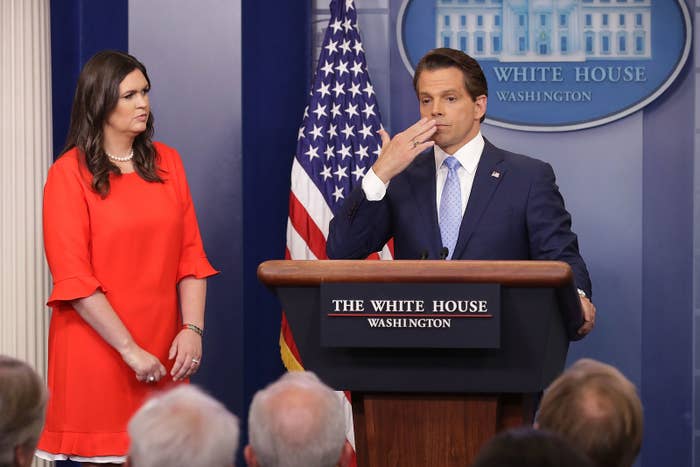 Over the last week, Anthony Scaramucci has teased a cryptic social media project, dubbed "Scaramucci Post" — suggesting a Steve Bannon-like turn as a new media mogul.
But those close to the brash former White House communications director, who famously served for only 10 days, say he envisions a future more like his old boss: businessman, then elected official.
In recent conversations with friends, Mooch has said he wants to some day run for office, which his friend Bryan Lanza speculated could include mayor of New York City or governor of New York. But the Mooch's brief time in the White House has also given him presidential aspirations, according to one person familiar with the matter.
"He was 100% serious about it and asked us if we thought he would be a good president," this person said.
The source added that Scaramucci, 53, said he was still on good terms with Trump.
Reached for comment, Scaramucci denied that he would run for office.
"President of what? Don't make stuff up," he told BuzzFeed News in a text message. "Not running for anything. I am back at work."
When informed that his friends said it would be after Trump's time in office is done, Scaramucci said the president will win reelection before going into his own plans and current mindset.
"I am genuinely enjoying post-swamp life and working on several new business projects," he said.
For now, Scaramucci's future is unclear. He is known as a consummate schmoozer — a big talker clearly attempting to stay in the public arena. His bizarre new media entity, which has taken to running frequent Twitter polls asking which accounts it should follow next, has strangely captivated the press (it even has former colleagues in the White House wondering what's going on). Mooch is also set to host TMZ's celebrity gossip show on Monday.
Lanza, a former Trump campaign adviser, said Trump's win has given people ideas by showing that higher political office isn't just for a select few anymore. Scaramucci, Lanza said, has always shown an interest in political office.
"If you told me he's running for governor of New York or mayor of New York City I would 100% believe it," he said, putting Scaramucci just a notch below the president they support. "He'd be the second greatest show on earth. That would be fun, I might move to New York to help make it happen."
Susan Del Percio, a New York-based Republican strategist who worked for former New York City mayor and Trump pal Rudy Giuliani didn't rate Scaramucci's chances of moving into City Hall highly.
"Four years from now, I'm often fond of saying anything can happen, but I would say this would most likely never happen," she said. "New York is definitely not ready for the Mooch."
One former Trump official compared Scaramucci to Carl Paladino, who lost in the 2010 New York governor's race by nearly 30 points.
Back when Trump was mulling a run, he told his eventual deputy campaign manager David Bossie that people were telling him he should run for governor of New York or mayor of New York City, recalled Lanza, who worked with Bossie and Steve Bannon.
"Bossie said, 'Run for president; you get the same scrutiny.'"
But others in the Trump orbit also don't see Scaramucci being sworn in as a future president, governor, or mayor anytime soon.
"I wish he would just go away," said a source close to the administration, with a heavy sigh.