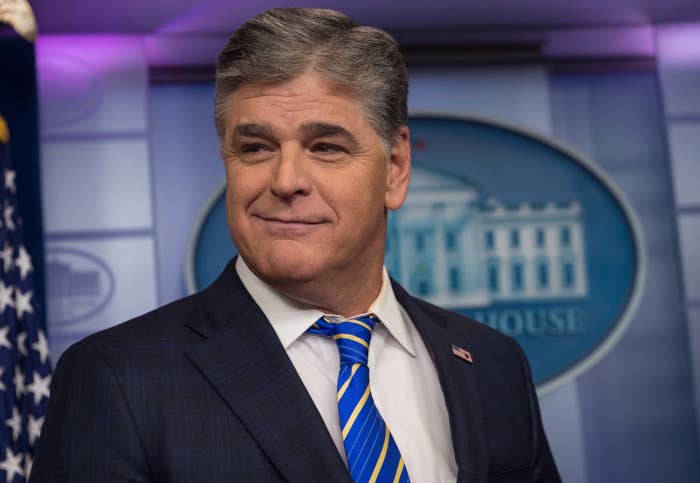 Donald Trump's reported use of unsecure cell phones has been cause for serious alarm within the intelligence community, but it's also raised red flags at another institution in frequent contact with the president: Fox News.
Top hosts at the cable news network, like Sean Hannity and Jeanine Pirro, are known to communicate regularly with Trump (New York magazine reported that the president and Hannity like to chat before bedtime). But as stories have emerged — like one May report from Politico — that Trump finds properly securing his own communications "too inconvenient," some at Fox have become fearful about their own exposure to hackers when talking with the president, according to people familiar with the matter.
That concern came to a head as Fox News prepared to cover the high-profile US summit with North Korea last week. Some at the network worried that Chinese agents might seek to bug Hannity's phone while he was in Singapore to sweep up his communications with Trump, so the host used a burner phone, according to a person familiar with the matter.
"It is standard operating procedure for Fox News to employ secure communications whenever our teams are overseas covering major events," a Fox News spokesperson said in a statement to BuzzFeed News.
The paranoia runs so deep that Fox sources say they are also cautious when talking to Hannity himself — because you're never sure who may be listening.
It's not clear if any malicious actor has actually targeted Fox personalities as a way to scoop up information about what the president is saying. To be sure, many newsrooms, including BuzzFeed News, seek to ensure that their journalists can communicate securely with sources, through methods like encrypted messaging apps.
Still, the fact that Fox News has taken precautions over anxieties about Trump's personal phone habits demonstrates the close ties between the president and "talent" at his favorite news outlet. Hannity, Trump's biggest booster on television, was among the TV hosts that sat down with the president for an interview after the meeting with North Korea. As CNN noted, Trump's post-summit interview with ABC was his first with a major network other than Fox in more than a year.
A White House spokesperson did not immediately return a request for comment.
Fox — and Hannity — are likely smart to be cautious. Some intelligence experts have been concerned that Trump's phone habits could prove to be a national security crisis (former president Barack Obama gave up his BlackBerry for a customized secure smartphone).
Ryan Duff, a former tactician at the US Cyber Command, said Hannity's precautions were "probably a good idea."
"He talks to the president regularly, so I'm sure it's a target," Duff said. "With a phone, it's a remote target that could be targeted by anyone. But as far as someone physically getting his phone and either doing something to it or dumping the data off, the Chinese would be most likely to do that in China."
Kevin Collier contributed additional reporting to this story.