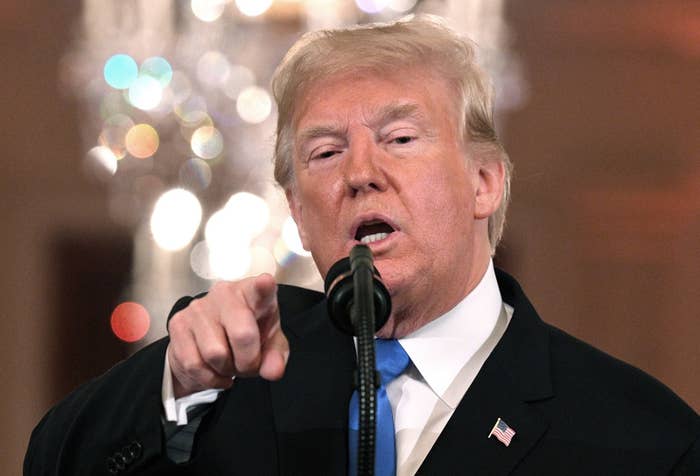 President Donald Trump on Wednesday called CNN White House correspondent Jim Acosta an "enemy of the people," the first apparent time the president has used the term to publicly single out one reporter.
During his press conference following Tuesday's midterm elections, which was marked by contentious back-and-forths between the president and reporters, Trump fielded a question from Acosta about the migrant caravan and the Trump campaign's recent racist anti-immigrant ad. The exchange quickly devolved into the kind of clash Acosta has become known for.
"CNN should be ashamed of itself, having you working for them," Trump said as he attempted to move on to the next question. "You are a rude, terrible person. You shouldn't be working for CNN." Trump added that the way Acosta treats White House press secretary Sarah Huckabee Sanders is "horrible."
The next reporter to ask a question, NBC's Peter Alexander, challenged the president's characterization, calling Acosta a diligent reporter, before Trump cut him off, too. "I'm not a big fan of yours, either," Trump said, before turning his attention back to Acosta, who was still standing and attempting to ask a question.
"When you report fake news, which CNN does a lot, you are the enemy of the people," Trump said, pointing at Acosta.
In a statement soon after, CNN said Trump's "ongoing attacks on the press have gone too far. They are not only dangerous, they are disturbingly un-American."
Later in the press conference, Trump interrupted PBS reporter Yamiche Alcindor, who is black, after she questioned him about whether he was encouraging white nationalists, saying she was asking "such a racist question." Trump also lashed out at CNN contributor April Ryan, who had stood up to ask a question, telling her to "sit down." Trump said that she had rudely interrupted another reporter and criticized the "hostile media."

Trump has routinely denigrated the press with calls of "fake news" and the even more autocratic "enemy of the people." After a series of explosive devices were mailed to prominent Democrats and CNN, Trump tweeted that "The Fake News Media, the true Enemy of the People, must stop the open & obvious hostility & report the news accurately & fairly."
The president has called reporters "fake news" before, but singling out one journalist as the "enemy of the people" — which press advocates have warned sets a dangerous new tone — marks an escalation in Trump's aggression toward the press.
Late last month, Acosta pressed White House press secretary Sarah Huckabee Sanders on who exactly Trump is referring to when he calls "fake news" the "enemy of the people." He specifically asked if Trump has been referring to CNN.
"I don't think it's necessarily specific, to a general, a broad generalization of a full outlet at times. I think there's individuals the president would be referencing," she said.
The president's exchange with Acosta is far from the first time the two have had a bitter encounter during a press conference — the most recent was during Brett Kavanaugh's Supreme Court confirmation controversy. Wednesday's incident was perhaps the ugliest Trump has had with a reporter at a press conference.