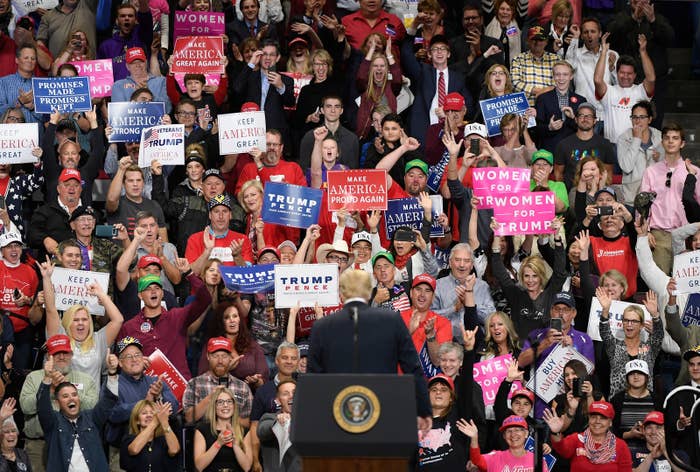 Since Donald Trump began running for president, viewers haven't had to channel surf long for live coverage of his freewheeling, news-making rallies. They were often carried, in real time, by the three major cable news networks — CNN, Fox News, and MSNBC.
News obsessives may be having a harder time lately. In recent months and weeks, networks have been getting choosier about when to pivot to the president's rallies during highly lucrative primetime hours. Even Fox News — the president's favorite network and a reliable platform for rally coverage — opted twice this week to have producers monitor the president's rally during primetime hours so hosts could cover it after the fact. On Thursday night, Fox carried the first few minutes of Trump's Minnesota rally live before going to regular primetime programming.
Network executives and insiders have varying explanations. For one, the past few weeks have offered a firehose of breaking news to analyze and discuss, from the testimonies of Brett Kavanaugh and Christine Blasey Ford to the drama surrounding Deputy Attorney General Rod Rosenstein. Couple that with the president's packed calendar of largely similar cross-country events ahead of the midterm elections and networks have started to get serious rally fatigue.
"I think it was the sheer volume of them," one Fox News source said of the decision to take fewer Trump events live. "It's hard to call something breaking news if happens with metronomic regularity."
On Tuesday night, Fox News' Tucker Carlson briefly interrupted his show to bring news from that evening's Trump rally, where the president mocked the testimony of Ford. It was the second time in as many evenings that Fox made that editorial call.
"We promised to monitor the ongoing Trump rally in Mississippi for some news and we have some. The president addressed the Brett Kavanaugh confirmation about five minutes ago. He spoke about Christine Ford, NBC, and the creepy porn lawyer at the center of a lot of this," Carlson said before playing the clip and getting back to his show. On Thursday, Fox's Martha MacCallum cut into Trump's rally live for a few minutes in anticipation of Trump's comments about the Kavanaugh confirmation, explaining to viewers, "The reason that we want to take you there tonight is because we do expect that we're going to get some reaction to the senators who are still noncommittal and could move this vote either way."
It's not as if Trump lacks for cable airtime, and networks frequently carry the president live throughout the day — like at White House events or press conferences.
"The editorial decisions are always driven by the alternatives. It's always about 'compared to what,'" said Jonathan Klein, a former president of CNN from 2004–10. "More interesting segments could be built around the breaking news of the moment than going to yet another rally when the script is usually the same — though there's always the insult du jour to be related."
"We cover campaign rallies as news warrants," a CNN spokesperson said.
Network insiders say there's also another incentive at play. Taking a nighttime rally live disrupts primetime programming, the highest rated and most valuable advertising real estate for all of the three cable networks. There's only so many commercial breaks networks can skip to go live, and there's more of an advertising crunch toward the end of the year.
"It's Q4. Everyone has their eye on the cost-benefit of primetime versus a rally," said one CNN executive. "Like the old adage that if you speed at the end of the month, you're more likely to get a ticket."
But executives say the largest consideration is whether or not the president will make news. Most of his recent rallies have featured fairly routine (for him) variations on his favorite themes surrounding the economy or his political enemies or his disdain for the media — with a handful of newsworthy soundbites or words in support of a Republican congressional candidate.
"This repetition is not a bug, it is a feature, as Trump tries to nationalize the [races]. But what may work for him electorally does not work for the cable news channel programmers, who require unpredictability and innovation, as opposed to message discipline," said Andrew Tyndall, publisher of the Tyndall Report, which monitors TV network news.
Jonathan Wald, senior vice president of programming and development at MSNBC, said that the cable network does not generally take campaign-style events live, but will monitor the president wherever he is. "Each show and each executive producer and the show team with everyone else around is responsible for watching closely, and if he commits news then we go to it," Wald said.
Wald also said that it appeared to him that the president has, during daytime programming hours, taken to appearing more accessible at events and photo opportunities, which all the networks will then take live courtesy of a round-the-clock "pool" of video.
"I can tell you when he is on TV live or in a pool situation, that could be more valuable to him and to us," Wald said. "You're talking about a master of the message, whether it's tweeting it or on TV live or on tape."