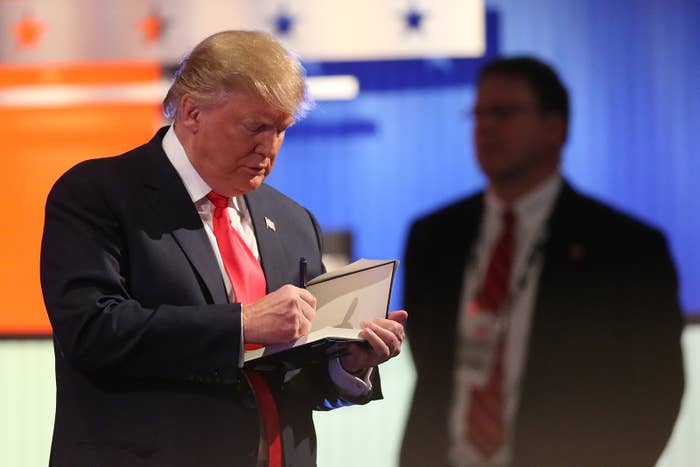 Millions of readers have taken a well-deserved break from a frenzied news cycle to sit down, relax, and read some books about Donald Trump.
Now there are more accounts on the way.
Philip Rucker and Carol Leonnig, reporters covering the White House for the Washington Post, have a book in the works, according to three people familiar with the matter. Chuck Todd, host of NBC's Meet the Press, also will team up with Politico writer Michael Kruse for a book, according to sources familiar with the project.
Todd declined to comment. Kruse, Rucker, and Leonnig did not return requests for comment.
The two new books will endeavor to join the growing stack of successful Trump tomes, the most recent being Bob Woodward's Fear: Trump in the White House. After a heavily hyped news cycle surrounding the juiciest details unveiled in the book, Fear has sold more than 1.1 million copies through its first week of publication, the fastest opening in Simon & Schuster's history, according to the publisher. The book from Woodward, one half of the famous Watergate reporting duo, dominated cable news airwaves for days and found the best publicity any book agent could hope for: the ire of Trump's Twitter feed.
Todd and Kruse will have a natural hook for their forthcoming book, with the president personally insulting the Meet the Press host as "Sleepy Eyes." In a widely circulated Atlantic column, Todd argued earlier this month that the media needs to take a more aggressive tack to defend itself against the Fox News–inspired rise of press bashing.
Rucker and Leonnig's bylines in the Washington Post will be familiar to readers following the rolling chaos of the Trump administration. The newspaper has been a frequent target of tweets from Trump, who has falsely labeled the news outlet as a lobbyist for Amazon, the company led by the Post's owner, Jeff Bezos.
The new books come as publishers and agents aggressively hawk opportunities to write about Trump. Reporters covering various facets of the Trump administration say that they have been approached with the promise of large six-figure advances, particularly following the publication of Michael Wolff's Fire and Fury earlier this year. At the time, there was some belief within the book industry that consumers might tire of Trump, but Wolff's book's huge sales figures (1.7 million copies in just its first few weeks) made publishers hungrier for anything that offers inside details about the biggest story in the world. NBC News pointed out that the political book category is already up 25% this year, according to NPD BookScan figures.
Supporters of the administration have also embraced the Trump book boom. Fox News legal analyst Gregg Jarrett's book The Russia Hoax, which was endorsed in a Trump tweet, became an instant best-seller. The New York Times reported that former Trump campaign advisers Corey Lewandowski and David Bossie — who teamed up for a book on Trump's rise last year — are planning to publish another book shortly after the midterms.
Publishers have also sought to sign on Trump orbit officials themselves for biographical accounts — especially after former FBI director James Comey's A Higher Loyalty sold well. Another former FBI official, Andrew McCabe, recently sold a book to St. Martin's Press, which will hit shelves on Dec. 4 and promises to be another rough picture of the Trump administration. Former national security adviser Gen H.R. McMaster has also sold a book, to HarperCollins, which is scheduled to be released in 2020. There was Omarosa, of course.
And for the most committed Trump-Russia readers, Rob Goldstone, the music publicist who set up the infamous Trump Tower meeting, has an account hitting shelves next week: Popstars, Pageants and Presidents: How an Email Trumped My Life.
Some in the Trump world have struggled to get desired book deals. Fox Business reported that Donald Trump Jr. was met with a "chilly" reception from publishers in late May, and industry sources told BuzzFeed News that Trump Jr. has since been unable to land a deal with a major publisher.
But readers will have plenty of other books to choose from in the months (and years) ahead. The Apprentice, written by Washington Post reporter Greg Miller and excerpted in the paper this week, will be published Oct. 2.
Vanity Fair reported that Michael Schmidt, the star New York Times reporter who has regularly broken big stories about the Mueller probe, has inked a book deal, as has New York Times writer James Stewart for a dive into the White House, the FBI, and the Justice Department.
Other forthcoming works include a Russia investigation book from New Yorker writer and CNN analyst Jeffrey Toobin, and a look at the future of the Republican party by New York Times reporter Jeremy Peters. Another inside Trump account, from CBS News White House correspondent Major Garrett, hit shelves this week.