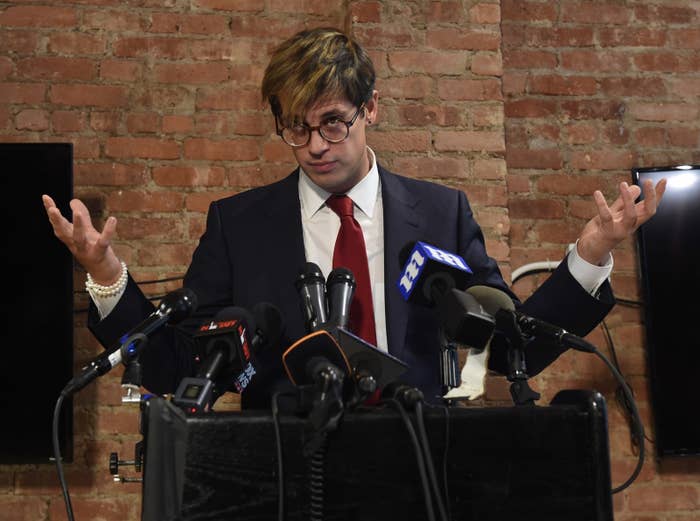 Milo Yiannopoulos's book may have found a new home.
Regnery Publishing — a conservative imprint that has released books from right-wing authors like Dinesh D'Souza and Laura Ingraham — is rumored to be in talks to publish Yiannopoulos's upcoming book after it was scrapped by publishing powerhouse Simon & Schuster, according to two people familiar with the matter.
"They'd be mad not to, wouldn't they?" Yiannopoulos told BuzzFeed News in an email. "You won't embarrass yourselves by running it," he added.
Regnery declined to comment on Yiannopoulos's book.
Last month, Yiannopoulos lost his book deal after comments he made about underage sex resurfaced and were criticized as condoning pedophilia. Yiannopoulos's invitation to speak at the Conservative Political Action Conference was revoked and he resigned from Breitbart News, the far-right website that had given him his major platform.

At a press conference, Yiannopoulos offered a rare apology for the "imprecise language" of the comments — in which he argued sexual relationships between young teenagers and adults could be beneficial. Yiannopoulos, who emerged as a voice of the alt-right during the Trump campaign, blamed the press for launching a "cynical media witch hunt" against him. He also said he would be launching a new, independently funded media venture focused entertainment and education.
Yiannopoulos's book, called Dangerous, has been a source of controversy since Simon & Schuster first announced the publication through its imprint Threshold Editions. The company originally defended the book — for which Yiannopoulos received a reported $250,000 — as an "incisive criticism" of political correctness.
Facing backlash, Simon & Schuster reassured its authors in a letter that the book would not include hate speech. Writer Roxane Gay canceled her plans to publish a book with the publisher in response to Yiannopoulos's book deal. Yiannopoulos continued to receive national attention as protests broke out on college campuses during his speaking tour, but it was the re-emergence of his controversial comments that sparked Simon & Schuster's decision to ditch the deal.
Regnery has published a number of popular, if incendiary, books from the right. Publishers Weekly reported this month that D'Souza's Hillary's America sold particularly well for Regnery lately. The publisher, which is owned by Salem Media Group, is also known for publishing anti-Hillary Clinton crusader Ed Klein's bestseller Blood Feud about the Obamas and Clintons.