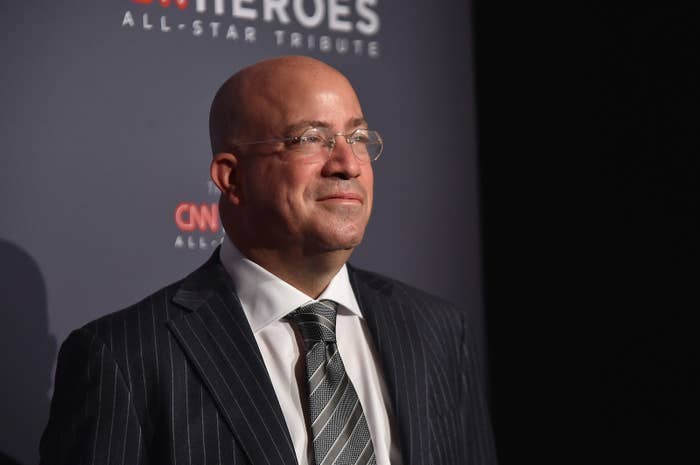 It was a classic New York Post image: in last Thursday's print edition, under the headline "The Sitting Zuck," CNN President Jeff Zucker is shown with his mouth duct taped, as AT&T CEO Randall Stephenson spins the roll around his finger.
It's been a tough few weeks for Zucker, who has presided over a string of missteps at CNN, namely the resignation of three well-known employees in the wake of a retracted Russia story, and, this week, a story carrying language that was poorly received by both journalists and the pro-Trump social internet about the Reddit user who claimed to create the wrestling GIF tweeted by the president.
The internal issues couldn't have come at worse time for the network, stoking more "fake news" calls from President Donald Trump and creating a dark cloud over the pending merger between CNN's parent company Time Warner and telecom giant AT&T, whose executives may ultimately come to control Zucker's destiny.
Recent press accounts like the Post's have suggested that Zucker's future is very much in doubt, a narrative that people close to him say is bullshit cooked up by CNN's enemies. Privately, CNN executives are blaming the White House for a coordinated campaign to place stories in friendly outlets in order to weaken the network while it is down.
"This smells of 1600 Penn, not Columbus Circle or Dallas," said a CNN TV executive, referring to Time Warner and AT&T's corporate headquarters.
It's the kind of media duel familiar to Trump and Zucker, both hard-nosed New York executives and tabloid fixtures in their own right. Zucker's allies are quick to remind that he has been a financially successful steward of CNN. The CNN president told the New York Times that the network was set to post more than $1 billion in profit this year, a figure that would make most media executives envious.
Still, there has been real fear within Time Warner that Trump's ongoing war with CNN would prove to be a regulatory hurdle. Senior Time Warner brass have spoken frankly over concerns about the future of the merger in connection with the January publication of a dossier of explosive, unverified claims about Trump's ties to Russia, according to a source familiar with the concerns. CNN had reported that a two-page synopsis of the report was given to then-President Obama and then-President-elect Trump, and shortly thereafter, BuzzFeed News published the document. (In the aftermath, Trump labeled CNN as "fake news" and BuzzFeed a "failing pile of garbage," and CNN sought to distance its reporting from that of BuzzFeed News.)
Trump raised issue with the merger on the campaign trail, and he tweeted last month that "fake news CNN is looking at big management changes," citing no sources. As Politico noted, there would be little reason from an antitrust perspective for Trump's Justice Department to block the merger, despite White House aides' positioning when they are on background with reporters. CNN sources say that any "deal" between AT&T and the White House that involved Zucker's future would be another affront to the free press from the president.
Indeed, CNN executives argue the stories about Zucker are coming directly from the White House. The Daily Caller, citing a "source familiar with President Trump's thinking," reported Thursday that the White House doesn't support the deal if Zucker remains president of the network.
A White House spokesperson did not return requests for comment.
The New York Post reported in its story, citing three sources familiar with AT&T executives' thinking, that the company will "neutralize" Zucker should the telecom giant complete its merger with Time Warner, which CNBC noted could close in as soon as 60 days. The Post also suggests a few different possible scenarios: forcing Zucker out, granting a corporate title at Time Warner that relieves him of CNN duties, or even an outright sale of the network.
Speculation about Zucker's future reignited again this week after the New York Times reported that White House advisers see the merger as a "potential point of leverage" in their battle with CNN — again, the kind of thing that CNN insiders argue is wishful thinking.
AT&T and Time Warner declined to comment for this story. Zucker did not return a request for comment. A CNN spokesperson refuted the various stories casting doubt on Zucker's future.
Zucker also declined to comment to the Times about the merger, but told the paper that it wasn't something that he thought about, and that he hadn't discussed the acquisition with Time Warner CEO Jeff Bewkes.
The feud between Zucker's CNN and Trump is personal. As New York magazine has reported, Trump feels personally betrayed by Zucker because he believes he helped get him the job at CNN (which CNN sources deny is true).