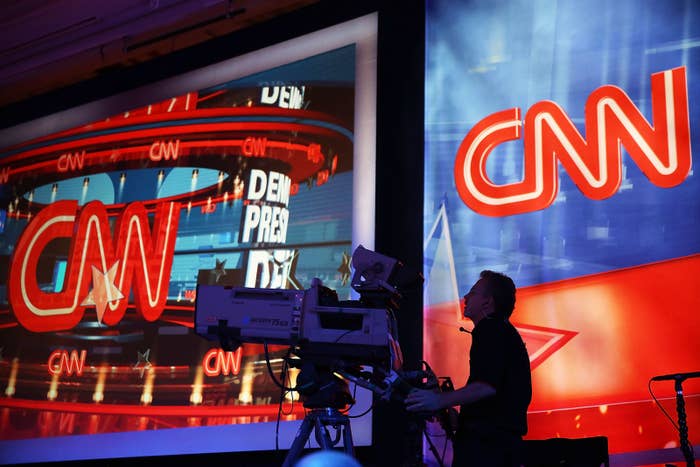 When a CNN reporter tracked down the Reddit user who claimed credit for creating a GIF that President Donald Trump tweeted of him beating up "CNN" in a wrestling match, network sources say they thought they were taking the high road by not naming the real identity of "HanAssholeSolo."
In the story, reporter Andrew Kaczynski wrote that CNN had found — but would not identify — the Reddit user, whose other posts included racist and anti-Semitic memes, "[b]ecause he is a private citizen who has issued an extensive statement of apology, showed his remorse by saying he has taken down all his offending posts, and because he said he is not going to repeat this ugly behavior on social media again."
But it was the next line that would leave the pro-Trump internet inflamed and the journalism community scratching its head: "CNN reserves the right to publish his identity should any of that change."
Across the pro-Trump social internet, the line has been received as a threat, a warning that the network would doxx the Reddit user should he step out of line again. "CNN blackmails source of Donald Trump wrestling video," read the headline at Breitbart. The hashtag #CNNBlackmail began trending soon after the story posted Tuesday night, buoyed by tweets from Donald Trump, Jr.
Kaczynski, a former BuzzFeed News reporter, tweeted that the Reddit user, HanAssholeSolo, was an adult, not a 15-year-old, as Trump Jr. tweeted amid the frenzy. Talk of retaliation against Kaczynski and CNN circulated around the right-wing internet.
Even among fellow media types, CNN's strangely worded contingency has been viewed as, at best, highly unconventional. Internally, some at CNN say they recognize that the "reserve the right to publish" line makes the piece sound hostile, when they had initially hoped it would address that there was no deal with HanAssholeSolo to withhold his name.
"All we intended to make clear is that there was no agreement about revealing or not revealing his identity," said a CNN executive.
The line was added into the story during the editing process, two sources with knowledge of the story said. "Someone did it as a safeguard and it backfired," said one CNN source.
Andrew Seaman, chairperson of the Society of Professional Journalists' ethics committee, wrote in a blog post that CNN's decision was unusual, but not blackmail.

"Journalists should support the open and civil exchange of views, but their role is debatable when they try to police good conduct on other platforms," Seaman wrote. "Anonymity agreements between journalists and sources should be detailed and often include qualifying statements. The specific qualifying statement in this agreement is not something that should be common practice, though."
As the controversy swirled, CNN issued a statement saying that the line was not meant as a threat.
"CNN decided not to publish the name of the Reddit user out of concern for his safety. Any assertion that the network blackmailed or coerced him is false," the network said in the statement. "The user, who is an adult male, not a 15-year-old boy, apologized and deleted his account before ever speaking with our reporter. CNN never made any deal, of any kind, with the user. In fact, CNN included its decision to withhold the user's identity in an effort to be completely transparent that there was no deal."
(The Reddit user had issued the apology after he was contacted by CNN, but before he spoke with the reporter.)
For CNN, releasing a statement in the middle of a Twitter maelstrom is becoming increasingly commonplace, from Reza Aslan's tweet about Donald Trump and Kathy Griffin's Trump photo to conservative filmmaker James O'Keefe's videos featuring CNN employees. Trump has made CNN the focus of his Twitter campaign against "fake news."
In an interview with the New York Times, network president Jeff Zucker said he was working to keep CNN staff focused on doing their work in spite of Trump's attention.
"He's trying to bully us, and we're not going to let him intimidate us," Zucker told the Times. "You can't lose your confidence and let that change the way you conduct yourselves."
In general, the network is on high editorial alert after three employees resigned in the wake of a retracted story about Russia late last month, and Zucker has told staffers in recent weeks that they need to play "error-free ball," network sources say.
Even so, CNN executives feel like the "reserve the right" line in the HanAssholeSolo story has been hijacked by enemies acting in bad faith. And they feel that, if anything, they showed journalistic restraint by not publishing the user's identity. (Kaczynski tweeted late Tuesday that HanAssholeSolo had called him and agreed that he was not threatened.)
"There were some who wanted to publish his name, some who did not. It was a judgment call," said a CNN executive. "If it turns out that was the wrong call, we reserve the right to publish his name if circumstances change in the future."
For now, according to a source with knowledge of the situation, Kaczynski and his family are the subject of an ongoing harassment campaign that includes the publication of personal information and death threats. And earlier today, the pro-Trump social media personality Michael Cernovich announced a protest outside Kaczynski's New York home.
Joe Bernstein and Claudia Koerner contributed reporting.