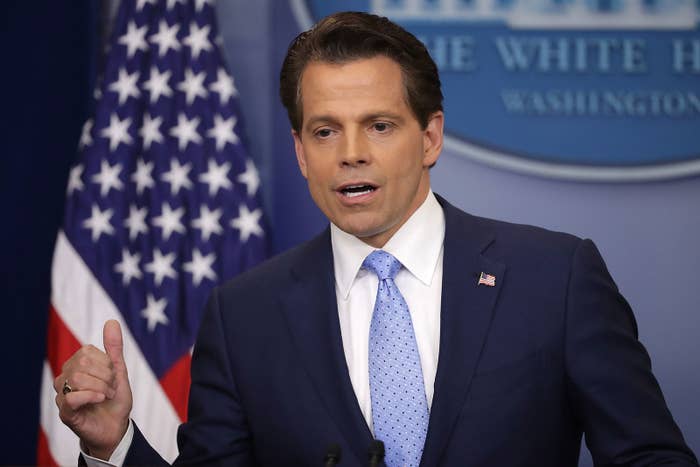 Three months after CNN forced out three staffers over a retracted Russia story involving Anthony Scaramucci, the cable network's sister channel, HLN, will host a press luncheon at the former White House communications director's steakhouse.
The Wednesday event at Hunt & Fish Club, where founding partner Scaramucci often holds court, will toast a new program hosted by conservative commentator S.E. Cupp. BuzzFeed News was not invited.
CNN bringing its business to Mooch's place might raise some eyebrows among journalists at the network reporting aggressively on Trump's orbit. But it's perhaps a reflection of the cozy relationships that exist behind the scenes at the highest levels of the political media sphere.
When asked why HLN was hosting a press luncheon at a restaurant connected to Scaramucci, HLN spokesperson Alison Rudnick said the story was "silly" while also trying to place in this story what time Cupp's show airs.

"I have a great relationship with CNN and thrilled they picked H and F as the venue," Scaramucci said in a text message to BuzzFeed News.
In June, CNN retracted a story about Trump-Russia connections mentioning Scaramucci, who reportedly threatened the network with legal action. CNN pushed out three employees involved in the single-sourced story, which didn't go through the normal editing channels. (Thomas Frank, the reporter who wrote the story, will start at BuzzFeed News next month).

The incident was said to have greatly pleased the president. Scaramucci accepted CNN's apology before resuming a jovial relationship with the network.
During his brief tenure in July, Scaramucci was caught on a hot microphone noting that CNN President Jeff Zucker "helped me get the job by hitting those guys," an apparent reference to the three exits, according to a transcript obtained by BuzzFeed News. Scaramucci also joked that Zucker was "not getting a placement fee" for helping him, and he later made small talk on the phone with CNN Washington bureau chief Sam Feist.
Cupp, who did not return a request for comment, wrote a column in July stating her "high hopes" for Scaramucci's tenure. In a later column for the Daily News, Cupp wrote that the brief "pathos of his journey truly makes his story a tragedy, not a comedy."

According to Hunt & Fish Club's website, the "HFC Burger" — grass fed beef, caramelized onion, black truffle, Vermont cheddar, onion rings, steak sauce, served with your choice of french fries or side salad — costs $22, and the veal rib chop, served with rosemary potatoes, comes in at $62.