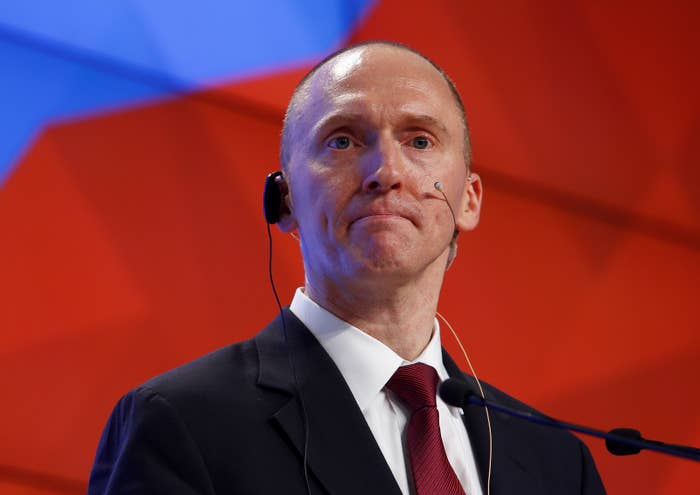 A former Trump campaign adviser is trying to sell his insider account of the controversy surrounding Russia's role in the 2016 election.
Carter Page — who has been questioned by the FBI about his contacts with Russians and has denied wrongdoing — is pitching his book to publishers as the foil to a book in the works by former FBI director James Comey.
The New York Times reported that publishers are "eager to pay big money" for the book by Comey, who was fired by President Donald Trump in May. On Sunday, Page blasted an email to publishing representatives and members of the media saying that his own book, titled Politics, Lies, And The Wiretap: Inside The Fight To End The 70-Year Cold War, will "prove infinitely more accurate, exciting and insightful" than Comey's project.
In his book, Page promises to detail 10 hours of meetings between him and FBI agents in March of this year, during which he was questioned as part of special counsel Robert Mueller's probe into Russian efforts to influence the 2016 election. The Washington Post reported the FBI interviews in June, and that Page had spoken to FBI agents without an attorney present.
Page claims in the proposal that the conversations with FBI agents were a politically motivated "wild goose chase," and that the agents became increasingly heated.
The book plans to trace Page's involvement with the Trump campaign, his trips to Russia, the dossier published by BuzzFeed News in January, the "glory night" of Trump's election win, and other topics.
But Page might have a difficult time securing offers from major publishing houses, publishing sources say. One agent said Page's book would be a "nightmare for legal vetting," and risks becoming itself embroiled in Mueller's investigation. Page told BuzzFeed News that he has fielded interest.
In his proposal, Page writes that he served "as nothing more than a junior member of an unpaid, informal advisory committee as part of the Trump movement," but that the "depth of my personal ties to Russia stretching back throughout most of my life made me the most prominent victim of the Clinton campaign's efforts to illegally influence the Obama administration and its politically motivated FBI Director James Comey."
How exactly Page became part of the Trump campaign and how involved or limited his role really was remains something of a mystery. Page was booted from the campaign after reports emerged that federal investigators were looking into his ties to Russian officials. Since then, he's given many on-the-record interviews, including on television.
In April, BuzzFeed News reported that Page met with and passed documents to a Russian intelligence operative in New York in 2013. Page was also named in the dossier compiled by former British intelligence agent Christopher Steele and used to brief then-president Obama and then-president-elect Trump in January.
In the book proposal, Page said the dossier "did not include one single truthful word about me other than the spelling of my name."
Carter writes that "this book will serve as the definitive account of many of the problems that led to today's ongoing controversies both during the 2016 election saga and throughout the dramatic months since. In doing so, it conclusively illuminates the inherent logic in our commander in chief's brave efforts to fundamentally change the course of U.S. history for the benefit of all Americans despite the fierce political headwinds consistently exacerbated by the media and dishonest politicians from the Washington elite."
Alternative titles include Cold COC'ed: Clashes with the Clinton-Obama-Comey Regime and the Restoration of American Leadership and Rolling Back World War III: A Small Cog in the Trump Movement's Personal Fight with Clinton, Obama and Comey.
Page sent BuzzFeed News the proposal. When asked for comment about potential legal exposure, Page pointed BuzzFeed News to an explanation in the proposal saying that "landmark volume" will "[highlight] the misdeeds of the Clinton campaign and Obama administration."

Page did not tell BuzzFeed News whether he is represented by a book agent, but the proposal does not list one.
Page also said he will donate half of the book's proceeds to "education-related charities" if his contract is on par with Comey's.

In the proposal, Page writes that the book will provide the "antidote" to potential forthcoming books from Comey, Clinton, and Obama — and clear up the narrative about Russia. "In 1776, the English historian Edward Gibbon published a classic book entitled The History of the Decline and Fall of the Roman Empire," Page writes. "My book will play a similar role for this historic juncture by definitively documenting the pathway towards catastrophic destruction which the prior Administration and its predecessors played in creating severe chaos in the international community."
Page writes that the book will be ripe for a film adaptation, since it will merge the most compelling elements of films like Syriana, Bridge of Spies, and HBO's Game Change. He plays up his own marketability as well, noting a long list of mainstream media outlets that have written about him.
Page flags Breitbart and Fox News as particularly friendly outlets for publicity, and also lists a handful of "representative hit pieces by prominent media outlets during the 2016 campaign," including stories from Politico, the Washington Post, and Bloomberg.