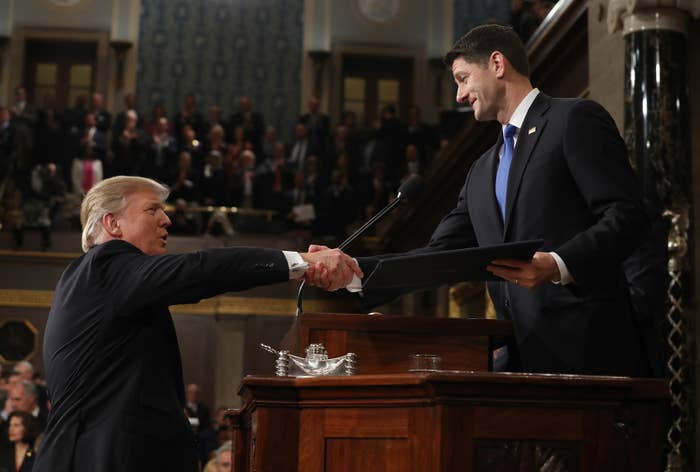 The timing was perfect.
Late Monday night, Breitbart News, the right-wing website that has long antagonized the Republican establishment and been a platform for Donald Trump's causes, published an audio clip from October of House Speaker Paul Ryan telling GOP House members that he was "not going to defend Donald Trump — not now, not in the future."
Ryan's comments — which he made on a conference call shortly after the release of the explosive 2005 Access Hollywood tape in which Trump infamously discussed grabbing women "by the pussy" — weren't new, exactly (they were reported last fall). But the release of the audio clip appeared an attempt to exacerbate the rift between the White House and Republican leadership as they try to push an almost universally-loathed health care bill through Congress.
With Trump's rise, Breitbart has moved from the fringes to a central media player (on Twitter, after a big political development, political reporters can now be found occasionally posting screencaps of the Breitbart frontpage or a link to the lead story). Steve Bannon, the president's top strategist, ran the site for years — and has been followed by a handful of former Breitbart staffers to White House, including Julia Hahn, a former writer on the site known for sharp critiques of Republicans like Ryan.
Immediately following the story's publication late Monday night, the guessing game began: Are Bannon and Breitbart allies the sources for stories like these in an effort to telegraph a message from the White House to Ryan, or is the post-Bannon Breitbart driving its own agenda?
Regardless, according to those on Capitol Hill, the Breitbart story is just another example of how the White House and Trump allies are already blaming Ryan for any potential future failures, whether it's on Obamacare or general frustration among Trump's base. "The Trump people are making Ryan go out there and take all the arrows and bullets," said a top Republican who has been working with the White House and the speaker. "They've made it his plan even though they were probably negotiating with him. It's not a full-throated endorsement. That's fascinating how they've maneuvered this situation."
"I think it's old news. Correct me if I'm wrong, but wasn't this already out there?" a senior administration official said of the Ryan tape, who added that everyone at the White House already knew about the comments from the October conference call.
Another White House official was visibly angry with Breitbart over the story.
"Anything that is harmful to passing the president's agenda is counterproductive," the official said.
Bannon did not respond to a request for comment.
In recent days, stories on Breitbart — a consistently fierce Ryan critic and Trump booster — have been fervently opposed to the American Health Care Act, painting the White House's attempt to uproot Obamacare as flawed and placing the lion's share of the blame on Ryan. "This is the first major initiative that Trump has worked on with Ryan — and the fact it is going so poorly calls into question whether Speaker Ryan, the GOP's failed 2012 vice presidential nominee who barely supported Trump at all in 2016, really understands how Trump won and how to win in general," the Breitbart story reads.
"The president gave Ryan a chance," a "source close to the President" told Breitbart. "If he doesn't get his act together soon, the President will have no choice but to step in and fix this on his own. He's the best negotiator on the planet, and if this were his bill not Ryan's it would not be this much of a mess."
On Tuesday, the site dug in further with a story headlined, "As Donald Trump Eclipses Paul Ryan's Popularity in Ryan's Own District, His Constituents Turn on Obamacare 2.0 Bill," which cites a Public Policy Polling survey measuring Ryan's favorability in his district (a point behind Trump's). "His own constituents are aligned against his Obamacare 2.0 bill — also called RINO-CARE, Ryancare, or Obamacare Lite — the American Health Care Act," the story reads.
"The president and his team were assured by Ryan that conservatives would, in fact, be on board with it in the beginning, something that has turned out to not be accurate," Breitbart wrote in the Monday story. "Several senior White House aides confirmed to Breitbart News that while the administration is publicly touting the bill as the party line, the President is much more willing to wheel and deal on this front than Ryan loyalists on his team would have anyone believe." Indeed, on Monday Politico reported that the White House is increasingly likely support more conservative changes to the House Obamacare alternative, citing two administration officials.
Breitbart has been a key media advocate of Trump's agenda, but not quite when it comes to Ryan and the health care issue. Last week, when Republicans introduced their plan, Breitbart's website led with a story headlined "Obamacare 2.0 guts enforcement, gives illegal aliens healthcare through identity fraud. Other than that…"
A spokesperson for Ryan refused to go on the record, referring BuzzFeed News to the comment given to Breitbart Monday night. "[Ryan's comments were] in response to [the Access Hollywood tape], but as everyone knows, they came together toward the end of the campaign and the speaker vocally supported him and even campaigned with Pence," Ryan spokesman Brendan Buck told Breitbart News.
That House leadership has had to tangle with Breitbart is nothing new, much to the frustration of members and aides who are forced to engage with the outlet when their boss is on the receiving end of a bad Breitbart story but know it's ultimately a pointless exercise to try and stop it.
"They tend to get more credit than they deserve, but they play a role in creating mischief and that's undeniable," said a former House leadership aide. "They don't care about facts and that can be really irritating when you are in the middle of it… Breitbart's whole business model is attacking congressional leadership. That's the only thing their writers know how to write."
The site also went after press secretary Sean Spicer for claiming that the health care bill fully repeals Obamacare. In a leaked Breitbart Slack message obtained by Business Insider, Matthew Boyle, the website's Washington editor and author of the Ryan tape story, told colleagues, "We are Breitbart. This is war. There are no sacred cows in war." Business Insider also reported that Boyle had clashed with Bannon after Breitbart published a critical story about White House chief of staff Reince Priebus. The White House has sought to trot the duo out as allies.
And the anger with Boyle has not abated. One administration source noted that while Boyle may clearly love President Trump, he obviously has it out for Ryan, and that's not helpful right now.
"If you support the president but go after the speaker, you're hurting the president," the source said.
Boyle did not respond to a request for comment. In a statement to Politico, Breitbart said: "Steve Bannon was not involved in this story, nor has he been involved in any Breitbart editorial decision-making since August 2016 when he left to work for the Trump campaign. Breitbart obtained the audio in late 2016 and after a careful vetting, determined the audio to be real. To keep suggesting some kind of conspiracy with Steve Bannon and Breitbart is just more fake news."
Ahead of Ryan's primary battle against Republican businessman Paul Nehlen, Boyle in August wrote that "the sitting Speaker of the House, Rep. Paul Ryan (R-WI), has been brought to his knees, bowing down before the almighty nationalist populist movement, as his life's work—a career in politics—flashes before his eyes." Other Breitbart headlines about the primary challenge included, "Nehlen: Paul Ryan a 'Soulless Globalist' 'Grown in a Petri Dish in DC' Who Puts 'Corporate America' Over Wisconsin Workers."
Jeffrey Lord, a Trump surrogate on CNN who served in the Reagan administration, noted that in this administration Breitbart fills the role that was played by National Review and American Spectator in previous Republican administrations — acting as a forum for infighting within conservative policy circles.
While he said the bickering between the White House and the Hill isn't terribly surprising because it has occurred in both parties, he cited Sen. Rand Paul as someone who has suggested that Ryan has a 'my way or the highway' approach while Trump is willing to negotiate.
"He's the president, I do think it's a good idea for him to take control of the process," Lord said. "This is the guy that wrote the Art of the Deal."
Kate Nocera and Tarini Parti contributed reporting.