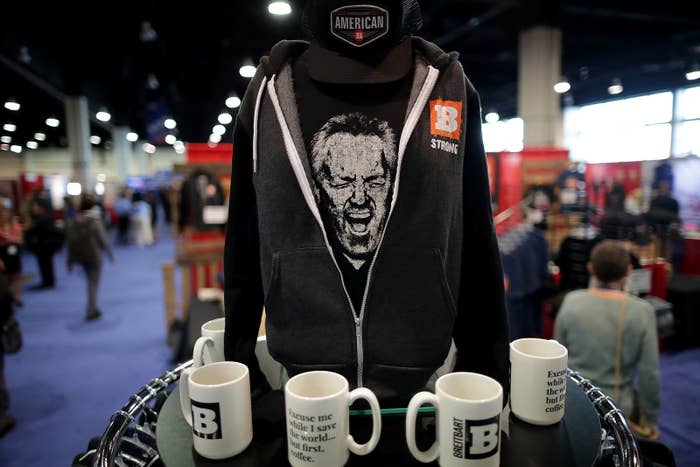 WASHINGTON — Breitbart News isn't getting permanent press credentials on Capitol Hill just yet.
On Monday, the standing committee of correspondents of the US Senate Daily Press Gallery — a group of five reporters at traditional media outlets — declined to grant Breitbart "hard passes" to report more easily within the halls of Congress until the right-wing news site can provide more information. The committee in particular wants Breitbart to clarify links to conservative nonprofit Government Accountability Institute as well as the involvement of Rebekah Mercer, whose family is an investor in the site.
The decision follows last month's meeting, where Breitbart CEO Larry Solov was asked by committee members to write a letter outlining the involvement of Steve Bannon, the senior White House adviser who used to run the company. Late Thursday, the night before the meeting was supposed to take place (it was moved to Monday because of the scrapped health care vote), Solov sent a letter stating that Bannon had resigned "on or about November 13, 2016" and that he has "no editorial, executive, financial or other role or interest" in Breitbart News.
But the letter, which also included Breitbart's masthead as of March 20, raised a new issue for the committee. Two employees — senior editor-at-large Peter Schweizer and managing editor Wynton Hall — are also affiliated with conservative nonprofit Government Accountability Institute. Schweizer and Bannon founded GAI with Bannon in 2012, with funding from the Mercer family. At the meeting last month, Solov told committee members that Breitbart is owned by himself, Susie Breitbart (the widow of founder Andrew Breitbart), and the Mercer family, but he would not clarify further which family members own a stake.
Regardless of their political leanings, outlets that want to gain permanent access to the Capitol are required by the committee to reveal certain financial information to make sure the news organization isn't tied to any special interest group. The committee requested that Breitbart submit a new letter giving more information about links to GAI and stating whether Rebekah Mercer, a major Trump donor, has any editorial influence in the company.

Committee members were also concerned that Breitbart misled them about its current office location, which is not zoned for office use. Breitbart had told the committee it was in the process of moving.
For newer outlets in Washington, winning permanent congressional press passes is a tedious process — but an important one. The hard passes are seen as the first step towards joining the White House Correspondents' Association, where member news organizations rotate their reporters to travel with the president at home and abroad. Reporters also use the hard passes to get into other events around Washington.
Breitbart News's effort will drag on until at least next month. The committee has requested the new information by April 18, and granted the site a two-month extension on temporary passes. A Breitbart spokesperson did not immediately return a request for comment.
Correction (1:23 p.m.): Hall, the managing editor, is associated with GAI. A previous version of this story misidentified the second Breitbart employee connected to the nonprofit.