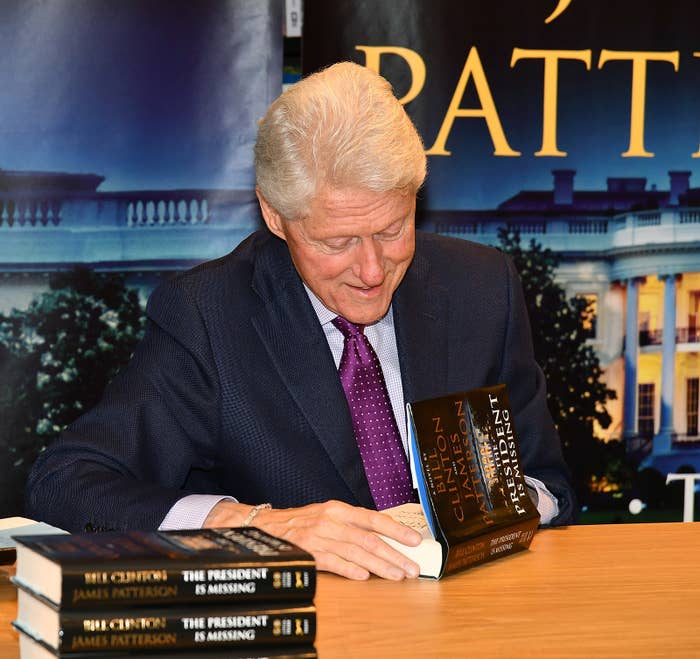 Bill Clinton again defended his response to #MeToo and Monica Lewinsky on Tuesday night — and criticized Craig Melvin, the NBC anchor who interviewed him for a Today show segment that quickly garnered attention this week.
Speaking to a crowd of New York Times subscribers at a TimesTalks event, the former president said that he was not surprised that Melvin asked about the scandal. What surprised and angered Clinton, he said, was the "flat-out assertion that I had never apologized."
In the interview, Melvin specifically asked Clinton whether he had privately apologized to Lewinsky. As the interview aired, NBC played a clip from Clinton's public apology in the '90s, which included Lewinsky. Pressed by Melvin, Clinton said he had not spoken directly to Lewinsky, who has in the past year said she views the situation differently in 2018 than she did in the 1990s. In the interview, Clinton himself said the apology was public.
While the former president said he appeared frustrated during the interview, "I should have remembered that man is young enough to be my son," Clinton said on Tuesday of Melvin, who is 39.

"I messed up and I own that, and no mistake by anybody else — including that young man aggressively saying I didn't apologize — can justify the fact that I got mad when I should have been saying, 'I've got a chance to tell a whole new generation that the journey I've been on the past 20 years is one the country has to take, and that #MeToo is demanding we take it, and the sooner the better.' And that's what I think," Clinton said.
Clinton echoed his remarks on Tuesday night in an interview with CBS' Stephen Colbert, saying his response to Melvin wasn't his "finest hour." On Wednesday morning,Today addressed Clinton's Tuesday comments, with host Savannah Guthrie saying to Melvin, "I think the tape speaks for itself. You of course did not assert that he never apologized, you asked whether he apologized."

Questions about Clinton's past behavior have become a focal point of his book tour for a thriller written alongside author James Patterson — and especially after the Monday interview elicited a series of critical coverage and commentary.
At the event Tuesday, New York Times Book Review editor Pamela Paul pushed Clinton on Melvin's same question, asking whether Clinton would apologize privately to Lewinsky if she were in attendance. (The question received groans from a Clinton-friendly audience.)

Clinton said that it wouldn't be a private apology if she were at the event.
Paul pressed Clinton again, highlighting the fact that Lewinsky has spoken out about her changing understanding of their affair in the #MeToo era (a question that once again received groans from the audience).
"I've said all I have to say," Clinton said. "It happened 20 years ago and I apologize for it."