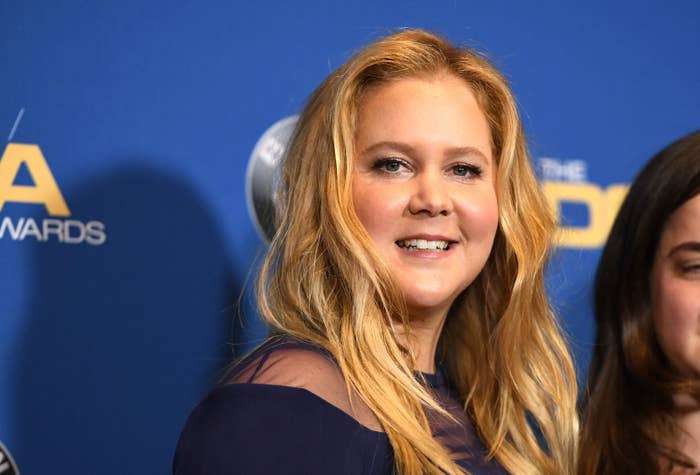 Actor Amy Schumer has canceled a scheduled interview with a TV station owned by Sinclair, the broadcasting giant which has been under fire in recent days for forcing its anchors to read politicized statements on air bashing the mainstream media.
Schumer had planned to sit down with WJLA, an ABC affiliate in Washington, DC, as part of a press junket promoting her new movie I Feel Pretty. A spokesperson for Schumer confirmed that the actor this week canceled the interview. According to a person familiar with the matter, Schumer hopes to not work with any Sinclair-owned TV station in the future.
Spokespeople for WJLA and Sinclair did not return a request for comment.
Schumer's decision came amid the circulation of a viral video, created by Deadspin, that stitched together clips of anchors at Sinclair stations reciting in unison a speech about media bias. The clip, which was denounced as Orwellian by critics, became the latest in a growing line of incidents that has brought greater scrutiny to the conservative Sinclair, the largest owner of TV stations in the country.
Schumer's politics are no great secret — she supported Hillary Clinton and has been a vocal critic of the NRA and President Trump. Her outspokenness has helped make her into a progressive figure, but Schumer's political views aren't uncommon in Hollywood, raising the question of whether more actors will choose to avoid Sinclair-owned stations in the future.
Once a little-known company outside of the TV industry, Sinclair has become infamous in political circles for its "must run" segments promoting pro-Trump talking points. The Deadspin video has already sparked some to call for a boycott, and a Democratic candidate for Maryland governor said she would not advertise on Sinclair stations. Sinclair is currently awaiting approval of a $3.9 billion takeover of Tribune Media, which would extend its reach to 72% of American households.

On Monday, Sinclair defended the must-run segment in the video. Scott Livingston, Sinclair's senior vice president of news, said in a statement that "it is ironic that we would be attacked for messages promoting our journalistic initiative for fair and objective reporting, and for specifically asking the public to hold our newsrooms accountable."