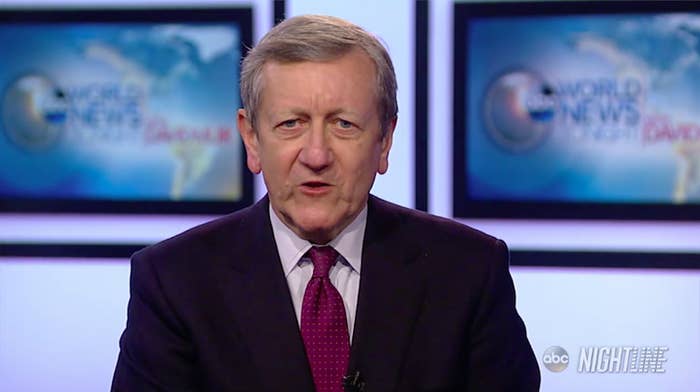 On Monday morning, staffers at ABC News gathered for a daily call, the first time since the Saturday suspension of investigative reporter Brian Ross that beleaguered employees heard personally from their leader, ABC News president James Goldston.
According to people familiar with the call, Goldston struck an angry tone, fuming about Ross's erroneous report, which has quickly become a black eye for the network and a "fake news" talking point for Donald Trump and his allies.
Goldston's comments reflected the mood inside ABC. "Everyone is just in shock and very upset," said one staffer. "It came at a moment where this was our time to shine."
Ross was suspended for four weeks without pay on Saturday after the network corrected his reporting on Michael Flynn, the former national security adviser who pleaded guilty to lying to the FBI. Citing one anonymous source, Ross reported in an on-air segment on Friday morning that Flynn was prepared to testify that Donald Trump as a candidate had instructed him to contact the Russians. Hours later, Ross corrected his report on World News Tonight, saying that his source later clarified that Trump was president-elect, not a candidate, when he asked Flynn to make contact with the Russians.
The mistake — which originally implied direct campaign "collusion" with the Russians and sent the stock market tumbling — has rattled ABC News staffers, who described the incident as the biggest journalistic headache since George Stephanopoulos apologized for making charitable contributions to the Clinton Foundation. Staffers have also griped about the hours-long lag between the initial error and the correction. (ABC News received criticism for first calling the update a "clarification," only later acknowledging it was a "correction.")
The mistake turned into a messaging weapon for Trump allies, who often have been reluctant to proactively come to the president's defense in the Mueller probe, not wanting to be on record trashing the former FBI director or his investigative team.
"The reason why this mistake by Ross is going to be helpful is that it plays into the beliefs that conservative voters already have about the mainstream media," said one former White House official, who requested anonymity to speak candidly. "It was an affirmation of what they already believe to an extent about the 'fake news' media. That's why it is so powerful."
After his suspension is complete, Ross is not expected to continue reporting on Trump, according to people familiar with the matter.
While it's still largely unclear how the error was made, ABC News said the report didn't go through the proper internal channels before Ross went to air. ABC News apologized in a statement read on air Saturday, saying that "the reporting conveyed by Brian Ross during the special report had not been fully vetted through our editorial standards process."
Ross, for his part, tweeted, "My job is to hold people accountable and that's why I agree with being held accountable myself."
Inside ABC, where Ross is regarded as star talent, the error laid bare the tension between his investigative unit and other reporters covering the Trump White House, sources said. And ABC News staffers have grown more exasperated as members of Trump's circle (and the president himself) have spoken out against Ross's report.
The Republican National Committee was largely silent in October when former Trump-campaign chairman Paul Manafort and others were charged in the probe. But Ross and ABC News allowed for some "nothing-to-see-here" deflection on Trump's behalf.
"As the stock market tanked and the ladies of The View celebrated, ABC News stalled for hours while their false 'bombshell Flynn report' reached millions of Americans," Michael Ahrens, the RNC's rapid response director, wrote in a Saturday email blast to reporters.
In an email to BuzzFeed News, Ahrens added that "egregious examples of false reporting harm both the public and the press, and we'll continue to call them out when they happen. ABC News's mistake spread like wildfire and even tanked the stock market, and instead of correcting it right away, they stalled for hours and didn't even apologize until the next day."
Trump also joined the Ross pile-on himself with a tweet: "People who lost money when the Stock Market went down 350 points based on the False and Dishonest reporting of Brian Ross of @ABC News (he has been suspended), should consider hiring a lawyer and suing ABC for the damages this bad reporting has caused - many millions of dollars!"
The Flynn mistake was not Ross's first error. In 2012, the network and Ross apologized for a report linking the Aurora movie theater shooter with the Tea Party.
At least one Republican went to bat for Ross: his former professor, Iowa Sen. Chuck Grassley.
"I'm sure many republican will disagree BUT it is difficult for me to see bad in the 'mistake' Brian Ross made abt candidate/ president-electTrump bc 67-68 Brian was a poli/sci student of mine," Grassley wrote in his trademark Twitter shorthand. "We had a good relationship& do Now."