A Season With The Sharks, New York's Pro Women's Football Team
They put in the same work and risk the same injury as any football players, but it costs $825 a season to be on New York's long-running women's pro football team.
On a sunny July afternoon, with more than a thousand people packed into the bleachers at Simley High School in Inver Grove Heights, Minnesota, the New York Sharks have the ball at the Minnesota Vixens' 2-yard line in double overtime. A field goal, a touchdown — any score will win the game. They'll have to win without one of their top receivers, Maggie Natell, who has made the trip despite being on crutches; she tore her ACL and meniscus in the final regular season game.
The Vixens decide to call a timeout to make sure they're on the same page on defense. On the Sharks' sidelines, players and coaches are already anticipating the victory celebration while Karen Mulligan, the 38-year-old quarterback, in her 14th season with the team, consults with head coach Rich Harrigan on the upcoming play call.

Harrigan, who has been conservative with his play calling throughout the season, decides to call a quarterback sneak. From two yards out, handing it off to one of his running backs might make more sense, but Harrigan would prefer to eliminate the additional transfer of the ball from the quarterback to the runner to minimize the probability of a fumble. This is when Mulligan, who is not the most agile of quarterbacks, poses the question to her head coach: What if the Vixens stack the line of scrimmage with five players in anticipation of a run play? Harrigan tells her she has the option to audible into a pass play at the line.
As Mulligan relays the play call to her teammates in the huddle, she has no idea this will be the last play of the season for the Sharks. She certainly has no idea it's about to be the most devastating finish to a game of her career. On the sideline, Harrigan, who is already preparing to congratulate his coaching staff on a hard-earned win, has no idea he's just made his final play call as head coach of the New York Sharks.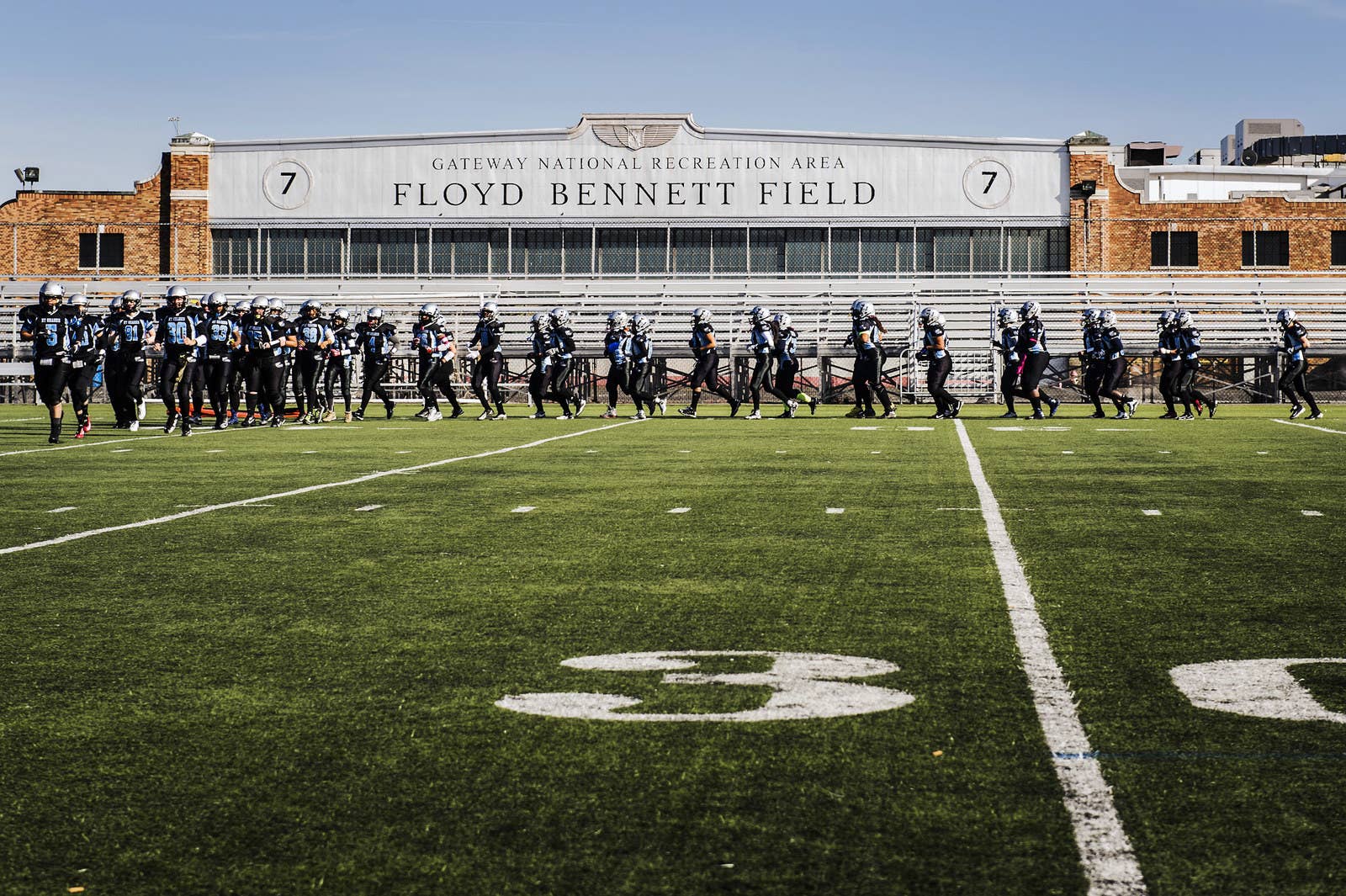 In March 2016, 220 women from 16 different countries arrived at the New Orleans Saints' practice facility in Metairie, Louisiana, to participate in the third Women's World Football Games (WWFG III), an event organized by USA Football, a nonprofit governing body of amateur American football. The Saints are the first NFL team to open their facilities for the event, but the hope is that this is just the beginning of an affiliation.
Professional women's football exists in a perpetual state of flux. There is no national television platform for the sport. Many teams play in front of near-empty stands. There's an annual fee to join each team, which covers travel, equipment, and other costs. These leagues toil in obscurity, even when compared with the Lingerie Football League, which has always been more of an entertainment product than a showcase of athletes. Players are here to receive instruction from a group of professional coaches, which include former NFL players Jim Farrell, Fabien Bownes, and Manny Arceneaux. Tony Romo and Drew Brees have recorded video messages for the participants.
Odessa Jenkins, the first-year owner of the Dallas Elite of the Women's Football Alliance, believes — especially given the NFL's public perception problem stemming from its mishandling suspensions related to the domestic violence cases of Ray Rice and Greg Hardy — that the league would benefit from partnering with women's football. "We're mothers," she says. "We're sisters. We're the consumers. We buy their apparel, we buy our husbands and sons their NFL tickets. The angle that football empowers girls is undeniable. If the NFL is the key that opens that door to more people, that would say a lot."
Collette Smith, 47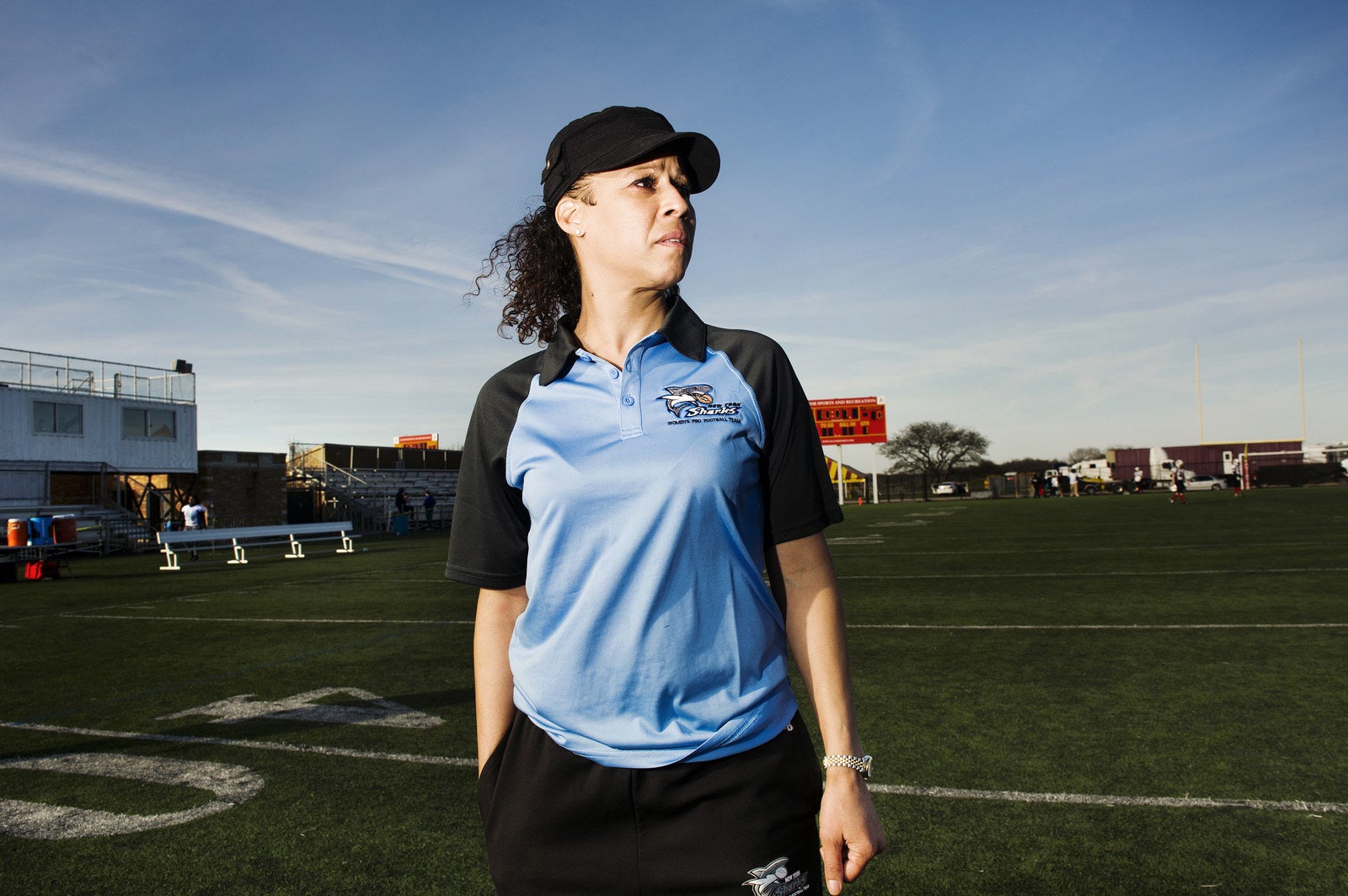 Collette Smith, a 47-year-old real estate agent who played three years for the New York Sharks and recently retired to work as the team's director of marketing and PR, is here to shadow coaches during the week in preparation for being the team's assistant defensive backs coach this season. In the months leading up to the season, Smith has grown frustrated with her attempts to connect with the New York Jets in the hopes of positioning the Sharks as a sister franchise to the team. On the first day of the WWFG, all of this is on her mind as players from all around the world file in for registration and get their respective countries' flags stickered on their helmets.
Smith surveys the scene in New Orleans and takes it all in with tears welling up in her eyes. "It shouldn't be this difficult for us," she says. "It should just be."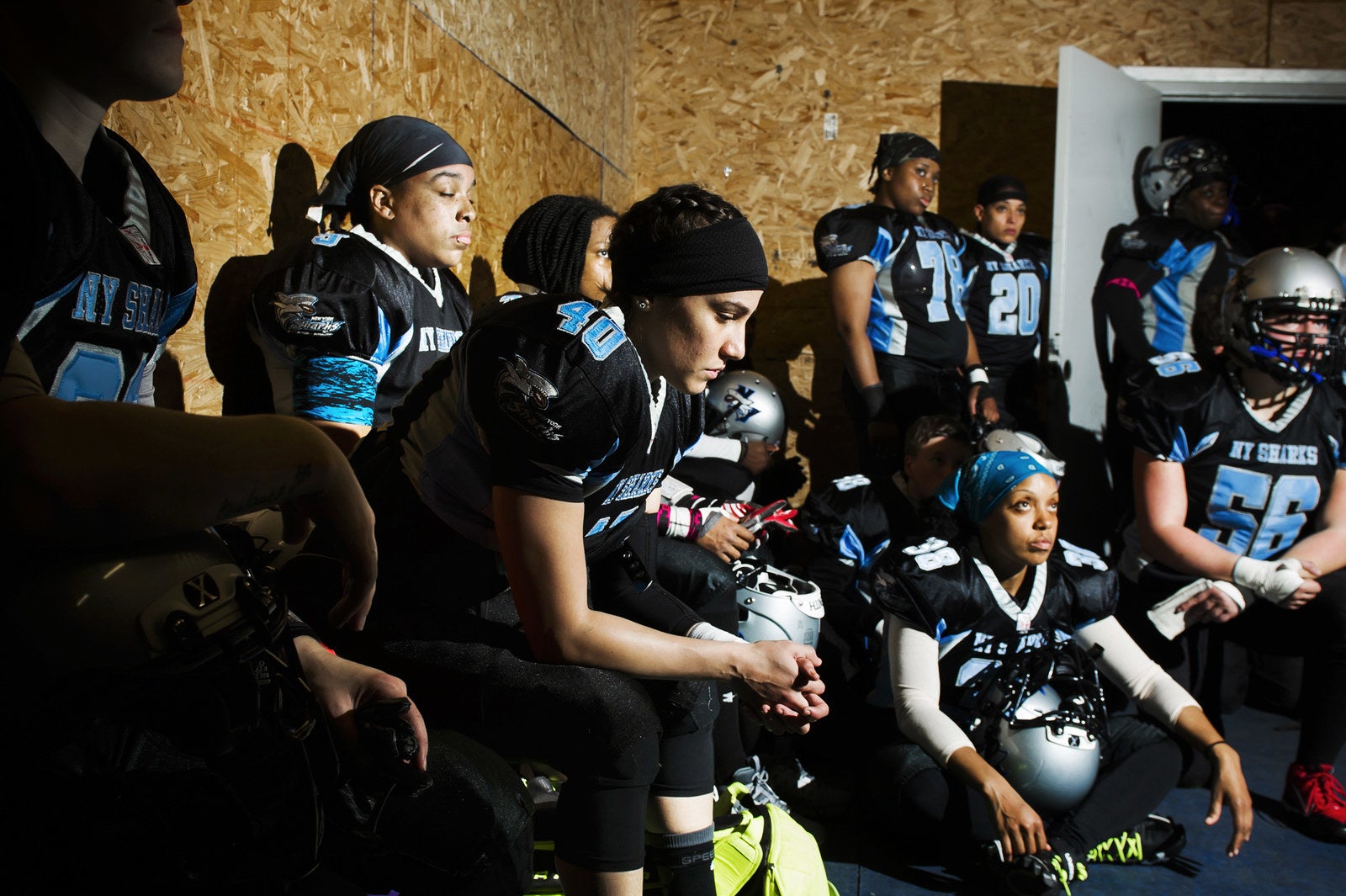 The New York Sharks, one of the longest-running women's tackle football teams in the United States, started play in 1999 as part of the Independent Women's Football League (IWFL), which is composed of 33 teams. The IWFL, along with the WFA, which has 43 teams, are the two biggest women's football leagues in North America. Even with the pay-to-play structure, teams often need to raise additional revenue in order to cover the cost of travel, especially if they make the playoffs and there are additional games. Teams like the Dallas Elite are able to do this by securing local sponsorship deals with an assist from former Dallas Cowboys linebacker Eugene Lockhart. On a smaller scale, the Sharks spend most of training camp encouraging their players to sell team-themed coffee mugs for $20 in order to raise a contingency amount for travel should they make the playoffs.
It costs $825 to join the Sharks for a season. Rookie tryouts are held in September. Those who make it attend minicamp in January and February to compete against returning players. From March to July, there are three weekly practices, on Tuesday, Thursday, and Saturday. Weekday practices run from 8 to 10 p.m. in Brooklyn, which requires players to make long commutes from different parts of the city. Some players use online fundraising sites like GoFundMe to obtain financial support from friends and family. If they're unable to raise the necessary funds, some are not seen again when training camp ends and the season starts. Players also have to find time to study the playbook and review game film during the week and assume full risk for any injuries on the field.
The Sharks play their home games at Floyd Bennett Field in Brooklyn, and rarely draw more than a few hundred people, many of them family and friends of players on the team. There are no financial rewards, and no national recognition for the players. They play for each other.
Karen Mulligan, 38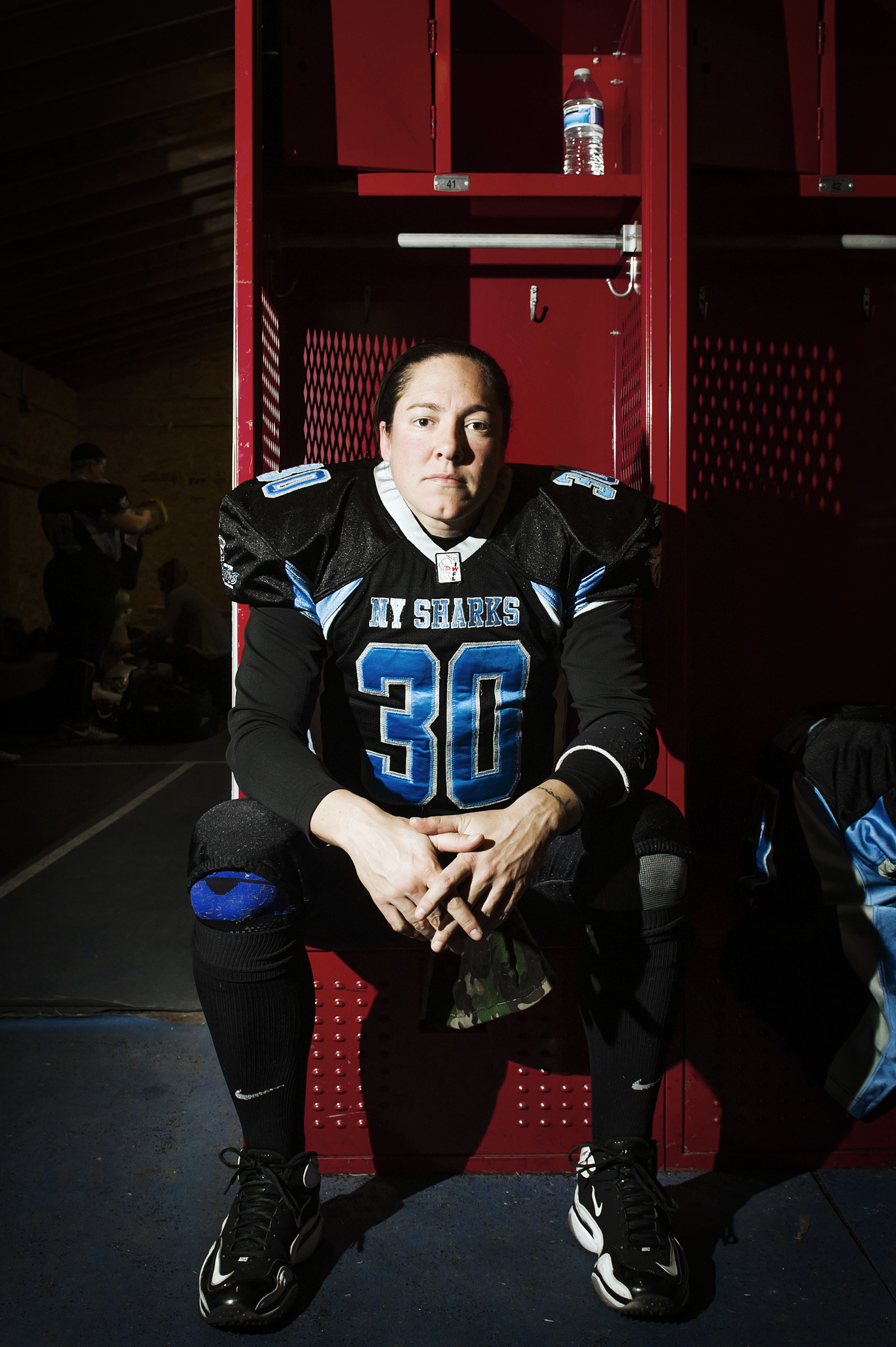 Karen Mulligan, a teacher at Raymond York Elementary School in Jamaica, Queens, is in her 14th season with the New York Sharks. An all-state shortstop at Connetquot High School who later attended St. John's University on a basketball scholarship, Mulligan had minimal experience playing football when she first joined the Sharks. In her first few seasons, Mulligan played defensive end, filled in on the offensive line, and lined up at wide receiver.
In 2006, there was an opening at the quarterback position. The coaches asked Mulligan if she'd be willing to give it a try, even though she had never thrown a football in her life. A decade later, Mulligan is one of the best quarterbacks in women's football, representing Team USA at the World Championship twice.
It was during the 2010 World Championships in Stockholm when Mulligan met Amy Deal, who was also on Team USA as a linebacker. The two hit it off and decided to extend their trip in Stockholm for an extra 48 hours after the tournament ended. Mulligan and Deal spent a year in a long-distance relationship before Deal moved from Los Angeles to New York. Today, the two are married and live in Suffolk County, New York. Deal, who retired after the 2015 season, is now a linebackers coach for the Sharks. Mulligan often jokes that her commitment to the Sharks is also the only time she has to spend with her wife.
At the start of the 2016 season, she is still frustrated by her performance in a playoff loss to the Pittsburgh Passion that ended the Sharks' championship hopes in 2015 (Pittsburgh transferred from the IWFL to the WFA for 2016, meaning the Sharks would not continue their rivalry with them this season). "I'm not perfect," Mulligan says. "But you strive for it. Something is bound to happen, and if it does, I'll be the first to say I messed up. I don't have a problem with that." This will be her best chance, and possibly her last chance.
Rich Harrigan, 51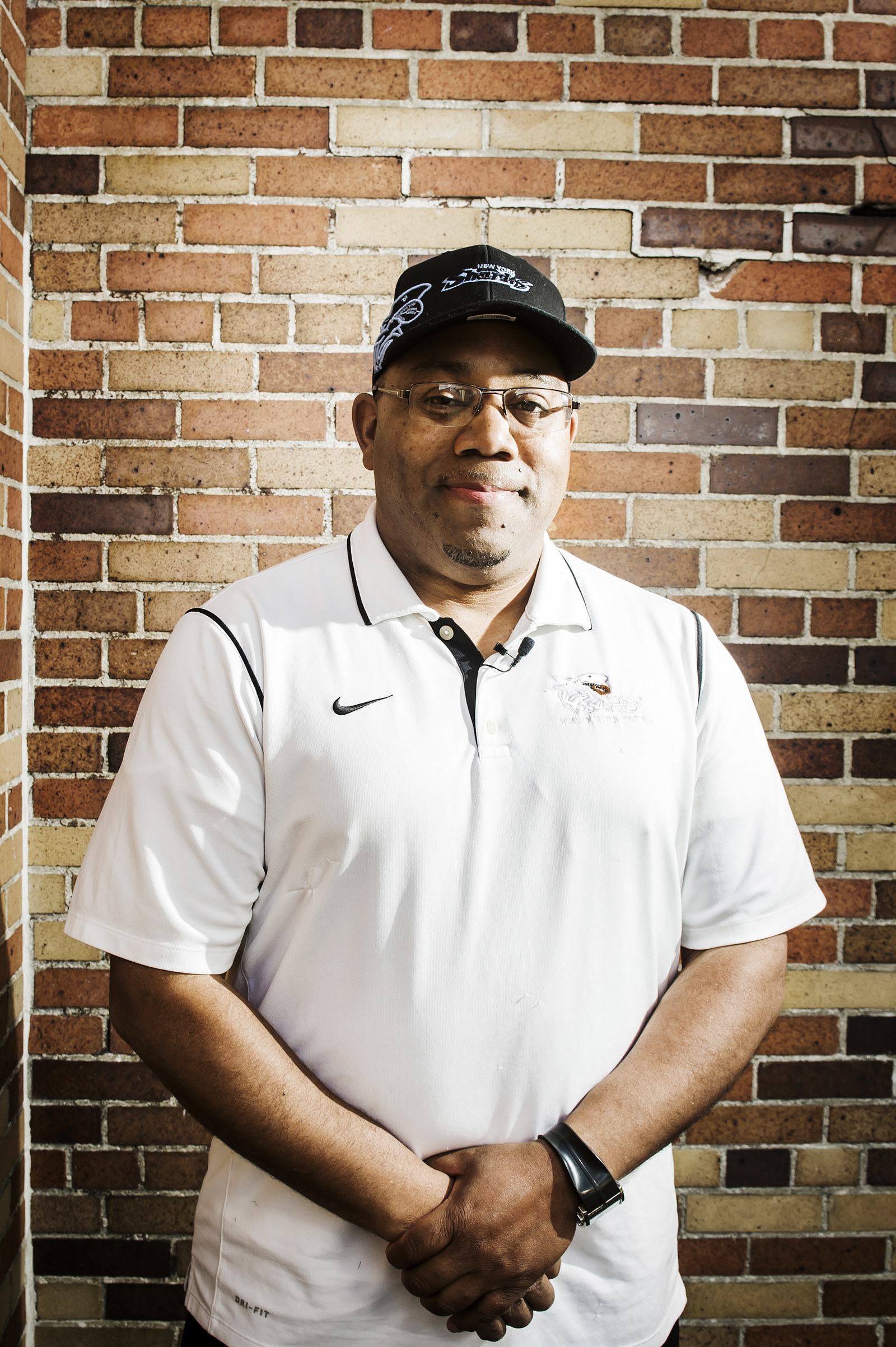 A dreary, rainy April afternoon has given way to a chilly but dry Saturday evening in Uniondale, New York, at Mitchel Field Athletic Complex. It's opening day, and the Sharks have chosen to play their first home game of the season here to commemorate their first-ever game in 1999, also played here. Earlier in the week at practice, Harrigan couldn't hide his excitement, dancing and assigning nicknames to every player as they went through warmup stretches. The Sharks race out to a 14–0 lead against the Montreal Blitz in the first half, and lead by 7 at halftime. As I jog to the locker room alongside Harrigan, he turns to me, grins, and says, "I love this shit."

For women's football to continue to grow, players need a coaching staff with experience in the sport, willing and able to impart their knowledge to women who are playing the sport at this level for the first time. Harrigan, a 51-year-old civil engineer, played football in high school, coached in college and for a semi-pro team, then became an assistant coach on the Boston Militia, a now-defunct team in the WFA, before accepting his first head coaching role with the Sharks in 2011.
In his five years with the team, Harrigan, along with his coaching staff comprising his high school friends from Brooklyn Tech, has built a stable environment for the players to learn, and to establish a level of continuity rarely seen in the sport. Harrigan is a football coach, but he also understands the responsibility he has as a man in a leadership position guiding a group of women.
"Football is the only sport that is male-dominated — there's no version of women playing at a youth level," he tells me as we drive to practice a week before the start of the season. "A lot of the gestures and the terminology and the nuances of the game are male-oriented — 'cover your man,' 'man coverage.'" This has given him a different perspective on what he has heard around football teams for much of his life, and he is trying to guide his own staff accordingly. "The sexual harassment, the ignorance of words like 'bitches' and 'hoes,' saying misogynistic things in the locker room that might relate to a woman's experience of being mistreated. There's a social aspect to this. We can't take it for granted. You wield a lot of control and power in this position. You can do a lot of good with it. You can do a lot of bad with it. Most of these women can handle a lot of shit, but it may be one who you are insensitive towards about something and you blow it."
TJ Grimsley, 28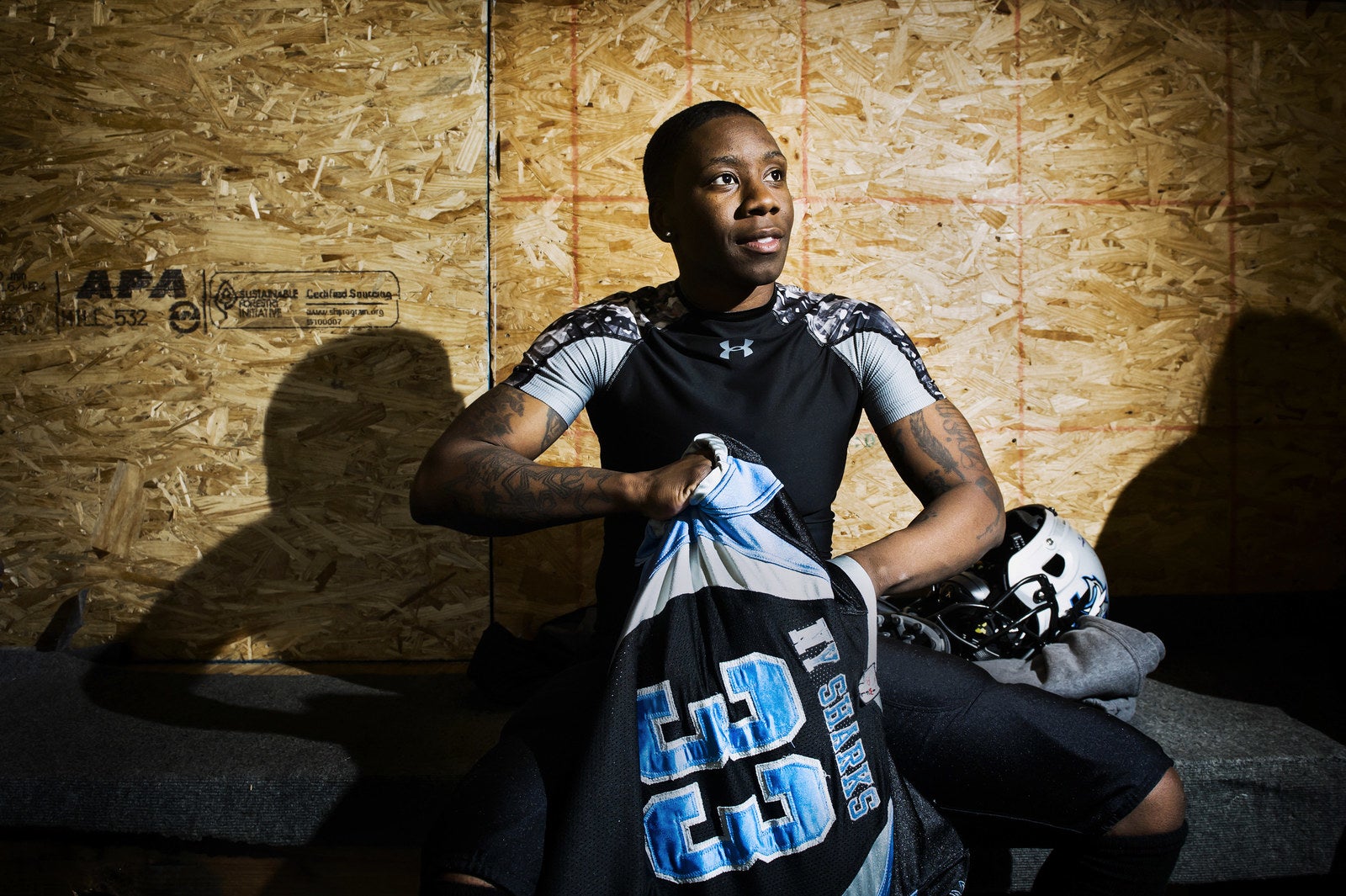 By the age of 18, cornerback TJ Grimsley had already lost the three closest people in her life: her older sister, grandmother, and mother. After her mom died, her father left for Alabama to be with his family. On her own, Grimsley, who played basketball and ran track in high school, worked two jobs but was falling behind in school. "I didn't want it to be the end of my story," she says.
Grimsley left school and joined the Army, working as a weapons mechanic, traveling across the United States, with a stint overseas in Iraq. In Savannah, Georgia, Grimsley joined her first women's football team. In 2013, she relocated to New Jersey on a special assignment and immediately joined the Sharks.
Grimsley has excellent lateral quickness and can rip off a game-changing run on any play. On the season, she averages over 10 yards per carry. Off the field, the Sharks have been a life-changing experience for Grimsley. "This is a different bunch of females I've attached myself to," she says. "So many people have contributed so much. You can see the passion in these people, in the way they carry themselves on and off the field. It's a different vibe here. There's a strong pull for me to remain with this group."
Grimsley is currently recruiting for the Army, but special assignments don't last forever. Eventually, she will be traveling again as a weapons mechanic. She's excited to be traveling around the country again. "It's going to be tough leaving here," Grimsley says. "I don't think I could play for another team and have the same passion."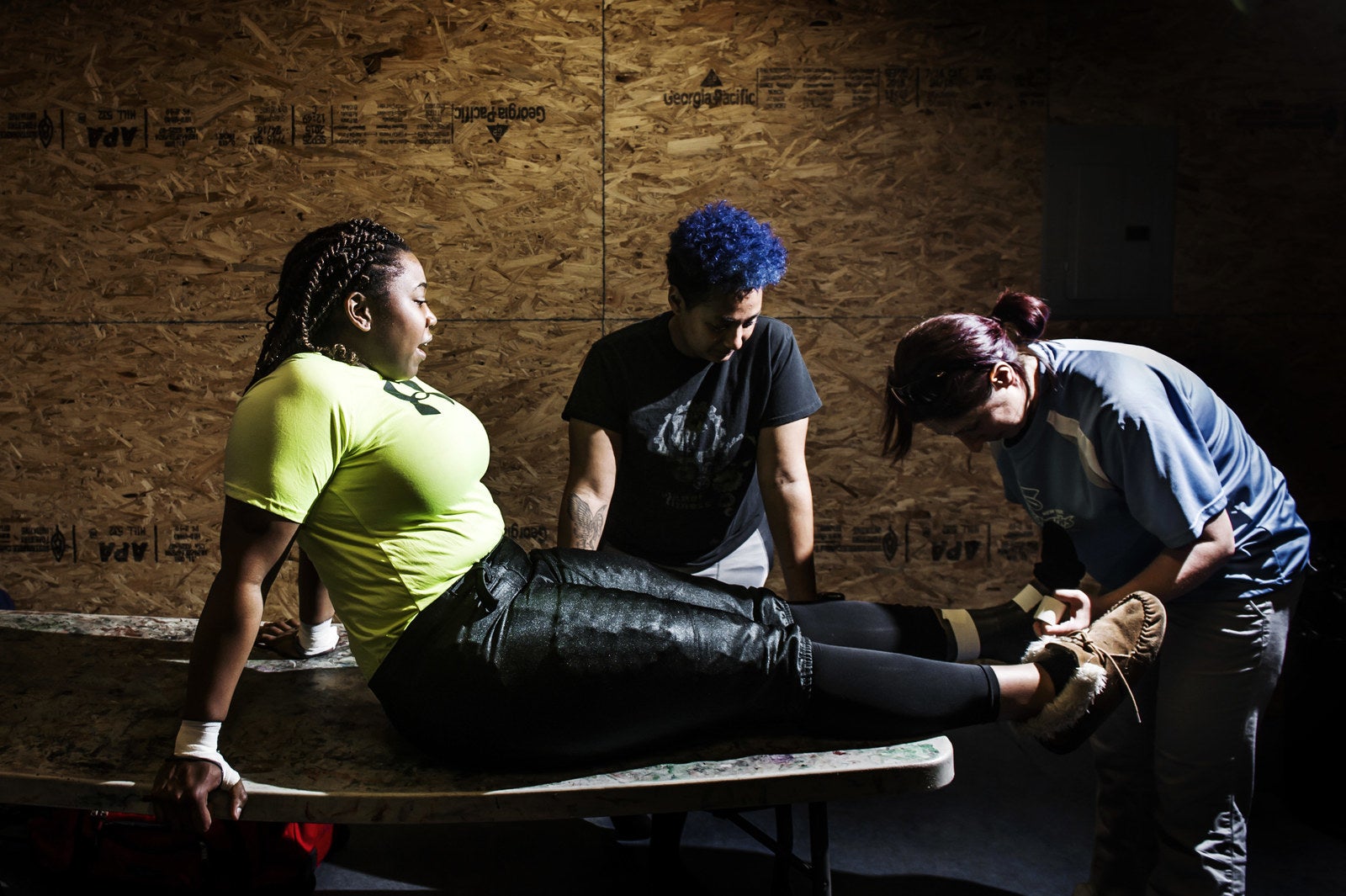 To get to the championship, the Sharks have to escape another close call in Washington. At halftime, neither team has scored, and frustration is building on the Sharks' sideline. In the locker room, wide receivers coach Alan Walls gathers the core four receivers and launches into a tirade, shouting his signature reminder to his players: Superstars make plays they're not supposed to make. In another corner of the room, running backs coach Pat Brown gathers a separate group of players and asks them to start playing with more heart.

The speeches don't pay off, and the Sharks trail 7–0 in the fourth quarter. On the verge of their first defeat of the season, Mulligan finds Brilynn Fields in the end zone to tie the game. Players and coaches breathe a collective sigh of relief on the sideline as the game goes into overtime — teams take turns starting at the opponent's 25-yard line until the tie is broken. The Sharks get the ball first, after their drive stalls near the goal line. Harrigan opts to kick a field goal to go up 10–7, trusting his defense to get a stop to win the game, which they do. The Sharks move to 3–0.
After the game, players pile back onto the bus for the four-hour ride home. But first, they stop for burgers. On the ride home, the bus transforms into a raucous party, with music blaring and alcohol flowing in the back, while coaches in the front try their best to get some rest. Everything finally quiets down at 3 a.m. We arrive back in New Jersey at 5 a.m. Harrigan, who left separately to drive a player back to New York so she could catch her flight, is there waiting to pick up more players in the parking lot. "I would never leave my players," he says as everyone says goodbye and makes their way home. A handful of players leave with Mulligan and Deal to hang out in Suffolk County.
Brilynn & Brooklyn Fields, 28 & 29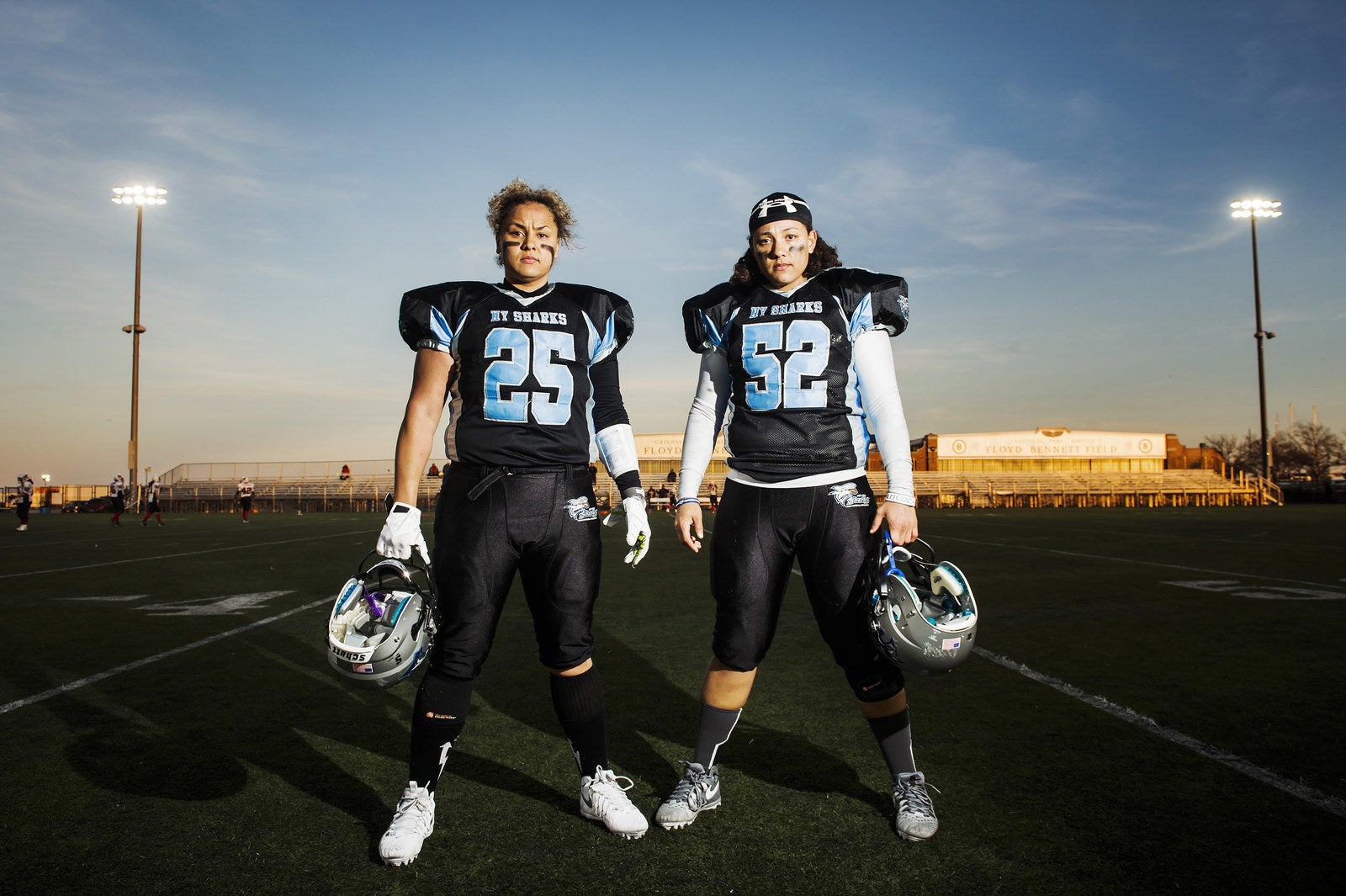 Brilynn Fields is entering her third season with the New York Sharks. "I didn't even know there was football for women," Brilynn says, pointing toward the football field at rookies who are here at training camp for the first time and Smith, who discovered football in her forties and is now part of the team's management staff. "It's cool because there are 18-year-olds and 48-year-olds. Every woman has her own story."
Brilynn was an athlete in high school and college, went through a weight-gain phase then lost 100 pounds over the last few years. Being part of the Sharks helps her keep to her strict training regimen. "I love helping people on their weight-loss goal," Brilynn says. "I'm a leader. I look to be that person that other people can lean on."
Brilynn is a wide receiver on the team, while her sister Brooklyn plays defensive end. Before opening night, Brooklyn and Brilynn's mom, Leeann, flew from Las Vegas to watch her daughters. Leeann is in the stands at most Sharks home and away games, in full team gear, with her own custom-made Sharks hand puppet. Brilynn jokes about how much she hates tackling; Brooklyn just wants to get on the field and hit somebody. The sisters are optimistic about the season and have high hopes for what could be a championship year.
They also love the camaraderie of the Sharks. "When women join a sport after college, they want to be part of something that's bigger than them," says Brilynn. "I know a lot of girls on this team who joined to keep themselves out of trouble. That's huge. To take them out of an environment that isn't setting themselves up to be successful, and coming to surround themselves with positive girls who can look out for them and cheer for them. It's football. But it's more than just football."
Krystal Molina, 28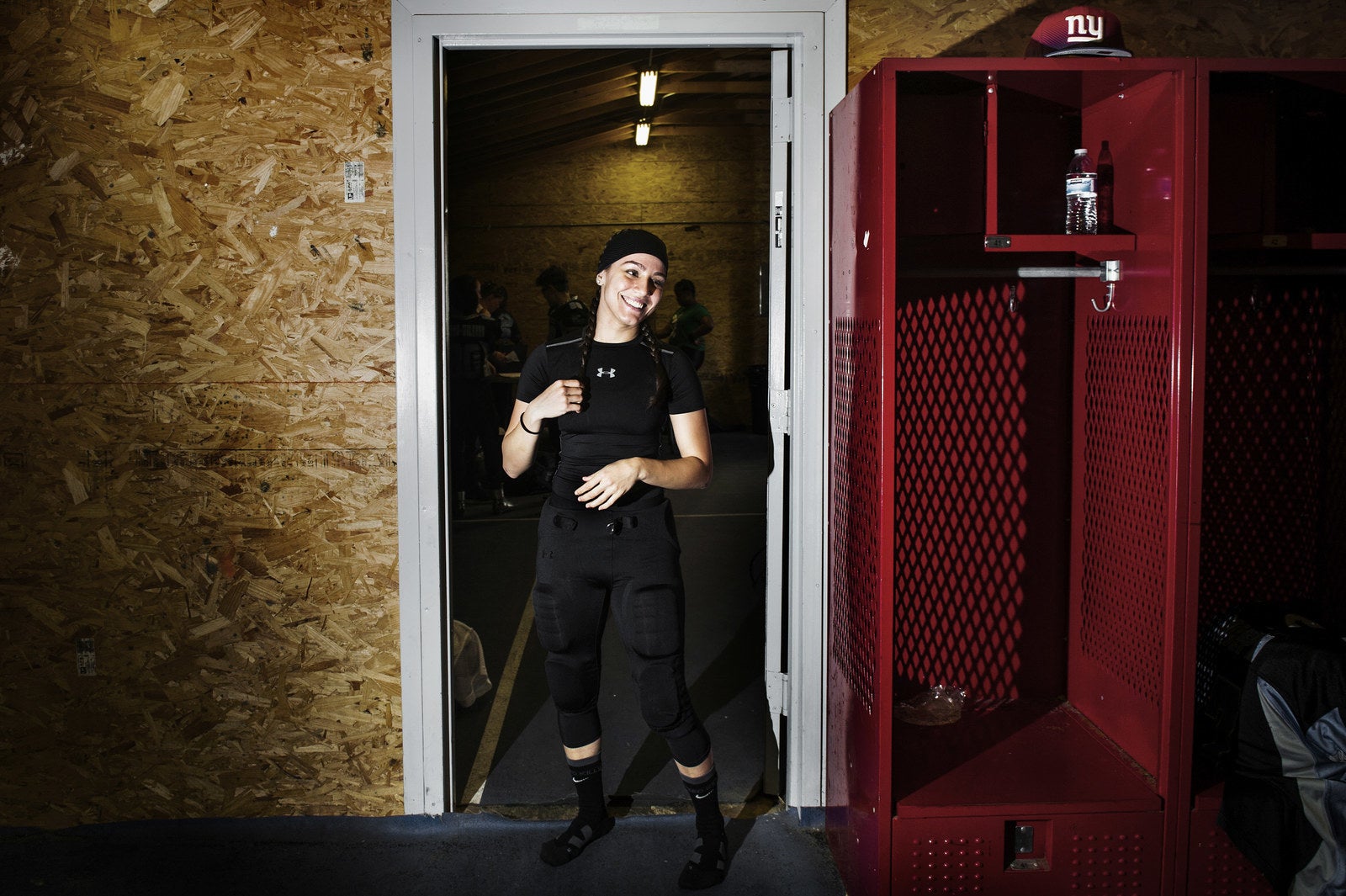 In her fourth season with the Sharks, Krystal Molina is the perfect example of why players don't have a particularly long shelf life playing women's football, even if they are physically capable and passionate about the sport. One of the most dedicated players on the team, Molina rarely misses a practice. While in between jobs, she spends three hours daily in the rec room of her parents' apartment working on a series of agility exercises and endurance training, mixed in with some cardio and muscle building. Her older brother joined for one session, threw up after 15 minutes, and never came back.
Molina has been an athlete her entire life, and has played everything from intramural softball to flag football, which eventually led her to discover the Sharks. Molina has to regularly medicate herself for a genetic thyroid disease she was diagnosed with at age 12. The disease causes her to get fatigued very easily but it doesn't show on the field. With responsibilities on offense, defense, and special teams, Molina rarely gets a breather on the sideline. The disease doesn't affect her play, or at least not that she would admit. "Besides, if Coach doesn't throw me in there, who else would they put in?" Molina says, grinning.
"You're, like, on a high," she says. "If you're stressed, you play football, you hit people, and you get that stress off. I've never felt so excited, anxious, and nervous. It's a feeling that I've never experienced with another sport. It's a feeling that I'm addicted to."
Molina often speaks about the bond she's made with her Sharks teammates. "Off the field, I can tell them anything," she says. "We all have our own athletic backgrounds. We all have that appreciation and love for the game. It's like we've known each other for years."

Like everyone else, she's frustrated by the lack of exposure for women's tackle football. "We're a New York team, we should be everywhere," she says. "I love taking the time to work on my craft, and to have people not know who the New York Sharks are, it's disappointing. A lot of people will look at us and say women can't play football, and every time I get a negative comment, I encourage people to come out and watch a game, see how competitive and intense women's football can be."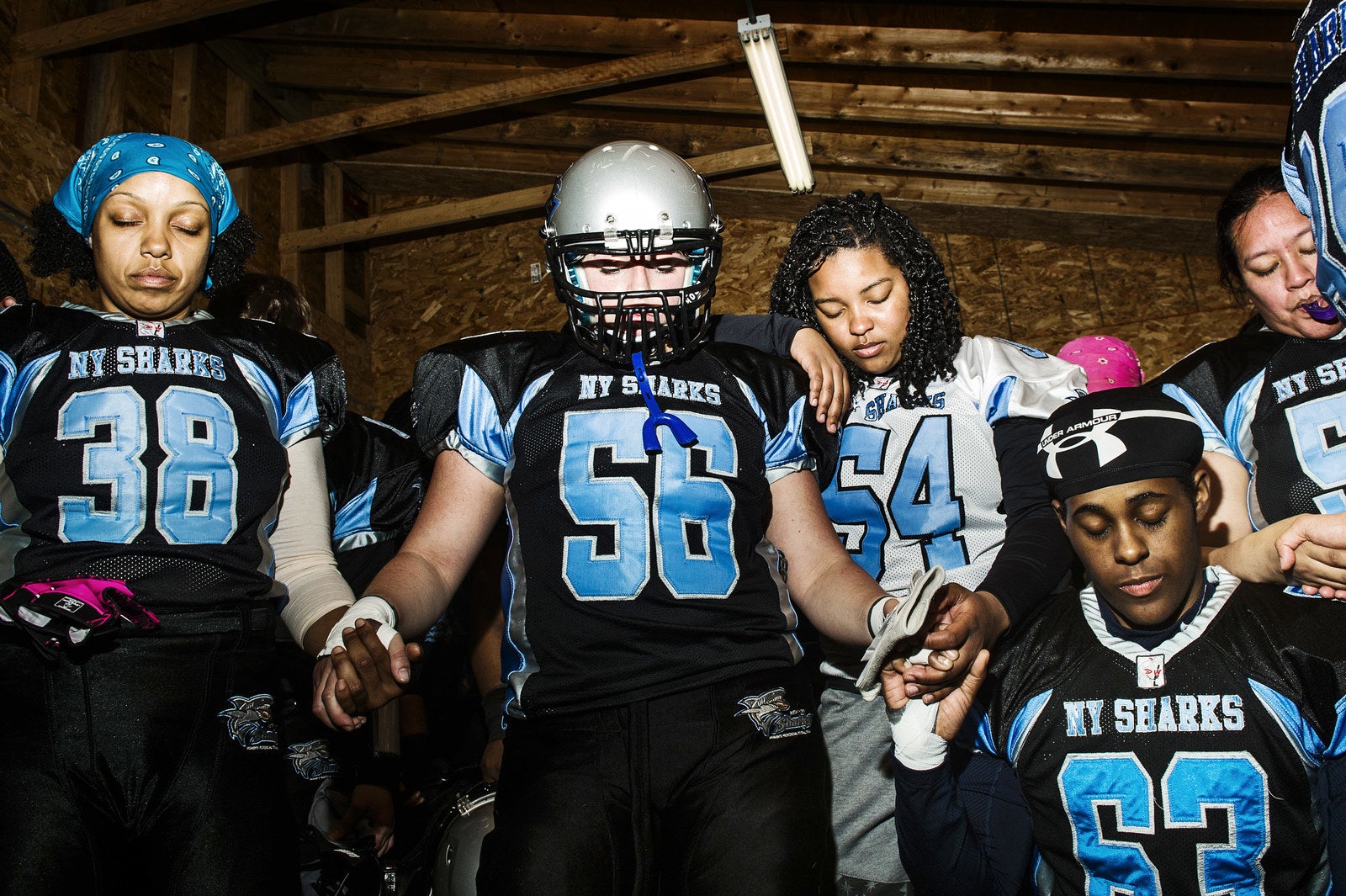 In Minnesota for the IWFL semifinals, now in double overtime, Mulligan relays the play call to the offense and approaches the line to snap the ball. She sees that the Vixens have indeed crowded the line of scrimmage, so she audibles into a pass play out of the shotgun formation. The ball is snapped. Mulligan rolls to the right side. Brilynn Fields' route has taken her in that direction, standing in the corner of the end zone, ready to make the game-winning touchdown catch.
Mulligan throws the pass in her direction, but the throw barely has any zip on it. A Vixen defender steps in front of Fields and intercepts it. On the sideline, one of the assistant coaches tells Harrigan — who has his back turned to the play, as he's already congratulating his coaching staff on a hard-earned victory — that he should probably look at what's unfolding on the field.
When Harrigan turns around, he sees the action moving toward the Sharks' end of the field. Mulligan is running full sprint trying to chase down the Vixen defender, but at the Sharks' 30-yard line, it's clear Mulligan won't be able to catch up. The crowd goes wild as Minnesota returns the interception 98 yards for the 40–34 win. Mulligan crumbles on the field in disbelief.
The season is over.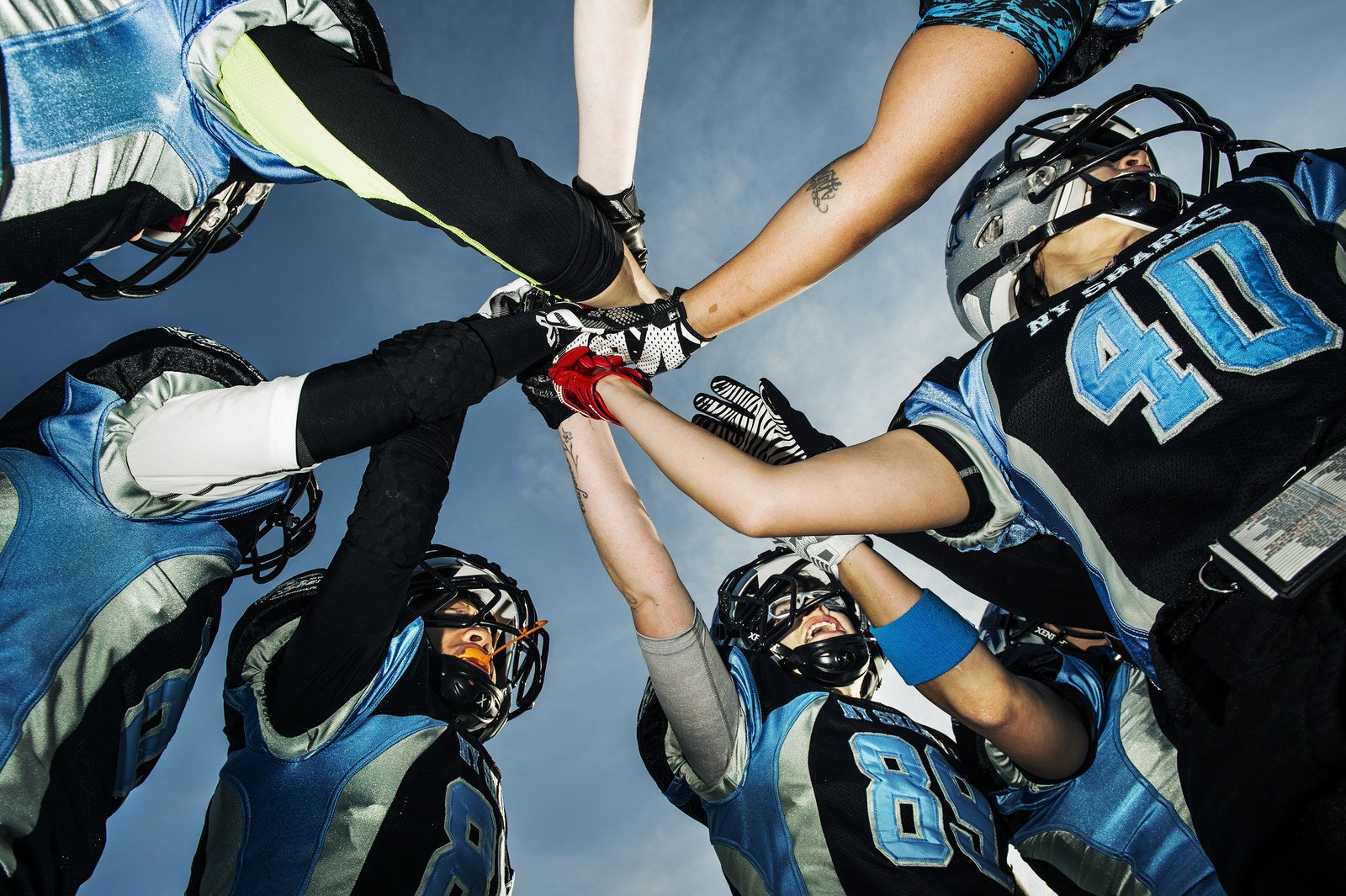 "It's very difficult for me to not replay things over and over," Mulligan says two weeks after the loss. Mulligan spent the first few days after the game stewing by herself at home. Teammates visited, followed by Harrigan. They chatted about the game; they reminisced about the season. They had pizza and drank beers. Things were starting to get better.
"My feet were nowhere where they needed to be to make a sound throw," Mulligan goes on. "There was nothing on that ball. I might as well have thrown it right at the defender, which is basically what I did." After the loss, Mulligan went on Facebook and saw a number of friends post the ending of the game on her feed. The frantic finish had made ESPN's SportsCenter. "It's bullshit it takes a play like that for us to get on television," Mulligan says.
While Mulligan tries to move on, other players are upset at Harrigan for not taking responsibility for the loss. On the field after the game in Minnesota, Harrigan gathered the players for their usual postgame huddle, but this time it would be brief, and without celebration. Harrigan simply told the players they could have played better, and told them to go to the locker room and get changed. The players felt Harrigan should have taken responsibility for the play call and the loss.
If Harrigan were to do it again, he would not have given Mulligan the option to audible into a pass play. Ultimately, it went against his conservative thinking. Even if the Sharks had run the ball and been stopped, they could have kicked a field goal to win the game. Harrigan is aware the players are upset, but wants them to work through their emotions before he addresses them. After visiting Mulligan, Harrigan sends out an email to the entire team. An excerpt:
There's no sugar coating it I BLEW IT!! I apologize to each and everyone of you for the bad ending to a remarkable season. After 5 seasons and earning your trust....I let you down...this one will hurt for a lifetime.
The players are later informed that Harrigan will not be returning as head coach. Unbeknownst to the team, Harrigan had made the decision at the beginning of the year. He wants to spend more time with his mother in New Jersey. A new project at his job might require him to travel to parts of South America next year. Molina has decided she will play at least one more season. Grimsley will move to North Carolina.
After the season, Collette Smith finally makes progress in connecting with the Jets, who have invited her to attend their training camp. She sends me pictures with Jets quarterback Ryan Fitzpatrick and head coach Todd Bowles (they exchanged cell phone numbers) and said she hopes to attend more practices down the line. Smith has also taken on another gig, coaching junior varsity boys' football in Queens, New York. As for the sport of women's tackle football, in late June, it was announced that an all-girls tackle football league would be coming to Indiana, open to anyone from fifth to ninth grade, after a similar league was launched in Utah last year. The Women's World Football Games have announced that they will host their 2017 event in Orlando.
Mulligan has decided to return for another year. "Of course it's awesome to win championships," Mulligan says, "but I'm not just playing for that. This game has changed my life. I wouldn't be playing for so long just to win a championship. There's gotta be something else. I keep coming back, and yes, I strive to get that championship. But this game? This game of football also fulfills something in me." ●
Alex Wong is a freelance writer currently based in Toronto. He has written for The New Yorker, GQ, SLAM Magazine, VICE Sports and other places.

Contact Alex Wong at chilandwong@gmail.com.

Got a confidential tip? Submit it here.