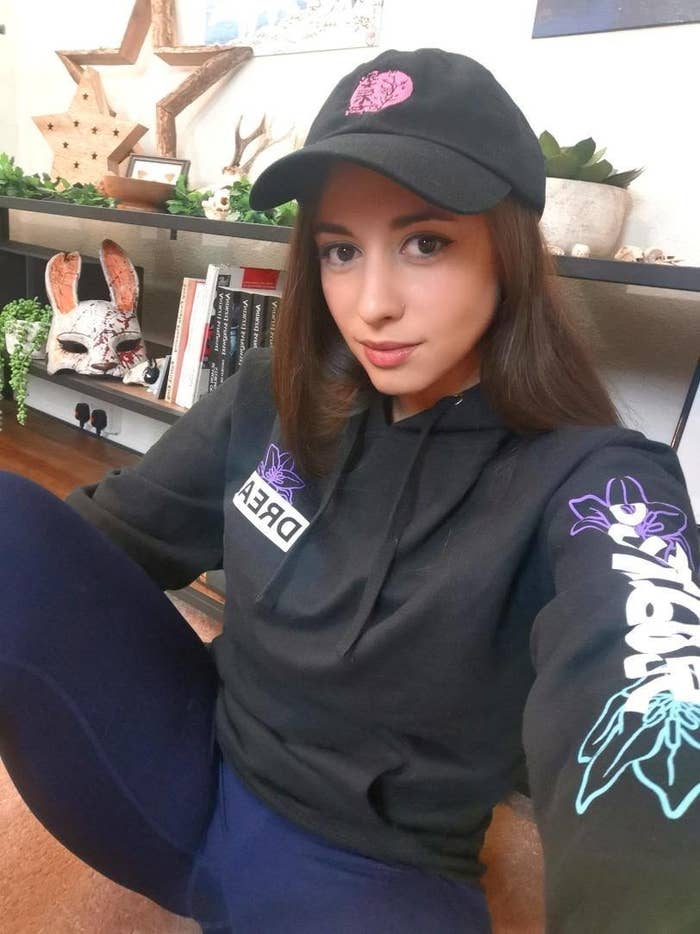 On the evening of Jan. 30, channel moderators for Sweet Anita, a 32-year-old, UK-based Twitch streamer with more than 1.9 million followers, sent her an article from the website Dexerto: "Twitch Streamer Atrioc Gives Tearful Apology After Paying for Deepfakes of Female Streamers."

Embedded in the piece was a video in which Brandon Ewing, known to his 318,000 Twitch followers as Atrioc, appeared with his wife behind him and tearfully apologized. During a stream, he had accidentally revealed a browser window open to a page that featured images and videos of popular female streamers' faces grafted onto the bodies of naked women.

He claimed that he had paid for the deepfakes after seeing an ad on Pornhub while his wife was out of town. "I just clicked a fucking link at 2 a.m., and the morals didn't catch up to me," Ewing said in the 14-minute video.
The article reported that popular streamers Pokimane, Maya Higa, and QTCinderella were among those who appeared as deepfakes. Anita — who gained notice on Twitch for embracing her Tourette's syndrome and educating her audience about it — was not mentioned, but she decided to do some investigating.

"I typed my name and the name of the website, and I was confronted with some stuff," Anita, who does not share her actual name, told BuzzFeed News. "I was wishing for eye bleach. I saw myself in positions I would never agree to, doing things I would never want to do. And it was quite horrifying."

Afterward, Anita condemned the creator of the deepfakes, whose identity is not publicly known, to her nearly 380,000 Twitter followers. "I literally choose to pass up millions by not going into sex work and some random cheeto encrusted porn addict solicits my body without my consent instead," she tweeted. "Don't know whether to cry, break stuff or laugh at this point."
Meanwhile, other women whose images were featured on the page, which is hosted on OnlyFans knockoff Fan-Topia, shared their disgust on social media.

"Stop sexualizing people without their consent," tweeted Imane "Pokimane'' Anys, one of the most popular female streamers on Twitch, who plays games like League of Legends and Valorant for her 9.3 million followers. Maya Higa, an environmentalist who has 729,000 followers on Twitch, posted on Twitter a statement in which she compared the deepfakes to being raped in 2018. "This situation makes me feel disgusting, nauseous, vulnerable, and violated- and all of these feelings are far too familiar to me," the statement read.

QTCinderella, a League of Legends streamer with 830,000 followers, posted a tearful denunciation of the deepfakes on her Twitch stream. "If you are able to look at women who are not selling themselves or benefiting off of being seen sexually," she said, "if you are able to look at that, you are the problem, you see women as an object."
"Once you produce something like this for the internet, it can never really truly be removed."
Higa told BuzzFeed News that she does "not want to engage in any more public discourse regarding this topic." Ewing, Anys, and QTCinderella did not respond to BuzzFeed News' requests for comment.

Deepfakes, which are created using AI tools, have grown in popularity over the past few years. According to Sensity.ai, a research company that tracks deepfakes, 90% to 95% of them are nonconsensual pornography. It affects not only the people whose faces appear in the images but also those whose bodies have been used.

The original creator of the deepfakes in question has removed the offending content from their page and posted an apology to those involved. "While this stuff is not illegal, it is still immoral," they wrote. They added, "To be quite honest if I wanted to continue this, what I got was the best advertisement I could ever ask for but after seeing the situation of that couple apologizing and a few streamers' reactions who I thought 'did not care', I feel like the total piece of shit I am."

Neither the user who created the deepfakes nor Fan-Topia responded to BuzzFeed News' requests for comment.

Anita said the apology felt like a way for the anonymous creator to avoid any legal repercussions. (Deep fake content is in a legal gray area in most states, with only Virginia and California banning it outright. In the UK, where Anita lives, an Online Safety Bill is making its way through the House of Lords. That legislation would include protection against deepfake content.)

"I don't think it absolves him of any wrongdoing simply because he needed to watch the streamers cry before he realized it would matter to them," Anita said of the creator's apology. "I think it's too late to apologize because the damage is already done. Once you produce something like this for the internet, it can never really truly be removed."
Twitch, which is largely dedicated to gaming streams, "is a male-dominated space," Anita said. According to StreamScheme, 78.4% of Twitch users are male, and 19.6% are female. Women also are a small minority of Twitch's top-earning content creators. According to a 2021 leak that contained the earnings of the platform's top performers, only 3% of the top 100 were women.

Anita said she has been the subject of "cum tributes" — videos in which men ejaculate onto images of her — and compilations of her streaming footage edited in a lascivious manner. "If I stopped myself from doing things that people can masturbate to, I wouldn't leave my house," Anita said. "I gave up trying to deal with it, and I just tried to focus on what I do love about my job."
Still, Anita said she is "looking into" legal action over the deepfakes of her. Meanwhile, other streamers featured in the deepfakes have hired lawyer Ryan Morrison, whose Los Angeles–based firm sent takedown notices to sites where the content was being hosted. (It's unclear whether the original creator took down their content before or after these takedowns were issued.)

"There's no appropriate way to use someone's content or likeness without their consent," Morrison told BuzzFeed News. "Deepfakes themselves are newer to the ecosystem of porn. The deepfake technology is getting to a point where it looks real, it can come across as legitimate." Morrison declined to reveal the women he's representing so as not to bring more harassment their way but said they also were considering legal action.
In a second apology, posted to Twitlonger on Feb. 1, Ewing said that he is "stepping away from content creation" and "working to cover the financial cost of the takedown as well as all legal fees for all women affected to use [Morrison's] services for removing their unwanted content from the web."

As for Anita, she said she found "it really hard to be just mad at Atrioc specifically because so many people that I know personally use these sorts of sites." She added, "So I think if I was the type of person to stress about this sort of thing, I'd probably hate most people."