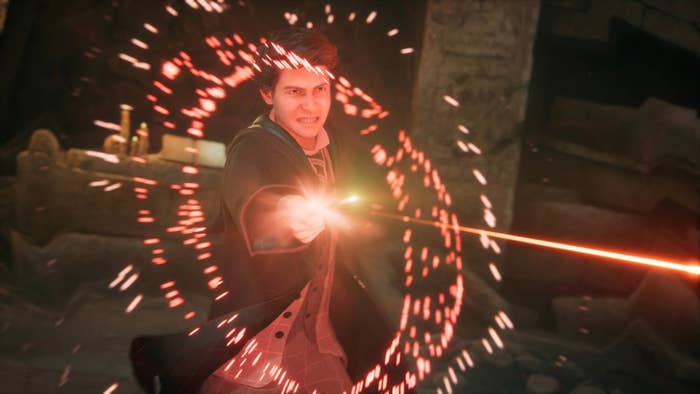 Rachel Kay, a 28-year-old Twitch streamer, mostly streams herself playing The Witcher 3 or chatting with her 51,000 followers. But earlier this week, she streamed one of the hottest — and most divisive — new games to be released in some time: Hogwarts Legacy, the first Harry Potter title in more than a decade that isn't a Lego spinoff or a mobile game.

A fan of the Harry Potter books and movies since childhood, Kay told BuzzFeed News that it feels "magical to be in this world I've only ever held in my imagination." She wanted to add an extra level of immersion to her playthrough, so she streamed the game while riding on a broomstick.
When streamers like Kay with early access copies of the game started playing it on Twitch on Monday, 1.3 million people tuned in, breaking the record for the most concurrent viewers for a single-player game. But not everyone is charmed by Hogwarts Legacy.

The title has become the latest subject of the gaming culture wars. Many gamers consider the game, an open-world RPG that officially came out Friday, to be tainted by the anti-trans rhetoric of the book's author, J.K. Rowling. Rowling has spoken out against opponents of the game. In December, after Jessie Earl, who goes by Jessie Gender on YouTube, tweeted that "support of something like Hogwarts Legacy is harmful," Rowling responded, claiming Earl "doesn't realise purethink is incompatible with owning ANYTHING connected with me, in ANY form."

A since-deleted FAQ on publisher Warner Bros.' website claimed that "J.K. Rowling is not directly involved in the creation of the game." But according to Bloomberg, Rowling's creative agency, Blair Partnership, did work with the developers on creative decisions. Rowling, who is worth an estimated $1 billion, will also benefit from sales, since she still owns the rights to the franchise.
It also doesn't help that the game is set in the 1800s during a goblin uprising, rekindling conversations about the franchise's alleged use of antisemitic tropes (goblins in the Harry Potter franchise are described as greedy, control the wizarding banking system, and have hook-shaped noses). Or that lead designer Troy Leavitt stepped down in 2021 after it came to light that he was a far-right YouTuber who made multiple videos defending men accused of sexual harassment.

But Kay doesn't tolerate harassment, telling BuzzFeed News that she's "quick with the ban trigger" on her channel. Asked how she's able to justify streaming the game, Kay said she can "separate the creator from [their] output" and doesn't "know anything about J.K. Rowling or her opinions." Kay added, "She's just someone who wrote the book. She's not the book."

That opinion was shared by Matt, who hosts the YouTube channel Girlfriend Reviews with his fiancé, Shelby. The couple, who don't share their last names, had to end their first Hogwarts Legacy gameplay stream early after comments in the chat brought Shelby to tears. "It's just a video game, and she didn't sit down and make the game herself," Matt said on stream, referring to Rowling. "Do you turn off 'Billie Jean' or 'Beat It' in the car when Michael Jackson comes on? Do you not think The Pianist is a great movie despite what Roman Polanski did?"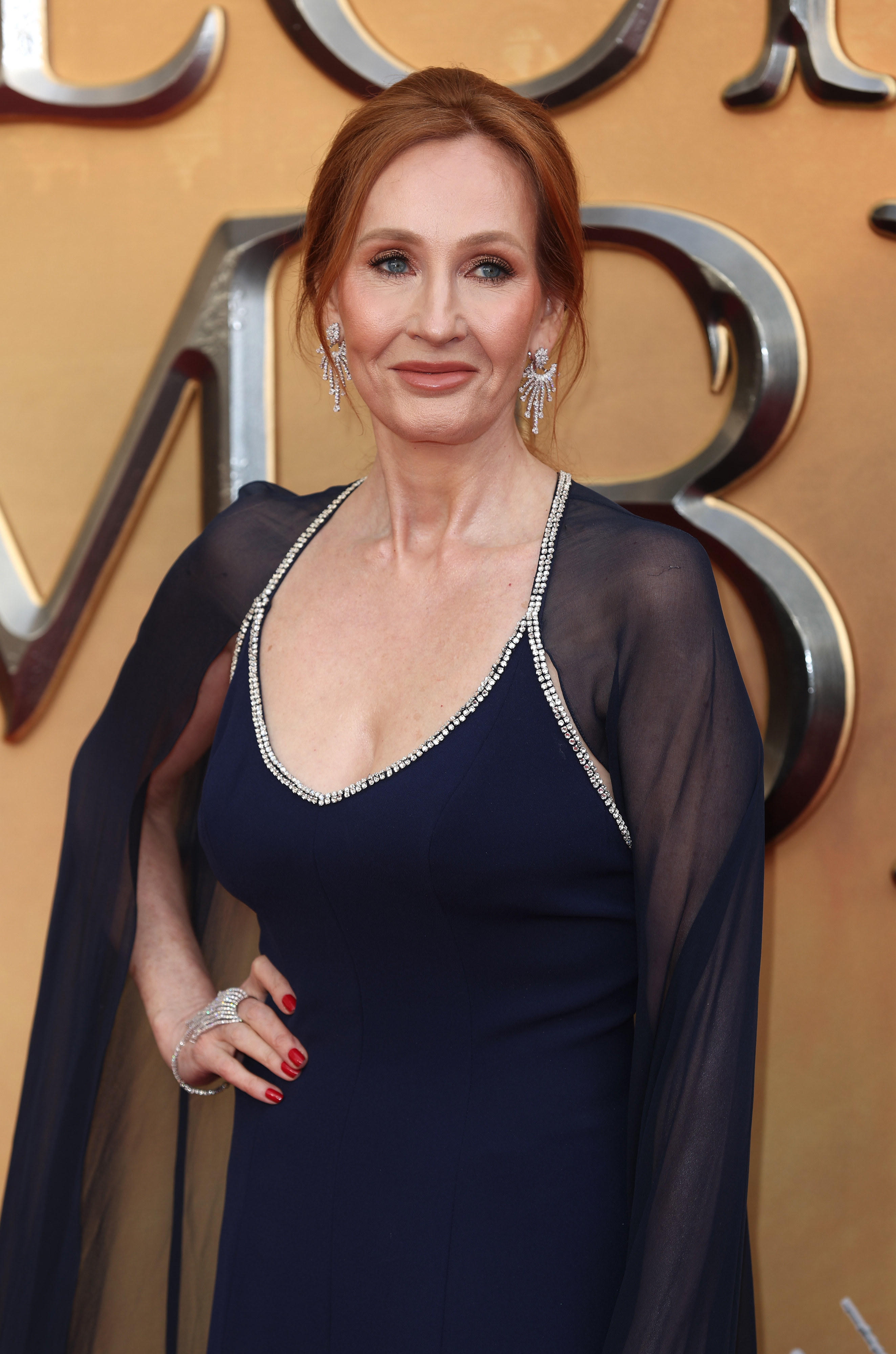 Other prominent gaming creators streamed Hogwarts Legacy unfettered. The gamer known as Asmongold told his 3.4 million Twitch followers that streamers should "instantly ban... anybody else who complains about playing the game." Felix Lengyel, known to his 11.6 million followers as xQc, said, "People fund all sorts of evil with their daily purchases in way worse ways than you can even imagine."

Beth, who describes herself as a "trans rights enjoyer" in her Twitter bio and streams as pickle_bee on Twitch to 200 followers, disagrees with such viewpoints. "Rowling has painfully changed how many see the franchise," said Beth, who did not provide her full name. "I loved the universe, but now unfortunately I can't separate that from how Rowling wants to remove rights away from me and my siblings anymore." Beth, like some others online, has been tweeting out spoilers for the ending of Hogwarts Legacy.

Others have taken more serious actions. Sam Gibbs, an audio engineer for the Yogscast gaming collective, put together a website that checked whether a creator had streamed Hogwarts Legacy. Just one day after the site went viral on Twitter, it was taken down. (Gibbs did not respond to a request for comment.)

Some streamers are boycotting Twitch altogether, feeling that even having ads for Hogwarts Legacy shown on their stream is too much. "The trans community specifically is forced to deal with so much hate, that to force us to consume ads for a transphobic franchise is cruel," Veronica Ripley, a Twitch streamer who goes by Nikatine and is currently leading the boycott of the platform, told BuzzFeed News. "I think it says a lot about a person's convictions if your allyship ends at a video game."

Molly Mae, a cosplayer and Twitch streamer with 8,800 followers, isn't participating in the boycott. Instead, she is hosting a charity event on Twitch to raise money for Mind Out, an LGBTQ+ community mental health service. "Twitch has a large community of cis, straight creators who seem to be championing their own nostalgia, selfish desires, and unflinching loyalty to a game that has meaning for them," Mae told BuzzFeed News. "I just think trans lives are more important than playing some game."
The outcry seems to be having something of an effect. Hasan Abi, Twitch's top political commentator, said on stream that the only reason he isn't streaming the game is that "it's not worth it to get bullied and called transphobic endlessly."

Ultimately though, many streamers just want to be able to play Hogwarts Legacy and acknowledge their love of the franchise. "Consuming a product created by the hands and minds of hundreds of people does not mean you share the bigoted views held by one of the creators," ArielJadeLive, a cosplayer and streamer with nearly 17,000 followers, told BuzzFeed News. "Playing Hogwarts Legacy does not make you transphobic or even a J.K. Rowling fan. It makes you a magic or Harry Potter fan — or just a gamer."

As for Kay, she said she's "all for people making loud noises around this topic." She added, "It's important to fight for change on things you believe in. Many huge advances of what is acceptable in society have come from people taking a stance — gay rights, women's rights, and racial equality. I think the reason why people are boycotting the game is more important to society than the literal boycotting of the game."