Ever since they went public with their relationship in early 2021, Travis Barker and Kourtney Kardashian have been anything but private about how loved up they are.
In fact, during this week's episode of Kourtney's family reality show, The Kardashians, her children begged her and Travis to stop "kissing in French" during a family dinner.
Having been friends for several years, Kourtney and Travis decided to take things to the next level after they grew even closer during the lockdown.
And after just one year of dating, in October 2021, Travis proposed with a $1 million engagement ring in a romantic beach display that saw the couple surrounded by roses and candles.
Since the proposal, the couple have had a "practice" wedding in Las Vegas, followed by a legal ceremony on Sunday with just his father and her grandmother present as witnesses.
The nuptials were said to be their way of getting technicalities sorted before their big wedding celebration in Italy, which is expected to take place soon.
Throughout their relationship, fans have commented on how Kourtney is visibly happier than ever, which is something that her family has also spoken out about.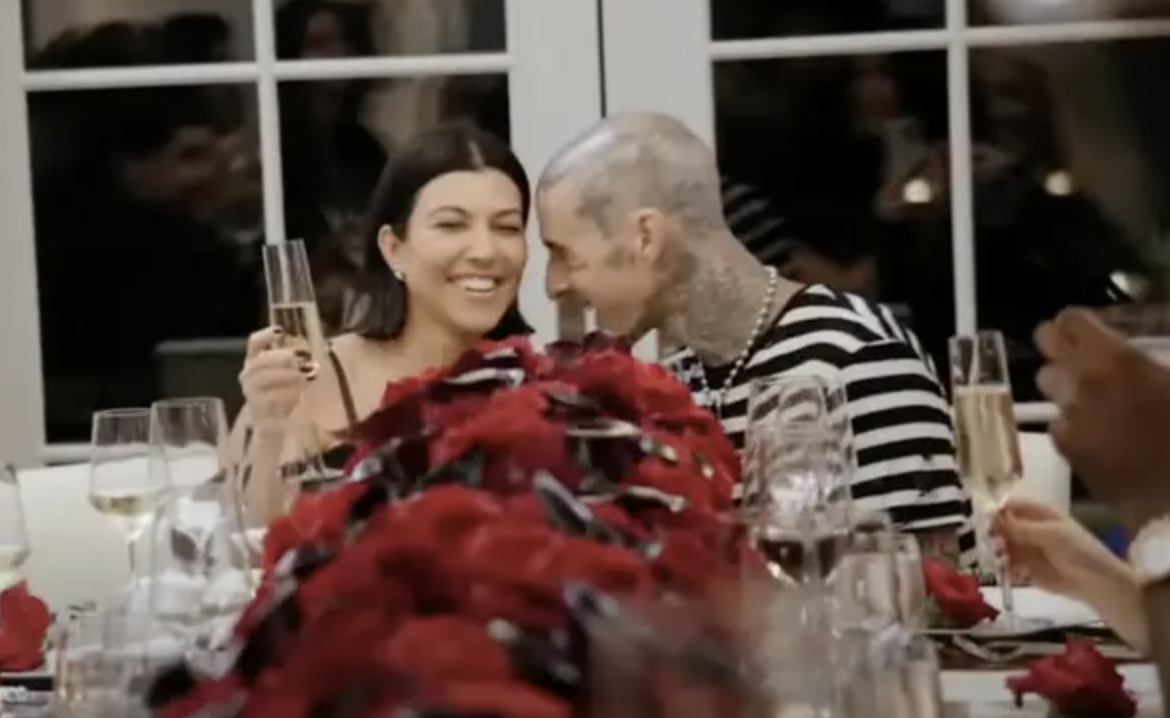 In fact, Travis couldn't have been more warmly welcomed into the KarJenner clan, with Kourtney's sisters Kim and Khloé Kardashian and her mom, Kris Jenner, speaking incredibly highly of him.
Basically, Kourtney and Travis's entire relationship seems to be a fairytale, and it's obvious to everybody that Travis couldn't be more besotted with his new wife.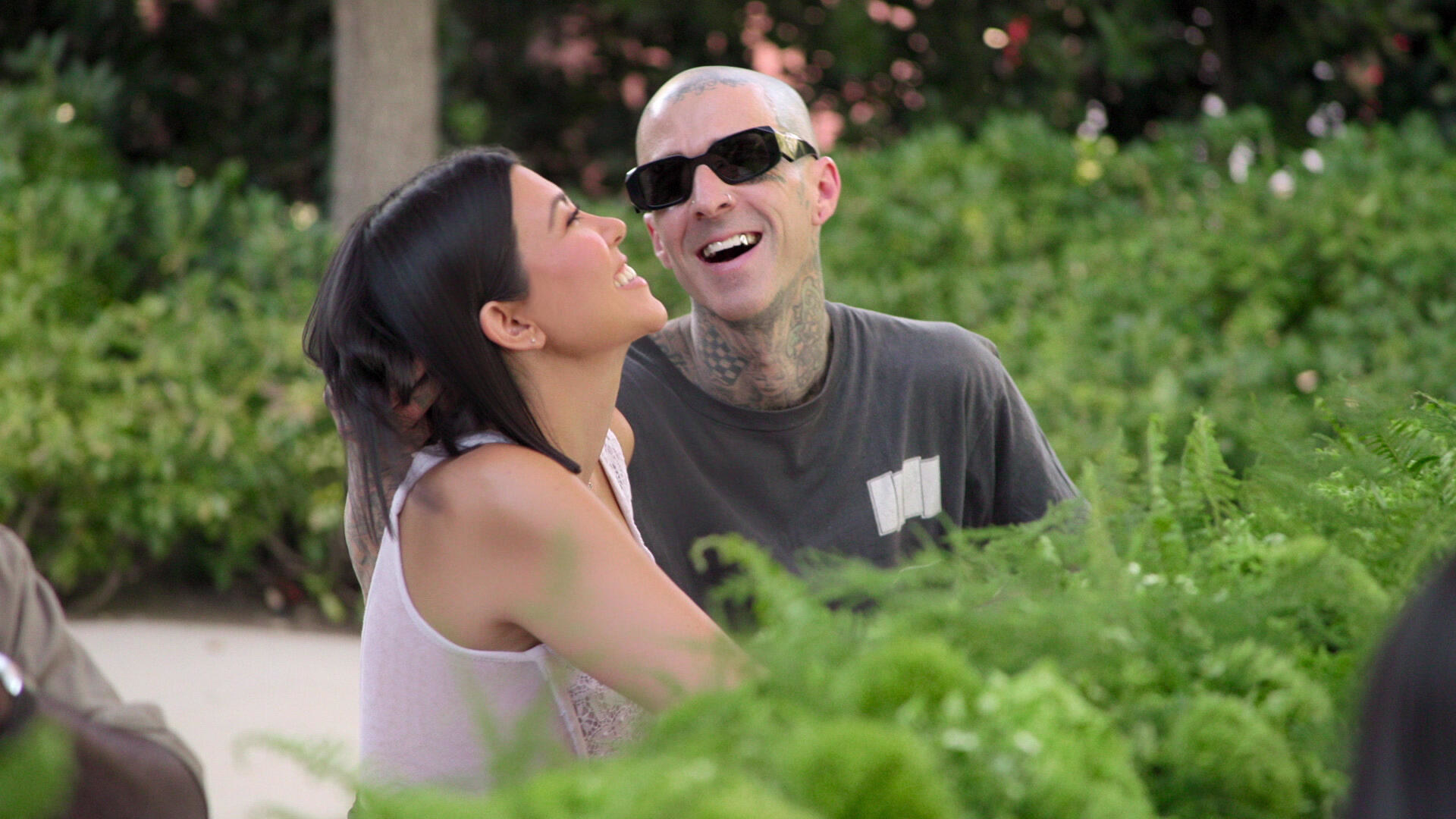 In a recent episode of The Kardashians, Kris was filmed telling Kourtney that Travis had revealed to her that he'd moved to Calabasas years before their romance took off, just so he could be closer to her.
"Do you want to know the real reason why he moved to Calabasas?" Kris asked Kourtney. "He said, 'Because I knew she lived in Calabasas, and I knew she was the love of my life, and I didn't even know her like that, but I just knew if I couldn't date her or be with her because she was with someone else that at least I could live by her.'"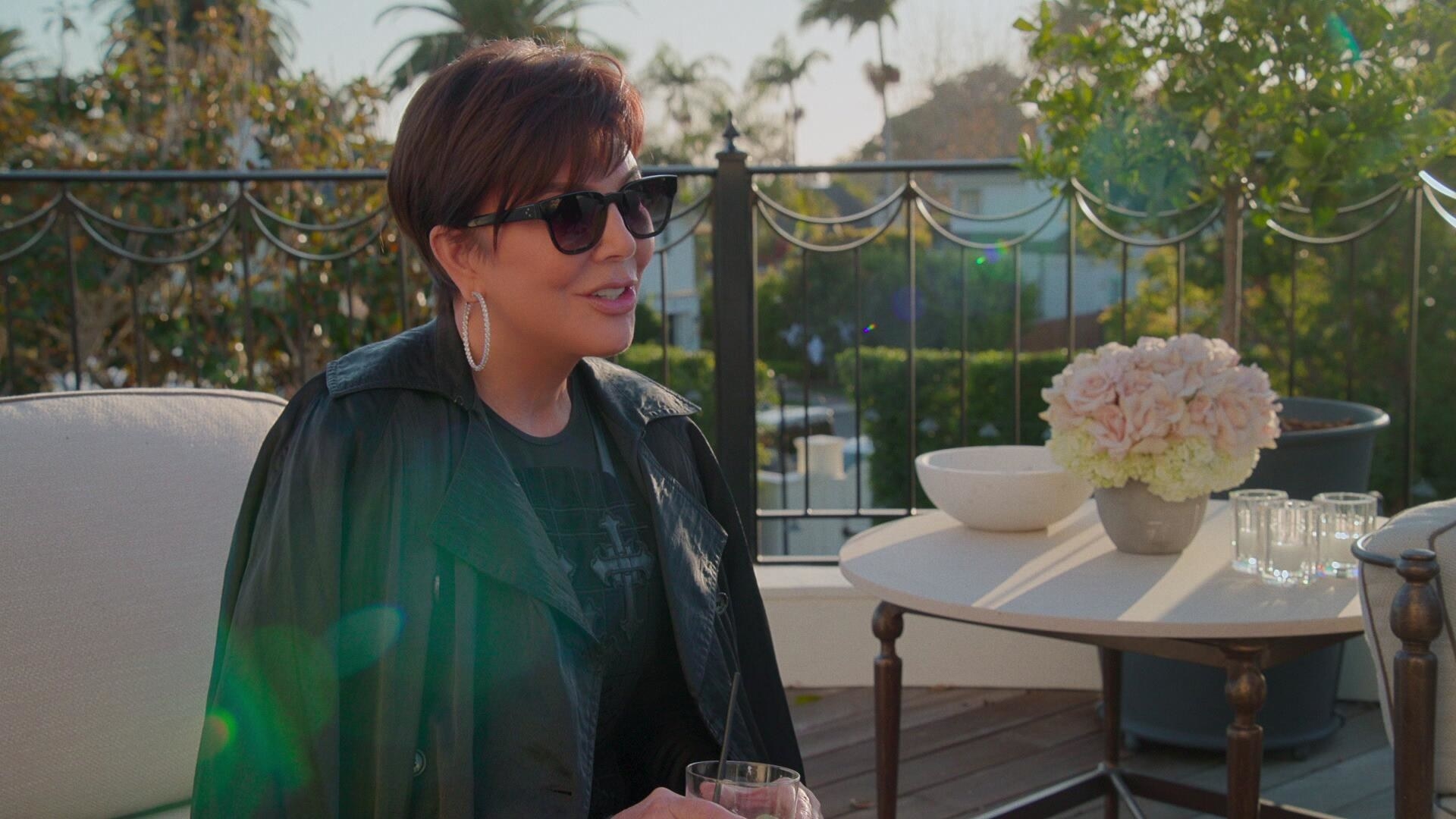 Travis first moved to Calabasas in 2007, a year after his split from his ex-wife, Shanna Moakler. He bought a second house in the area in 2017.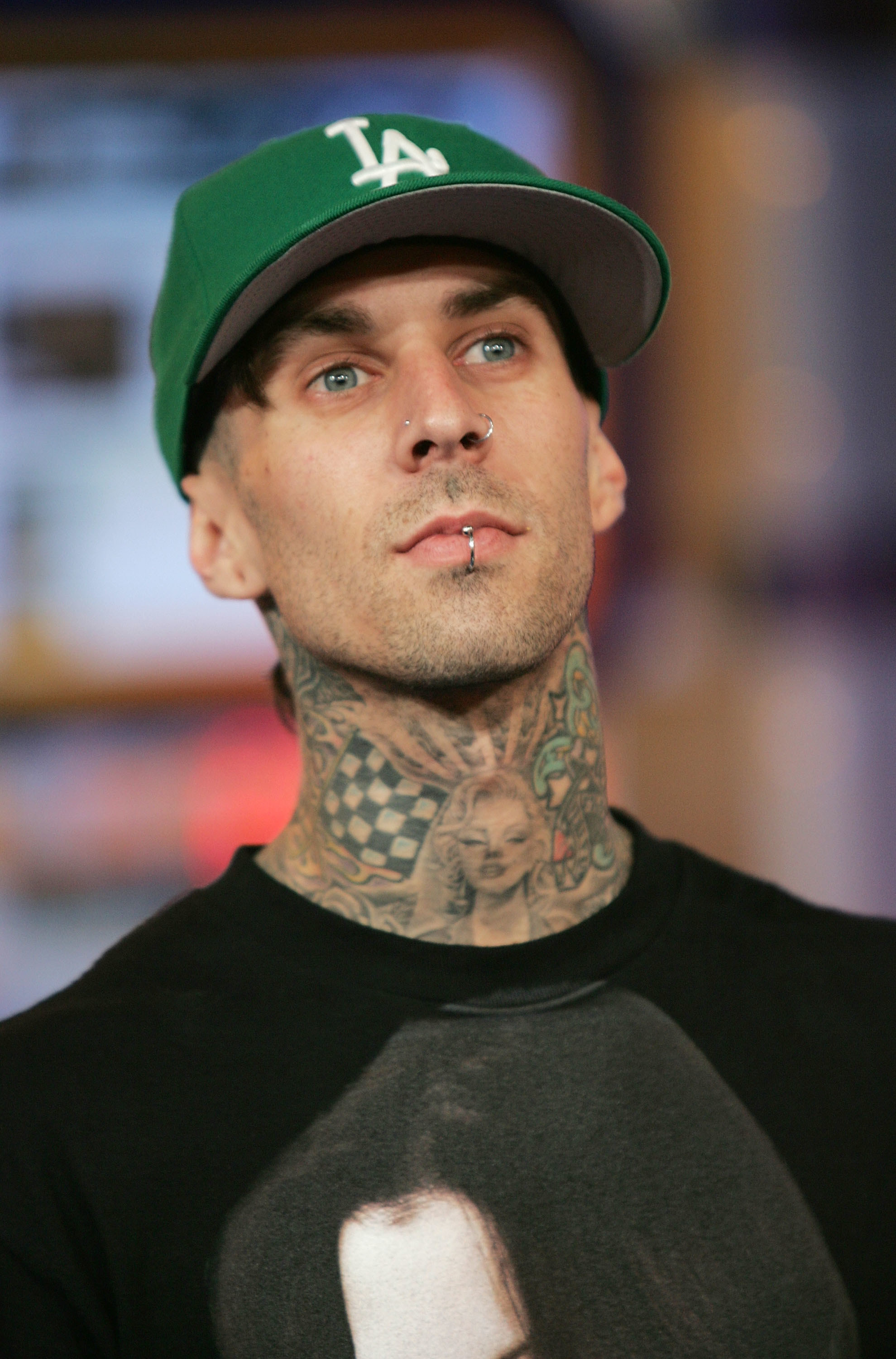 In light of Kris's comments, many fans noted that according to Travis's own memoir, he had briefly dated Kourtney's sister Kim a year before he made the move to Calabasas. He had also previously called Kim "fucking hot" and "eye candy" after admitting to having a huge "crush" on her.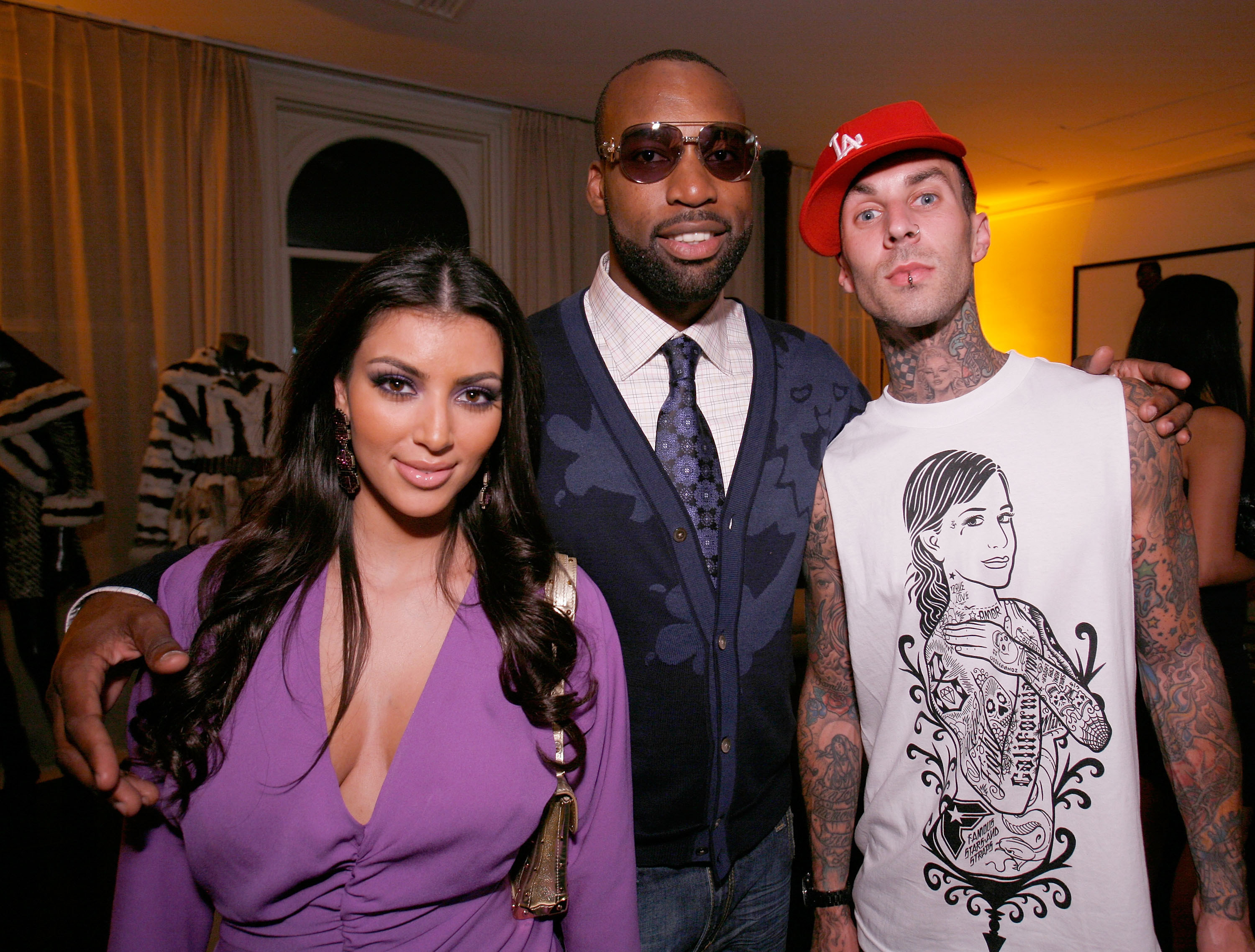 In his 2015 autobiography, Can I Say: Living Large, Cheating Death, and Drums, Drums, Drums, Travis recalled a 2006 trip to Amsterdam with Paris Hilton and Kim, who was working as Paris's closet organizer at the time.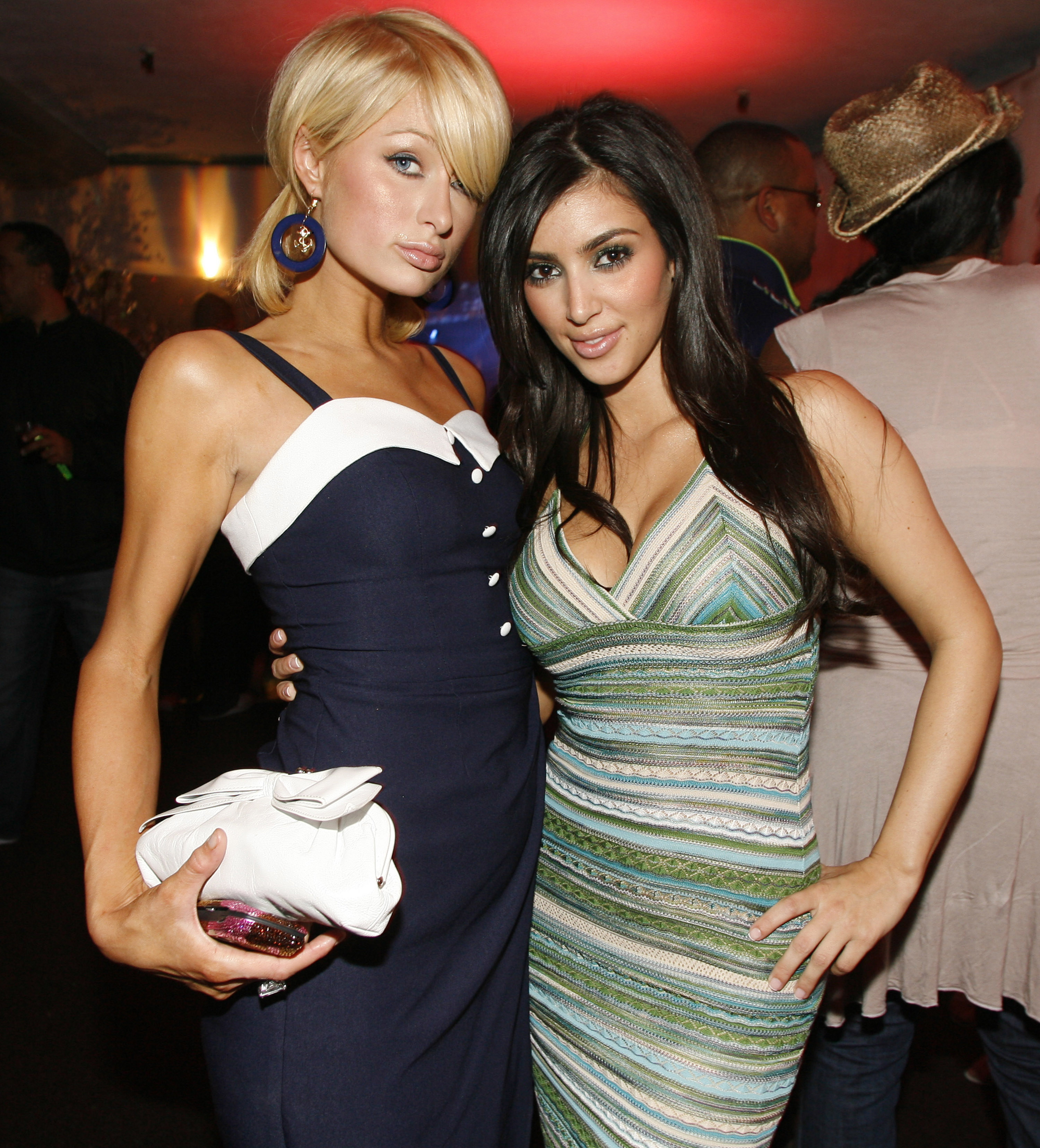 Despite dating Paris, Travis admitted that he was secretly eyeing up Kim during the vacation.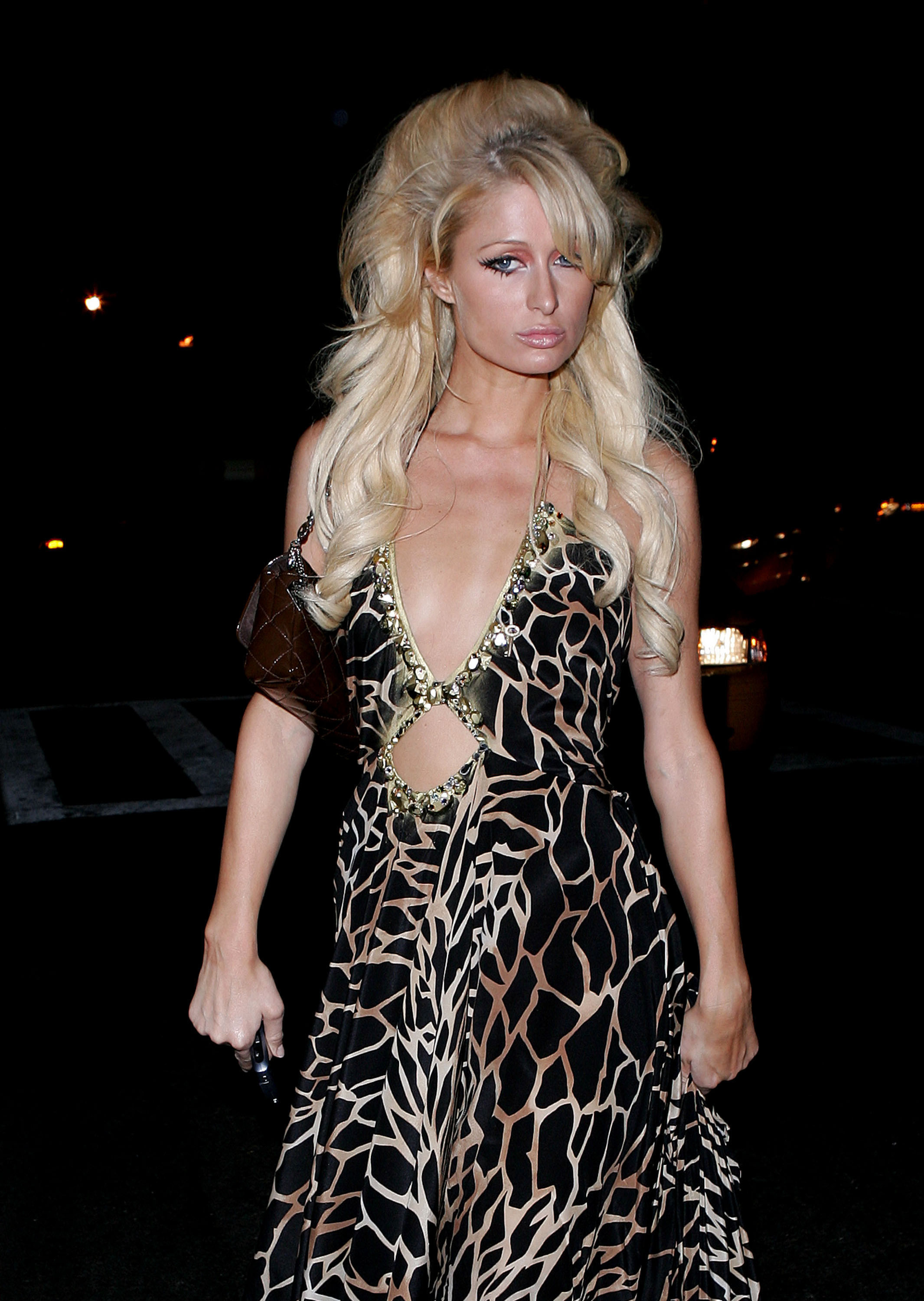 "We all checked into our hotel and then rented bicycles and rode all over Amsterdam — that's what you do there. It was me, Lil Chris, my drum tech Daniel, Paris, and Kim," Travis writes in the memoir. "We all got high as a kite at a coffee shop. Then we rode over to the Absinthe Bar, and then the red-light district."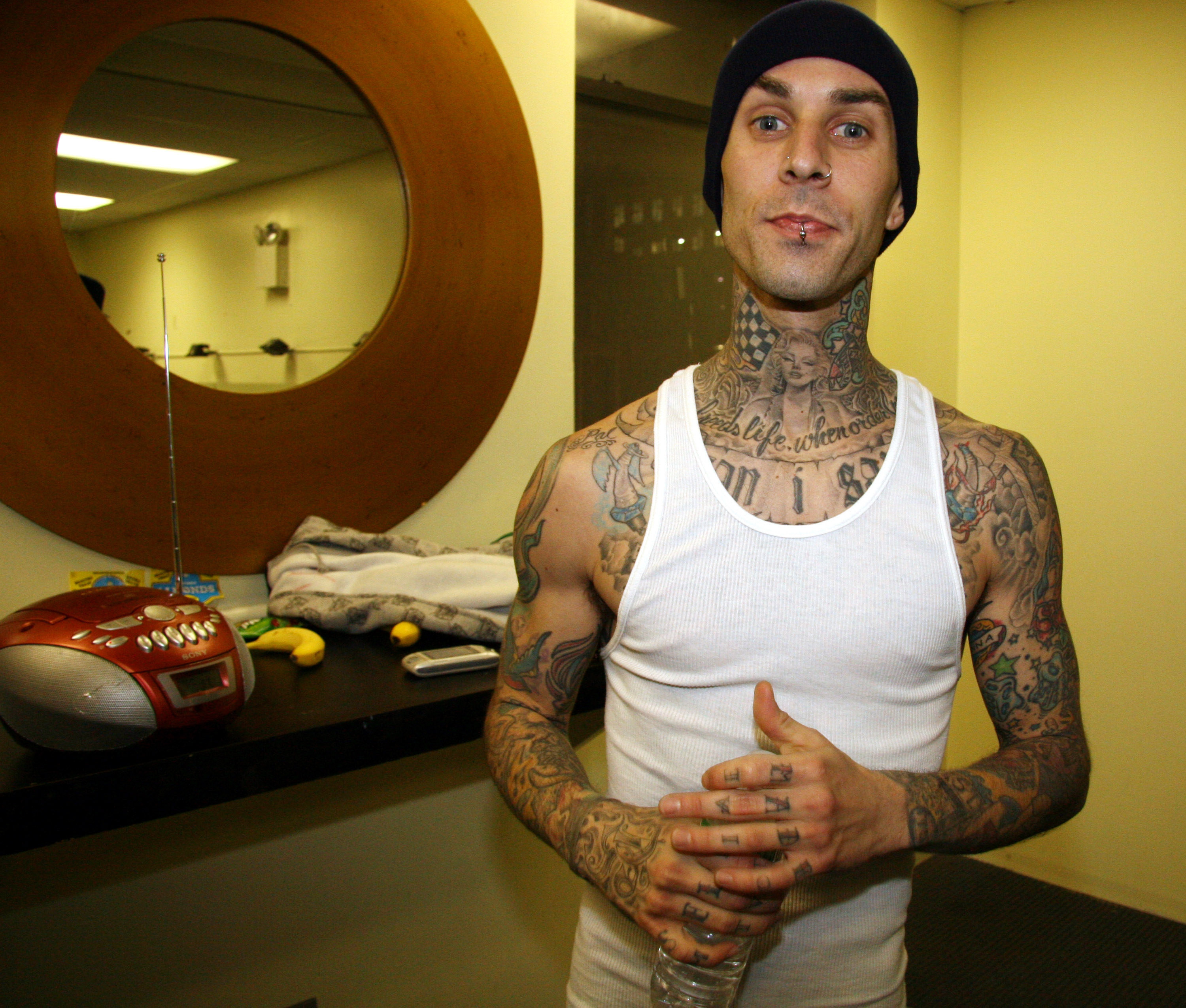 "I was having a blast and was happy to let the world know it. I kept on secretly checking out Kim, telling Lil Chris, 'I don't care if she's the closet girl, she's fucking hot,'" he adds.
Travis, who had a reality show with Shanna in 2005 called Meet the Barkers, goes on to reveal that he gave Kim advice as she shared her hopes of landing a reality show with her family.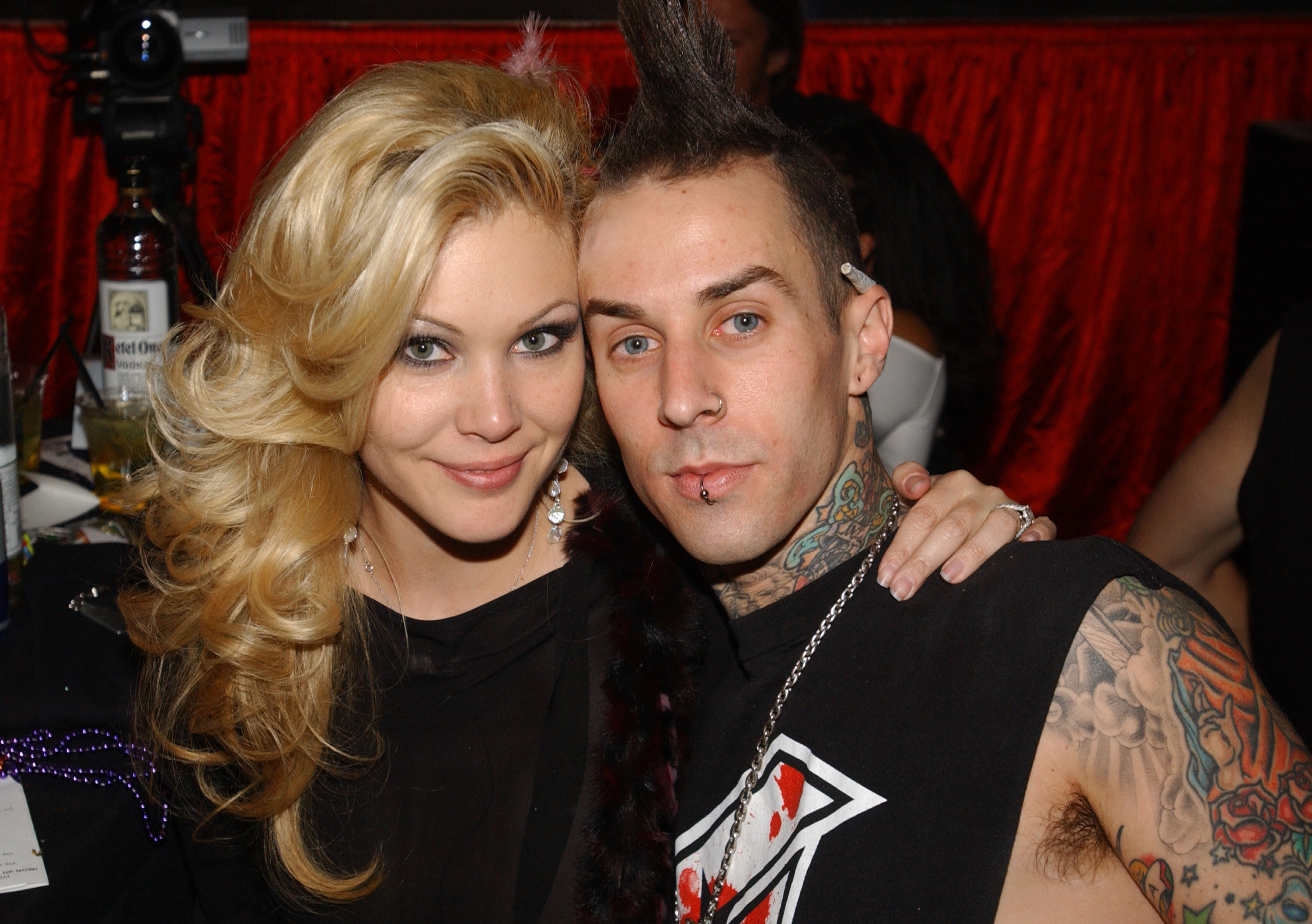 "She wanted to do a reality show because she thought her family was interesting, and obviously she was right," he says in reference to the success of Keeping Up With the Kardashians. "I respected her hustle. She was meeting with Ryan Seacrest, and she wanted to know what doing a show was like. 'It's hectic,' I told her, 'You have no privacy. It's not just you and your family in the house. It's really personal, and it can be really fucked up.'"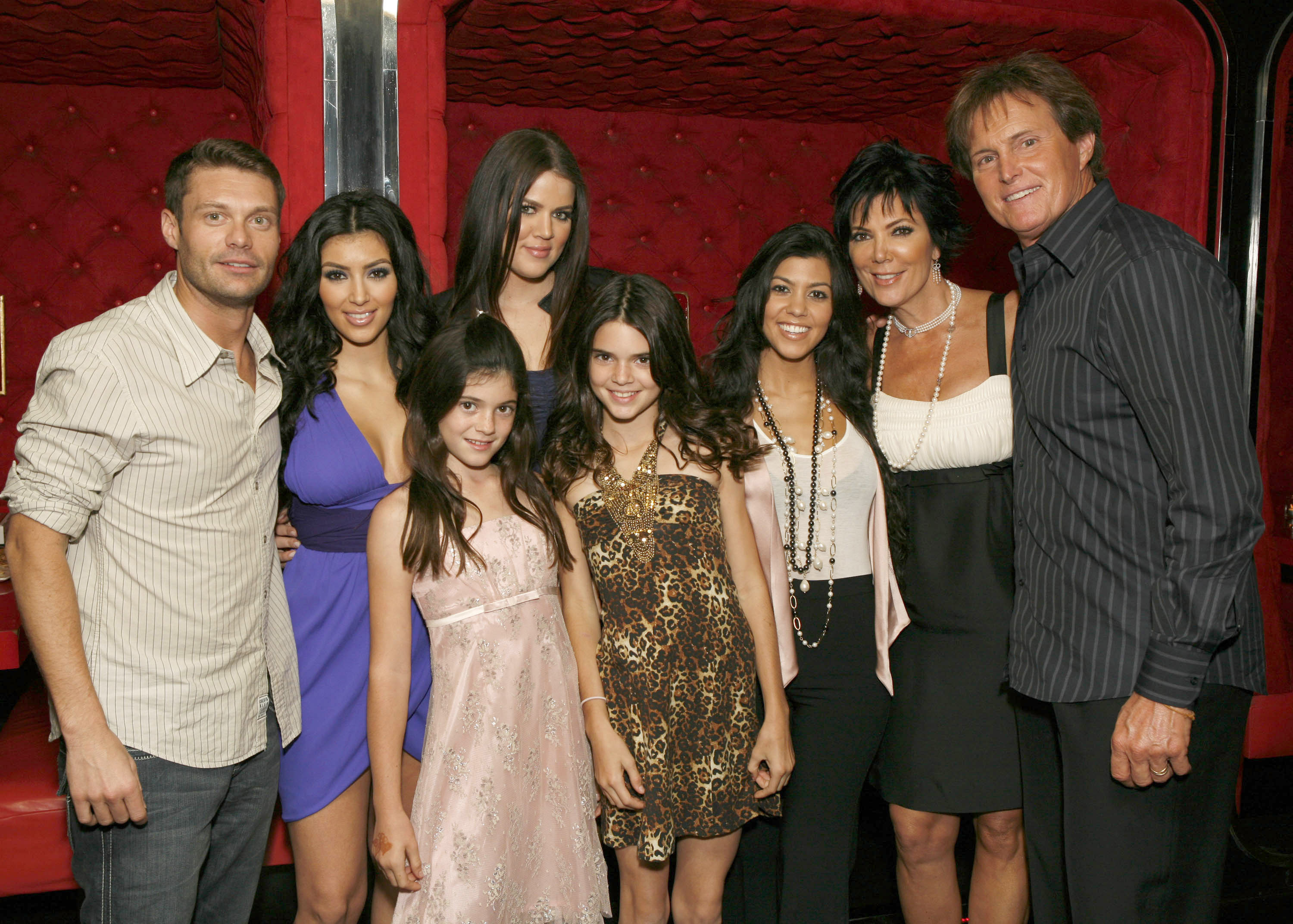 Travis also spoke about his initial attraction to Kim in a 2015 interview with Us Weekly, saying: "How could you not stare at Kim? Mind you, I enjoyed hanging out with Paris, but I love curvy girls. Kim was eye candy. I was in no way disrespectful to Paris, but I couldn't keep my eyes off Kim."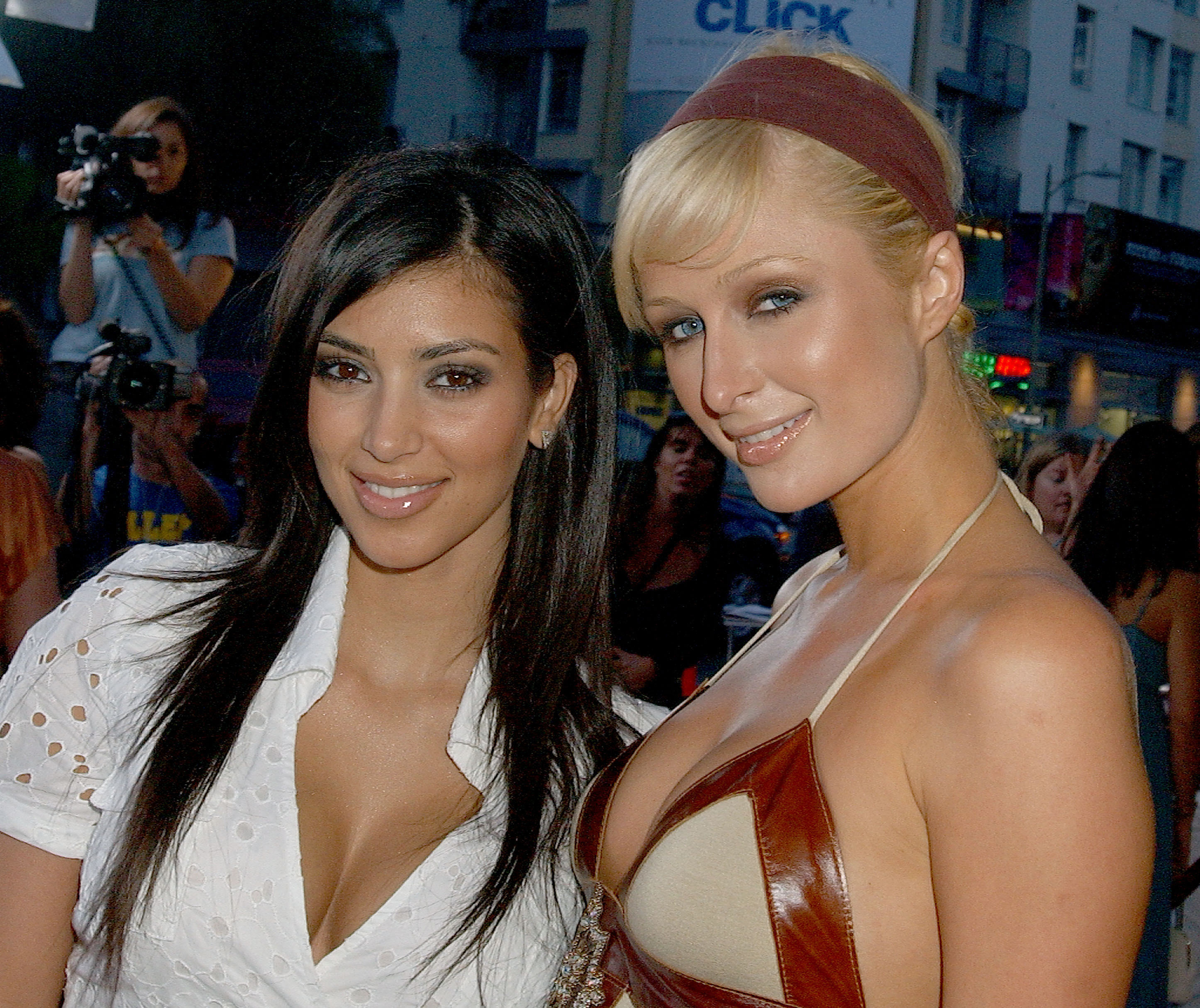 After Travis and Paris broke up, he briefly reunited with Shanna before they split once again. In his book, Travis says that he started talking to Kim shortly after her sex tape with Ray J was released in February 2007.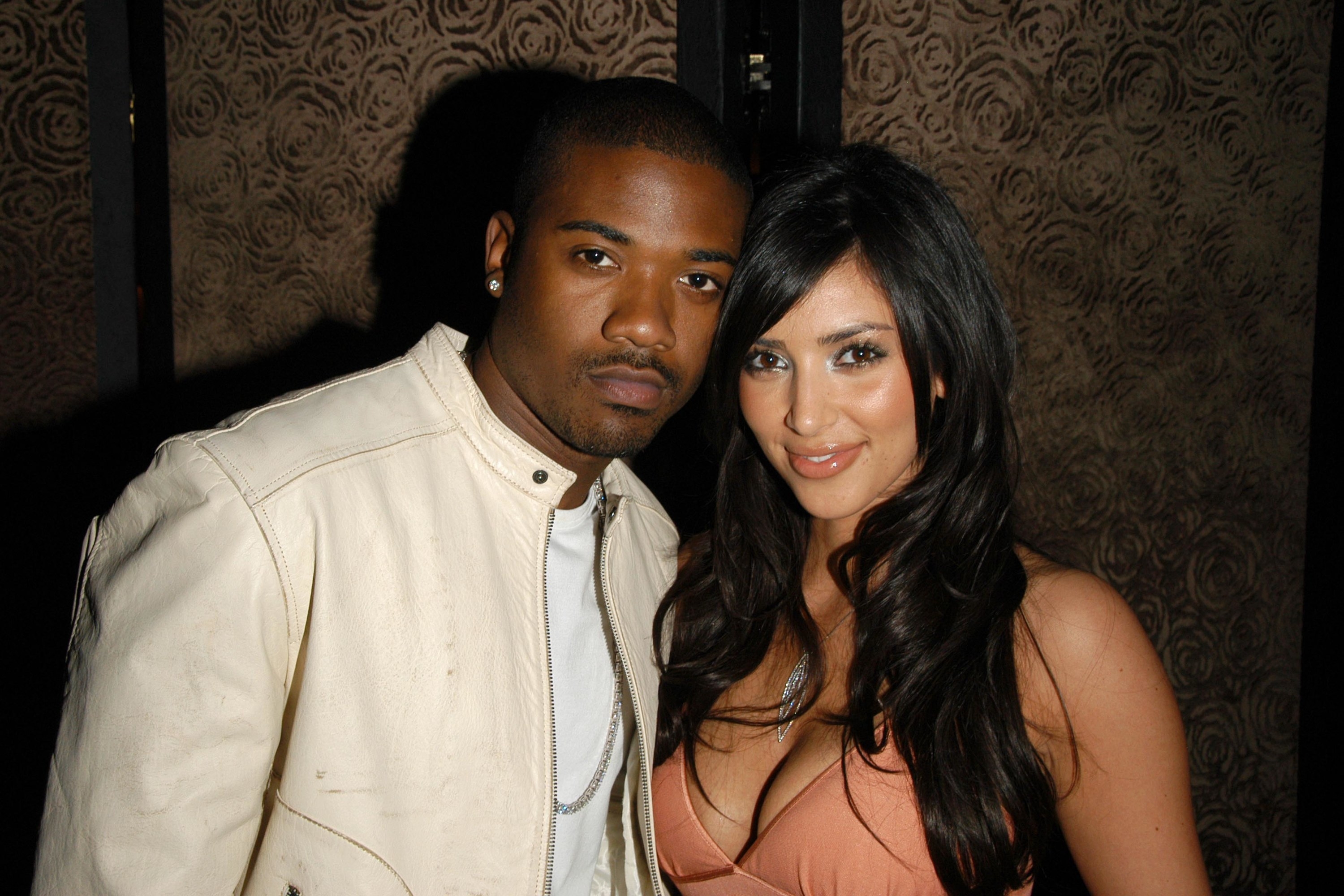 "We had stayed in touch after Amsterdam, and she did some modeling for Famous. I hired Estevan Oriol to shoot a whole ad campaign of her in bathing suits. Kim's tape had come out and she had broken up with Ray J," he writes.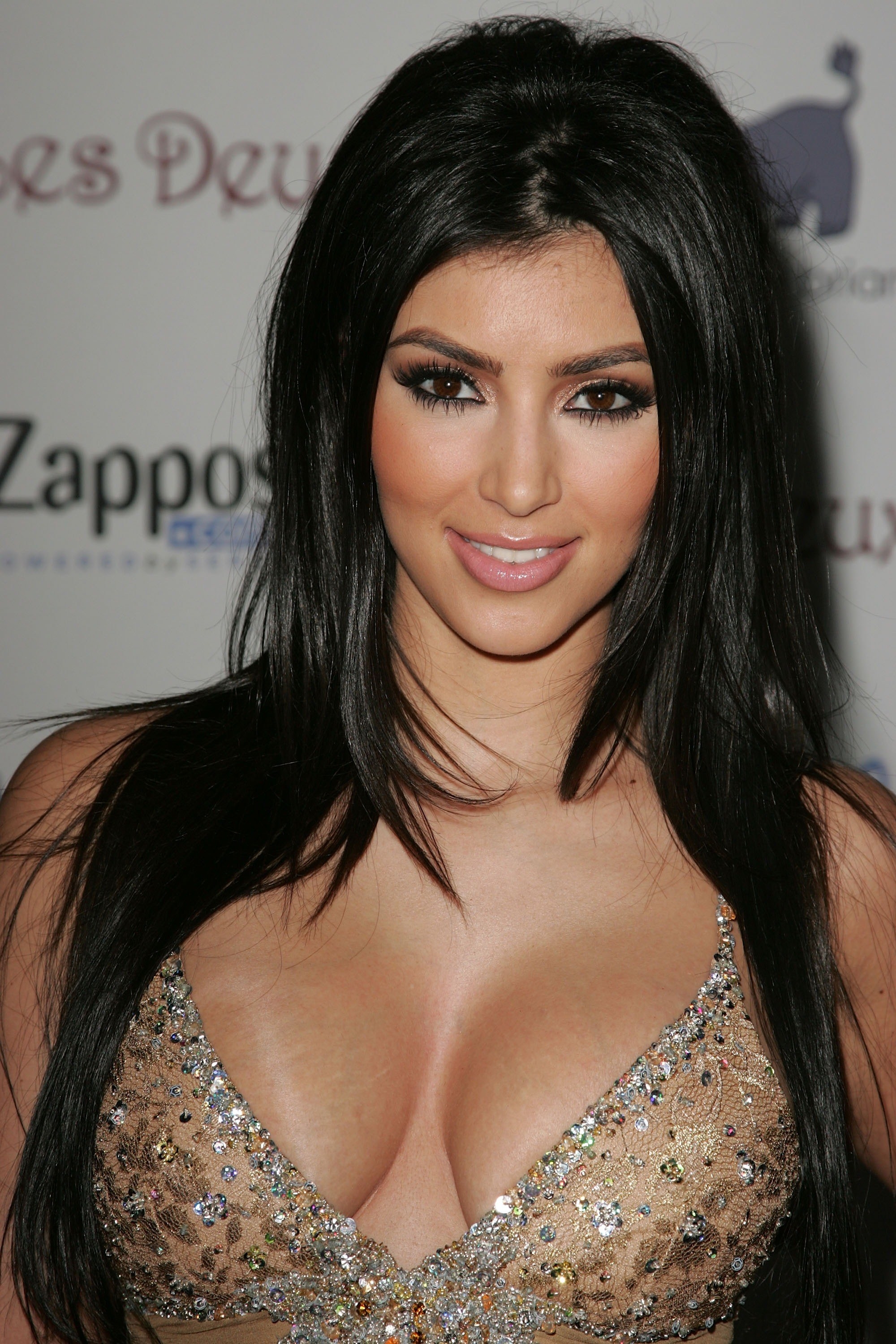 He then says that it was "weird" how he "wanted to be nothing but a gentlemen" to Kim despite her sex tape, as he recalled innocent dinner and lunch dates. He even spent time with her family and used her as a model for his Famous Stars and Straps clothing line.
"We went to dinner, we went to lunch. You might think I would be doing the worst things with this girl because of her tapes, but it was the exact opposite of any other encounter I've had with a woman: with Kim, I wanted to be nothing but a gentleman to her. It was so weird," Travis recalls.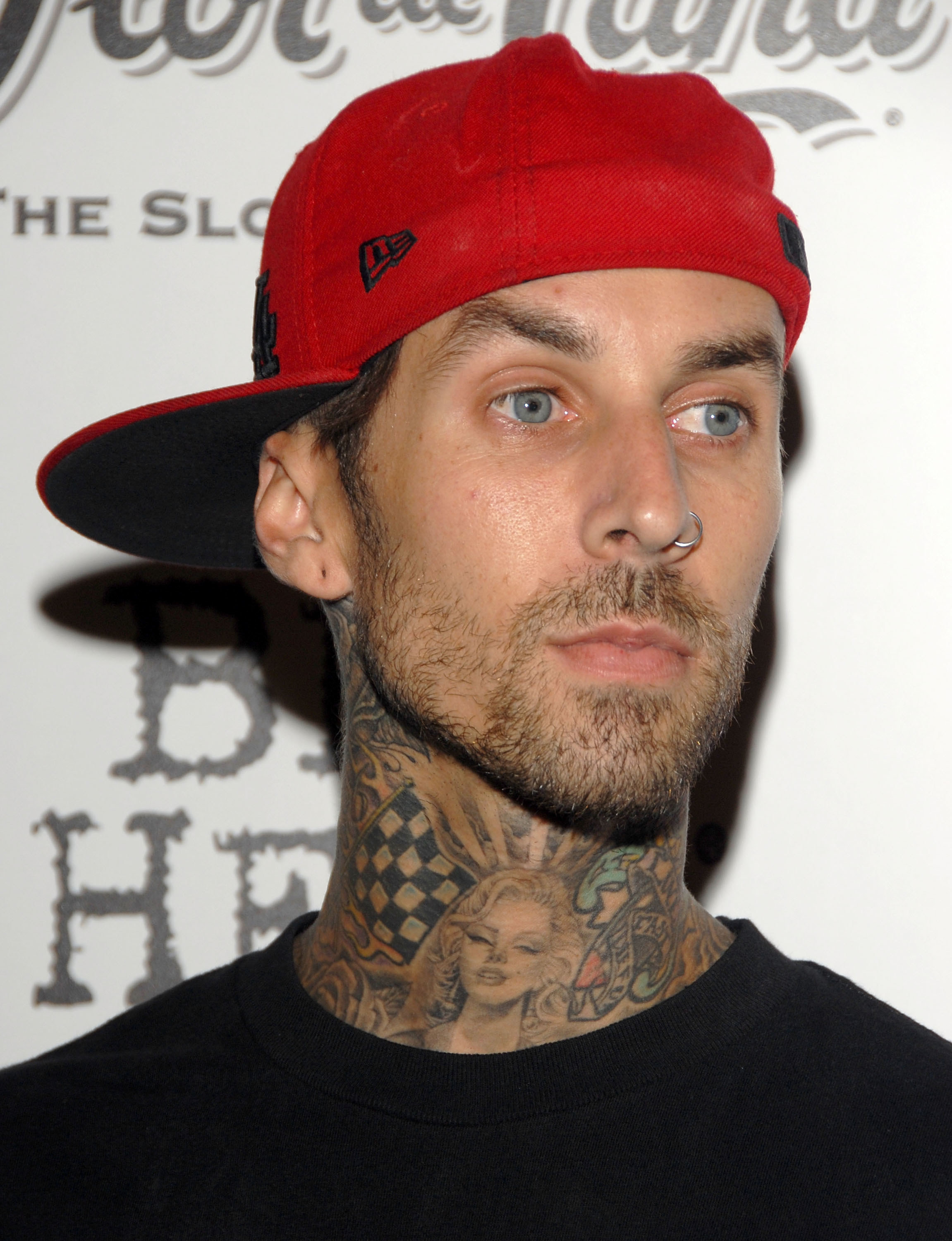 "We were around each other a lot. We used her in ad campaigns for Famous. She came to my house and went swimming. We watched the Fourth of July fireworks together," he says in the memoir. "I'd go visit her and her family at their clothing store. We'd be really sweet around each other, like little kids, and then when we were apart, she'd call me and say, 'I want to see you again.' 'Me too,' I'd say."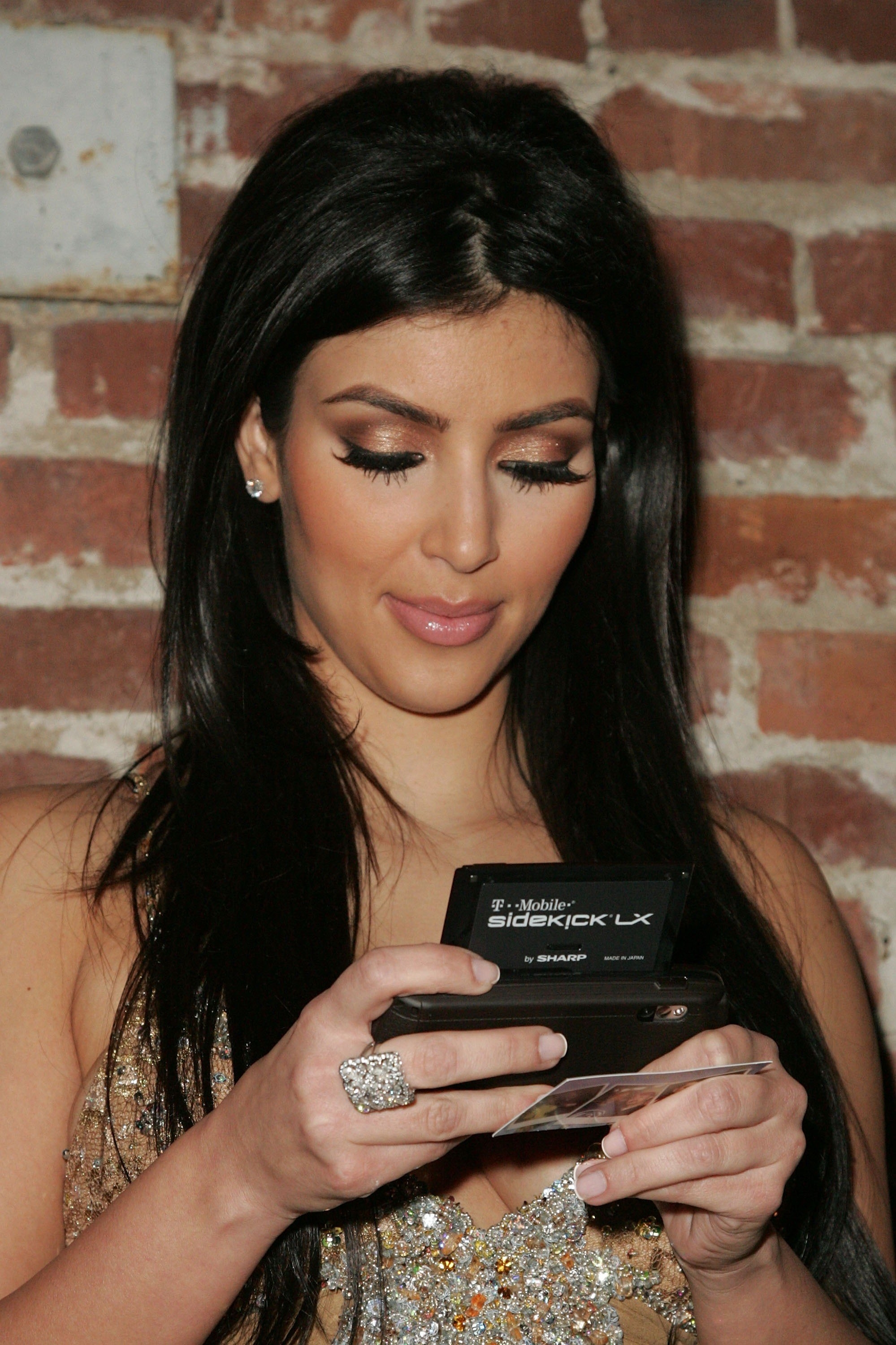 Travis ultimately ended up reuniting with Shanna again, but found himself still "really [wanting] to see Kim," which allegedly led to a run-in between the two women.
"Shanna caught wind of what was going on. She poured a drink on Kim at a party thrown by Carmen Electra. I felt terrible," he claims, before insisting that things never got physical between him and Kim. "Kim and I never touched each other. It just wasn't meant to be."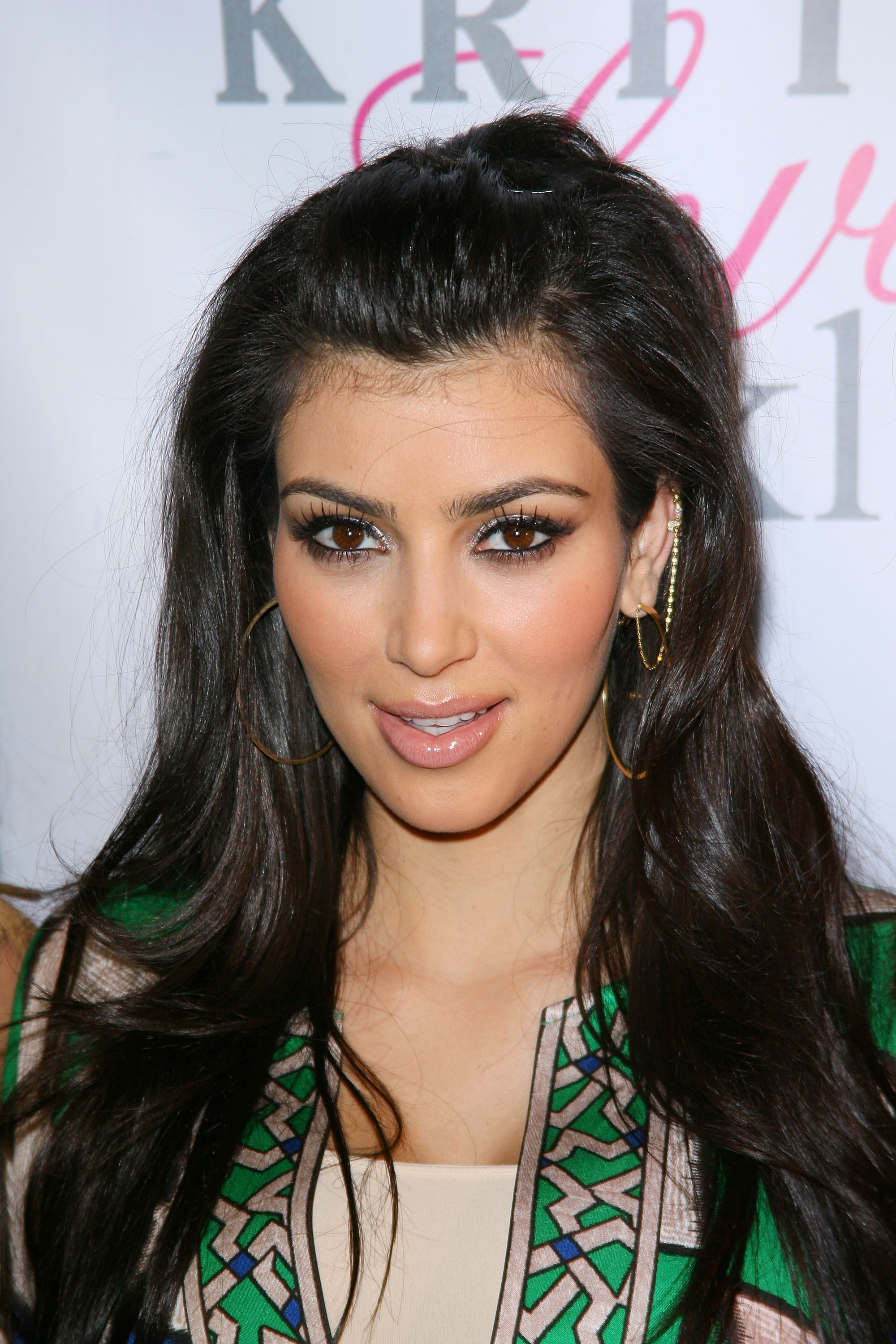 And Travis doubled down on his crush during his 2015 interview with Us, where he reiterated that they'd never hooked up.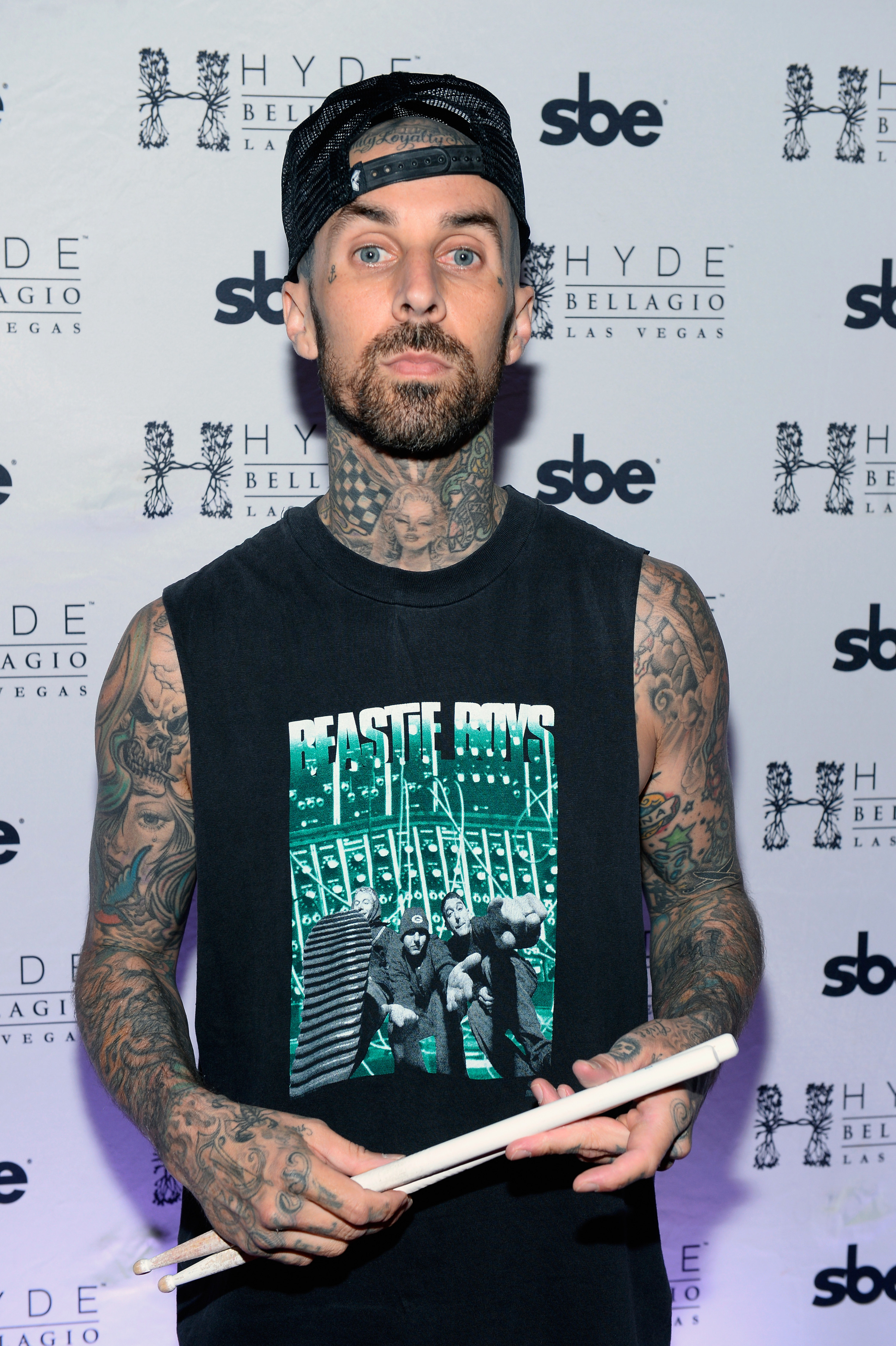 "I had a crush on her and we were flirtatious but nothing ever happened. She was so kind and polite, I just felt like being a perfect gentleman around her. It was a trip!" he said in the interview. "When I see her, I give her a hug and wish her the best and there's no awkwardness. Because God knows, when you hook up, shit gets awkward!"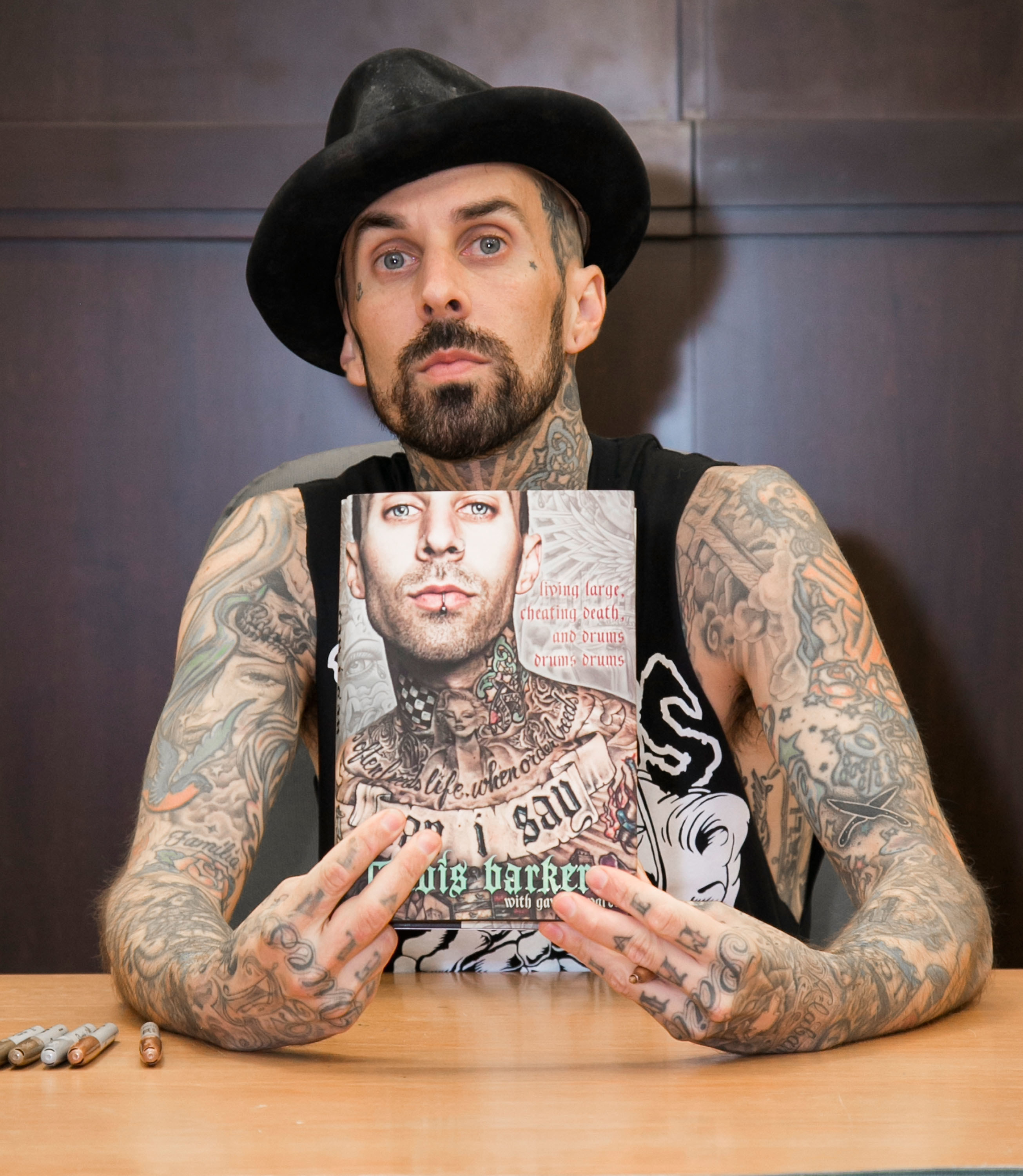 Despite his insistence that nothing happened between them, Shanna has claimed that Travis cheated on her with Kim.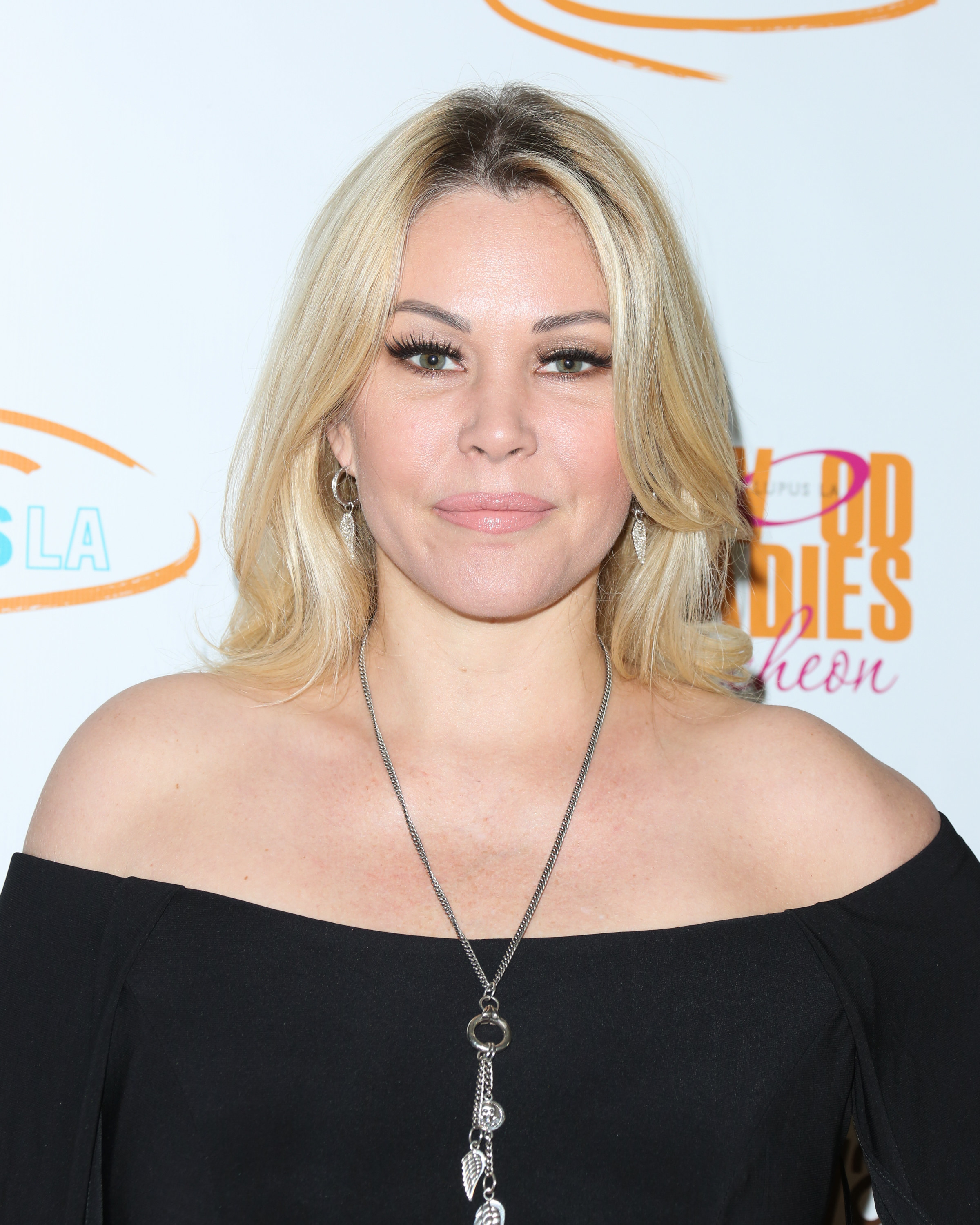 In May last year, Travis and Shanna's daughter, Alabama, shared a screenshot of a text message that she'd allegedly received from her mom to her Instagram story.
In the post, Alabama said that her mom has "never completely been in [her] life" and asked followers to "stop painting her out to be an amazing mom."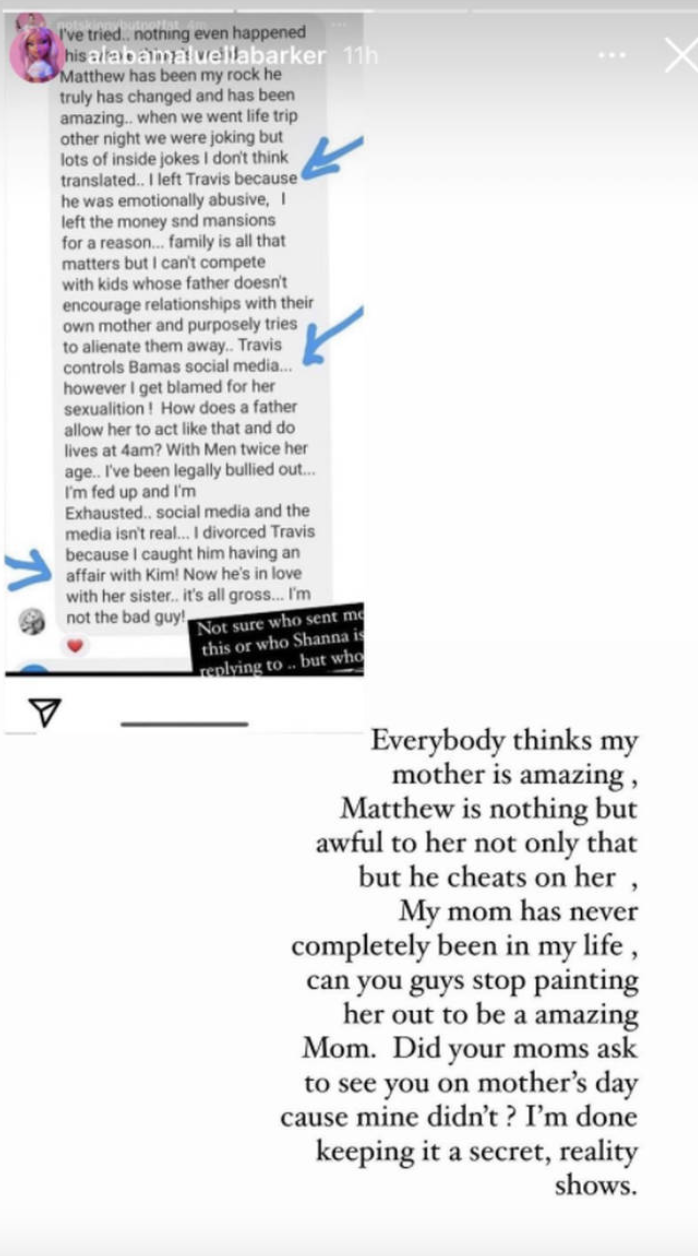 Part of the lengthy text that was seemingly from Shanna read: "I divorced Travis because I caught him having an affair with Kim! Now he's in love with her sister… It's all gross."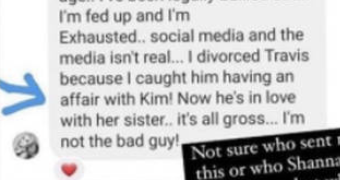 And speaking to Us Weekly last May, Shanna said of Kim and Travis: "I divorced my ex because I saw them — I caught them having an affair. Someone sent me all their [text] conversations and I'm also close friends with people who were there, while things were happening."
But Kim rubbished the claims last year after a fan asked in an Instagram Q&A: "Did you hook up with Travis Barker?" She replied: "NO! False narrative! We've been friends for years and I'm so happy for him and Kourt."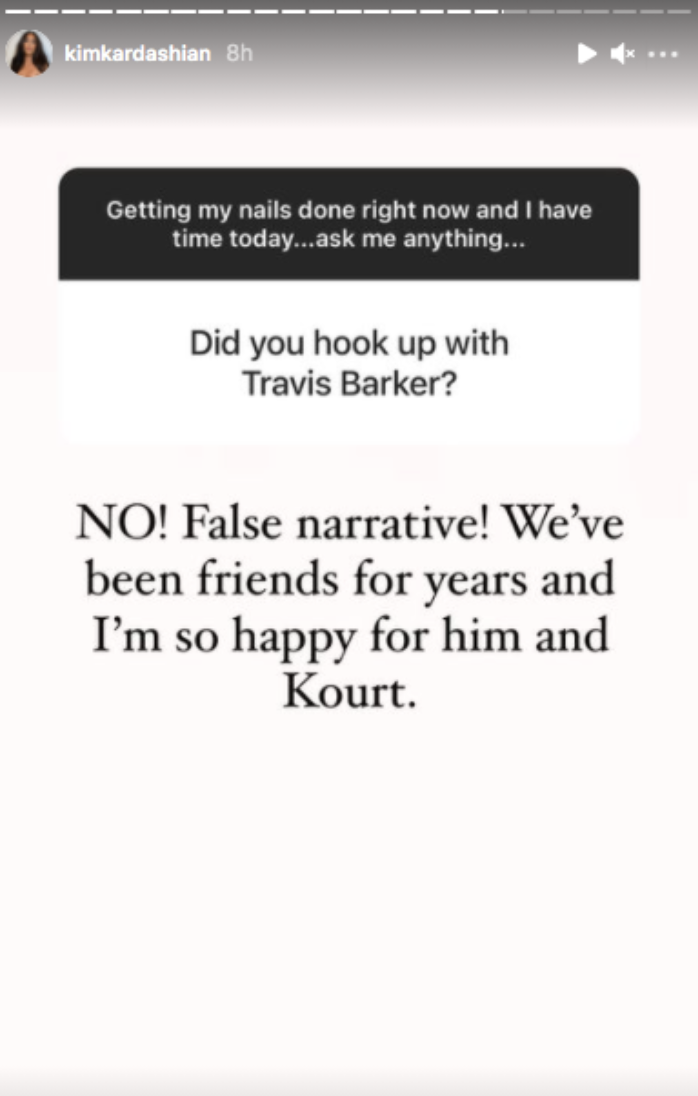 However, people are now arguing that whether or not Kim and Travis physically hooked up is irrelevant, and the fact that he had previously admitted to being so besotted with her at around the same time that he moved to Calabasas has raised some eyebrows.
Discussing his past comments online, fans have speculated that when he told Kris, "I just knew if I couldn't date her or be with her because she was with someone else that at least I could live by her," it was actually Kim that he felt that way about originally.
"I know everyone has different boundaries and tolerances but how the fuck can someone marry a man who once expressed himself this way towards her own sister," one person wrote. "It's almost like Kourt is 2nd best to Kim because he couldn't get to her first."

"On The Kardashians, Kris Jenner tells a story about how Travis Barker moved to Calabasas to love Kourtney from afar. Well I've read this book and knew this….. He was after Kim not Kourtney. Awk," someone else tweeted.
"Travis Barker wanted a Kardashian so bad, he spent years talking about Kim in interviews and then he says he moved to Calabasas to live close to Kourtney years before he even knew her," another commented.
"I call bullshit. I've read his book and he was totally into Kim," another person said in relation to a report that he moved to be closer to Kourtney. "Said she was the first girl he didn't want to just sleep with."

Kourtney has never acknowledged her now-husband's past relationship with her sister, but something tells me that she isn't too bothered by it.