The two famously got married in 1995 after knowing each other for just four days, and they share two sons, Brandon and Dylan.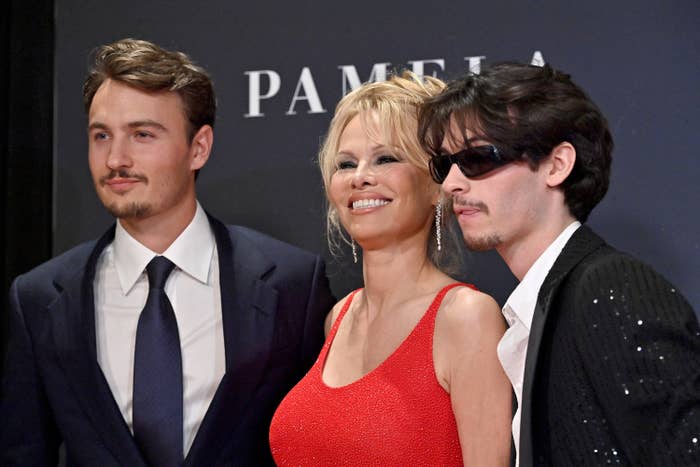 When Pamela was pregnant with Brandon in 1996, her and Tommy's stolen sex tape leaked and was circulated on the internet — with Pamela being incredibly vocal about the negative impact that this had on her over the years.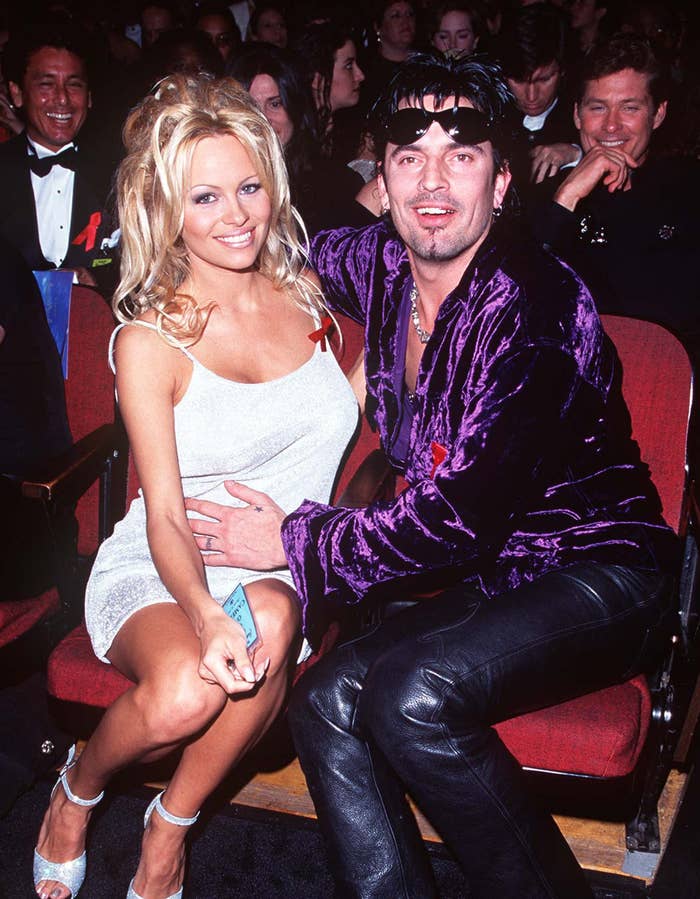 In addition to the sex tape, Pamela and Tommy's marriage was incredibly tumultuous, and in 1998, he was sentenced to six months in prison for spousal abuse after he assaulted her.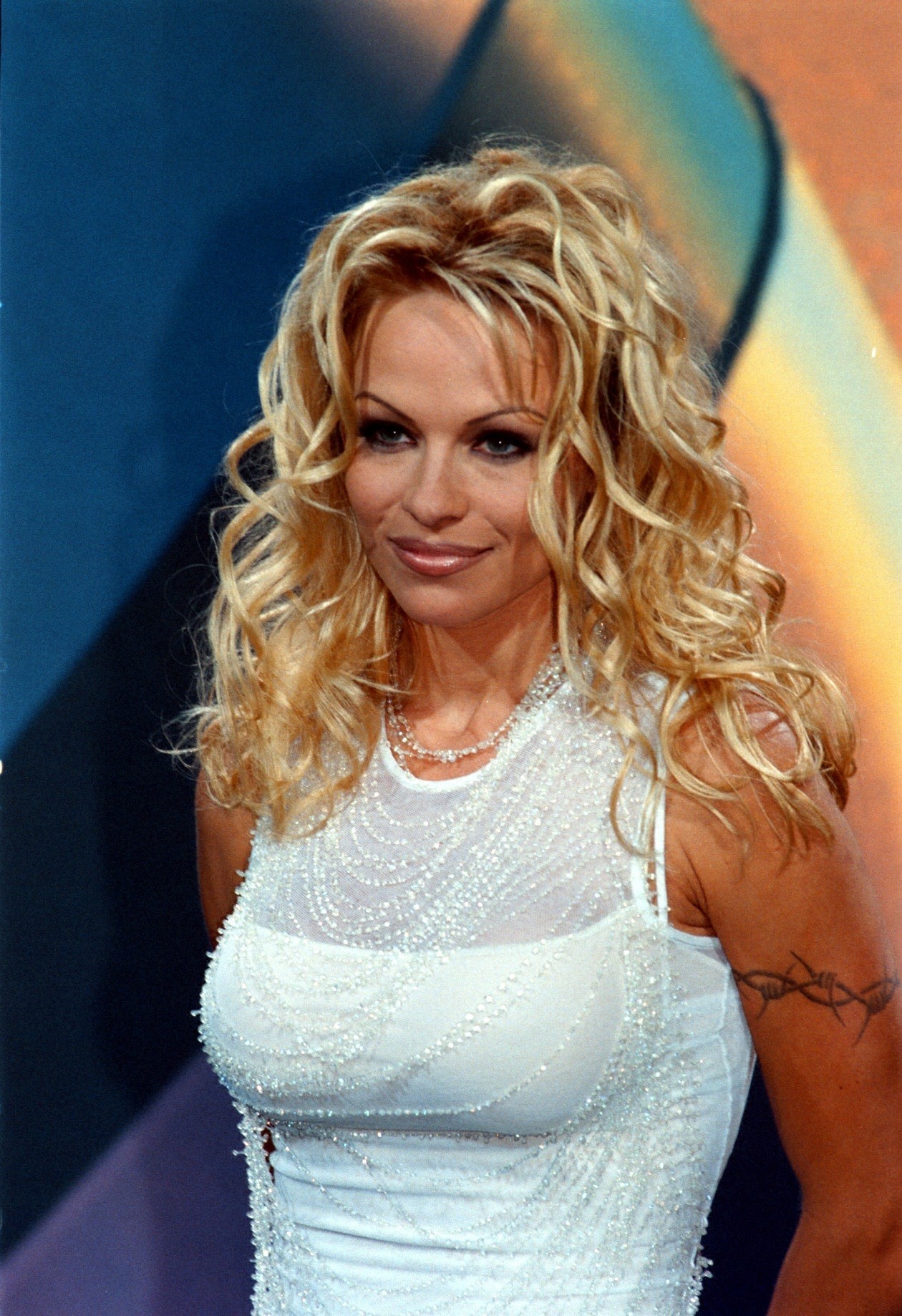 The two divorced that same year, and Pamela went on to marry another five times. Her most recent husband was her bodyguard Dan Hayhurst, who she split from in January 2022.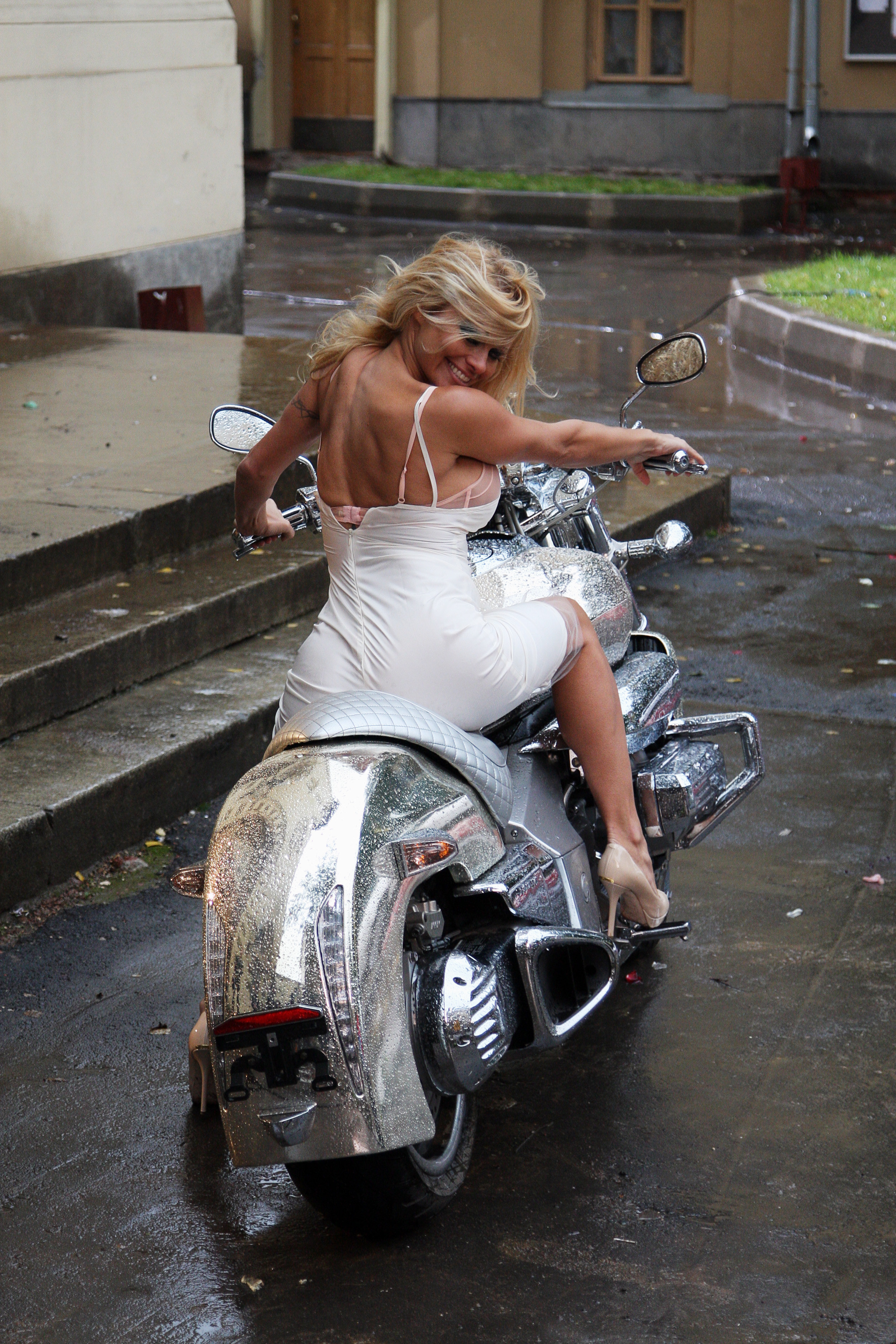 Meanwhile, Tommy had been married twice before tying the knot with Pamela. In 2017, he started dating Brittany Furlan, and they have been happily married since February 2019.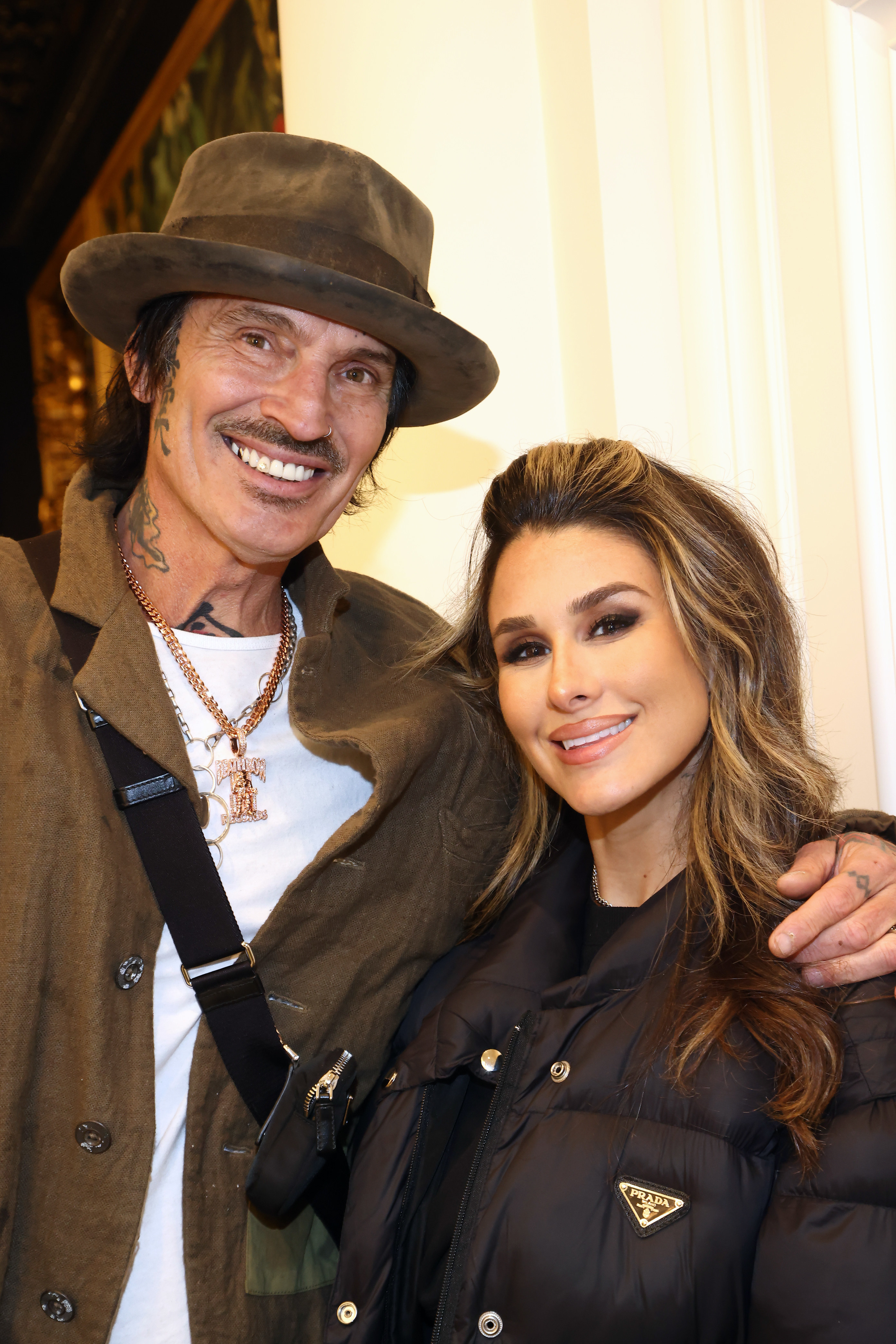 And in her recent Netflix documentary, Pamela, A Love Story, Pamela hints that she regrets how her and Tommy's marriage ended as she admits that he is the only man that she has ever truly loved.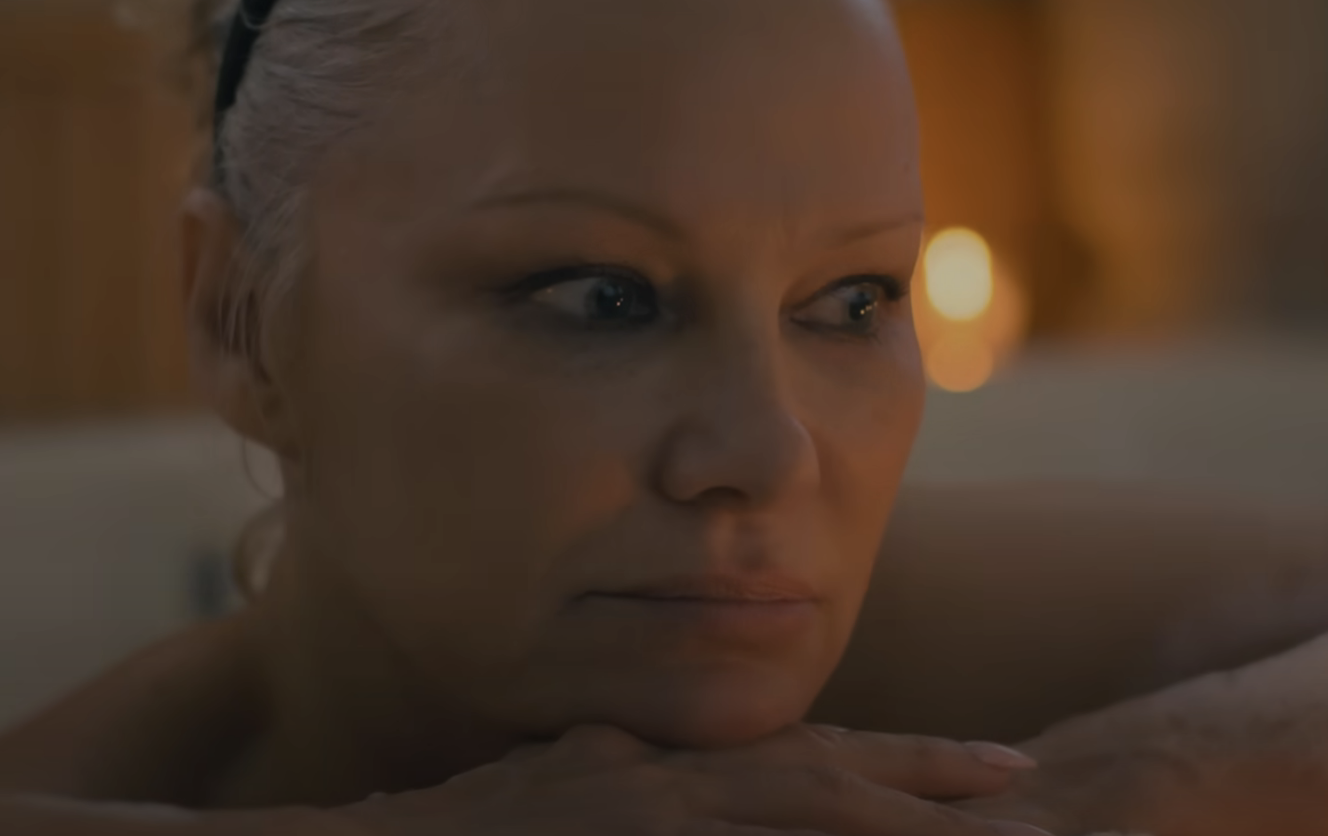 Following the breakdown of her and Dan's marriage, Pamela says in one scene: "I think I'd rather be alone than not be with the father of my kids. I think it's impossible to be with anybody else, but I don't think I could be with Tommy either. It's almost like a punishment."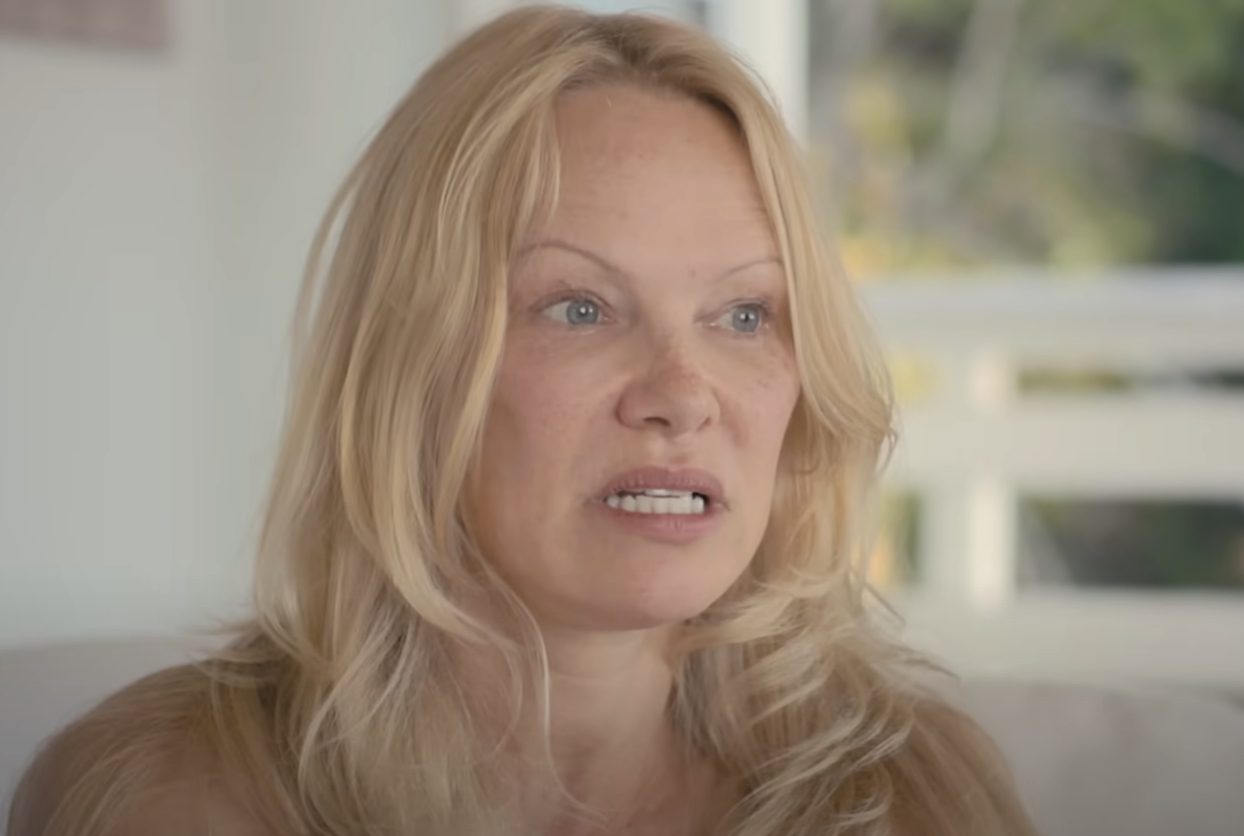 And Tommy's wife, Brittany, appeared to react to this statement in a recent TikTok post, which was uploaded and then quickly deleted, of her suggesting that Pamela wouldn't care if she died. She added in the caption: "Pls guys I gotta make jokes it's how I cope."
Now, Brittany has been accused of leaking Pamela's private text messages to Tommy, where she called her ex her "one true love" and said that she "never recovered" from their romance.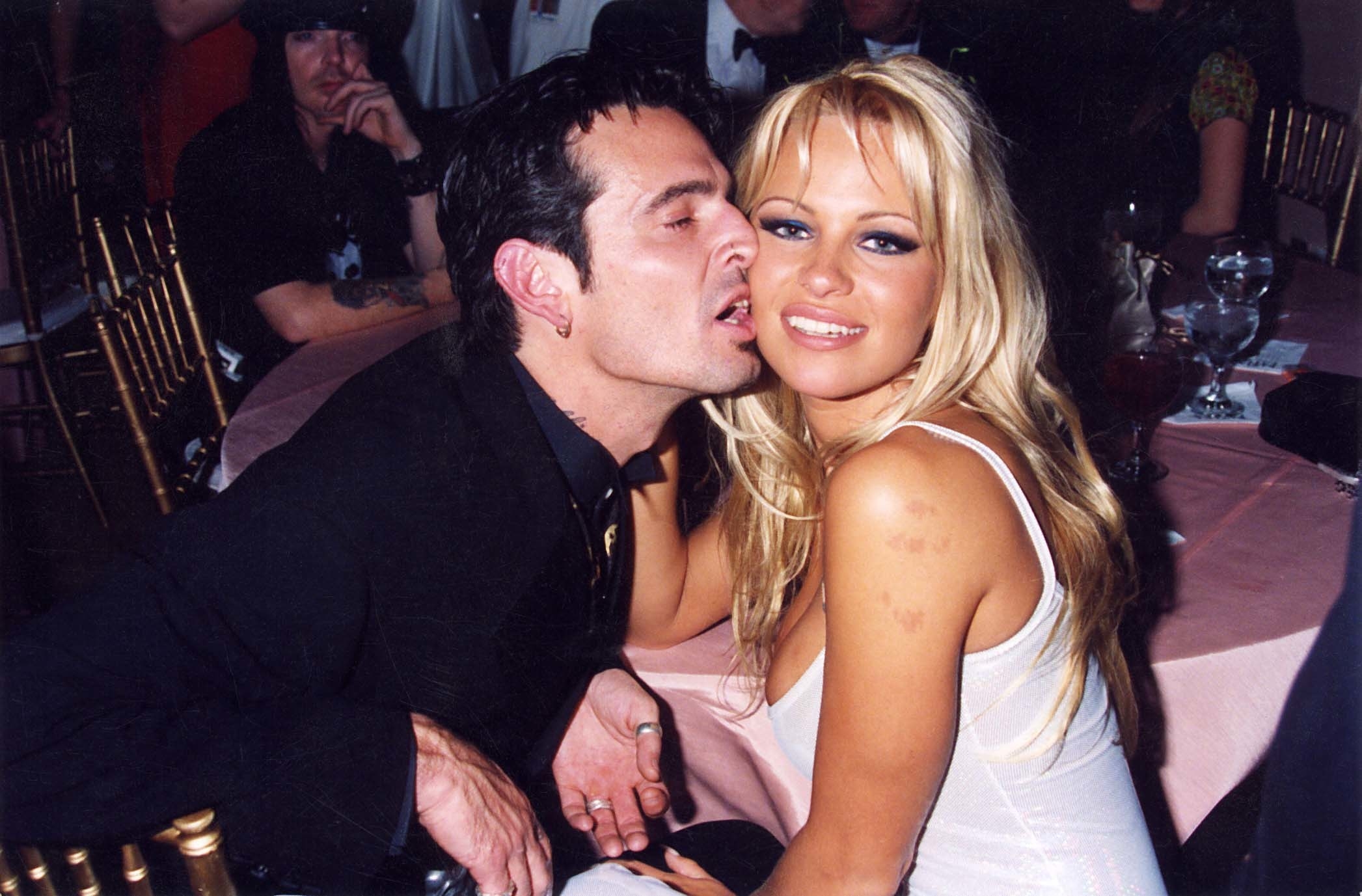 Photos of the texts on what is assumed to be Tommy's phone were shared by celebrity gossip TikToker Kyle Roth, who said that she received them from "a source close to a friend who says that Pam has since been blocked these are from around the holidays."

With the contact listed as "Pamela," the messages highlight the star's nostalgia for her and Tommy's years together as she appears to detail what he can expect from her documentary.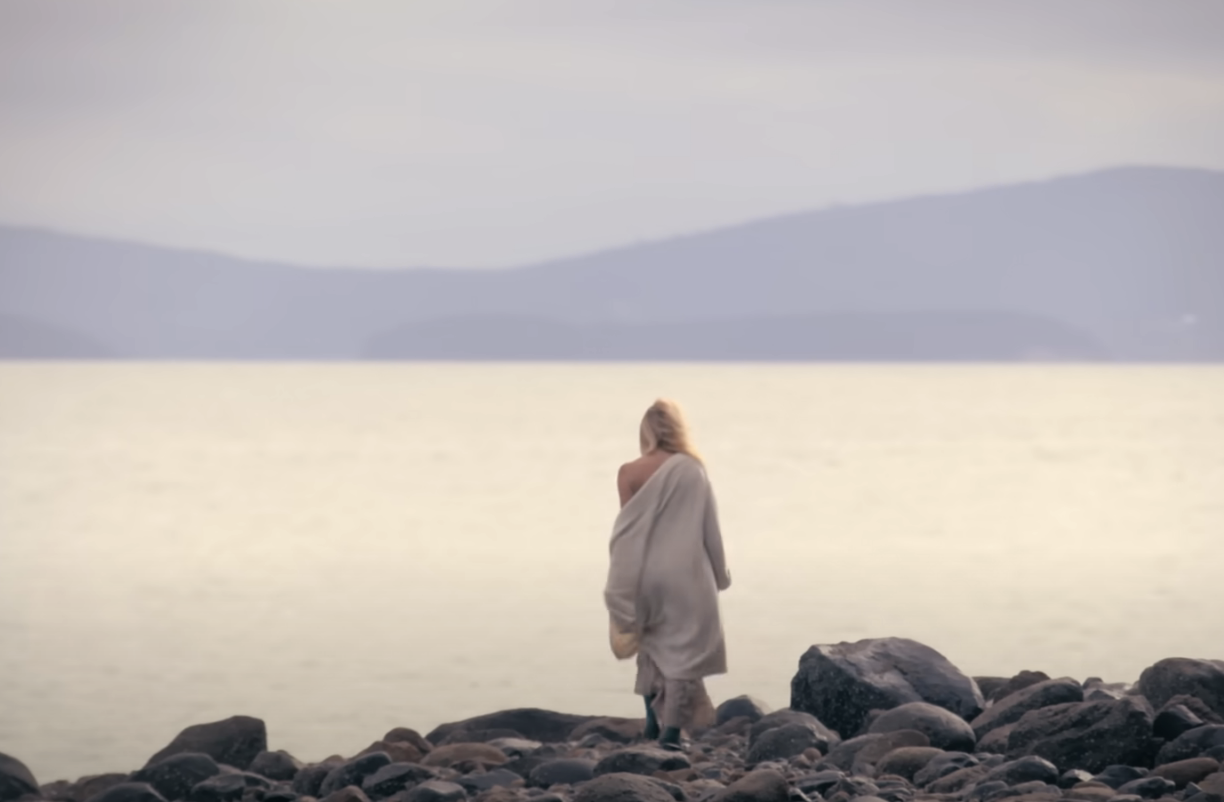 "I cant believe filmed so much Its heartbreaking (in a good way)-So much love We were so happy So cute you with the boys as babies," the first text reads. "And it's really how papperazzi world tore us apart -"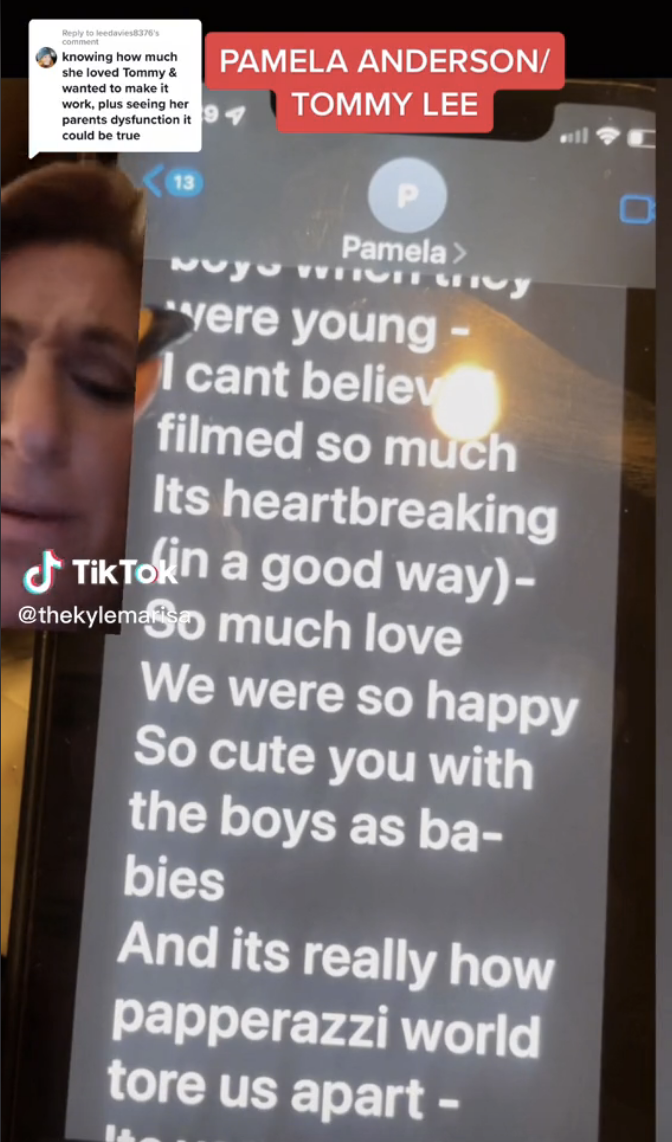 "It's very emotional and sweet," Pamela goes on. "I only have good things to say about you Esp in hindsight I realize I only had one true love - I never recovered."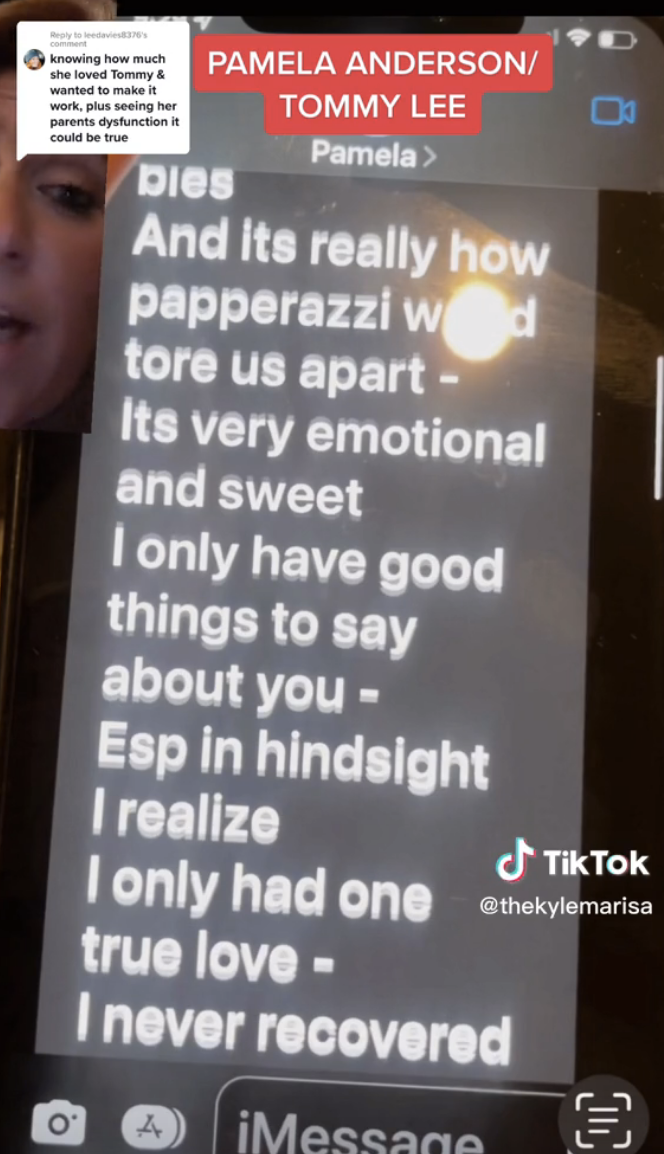 Elsewhere in the texts, Pamela says "Its a true love story" and "Its the truth Nothing compares."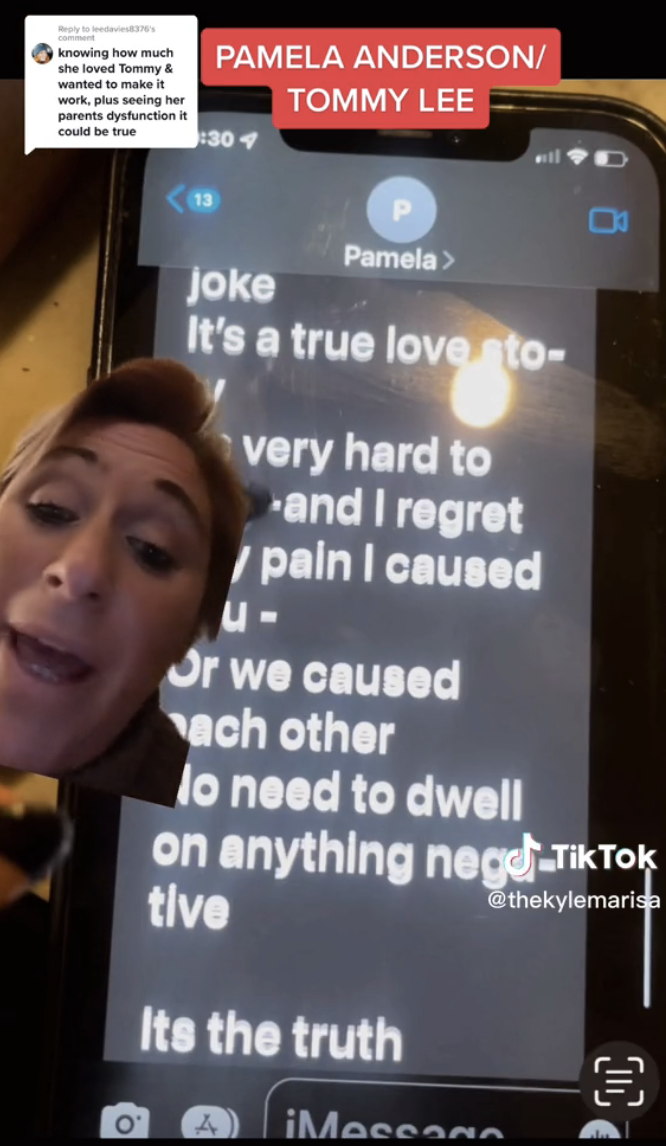 She also shares her regret at "any pain" she'd caused Tommy, saying: "Or we caused each other no need to dwell on anything negative."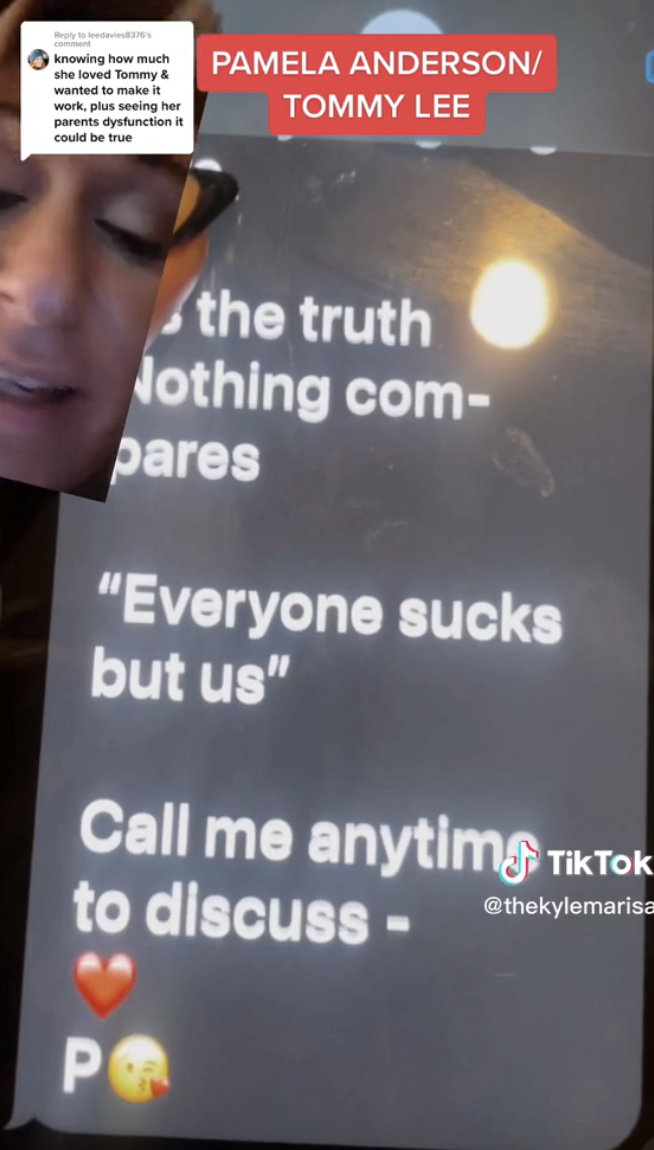 "Everyone sucks but us," she adds in quotation marks, hinting at an inside joke between her and her ex. Signing off the text, Pamela says that Tommy can call her "anytime to discuss" alongside heart and kiss emojis.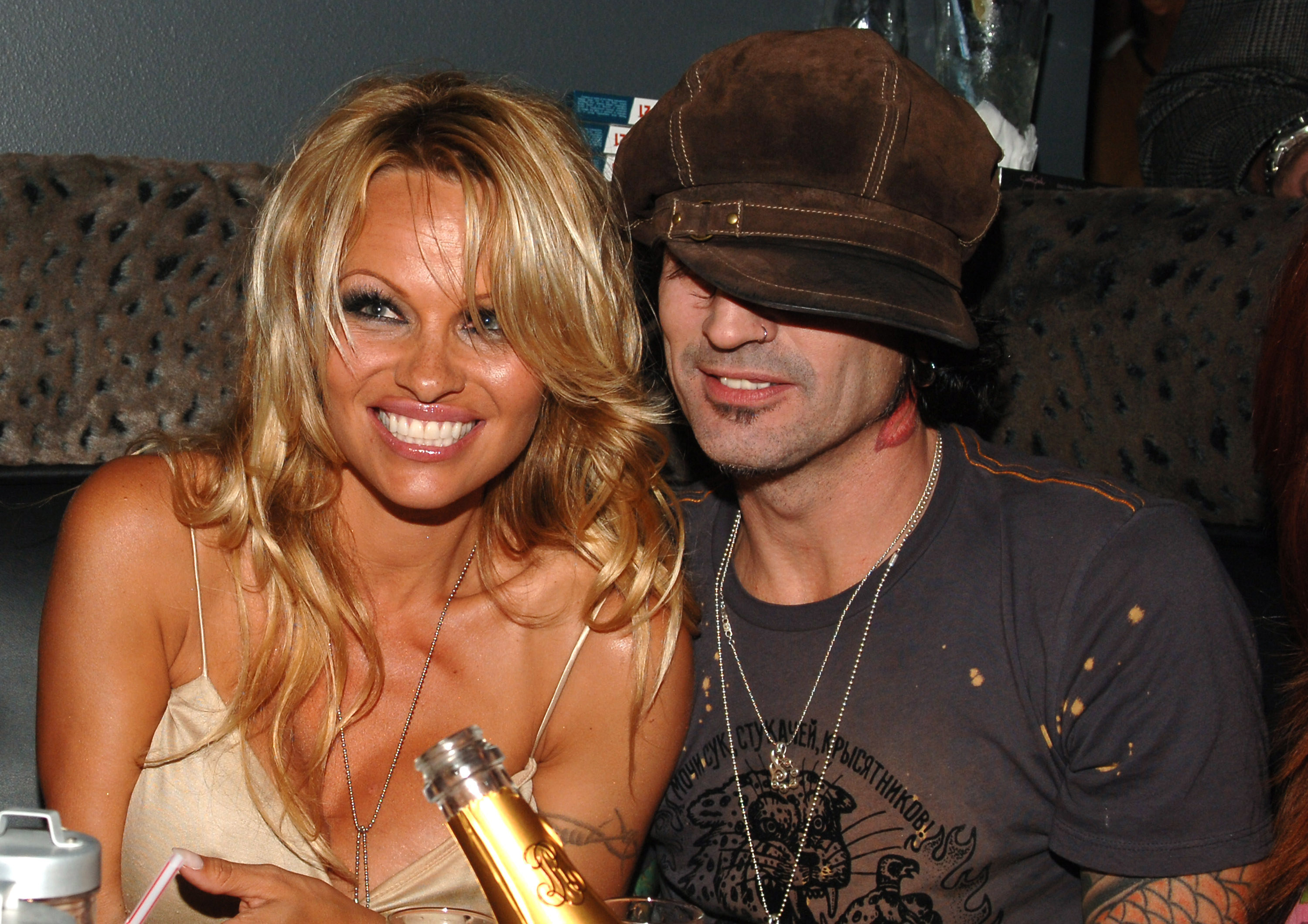 In another message, Pamela shares a photo of herself from her Instagram grid with Tommy. She follows up with a text that reads: "We all a little kooky ha Love it all."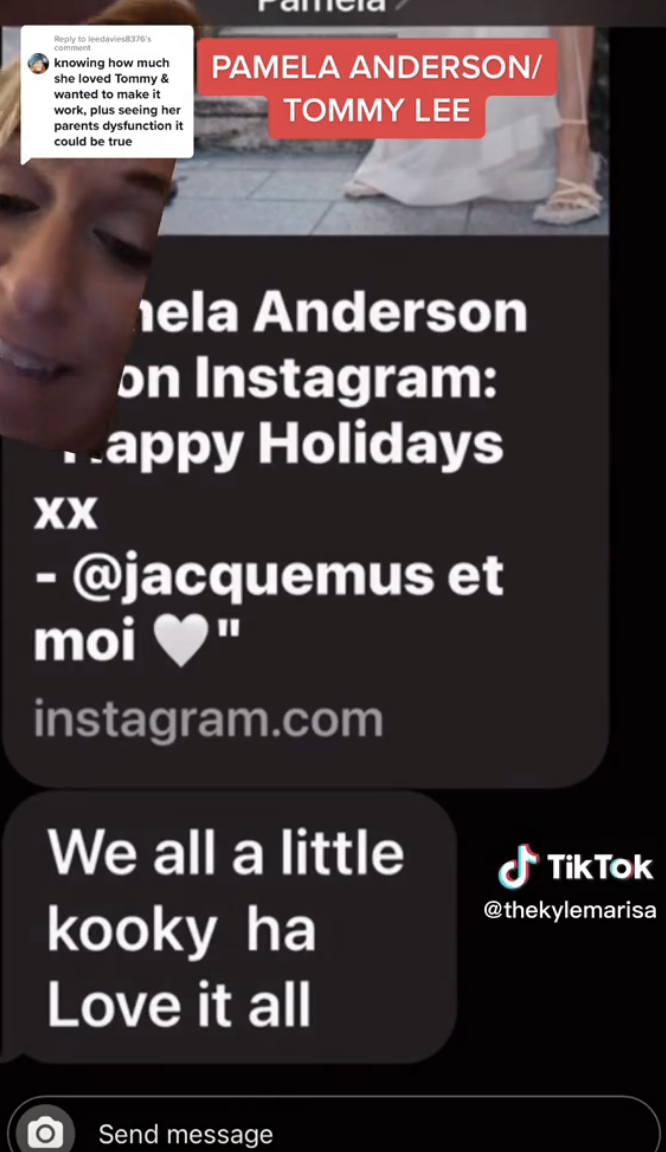 Tommy is not seen to have replied to any of these messages.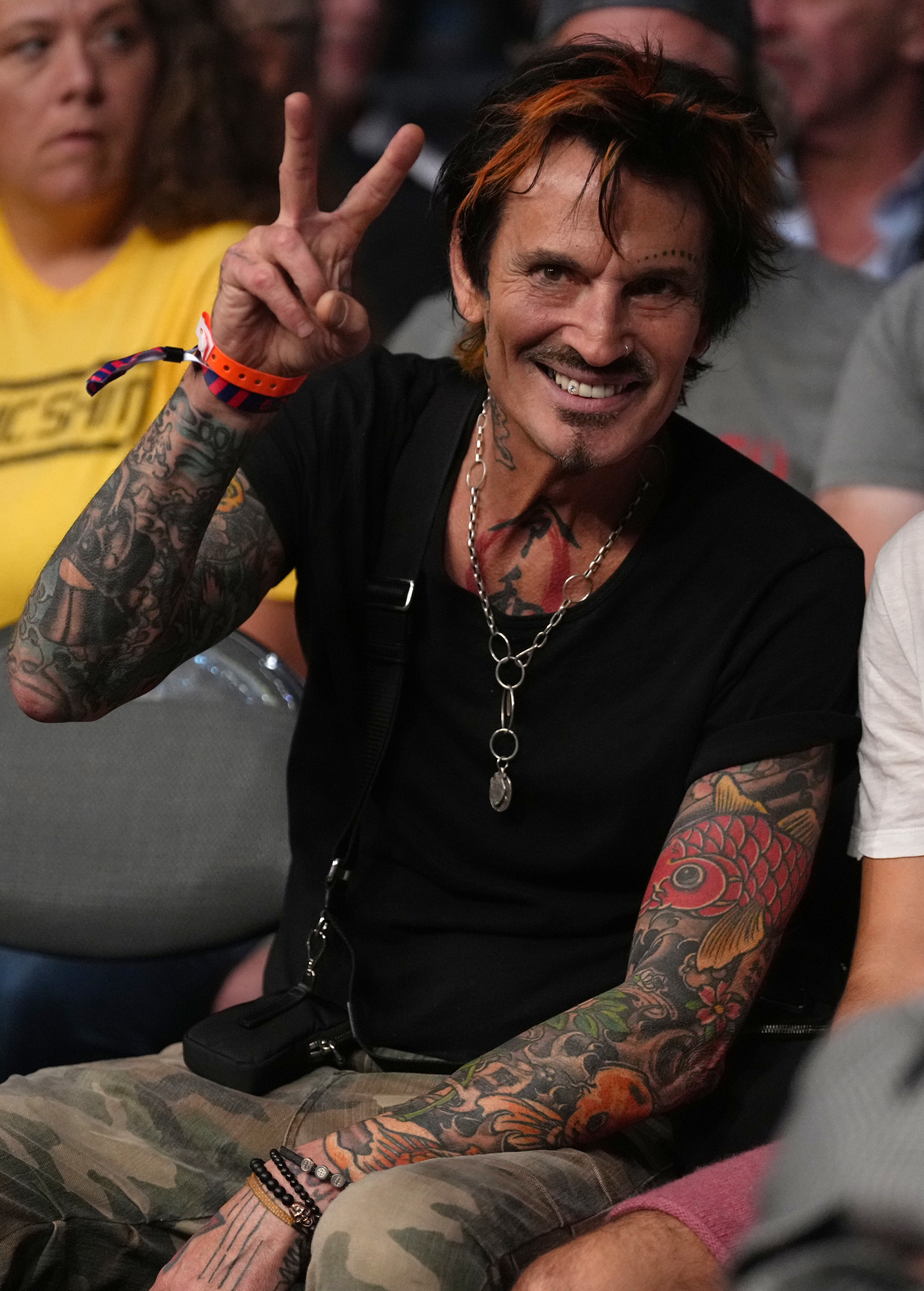 After sharing the photos of the texts with her followers, Kyle advocated for Brittany as she said: "At the end of the day, it's not my business, it's not your business. It's not anyone's business but Tommy, Pam and Brittany's."
"But you have to understand that it's really, really hurtful for all of these Pam Stans to be attacking Brittany and all in the comment section being like 'Pam and Tommy are meant to be, blah blah blah,'" Kyle continued. "Like, they ended 30 years ago. Tommy's happily married to Brittany, they've had an unproblematic relationship and an unproblematic marriage for the past 5, 6 years. Leave Brittany alone."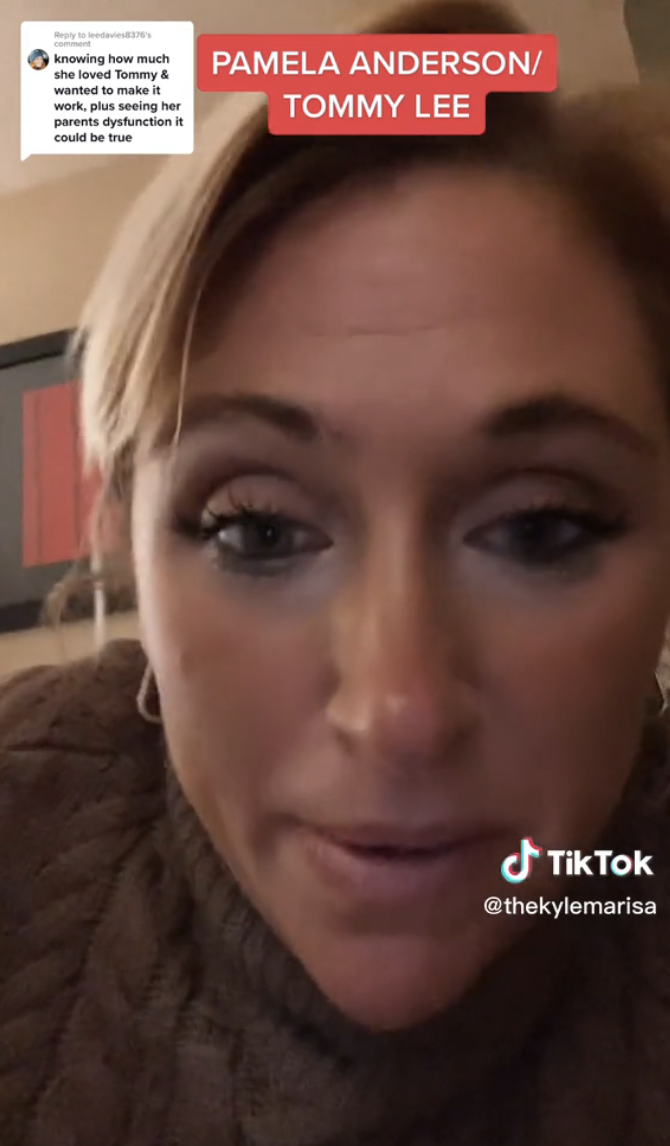 The TikTok sparked a mixed response from viewers, with some agreeing that Pamela was disrespecting the boundaries of Tommy's new marriage while others argued that she was just giving him a head's up about her Netflix special.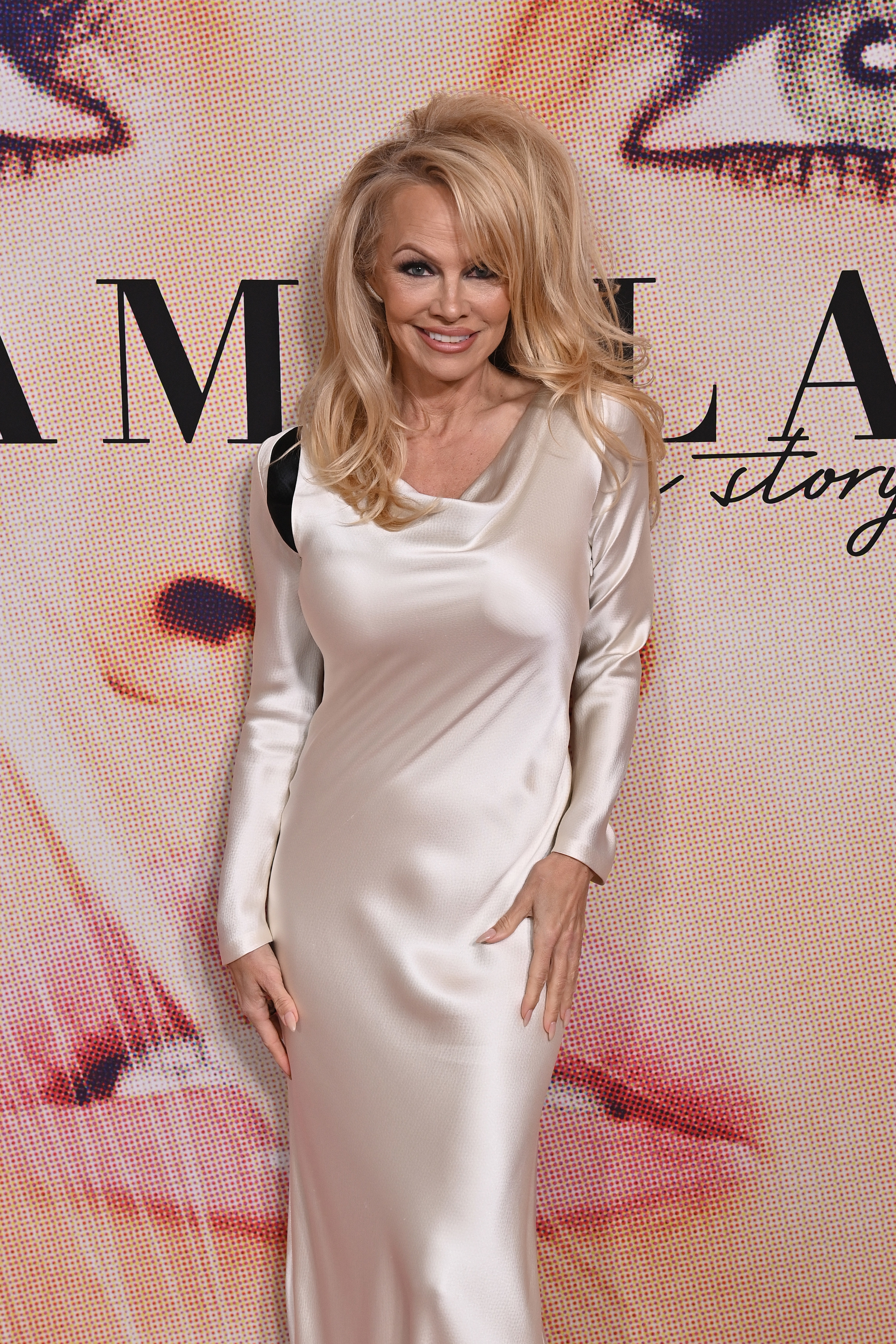 "That's not okay for Pam to be txting those kinda things to a married man. I get where Brit is coming from😭" one person wrote. Another agreed: "I'm on Britney's side. That would've pissed me off. Tommy is over Pam."

But someone else argued: "I don't see anything wrong w/Pam's texts. She and their 2 sons are producing a doc that covers both of their lives, and she's addressing the themes."

"This looks like she's explaining what's going to be in the documentary. Nice try tho," one more echoed.

And before long, people noticed that the person holding Tommy's phone in the photos of the texts has the same distinct nail polish design that Brittany previously had — sparking speculation that she was the one to share the texts with Kyle.
"Look at the nails 💅 on the hand holding the phone, Brittany had same nails on her TikTok awhile back.🤔👀" one person observed.

Another added: "That's Brittany furlan nails, my theory is that Brittany is THE source."

A representative for Brittany told BuzzFeed News that she did not intend to leak them publicly. "The text messages were sent to close friends in private. The messages wasn't supposed to be shared with anyone else, let alone the public."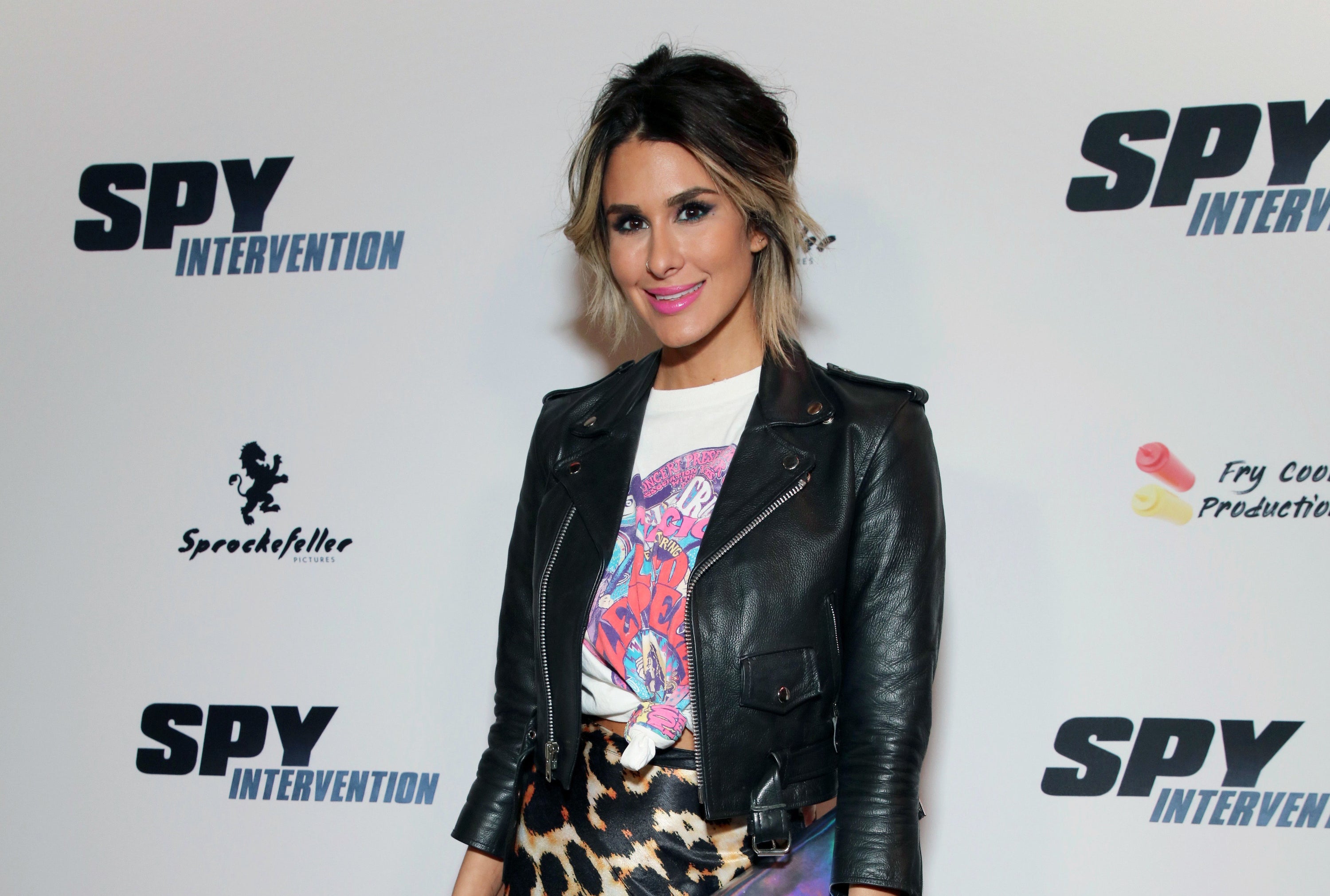 Neither Pamela nor Tommy have publicly acknowledged the leaked messages.