On Monday, the Daily Mail published an interview with Olivia Wilde and Jason Sudeikis's former nanny, who made a series of shocking claims about the breakdown of their relationship.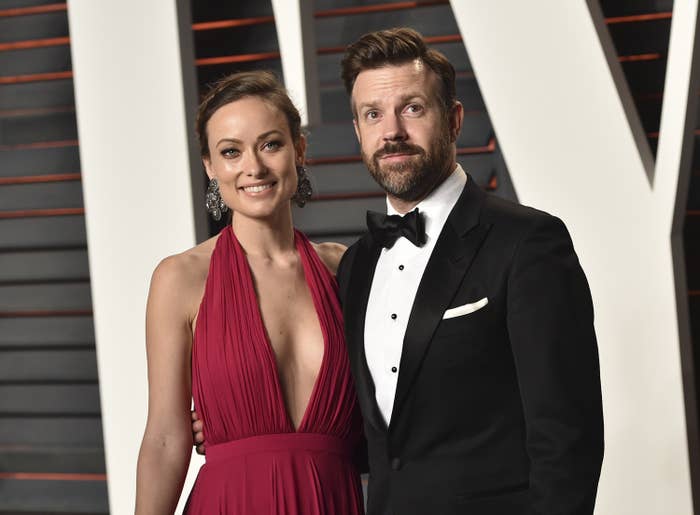 The nanny — who remains anonymous — looked after Olivia and Jason's two children, 8-year-old Otis and 6-year-old Daisy, for three years and provided the publication with purported text conversations between her and the former couple.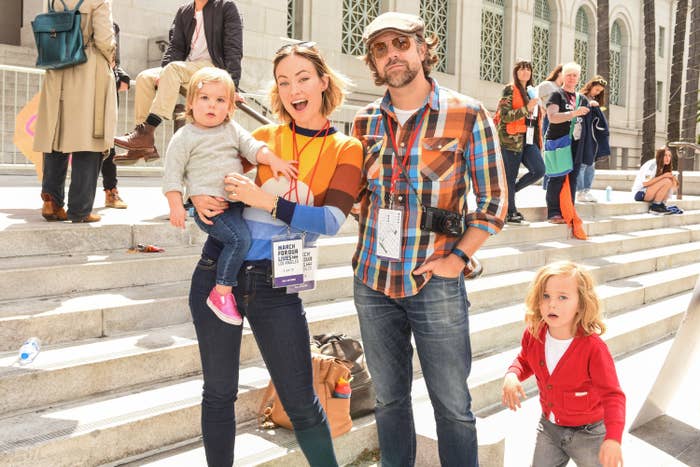 In the interview, the nanny alleged that Olivia "left" her family to pursue her now-boyfriend, Harry Styles, and repeatedly claimed that Olivia's pursuit of Harry began while she and Jason were still an item.
Olivia and Jason first started dating in 2011 and got engaged in 2013. They split in November 2020, and Olivia was first romantically linked to Harry just two months later.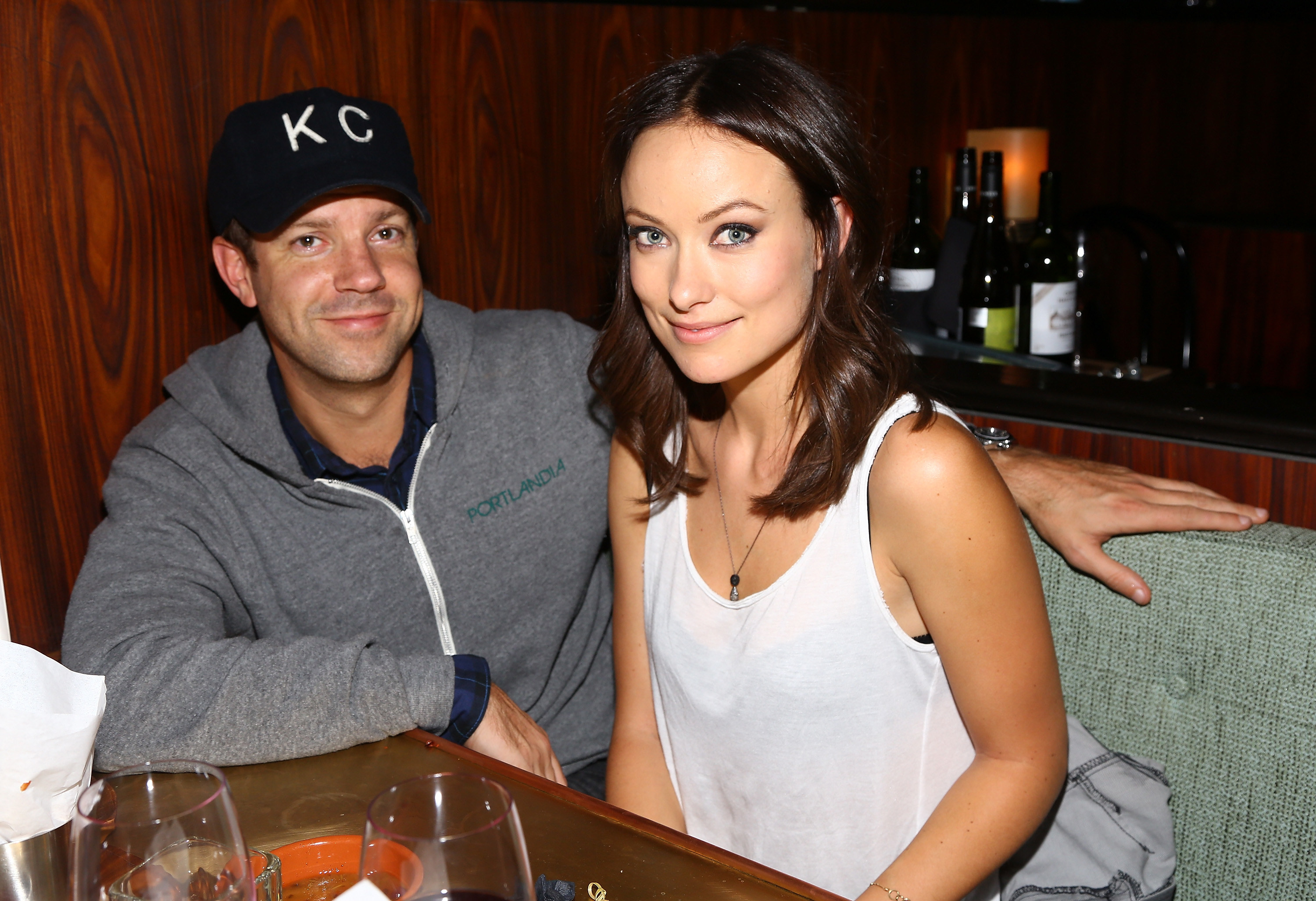 They met in Sept. 2020 after she cast him in her movie Don't Worry Darling, and while Olivia has insisted that there was no overlap between the two men, the nanny recalled the moment that "brokenhearted" Jason learned about Harry to the Daily Mail.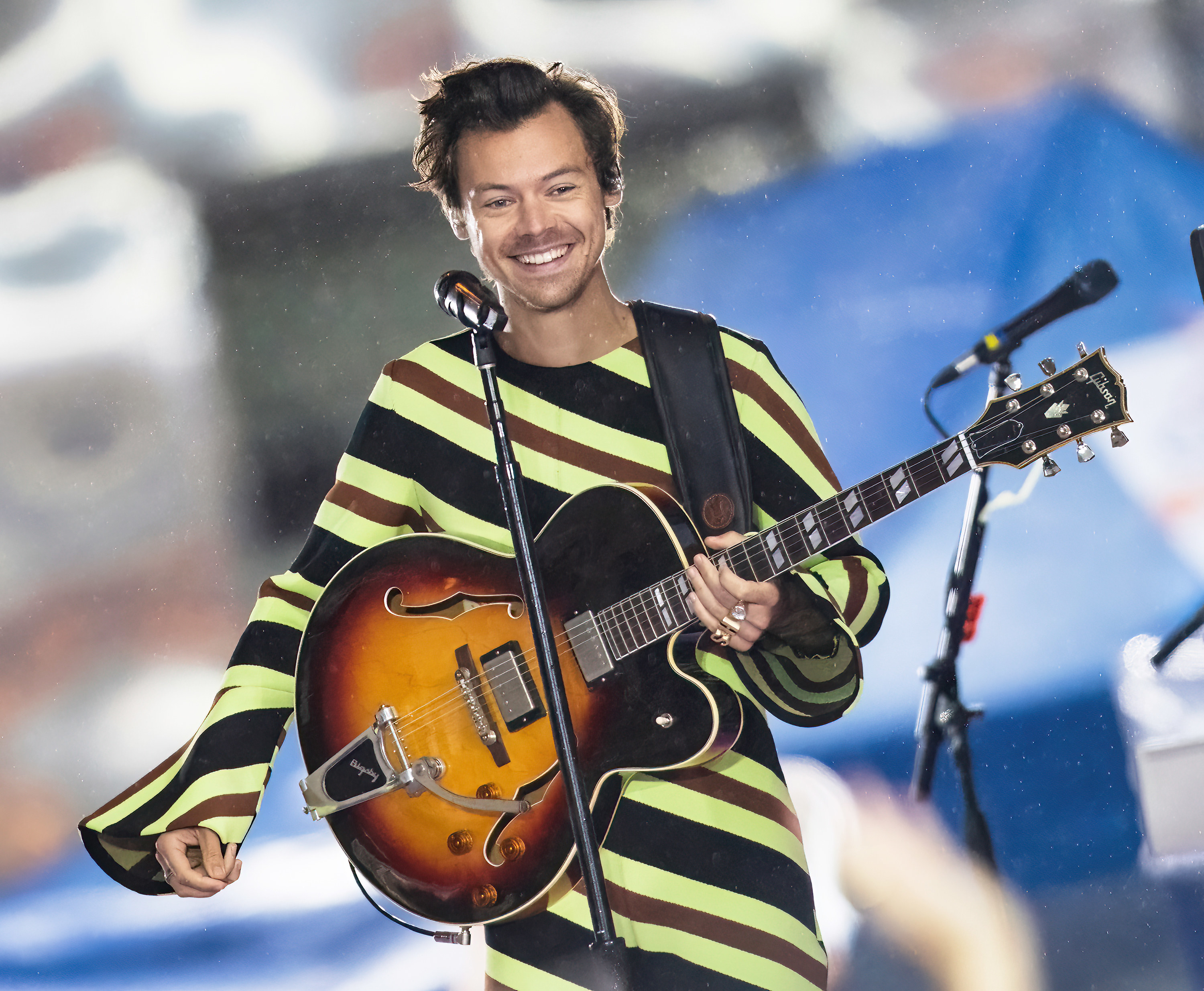 "On the Monday morning [of] Nov. 9, when I came back from a weekend off, [Jason] was crying a lot, crying and crying. I didn't know what had happened at all," she claimed. "After I'd got the kids ready, Jason came upstairs and was having some coffee. He was crying and a mess, saying, 'She left us. She left us!'"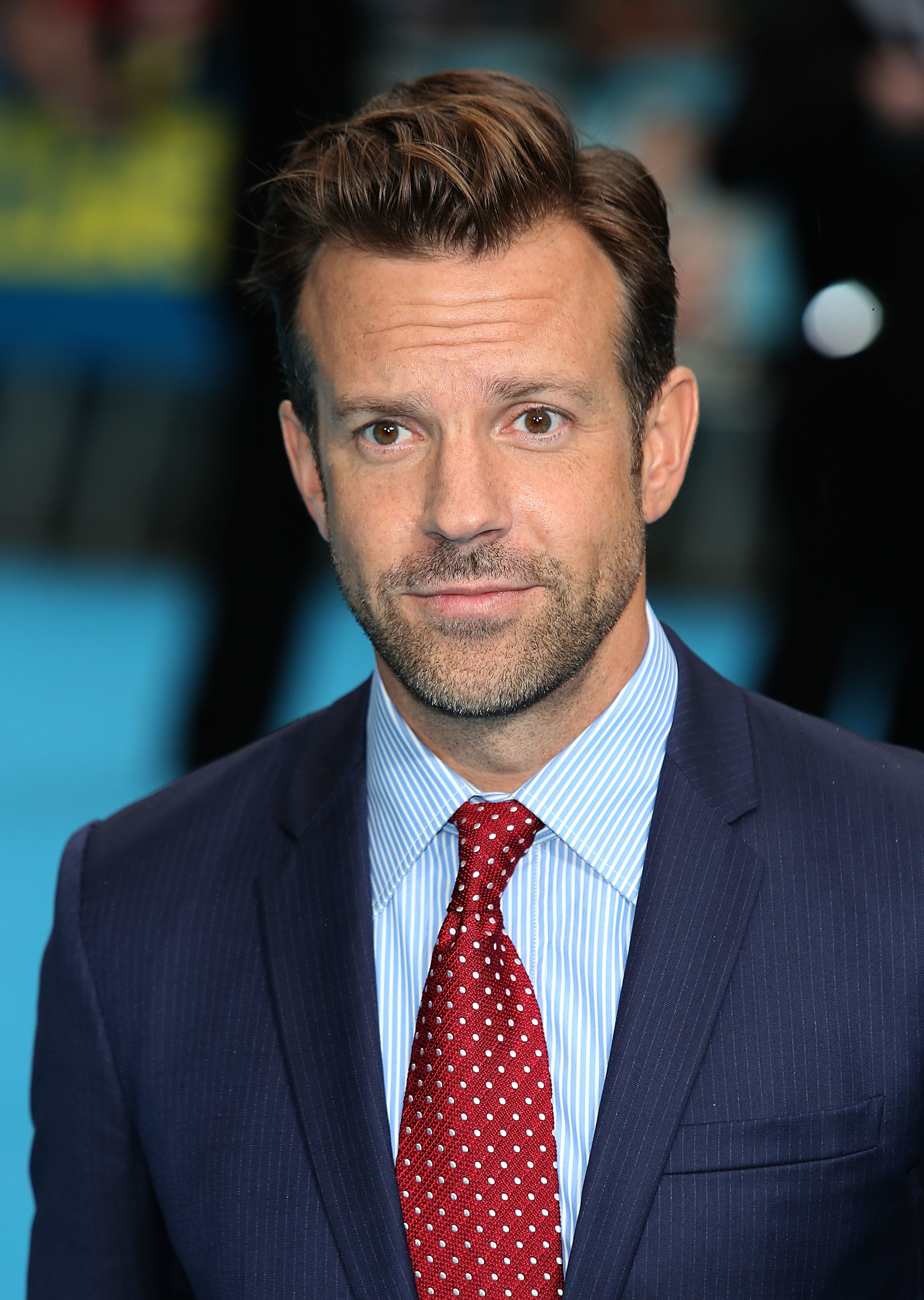 Jason allegedly learned about Olivia and Harry's relationship through text messages that he'd seen on Olivia's Apple Watch.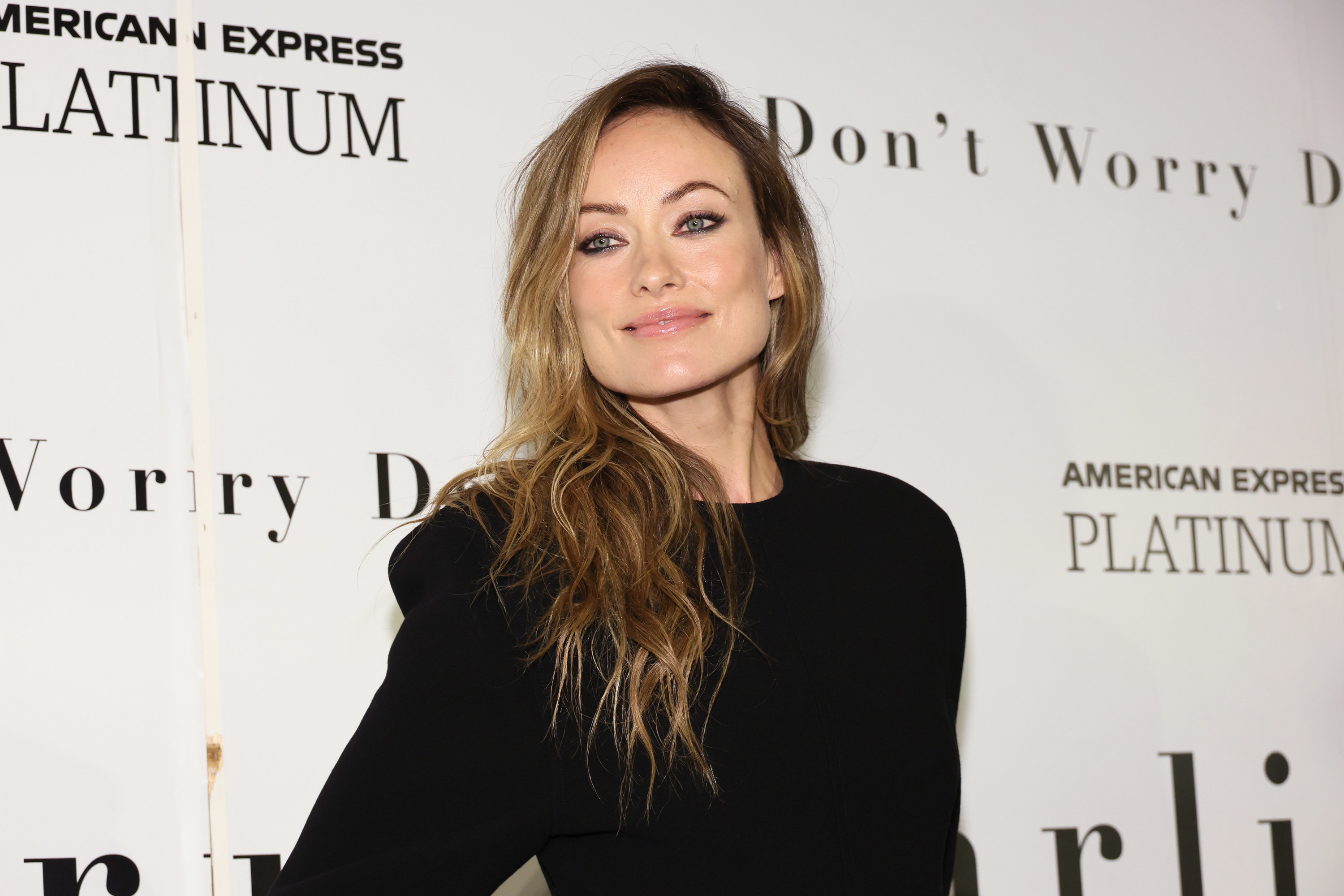 The nanny also recounted the moment that Jason saw Olivia prepare a salad for Harry using her "special dressing" at their family home and became so upset by it that he "went outside and lay under her car so she wouldn't leave."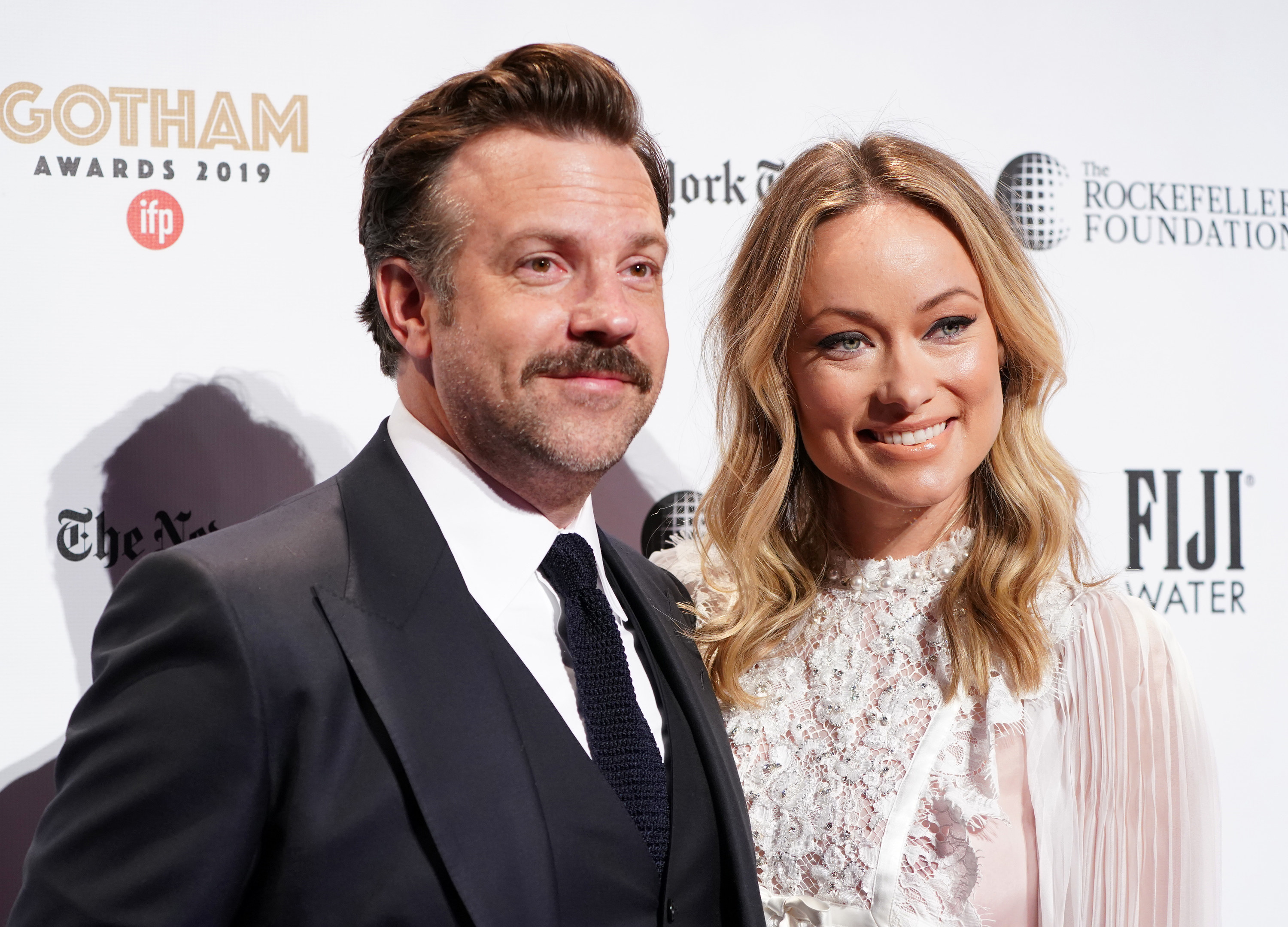 Olivia "went back into the house and he went in, it was back and forth. He said he was doing it on purpose to make her late going to see Harry," the nanny alleged.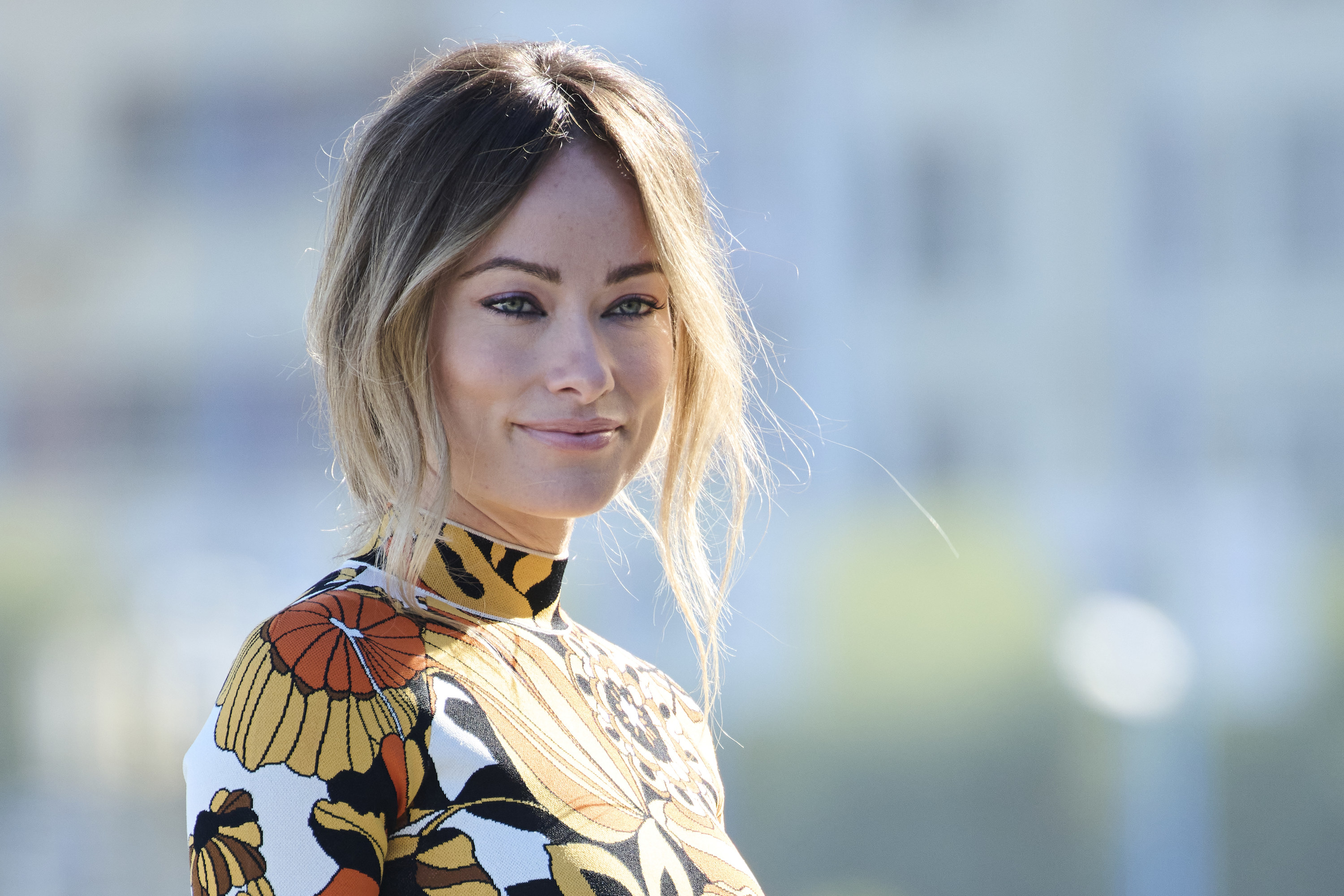 Just hours after the interview was published, Olivia and Jason released a joint statement to People in which they accused their ex-employee of running an "18 month long campaign" of harassment against them and branded everything that she'd said as "false."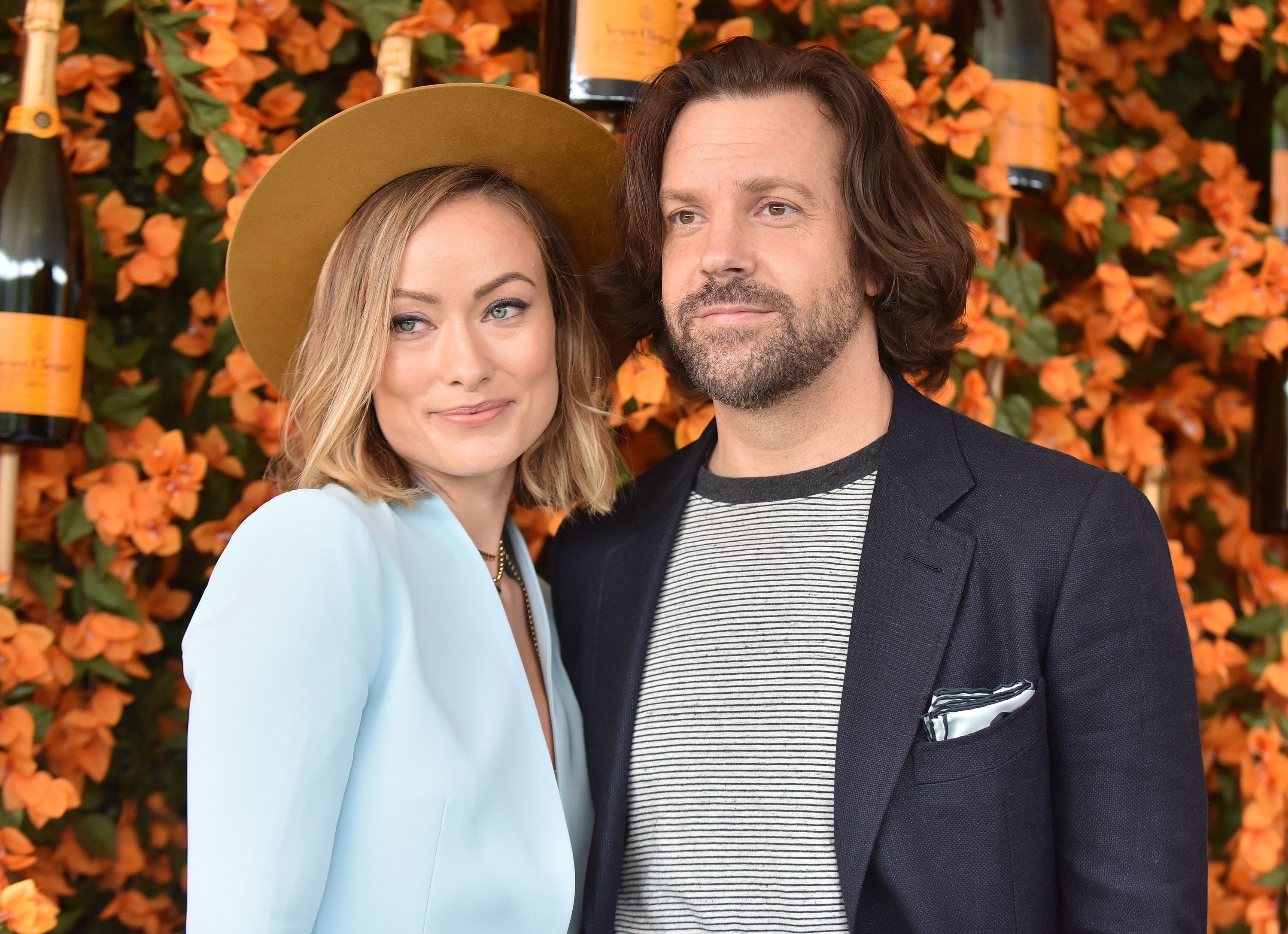 "As parents, it is incredibly upsetting to learn that a former nanny of our two young children would choose to make such false and scurrilous accusations about us publicly," the statement read. "Her now 18 month long campaign of harassing us, as well as loved ones, close friends and colleagues, has reached its unfortunate apex."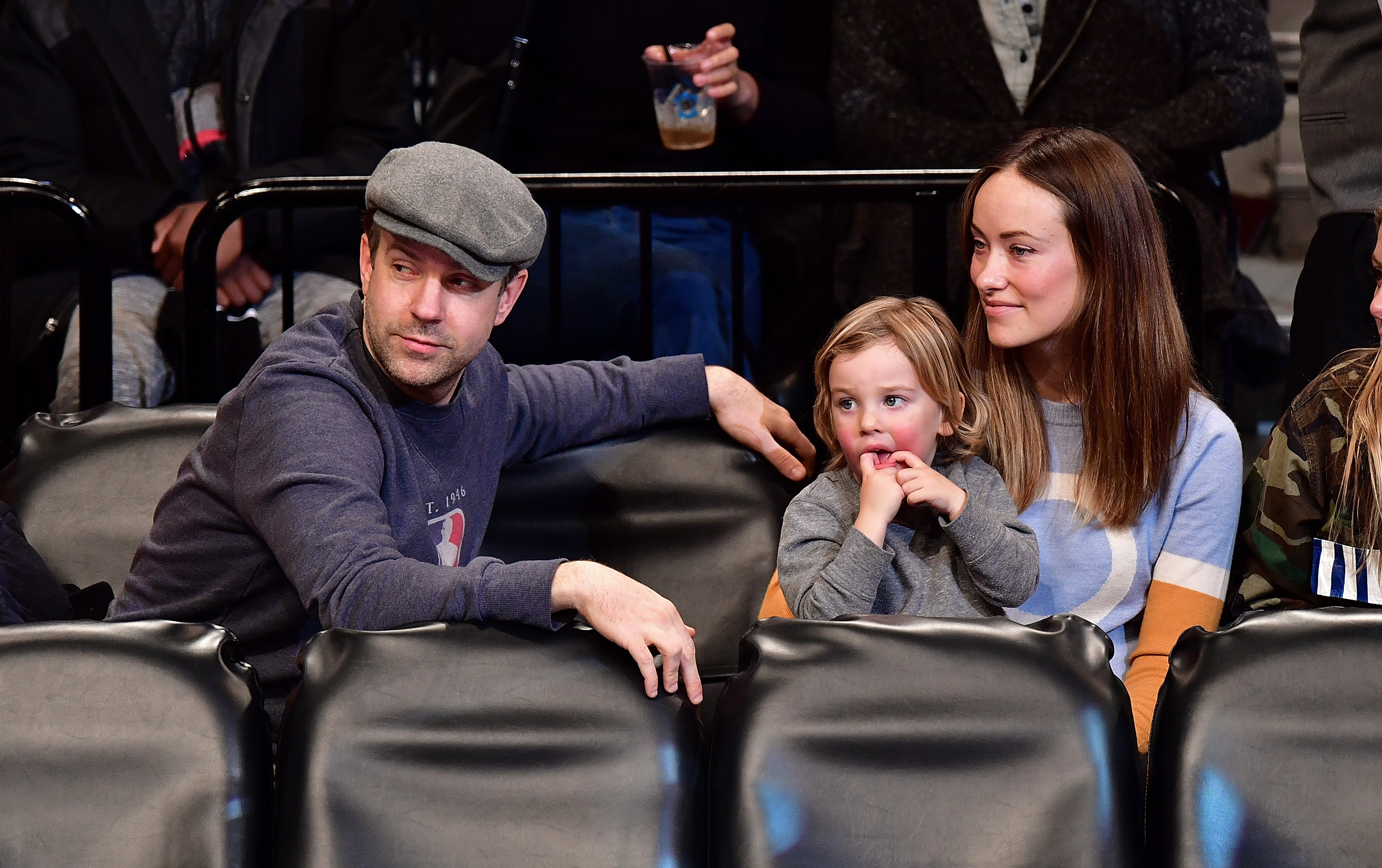 "We will continue to focus on raising and protecting our children with the sincere hope that she will now choose to leave our family alone," they concluded.
But on Tuesday, Olivia appeared to reference her "special dressing" in a rare Instagram Story.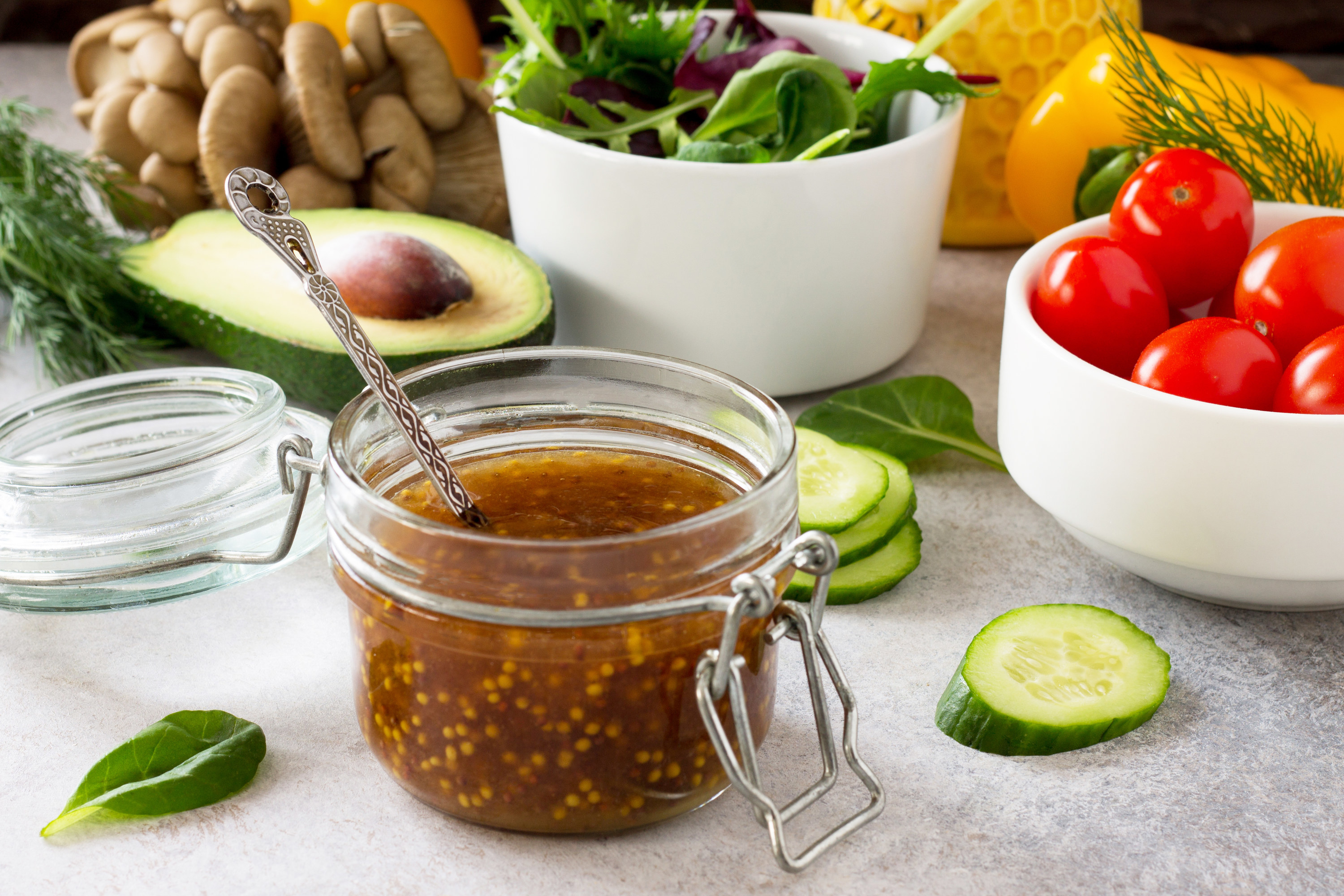 The actor turned director seemingly shared the recipe for the now-infamous vinaigrette in posting a photo of a page from Nora Ephron's autobiographical novel Heartburn to her social media account.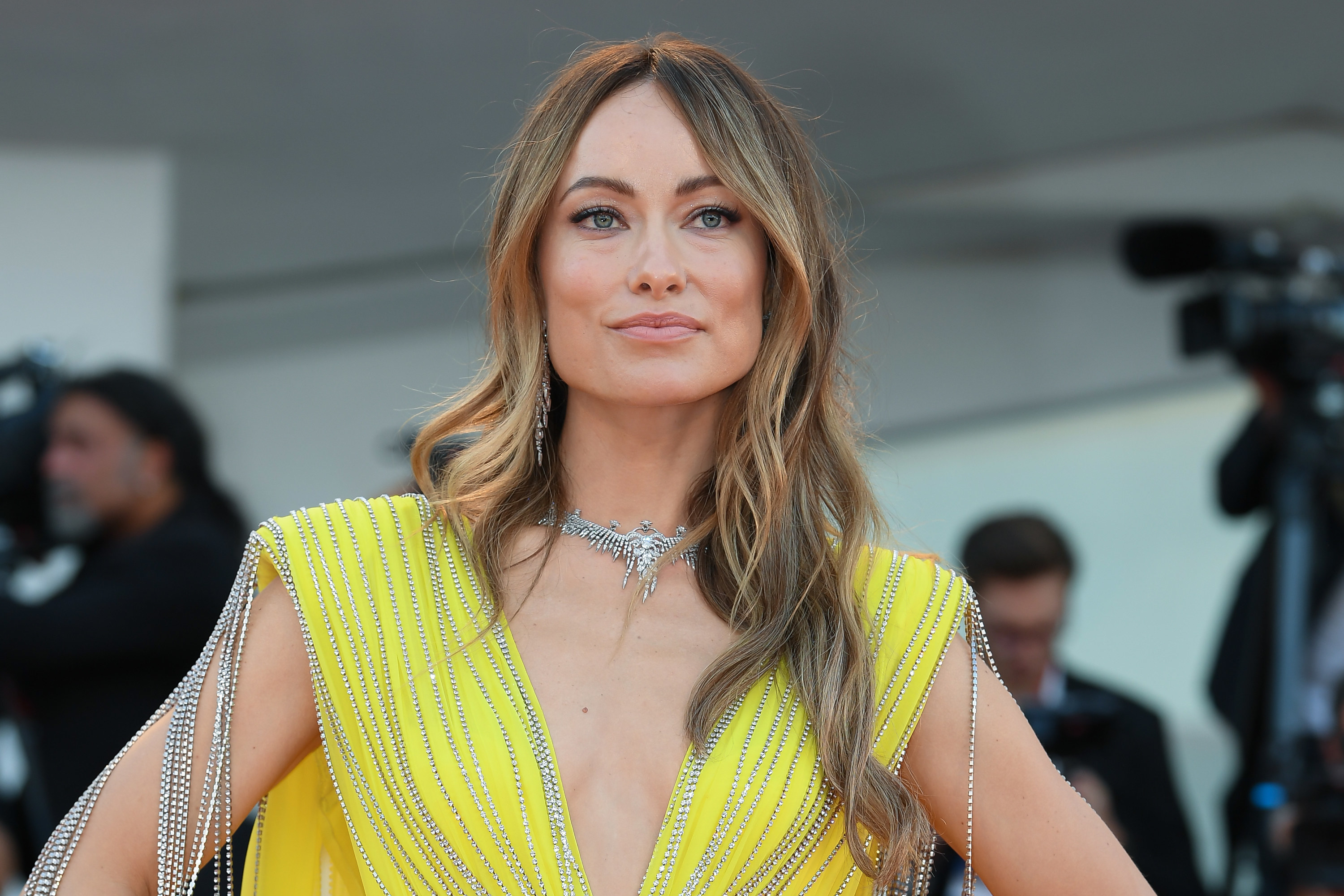 While she shared the full page of text, the key extract is widely assumed to be "I taught Mark to make the vinaigrette. Mix 2 tablespoons Grey Poupon mustard with 2 tablespoons good red wine vinegar. Then, whisking constantly with a fork, slowly add 6 tablespoons olive oil, until the vinaigrette is thick and creamy; this makes a very strong vinaigrette that's perfect for salad greens like arugula and watercress and endive."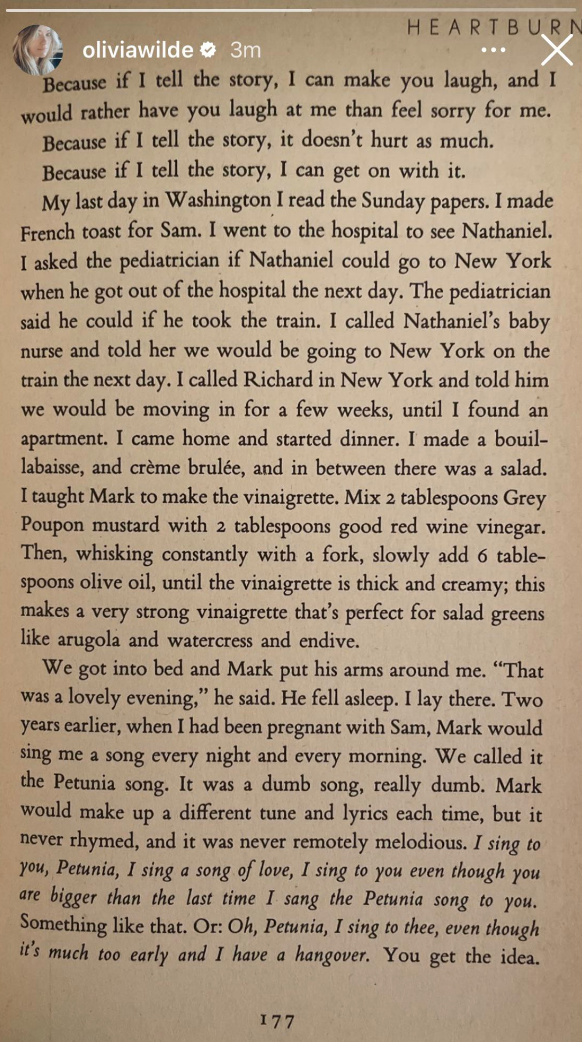 Olivia did not add anything else to her post and has not commented further on the situation.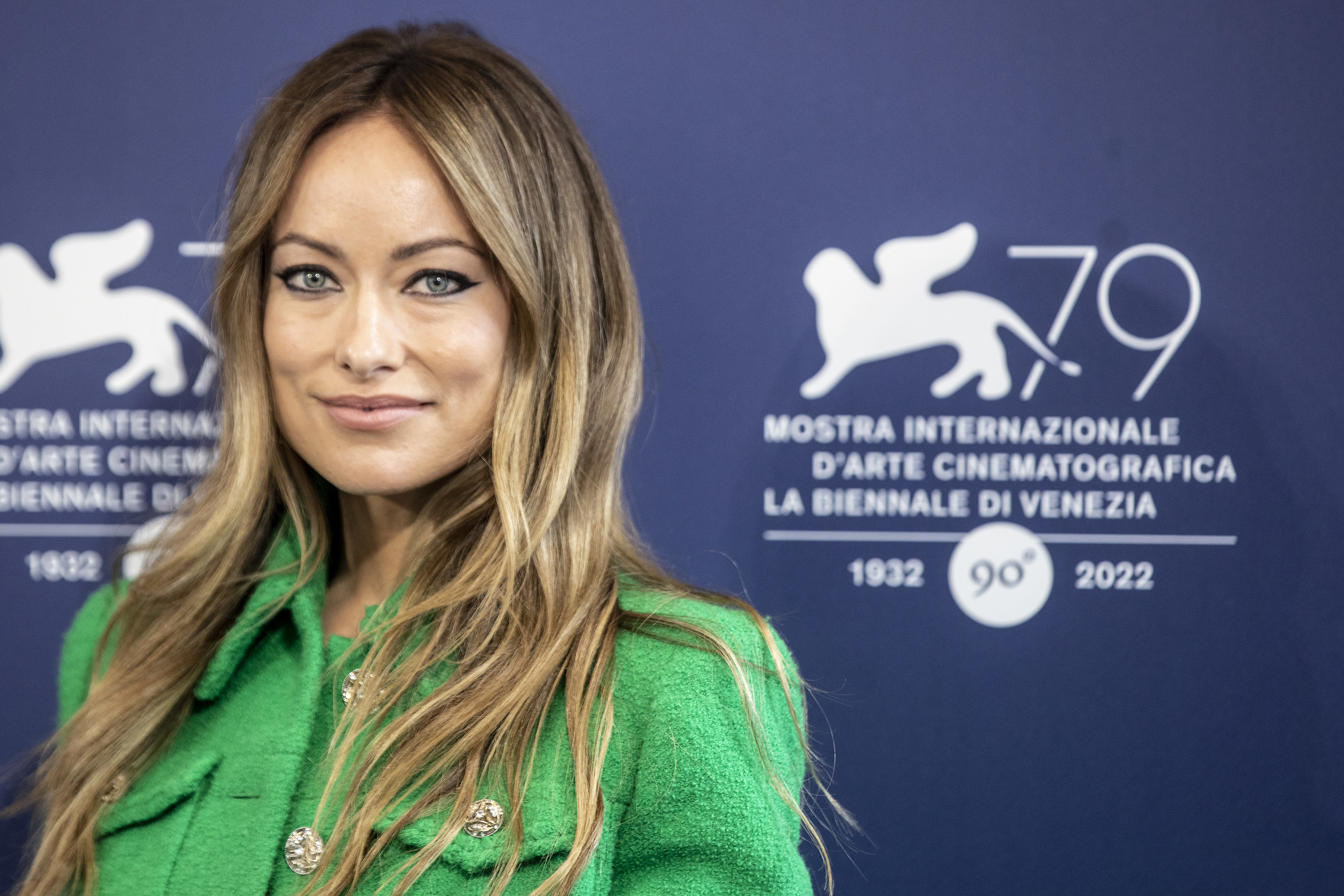 But her apparent decision to address the "special dressing" part of the nanny's claims has left many people confused, with some believing that it added credibility to the rest of the nanny's interview, which Olivia had denied one day earlier.
Writing on Reddit, one person summarized: "Because the nanny mentioned such a mundane detail as this supposed secret recipe and who would bother to make such a random thing up? And then Olivia confirms that the random detail is actually true so why wouldn't the rest be true? Therefore leading people to believe that what the nanny said is probably true since the random secret recipe in her story is true."

"The context of the salad dressing story is pretty emotionally brutal, so this feels like an odd choice," another user said. "I mean, if it's all untrue, then participating and poking fun at it seems to potentially lend it credibility and keep it alive, and if it is true then poking fun at it seems really cold."

Another added, "I mean she's validating the dressing exists which is a huge part of Jason's fixation in the nanny interview."
"Is it just me or does olivia posting the salad dressing recipe make it seem like the nanny's story was true …" someone else tweeted. Another Twitter user wrote, "So you both release a statement saying that the allegations made are false then you follow it up with that?! The chaos of it all!"
Others noted the apparent significance of Olivia's post being an extract from Heartburn, which is an autobiographical novel about the dissolution of the author's marriage after her then-husband's infidelity. In the book, the narrator shows her husband how to make her signature salad dressing before leaving him.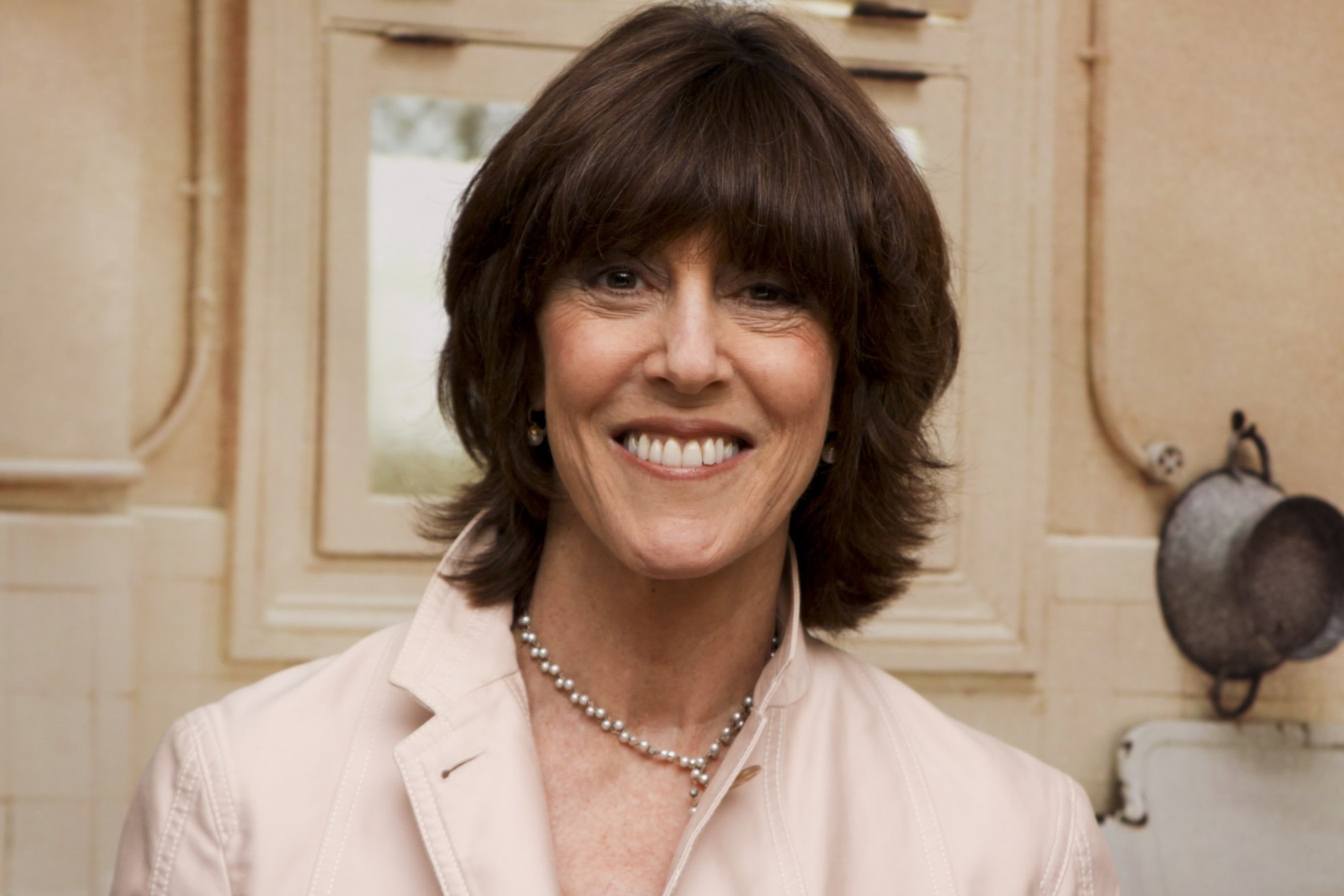 One person tweeted, "Olivia wilde's salad dressing being from Heartburn, a book/movie based on Nora Ephron learning her husband was cheating on her… that's cold." Another acknowledged, "Olivia wilde posting a photo of nora ephron's recipe for salad dressing on her instagram story..... the layers to this."
BuzzFeed News has contacted Olivia's rep for comment.